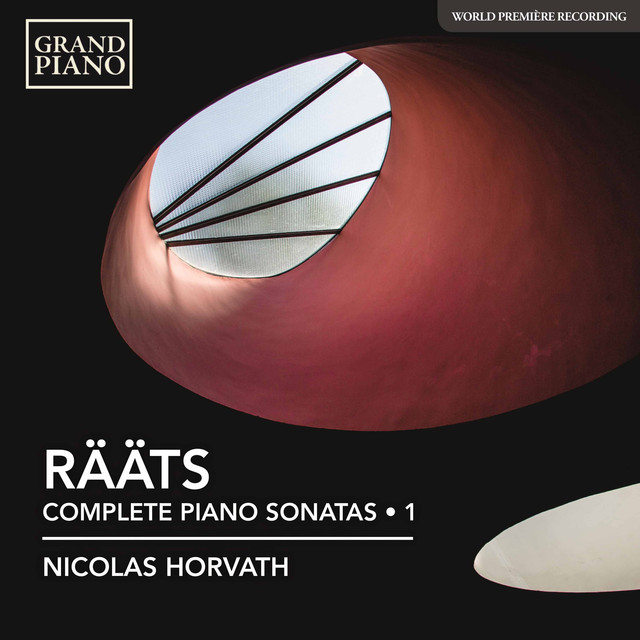 "I don't like rigid systems. I like absorbing musical material, filtering it, emotionally developing it as needed. Using it as a springboard for my imagination… "
Jaan Rääts (b. 1938), contemporary of eg. Veljo Tormis and Arvo Pärt, two other prominent Estonian composers, is perhaps best known for his pieces he's written for the piano – especially the ten piano sonatas, the earliest of which are from half a century ago.
A quite a clever selection of the sonatas are documented on the album (Grand Piano) in which Nicolas Horvath plays three smaller sonatas from 1959, sonata "Quasi Beatles" from the 60s, the ninth sonata from 1985 and the latest sonata, the tenth, from 2000.
If there's one word that would describe Rääts' musical thinking as it manifests itself in these piano sonatas and the disc, it is its originality, and why not, oddity too.
Heaviness of Rääts' music makes it onerous to inhale, but his  sonatas also present clear-cut, non-trivial and first and foremost, highly energetic music.
On the one hand, the music is, as one critic put it, playful, obsessively aggressive, lyrical, hacking, rhythmic, and minimalistic. Stylistically postmodern, if you like. On the other, it's characteristically inorganic, structurally angular and texturally somewhat heavy. This last aspect makes the music kind of onerous to inhale. But Rääts' sonatas also present clear-cut, non-trivial and first and foremost, highly energetic music.
The sonata "Quasi Beatles" is from the best end. Some of the famous themes are audible but the focus is on tightly controlled expressivity.
From time to time less intrusive sonics might have served Rääts demanding musical eruptions better. However, the sonatas' slightly mechanical nature distances them from purely acoustic performances. The notation, not the natural acoustics, becomes the true reference, and the close recording is in a better position to reveal what goes on in the music. It supports the music's energicity as well.
Jaan Rääts: Piano sonates no. 1-4, 9, 10. Nicolas Horvath, piano. (Grand Piano, GP765)