The industrial designer Olavi Linden is known world-wide for his garden scissors and other usables, which he designed while working for the internationally acclaimed Finnish company Fiskars as its head designer.
The idea for the ingenuous scissors or cutters came from a medicine tube. But that's another cup of tea. What interests us is his obsession with horns, and especially what they can do at lowest frequencies.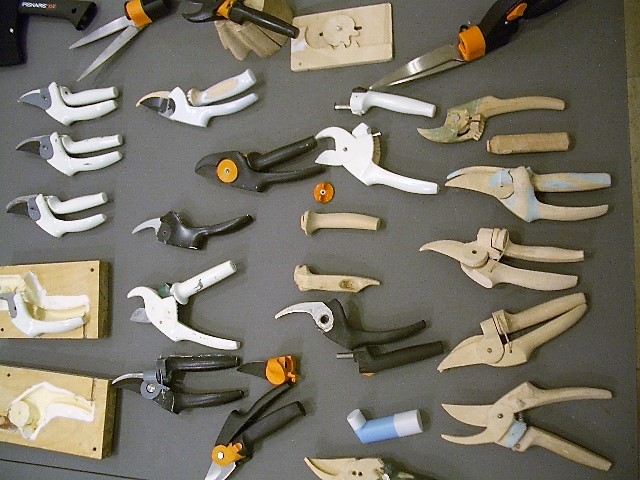 Apart from scissors, Linden, who's a violinist himself, has carved more than one hundred musical instruments. He's especially famous for his acoustic bass guitars, in addition to double basses, violins and cellos. These he's been studying and manufacturing in his spare time but also more professionally via his company Linden Instruments. Some of the instruments were on display in an exhibition in the Garden City of Espoo, Tapiola, a couple of years ago. The exhibition focused on Linden's acoustic instruments.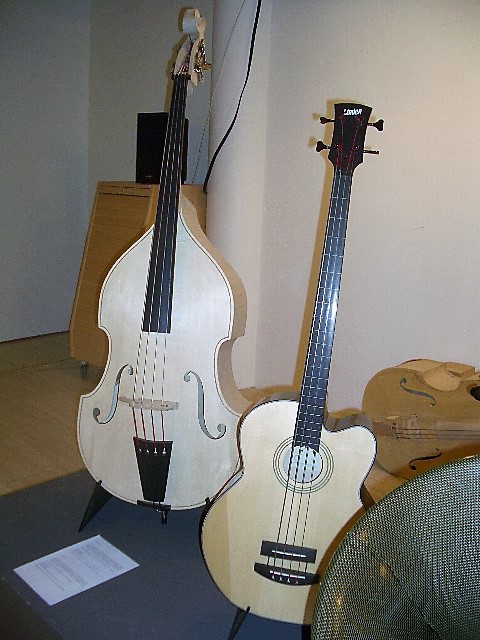 If there's something common to all of Linden's instruments, it is the goal of making them sound more powerful than they would be "naturally"; and "powerful" here means sensitivity over the whole frequency spectrum, the bottom octave included. Look at this "bass guitar". It, like other Linden's horn instruments, was developed based on ideas that Augustus Stroh presented in his patent from 1899, with aluminum membrane and horn.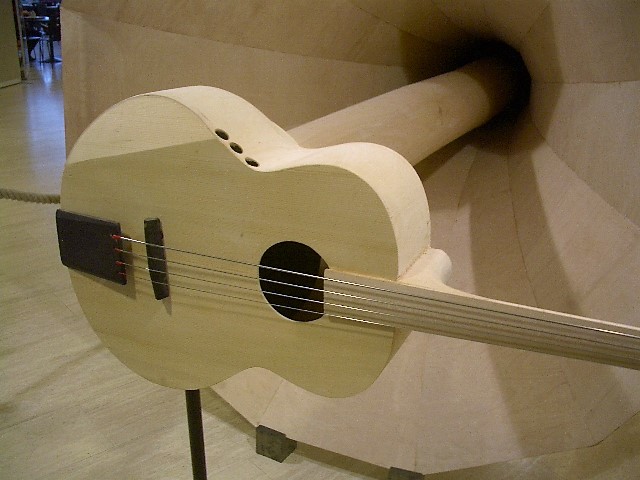 The lowest notes of this four string bass guitar are 'amplified' by a huge 5 m long  horn with 2 m mouth diameter. The vibrations of the strings are transmitted to the membrane, from where they are sent to the horn. The word 'bass' gets an altogether different meaning in the context of this instrument! Amazing! The E string is so low, and it lasts and lasts and lasts …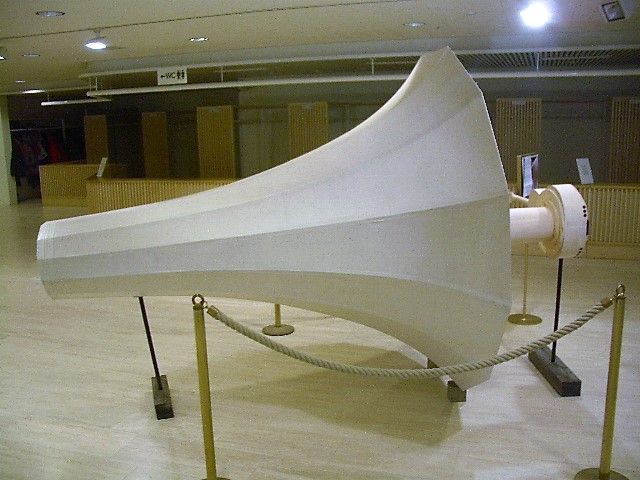 All of Linden's bass instruments feature a body with air cavity resonance much below the normal. In the case of the bass guitar, the lowest resonant frequency is 50Hz and the next 120Hz instead of 100Hz and 200Hz. The 50/120 is lower than that of a standard upright bass, and necessary to support effectively the E, A and D strings of the bass guitar. As a consequence, Linden's bass guitars beat standard bass guitars with respect to their playback volume by a wide margin, and even a standard upright bass fails to sound louder than Linden's the bass guitar.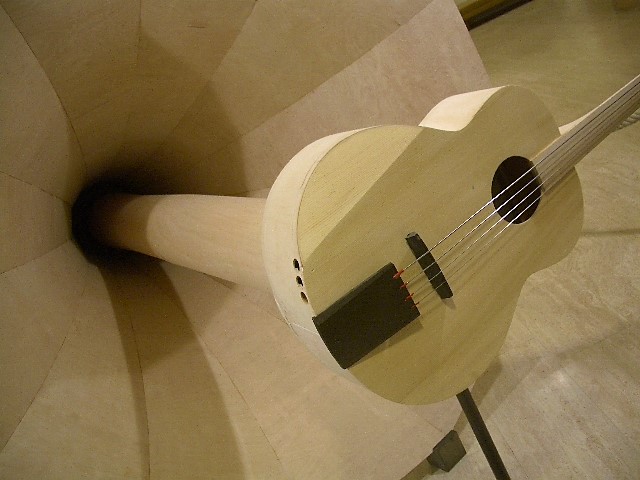 The bass is produced with a lightweight cone or diaphragm, which is in contact with an oscillating canal (1,5m in the case of the bass guitar), a sort of horn, tuned to the lowest frequencies. The bridge is connected to the diaphragm. The cone radiates bass through the opening(s) in the back and through the sound hole in the top. Below's the back of the Linden 2:3 upright bass. It sounds 7dB louder than a traditional 1:1 double bass with less than half of the latter's internal volume.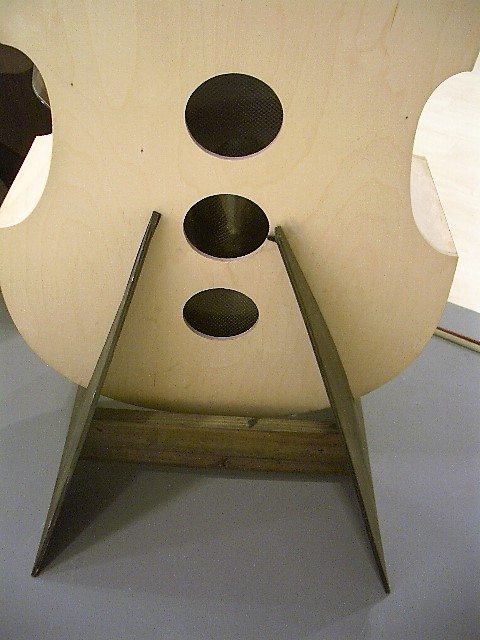 Here are samples of the cones or diaphragms that Linden has tested. According to him, many materials work reasonably well but his favourite material is a carbon fiber.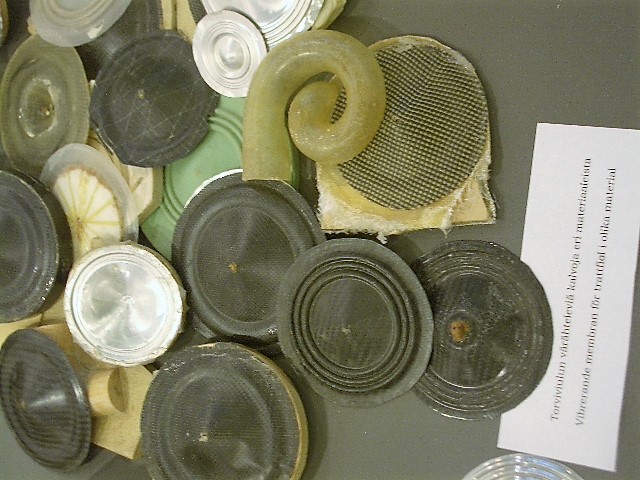 On this violin, both the membrane and the horn is made of carbon fiber & Kevlar. The treble is reproduced through the vibrating spruce top.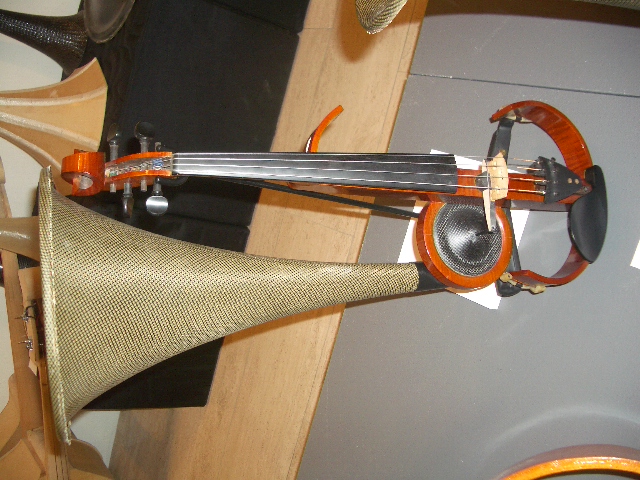 In Linden violins and cellos, the horn is placed outside the instruments. As said, this is not a new invention: Augustus Stroh's violin worked much like a gramophone. A horn violin was used in recording sessions before 1910 eg. by such famous violinists as Carl Flesh and Jan Kubelik. During the 1920s and 30s horn violins were common in jazz orchestras but eventually they died out. It takes at least six normal violins to make a sound as loud as the sound of one of Linden's horn violins.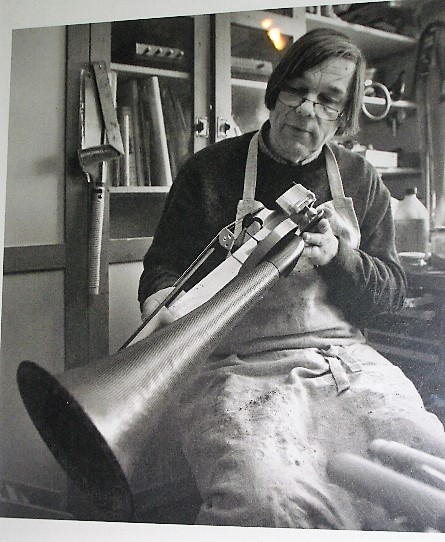 Here's one of Linden's cellos.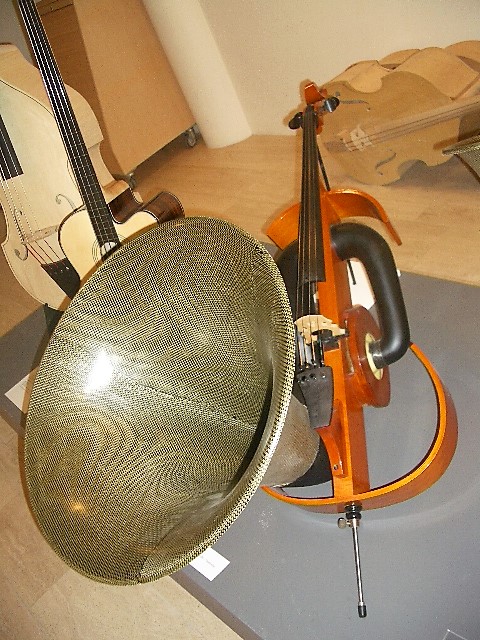 If the sound of a horn violin is inadequate it can be connected to a longer horn to make violin sound even louder. And it certainly did when Linden played a piece of Bach to me. The timbre is not exactly what one expects from centuries old Italian masterworks but surprisingly close to more earthly violins, given that Linden violins lack the body completely. Ans the best thing is, of course, that all this sound was reproduced with no electric amplification! I've heard a great deal of Bach's violin pieces through my horn speakers but never through horns such as this one!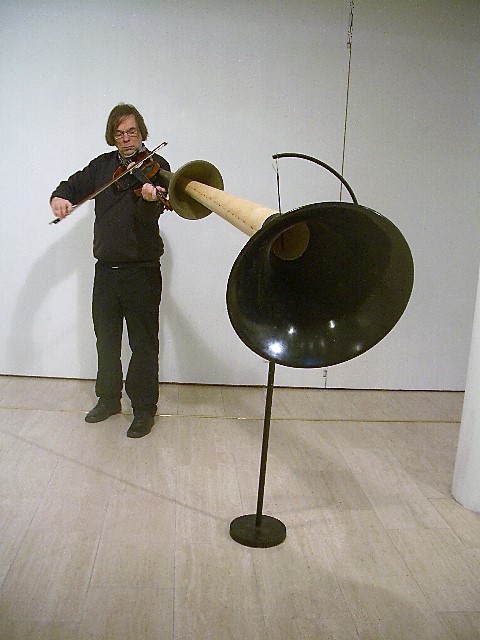 The reason for the success is that the balance between attack and sustain as well as the timbre has been developed by means of a number of test instruments, and in cooperation with professional musicians. Below are some proto versions of Linden violins.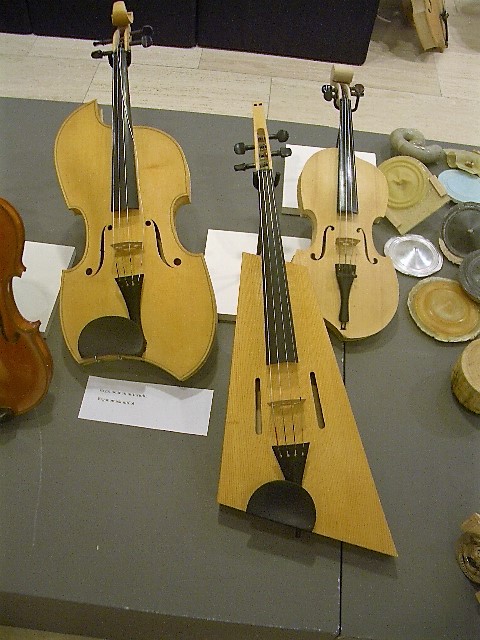 And here stand some of the tested horns. Mr. Linden appeared to be well-informed about the horn theory, also related to horn loudspeakers. However, based on his wide experiments, he was of the opinion that the theory and the practice do not always meet.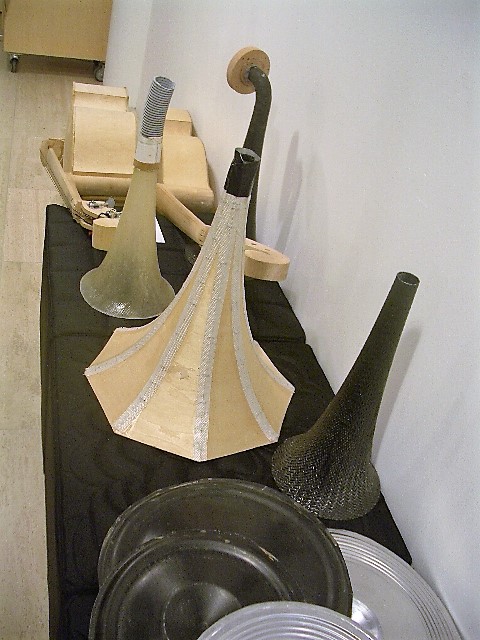 Here's Linden's idea of a bicycle. Fit to drive.