According to net, a superbloom is a rare desert botanical phenomenon, associated with an unusually wet rainy season, in which an unusually high proportion of wildflowers whose seeds have lain dormant in desert soil germinate and blossom at roughly the same time.
Superbloom refers also to a new album containing music emanating from Maarten Vos' cello and his and Nils Davise's synthesizers. The two musicians are into contemporary electronic music, and the album is a result of Vos and Davidse experimenting and constantly extending each other's boundaries in hour-long colourful improvisations in the studio.
The makers describe Superbloom as a true jungle of vivid and organic sounds that reflect their musical backgrounds intertwined in "a melodic and harmonically rich soundscape". The listener won't hear cello or piano/keyboard but layered sounds created with analog and digital synths, field recordings and processing through different kinds of tape machines.
The listener won't hear cello or piano/keyboard but layered sounds created with analog and digital synths, field recordings and processing through different kinds of tape machines.
The album is all about interplay of the two musicians closely listening to each others' experiments. Such is the process that it's hard to say when the music is a result of intuitively reacting (improvising) towards each other's contributions, and when of some more deliberate plan. On the track Polypore, for instance, both are trying out a new piece of gear or a new technique "resulting in a birdlike song structure floating through the track."
If you aren't at all into electronic music, the album may cause headache with its repetitive and pulsatile nature, but those who already are at home with synth based creations, the album can offer a surprisingly pleasing and rewarding, if somewhat somnolent (ambient) listening experience. There  certainly are moments in life that this 'minimalistic' music  (different sonic experiments) can support and help in controlling emotions.
It is told that most of Superbloom came to life in and around a forest cabin in the Dutch riparian woodlands. It's not too hard to imagine how during the nightly sessions the machines (and other sound-making objects) and the nature meet taking inspiration from the forest and its many natural inhabitants.
Maarten Vos' & Nils Davidse's new collaborative Superbloom was released on June 25th 2021 as limited edition crystal clear vinyl (200 only) including beautiful artwork and design by visual artist Tjitske Oosterholt.  It is available also digitally via all major streaming platforms.
'SUPERBLOOM' track list:
1. Canopy
2. Nocturn
3. Polypore
4. Arcadian Light
5. Behind The Rocks
6. Static Elastic
7. In Situ
8. Komorebi
Credits:
All Songs Written, Produced and Mixed by Maarten Vos & Nils Davidse
Additional Vocals on Behind The Rocks by Koen van de Wardt
Mastered by Zino Mikorey
Artwork & Design by Tjitske Oosterholt
Distribution by Word And Sound and EPM music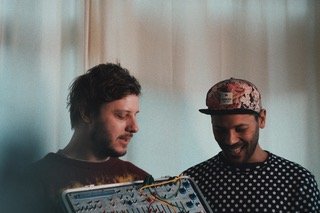 Maarten Vos is a classically schooled Dutch cellist, composer and producer based in Utrecht and Berlin. He transforms traditional instrumentation into newfangled sounds and wields technology like something intricately human. Vos composed music for various art disciplines, collaborated with fashion designer Iris van Herpen, visual artists Maotik and Boris Acket, wrote music for contemporary dance and scored music for film.
Nils Davidse graduated from the Conservatory of Utrecht for jazz piano with a Bachelor of Music with Honours. Early in his professional career he fell in love with electronics, sound art and composition. He is inseparable with his Buchla Music Easel and considers this instrument as a true extension of his musical expression. Davidse spends his time conducting research on Dick Raaijmakers and De Stijl at The Institute of Sonology at the Royal Conservatoire in The Hague. Davidse's work includes sound art installations music festivals and  compositions for theater and various collaborations with visual artists.