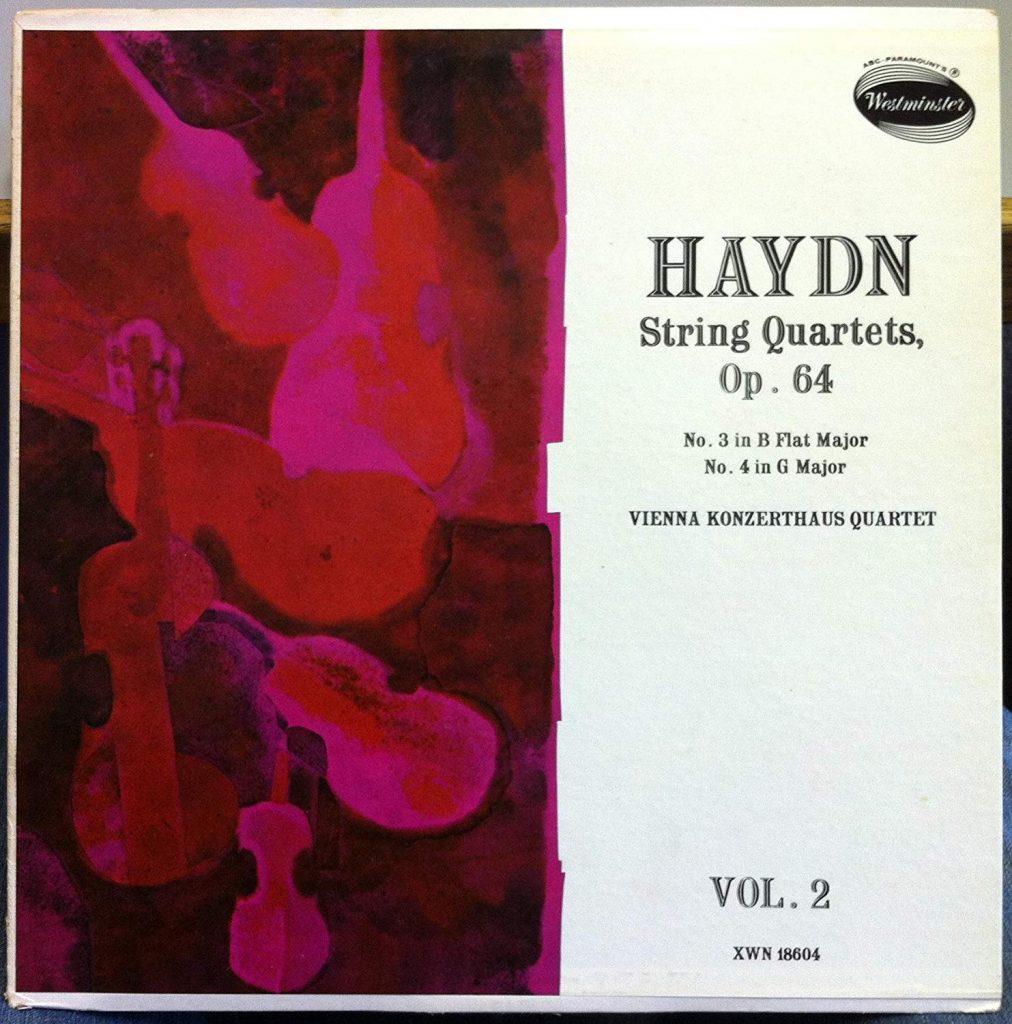 The label Westminster produced great deal of different music and many great LPs in the 1950s and 1960s. In particular Westminster's mono-LPs of classical music from the early 1950s (1951-56) are considered exceptionally successful both in terms of interpretation and sound. For many music lovers and record lovers, they have become must-have items.
Mono LPs are indexed as WL or XWN. A fine example, one of many, is the recording of Haydn's String Quartet Op. 64, No. 3 and No. 4 by the Vienna Konzerthaus Quartet Westminster XWN 18604). The Quartet (Kamper, Titze, Weiss and Kvarda) was founded in 1934. The recorded diligently in the early 1950s. Among the recordings there are many important Haydn, Mozart, Beethoven, Schubert and Brahms albums, important both in terms of performance and sound reproduction.
The Westminster recordings of the Vienna Konzerthaus Quartet made Haydn's string quartets familiar to the general public much in the same way that the Westminster recordings of Hermann Scherchen and the Vienna Philharmonic Orchestra introduced Haydn's symphonies too the general public. The quartet's interpretations may not be the last word on Haydn's string quartets, but are a valid alternative to any other existing interpretation.
The sound quality is excellent. Compared to stereo, the mono LP has a slightly less upper end, but more nuances to the ear and better feeling of dynamics. In Europe, American 1950s and 1960s recordings are sometimes considered to be somewhat uplifting and forward. The sound of this album is not aggressive, but there is a certain straightness and simplicity – which I do not think is in conflict with the music presented. It would be cardinal error to evaluate the sound of this recording based on CD mastering. Secondly, one should always try to listen to mono LPs with a high quality mono cartridge. However, there is no need for special mono equalization because Westminster's mono-LPs were cut using correction that is very close to RIAA.
The original recording was made on a single track tape, from which the data was transferred directly without modification to the master disc. The goal was to maintain the master tape's dynamics as close to the original as possible. The pressing were compared to the original tape and only those pressings were acccepted that were sufficiently close to the original.
Westminsters were released with three-color labels. Blue and red are considered the best, but black (Westminster / ABC Paramount) goes too.