Assembly Lines is a large-scale kinetic installation created by Chinese-Canadian artist and researcher Sougwen 愫君 Chung. The work features Chung's new multi-robotic system named Drawing Operations Unit: Generation 5 (D.O.U.G._5). In a word, Assembly Lines consists of Chung painting and making art together with a robotic-system programmed to react to certain impulses, but not in the rudimentary way of common one-to-one automation of robotics found in factory assembly lines. Chung's Assembly Lines works in two directions: the biological (human) and mechanical (machine) collaborating through "various modes of sensing and mark-making, organic and synthetic, and improvisational and computational".
The work premiered at the group exhibition In Search of the Present at EMMA – Espoo Museum of Modern Art, Finland on 27 August 2022 and will be presented until 15 January 2023. The 24 minute performance began with a live meditation that formed the basis of the performance. Then, during the performance, D.O.U.G._5 responded to Chung's biofeedback through the use of an E.E.G headset while participating in drawing and meditating. The live performance links the neural pathways of a human subject with a multi-robotic system, together collaborating across the space. The results of this improvisational creativity, the layered gestural authorship, between human and machine, were seen across three large canvases as intermingling brush strokes. The paintings form part of the installation as artifacts from the performance. The installation is also accompanied by a short film 'Assembly Lines: Expanse [extending]'.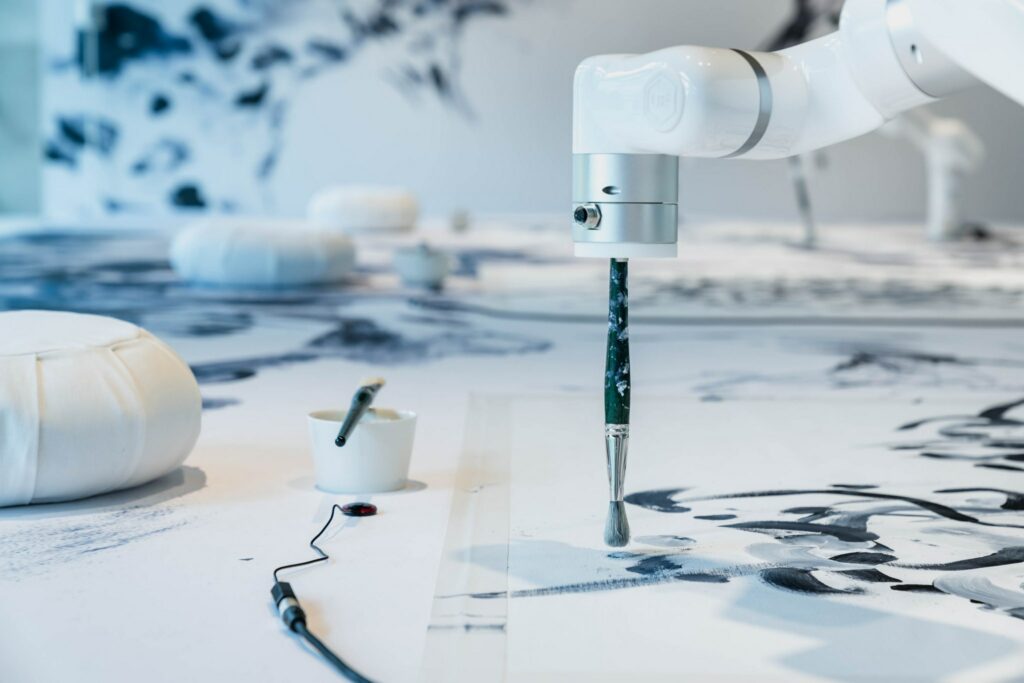 Sougwen Chungin Assembly Lines. Image: Paula Virta / EMMA
Sougwen Chung is the founder and artistic director of Scilicet, a London-based studio exploring human & non-human collaboration. I asked Scilicet's Communication Manager, Pierce Eldridge to briefly describe Sougwen Chung's position in the field of contemporary art:
Sougwen is a former research fellow at MIT's Media Lab, and considered a pioneer in the field of human-machine collaboration, exploring the mark-made-by-hand and the mark-made-by-machine as an approach to understanding the dynamics of humans and systems. This speculative critical practice spans performance, installation, and drawing. Sougwen's art and research contextualizes the process of working with AI systems and robotics as collaboration, most prominently recognized in Drawing Operations Unit: Generation 1-5.
Can you say something more specific about the techniques used by Chung for the Assembly Lines? In what ways the robots are made to react to her EEG etc.? The nature of AI involved?
In Sougwen's works, AI systems and robotics are developed in a creative practice that explores the phenomenological constructions, interrelations, and alternative configurations of the human and machine. The operations explore the computable and uncomputable, interrogating the promises and pit-falls of meaning-making metaphors for understanding complex systems. For instance, consider sight as a metaphor for computer vision algorithms, embodiment as a metaphor for multi-robotic systems, and memory and learning as metaphors for data-driven machine models. Throughout all these operations, the role of the human agent oscillates between designer and steward, architect and performer, urban planner and gardener, observer and amplifier. At its core, the work takes a speculative approach using non-speculative research: the tools of today. It asks: what are the sensory mixes of the future? Where does "AI" end and "we" begin? What might come of these interrelations? How can our biology collaborate with the mechanical?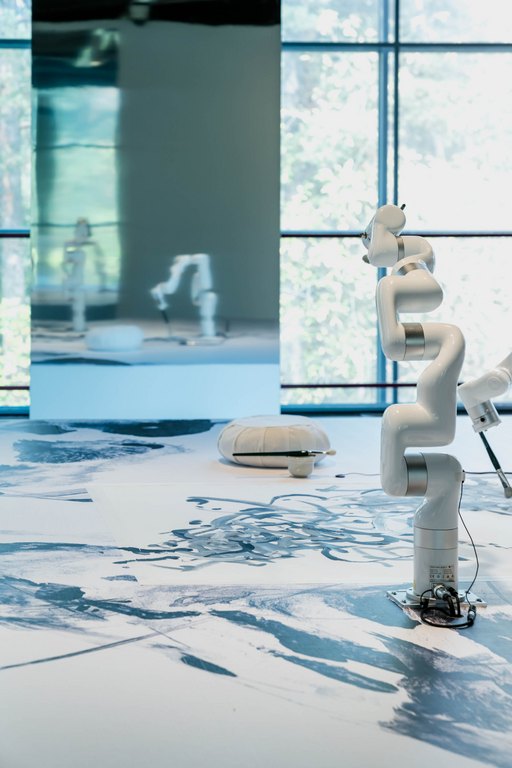 What's Chung's position on the question whether her robots possess self-awareness of some sort, or is the D.O.U.G. system technologically closed and determined? Is the purpose of the robotic system only to mimic free will and choice?
Most simply, Sougwen's practice explores what exists in the contradictions of isomorphic realities; embracing, that is to say, the dualities within our existence. Exploring how those overlap, join, and contradict each other whilst developing a new comprehension, or a new hybridity. The conversation of AI is exponentially very broad, oftentimes resembling a dystopia and utopian juxtaposition and fraught with controversy with application and accessibility. When people think about AI there is a tendency to ascribe, or imagine, considerable agency. Something like an artificial consciousness, however far-reaching that might be. Sougwen is compelled by the human capacity to 'anthropos' our relationship to machines, particularly to robots, in how we can endorse more caring, communicative, and attentive attitudes to ourselves and our interactions with technological systems. This is also a reflection of coming into closer proximity with the reproductive world, that of plant life and animal species, who are critical and creative counterparts in the way we think about new collaborations in our current world. There are new didactic models that encourage these developments everyday, but the collaborative models are of most interest. It prompts a new examination of our relationships and agency questioning: who has control in these relations? How do we want to see autonomy shared in these collaborations?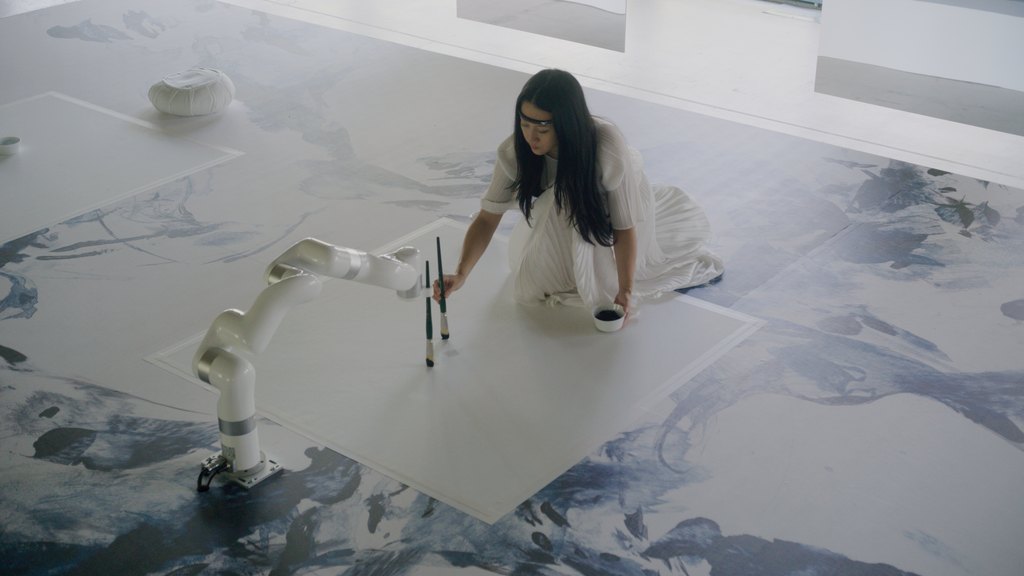 Artistic impressions
It's clear that Chung's not just after some reciprocal mechanical causal connection between a human being and a machine, but has set out to explore the poetics of the human/non-human collaboration: "where the stillness of the human subject is the conduit for painterly machine gestures". This tendency toward spiritual is reflected in the fact that the installation is strongly aestheticized (white-painted round forms, tender light colors, Chung's dressing etc.), presumably to hide its technicality, but that, paradoxically, only emphasizes mechanical clumsiness of the robot hands, which again makes the whole installation more humane.
How does Chung's Assembly Lines go with the theme of the exhibition: in search of the present? The key word here is "presence". The whole work is like a condensed effort to reach the present moment through presence and meditation, in a "ceremony of closeness and collaboration, between the biological and mechanical, performer and audience". The video of the performance, and the brush strokes on the canvas represent the past.
Finally, it is striking how positive and optimistic Chung's approach is, bearing in mind how some of the kinetic sculptors in the past, Tinguely for instance, used their art to strongly satirize and criticize automation and technological development of the time. Do we see in Chung's work a beginning of a genuinely new attitude towards technology? A more philosophical and romantic one?
Assembly Lines by Sougwen Chung
For group exhibition, In Search of the Present
EMMA – Espoo Museum of Modern Art
Espoo, Finland
Biography
Sougwen 愫君 Chung is a Chinese-Canadian artist and researcher, and the founder and artistic director of Scilicet, a London-based studio exploring human & non-human collaboration. A former research fellow at MIT's Media Lab, Chung is considered a pioneer in the field of human-machine collaboration. Chung's work explores the mark-made-by-hand and the mark-made-by-machine as an approach to understanding the dynamics of humans and systems. This speculative critical practice spans performance, installation, and drawings. They have been featured in numerous exhibitions at museums and galleries around the world.
http://scilicet.xyz/
https://sougwen.com/