… no sound is audible, only the crescent moon looming large in the sky, fireworks bang and the night is strewn with sequins.
The following story of Meret Oppenheim is partly and loosely based on quotes from various articles published in "Meret Oppenheim – Mirrors of the mind" (Kerber, .
Meret Oppenheim (1913 Berlin – 1985 Basel) is considered to be one of the most intriguing and influential exponents of Surrealism, one who pushed Surrealism in new directions. Her intellectual, experimental and feminist works are in many ways relevant even today.
However, as was made explicit in a recent exhibition, what makes her famous and her art important, may not primarily be her works of art as such but her liberal, anti-bourgeois attitude toward society and her life in general, striving for individual freedom as a woman and artist.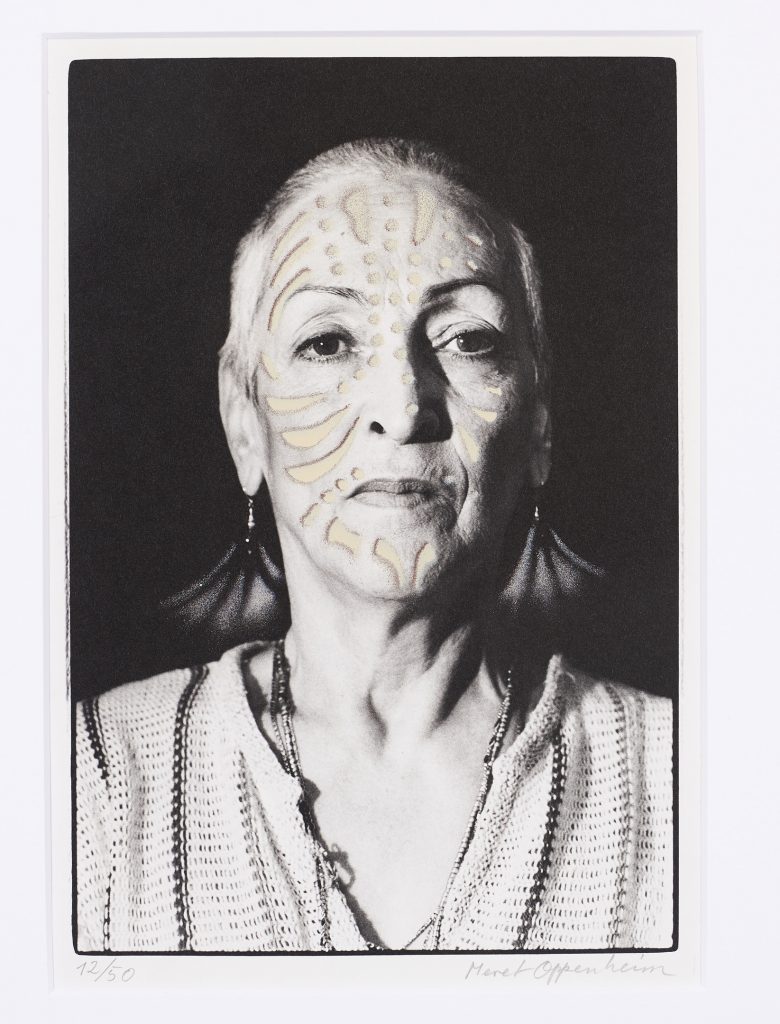 Surrealism
Already very early in her career, Oppenheim became a member of the Paris Surrealist group of poets and painters. For her surrealism was an art movement that tried to express what she preferred to call 'the comprehensive reality' or 'all-embracing reality':
"'A surrealist' means 'more than a realist', she said. In other words, the reality that surrounds us includes what we know, read, experience, and in addition what our subconscious 'knows' or 'thinks', ie. memories and premonitions."
As years went by the meaning of surrealism got many interpretations, to the extent that later Oppenheim refused to be considered as a Surrealist. Nevertheless, it is not wrong to see the main body of her artistic work to be related to surrealism in one or another way, including those that were not strictly speaking surrealistic.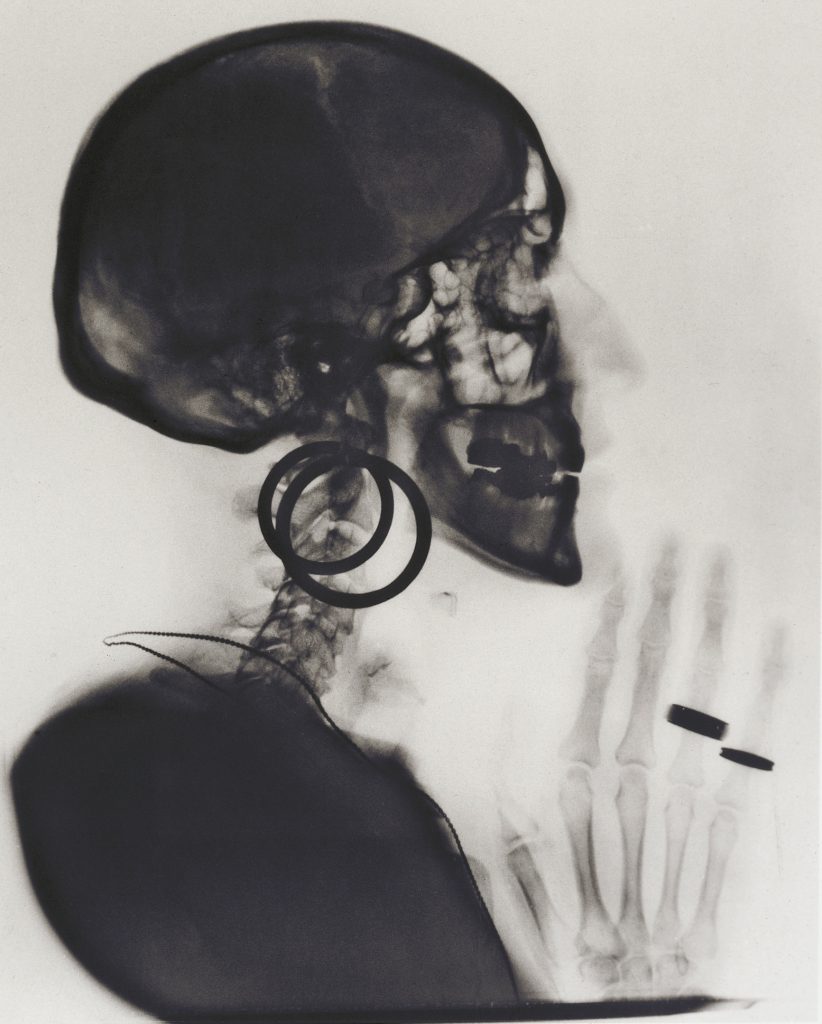 Ring with sugar cube
Meret Oppenheim's most famous work was Breakfast in Fur (Le dejeuner en fourrure), the so called "fur cup", in which the cup, saucer and spoon were covered with the fur of Chinese gazelle.
The work a prime example of surrealism in that it brings together, in a Surrealist manner, elements which normally would have nothing to do with each other. The ring with a sugar cube is a similar surreal object.
"The fur cup was an object of Surrealistic fetishism, in which the important thing is the distance between originally unrelated things, and their collision transforming into energy."
The purpose of such works is to attack the functional value of things, the "stupid nonsense of function".
While looking at the fur cup, it is said that "one almost senses a furry taste in the mind and mouth". As one commentator puts it: "The occurring anaesthetization of pragmatic thought results in this shift of sensibility, which Surrealism arouses in its most unerring works." p. 31
By the time of the fur cup, fur and hair were already among the materials that Surrealists incorporated in their fetishistic perceptions of the erotic. Indeed, prior to the fur cup, Oppenheim had realized, as a commission of a fashion designer, a bracelet decorated with fur outside.
The purpose of such works, it is said, is to attack the functional value of things. In Andre Breton's words: to combat the "stupid nonsense of function". Form does not follow function, but instead outruns it. This view stands in stark contrast to the attitude propagated at the time by Bauhaus or Esprit Nouveau.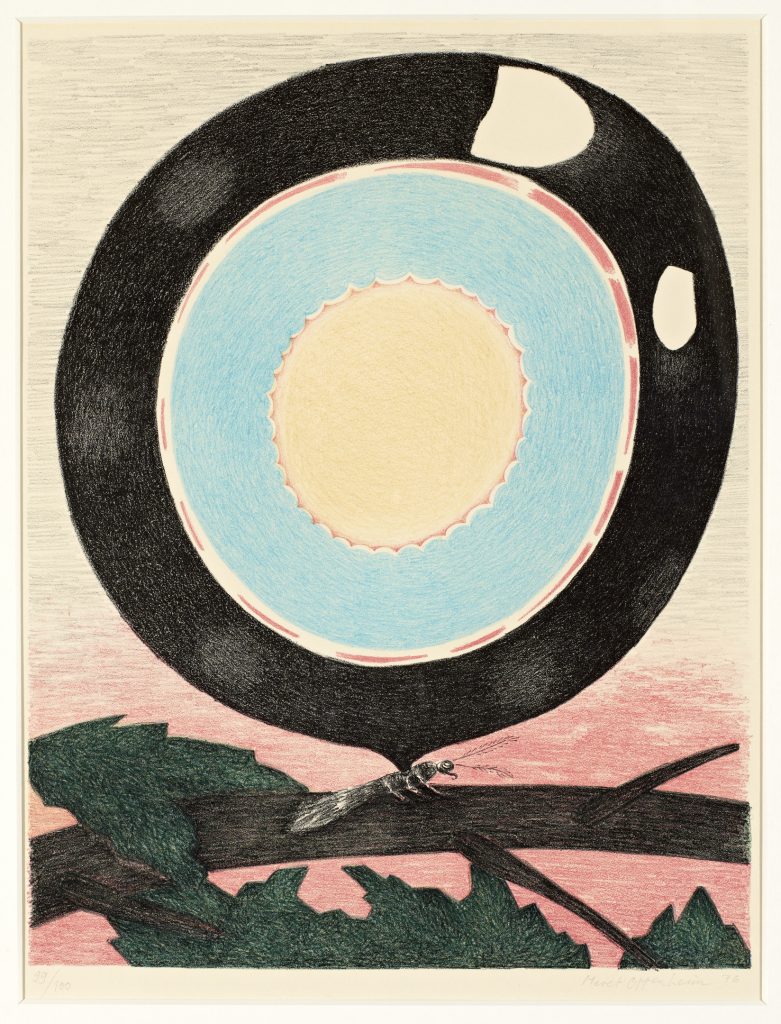 Art as an idea
It is obvious that the objective that Oppenhein shared with the other Surrealist artists was the concept that the idea is of far more central importance than artistic craftmanship. What they actually crafted was incidental.
So where did she get the ideas?
"The ideas simply 'come'. Or rather they are already there-somewhere. And like one sets nets for birds, traps for animals, one gives them thoughts, words, canvasses, paper or other materials on which they can alight. The process is inexplicable." (Interview with __
For Oppenheim the art meant merely rediscovering the works, and not creating them.
It was non-conformity of the Surrealists that kept Oppenheim in the group until the mid 1930s. In 1937, she experienced an artistic and psychological crisis, and in 1938 she broke with Surrealists, staying artistically inactive for 18 years.
If surrealism was influenced by Sigmund Freud's psychoanalysis (Breton was Freud's pupil), the search for hidden and sublimation qua psychological suppression, Oppenheim was fascinated, as the foundation for her artistic creation, by the theory of archetypes by Carl Jung . She is known to have been much more at home with the dualistic complementary viewpoint of the human character traits, and self-realization through the unification of opposites, than with Freud's theories.
"Breton together with other Surrealists concentrated on unconscious, suppressed, ungainly aspects of the human psyche, believed to be unspoiled and thus more original part of the sole. Oppenheim in her search for the truth, focuses on Jung's thesis of the pre-existence and collectivity of certain symbols. Subsequently, for Oppenheim the art meant merely rediscovering the works, and not creating them." 54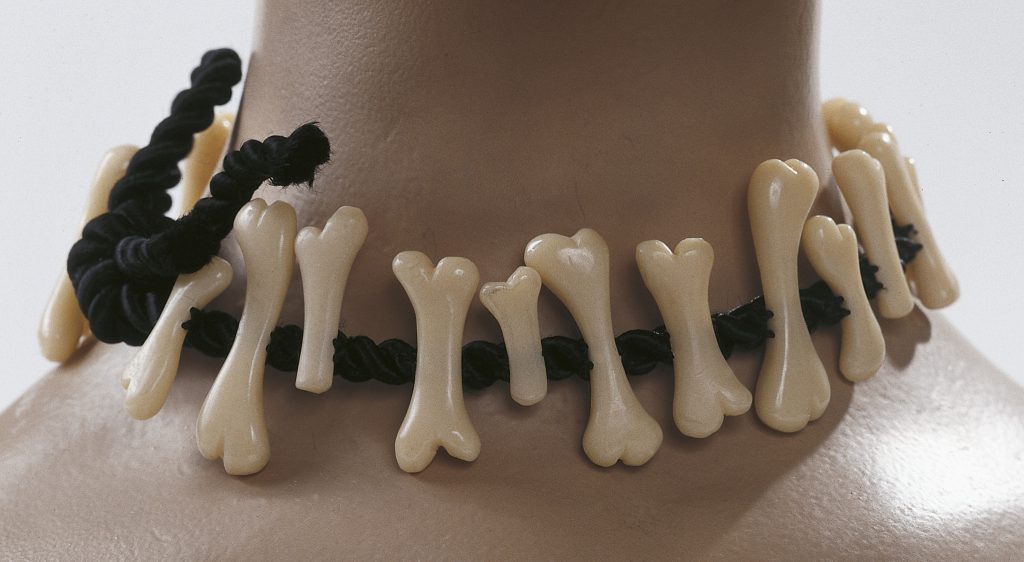 Life as Art
Mirrors of the Mind was a comprehensive retrospective exhibition presenting some 200 works of Meret Oppenheim by Espoo Museum of Modern Art (EMMA). The works  encompasses a timespan of over five decades.
Apart from objects, her lifework includes paintings, sculptures, drawings and graphics, and all those were among the exhibits. In addition, she designed and created jewellery, fashion, and furniture design, and wrote poetry. The works were on loan from various private and public collections in Europe.
A nice feature of the exhibition was that in addition to works by Oppenheim, it covered  works from her contemporaries like Man Ray (1890-1976) and Daniel Spoerri (b. 1930), as well as photographs and portraits of Oppenheim herself.
Moreover, the exhibition architecture reflected Surrealist thinking in that the mind is portrayed as a house with different rooms. A cabinet of curiosities, a boudoir, a dream space, and a mirror hall open up the oeuvre of Oppenheim through distinct elements and atmospheres.
A related documentary of Oppenheim's life was running in a dark room. Personally it probably was the most impressive thing at the exhibition since, just like for another important female Surrealist, Laura Carrington, the personal life itself, and ideas, seem to be at the center of their artistic work.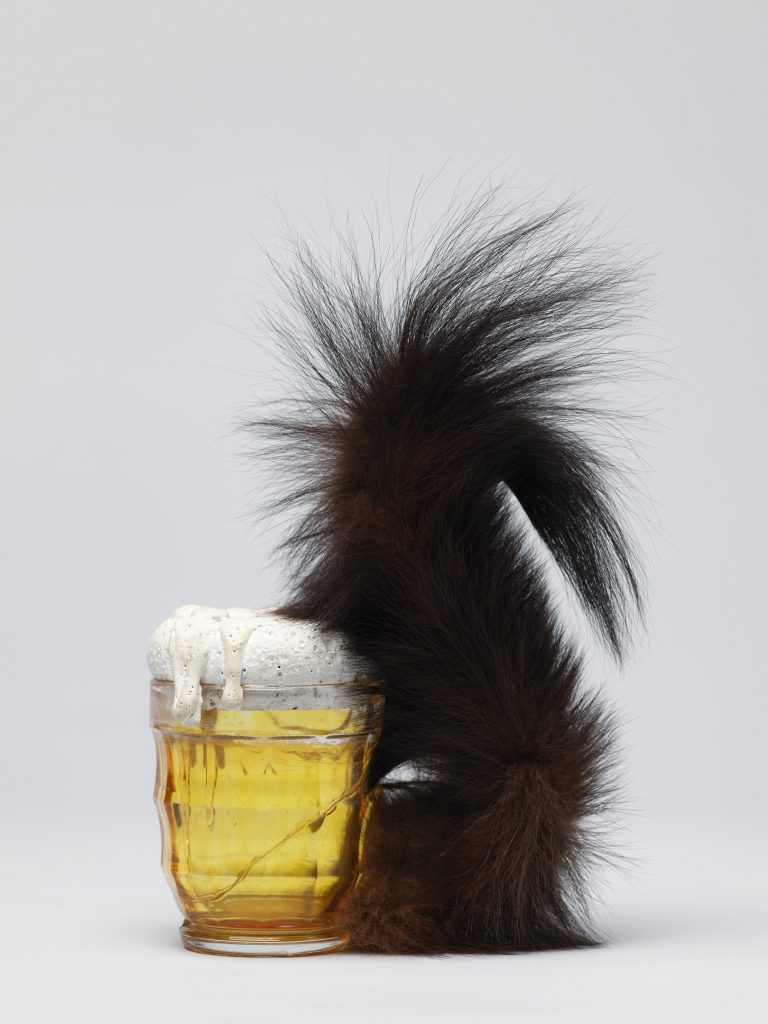 A list of facts about Oppenheim's life, published by the organizers of the exhibition, is presented below. It makes wonderful reading because her life seem to cover so much of the 20th century modern art.
1913 Meret Elisabeth Oppenheim is born in Berlin-Charlottenburg to a German father and Swiss mother. She spends her childhood and school years in Southern Germany and Switzerland.
1928 Starts to keep a dream journal. Is influenced by a family friend, the psychiatrist C.G. Jung, and his thoughts on the subconscious and collective archetypes and myths.
1929 Sees the work of Paul Klee and develops an interest in abstract, non-representational art.
1930 Makes a collage in her school notebook, which becomes famous for its mysterious equation "x=hare".
1931 Decides to become an artist and leaves school.
1932 Travels to Paris together with her friend, the painter Irène Zurkinden. Studies at the Academie de la Grande Chaumière. Writes her first poems.
1933 Alberto Giacometti and Jean Arp visit her atelier and invite her to the Salon des Surindépendents exhibition. She is a regular in the Surrealist circles of André Breton.Models for Man Ray.
1934 Falls in love with Max Ernst, but separates from him one year later to preserve her artistic freedom.
1936 Makes her best-known work: Object, a fur-coated cup, saucer, and spoon, also known as Breakfast in Fur. The piece is acquired by the Museum of Modern Art MoMA in New York.
1937 Returns to Basel and studies to become a conservator. Experiences a personal and artistic crisis after her sudden rise to fame in Paris, lasting until 1954.
1938 Participates in exhibitions by the group of Swiss artists Allianz.
1939 Participates in an exhibition of Surrealist furniture at the gallery of René Drouin.
1945 Meets the businessman Wolfgang La Roche and marries him in 1949. The marriage lasts until the death of La Roche in 1967.
1954 Her phase of depression comes to an end. Makes costumes together with Jean Tinguely, Zurkinden and the Gruppe 33 artists for the Basel carnival Basler Fasnacht.
1956 Makes costumes and masks for Picasso's play "Desire Caught by the Tail" staged by her friend Daniel Spoerri. M.O. and artist Lilly Keller play the part of the "curtain".
1959 Organises a celebration of spring (Le festin) in a restaurant in Bern, where three couples enjoy a meal served on top of a naked woman.
1960-63 Several exhibitions. Spends time in the artist circles of Bern with contemporaries such as Dieter Roth, Bruce Naumann, Jean Tinguely, and Mario Merz.
1964 Takes an X-ray of her skull. The image is first shown at the gallery of Claude Givaudan in 1969.
1965 Participates in a group exhibition in São Paulo. Travels around Brazil.
1966 Designs the Hermes fountain and makes a plaster model of it. The bronze fountain is realised in Dornach in 2000, fifteen years after her death.
1967 First retrospective exhibition at Stockholm's Moderna Museet places Oppenheim back in the international spotlight.
1968 Participates in the exhibition "Dada, Surrealism and their Heritage" held at MoMA.
1969–74 Gallery exhibitions in Cologne, Rome, Paris, Geneva and Zürich. Rents an atelier space again in Paris in 1973.
1975 Holds her famous speech defending female artists at the An Art Award of the City ceremony in Basel.
1980 Exhibits at the Marian Goodman Gallery in New York.
1982 Receives the Grand Prize of the City of Berlin and is awarded lifelong membership by the Berlin Art Academy. Is invited to documenta in Kassel.
1983 The public sculpture Spiralsäule/The Spiral Column is completed in Bern. The monumental concrete column is heavily criticised. Many consider it to be out of place in the historical centre of Bern.
1984 Exhibitions include the Nanteshi Gallery in Tokyo and the Musée d'art moderne de la Ville de Paris.
1985 Dies of a sudden heart attack on 15 November at 72 years of age.
1986 The first edition of Oppenheim's dream journals "Notes 1928– 1985. Dreams" is published. Her poems are translated into English, French, Italian, and Swedish.
1987 The Kunstmuseum Bern becomes the most significant collector and caretaker of Oppenheim's art.
1996 The retrospective Beyond the Teacup tours the United States.
2001 The Swiss Office of Culture's award for Swiss visual artists, architects, art critics, and curators is named Prix Meret Oppenheim.
2005 Oppenheim's archive and catalogue of works is entrusted to the Kunstmuseum Bern.
1996 -2017 Several retrospective exhibitions around Europe and the United States. The Helsinki City Art Museum presents the works of Oppenheim in the exhibition Meret Oppenheim Meets Man Ray in 1997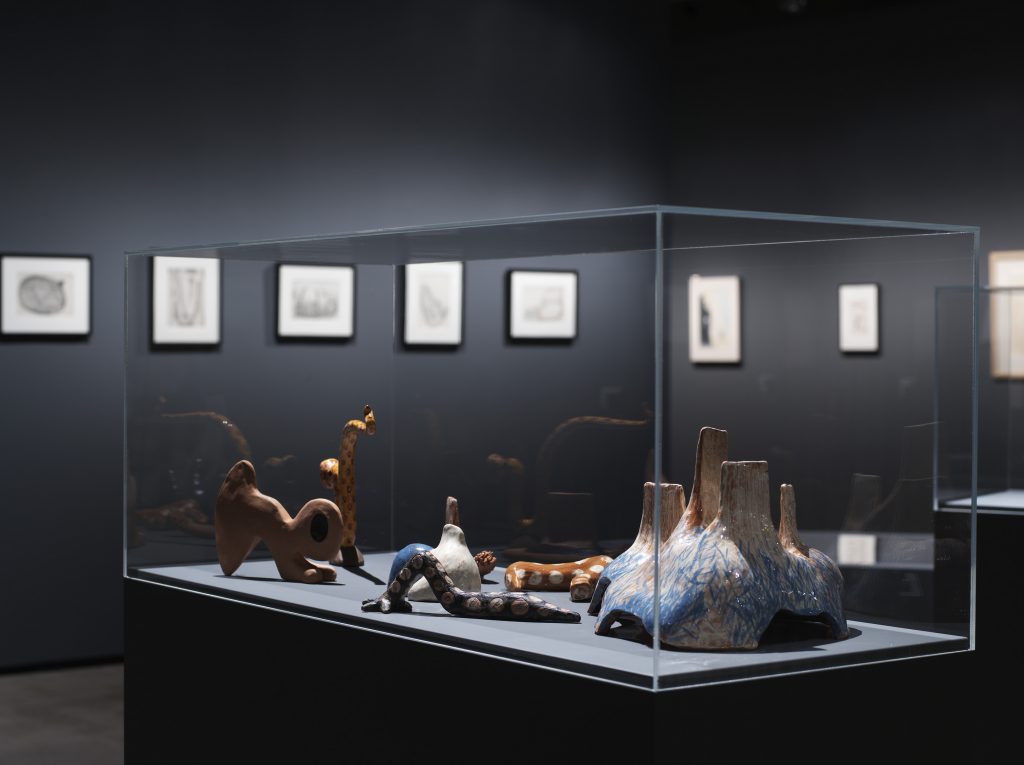 Curating: Thomas Levy & Tiina Penttilä
Exhibition architect: Teppo Järvinen
Graphic design: Milla Rissanen
Project management: Pilvi Kalhama & Hanna Mamia-Walther
In cooperation: ARTOMA GmbH Art and Cultural Management, Hamburg; Embassy of Switzerland in Finland