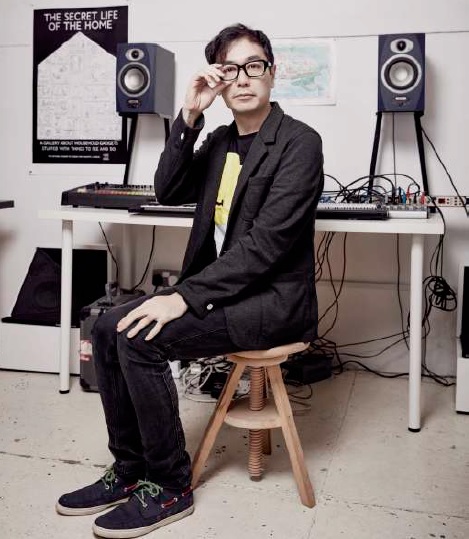 A sound artist, designer and electronic musician, Yuri Suzuki (b. 1980 in Tokyo) is known for designed pieces through which he explores the realms of sound, how both music and sound evolve to create personal experiences. His work has been exhibited in several international museum collections, including the Museum of Modern Art in New York and the Museum of Modern Art Tokyo.
A topical example of how Suzuki relates people and their environments is to be found on Tuner Contemporary's terrace, where Suzuki, as part of Margate NOW, unveiled a new artwork called The Welcome Chorus, bringing together sound, sculpture and artificial intelligence (AI). Commissioned by Turner Contemporary, in collaboration with Kent Libraries, the work is exhibited to the public from Sat 27 September 2019 until Sun 12 Jan 2020.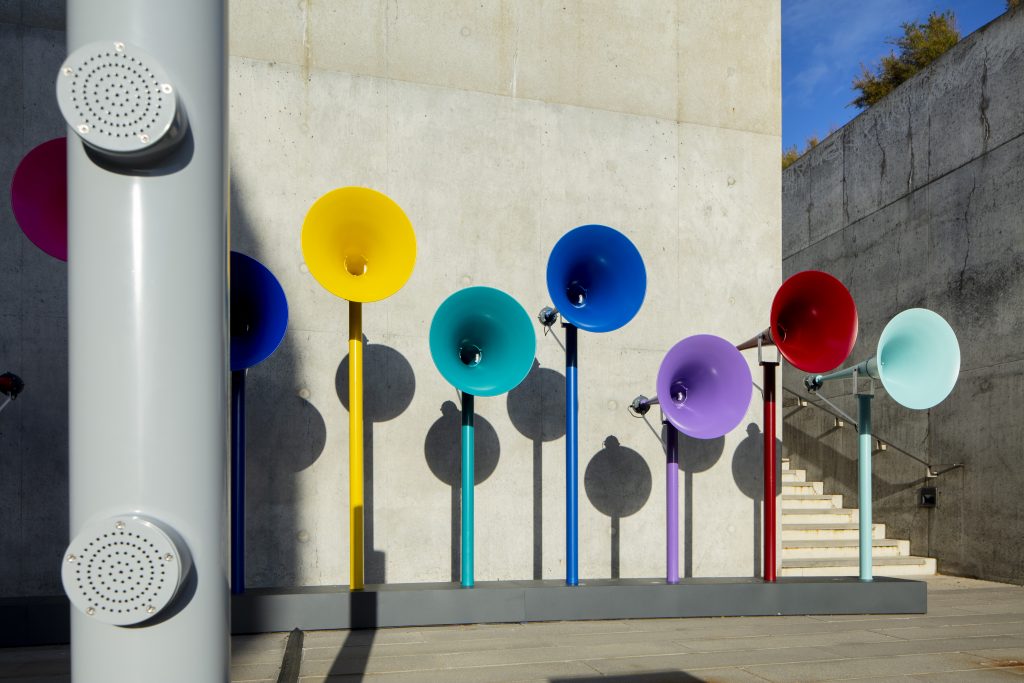 The Welcome Chorus shows twelve horns, each representing a different district of Kent (the colours of each horn have been selected to reflect different areas in Kent), continually singing lyrics and sound bites ( which are generated live by a uniquely trained, site-specific piece of AI software. Symbolically and aesthetically, these sculptural forms reference the origin of the word 'Kent'; thought to derive from the word 'kanto', meaning horn or hook. The generated lyrics and sound bites deal with the history of Kent, its landscapes and estuaries, changes to industry and services, the relationship between urban and rural areas and perceptions around journeying, migration and movement.
And how does it work in practice? Visitors will speak or sing into a unique 'conductor' sculpture, their words being then heard in the immediate soundscape and added and archived in an ongoing machine learning. The AI will continue to evolve throughout the course of the exhibition, resulting in a novel and unexpected set of vocal exchanges.
Yuri Suzuki
If I were you (fellow audiophile) I wouldn't leave making acquaintance with Suzuki's art to the forementioned work, for he began exploring the relationship between music and technology already while working, in early 2000, with Maywa Denki, the Japanese electronic art unit. Having moved to London in 2005 to study Product Design at the Royal College of Art, he further developed his interest in the crossover between art, design and music, using both analogue and digital technologies. In 2018, Suzuki joined the world's largest independently-owned design studio, Pentagram, London, and again the focus is on exploring the boundaries between art, design, technology and sound, crossing the fields of both low and high technology.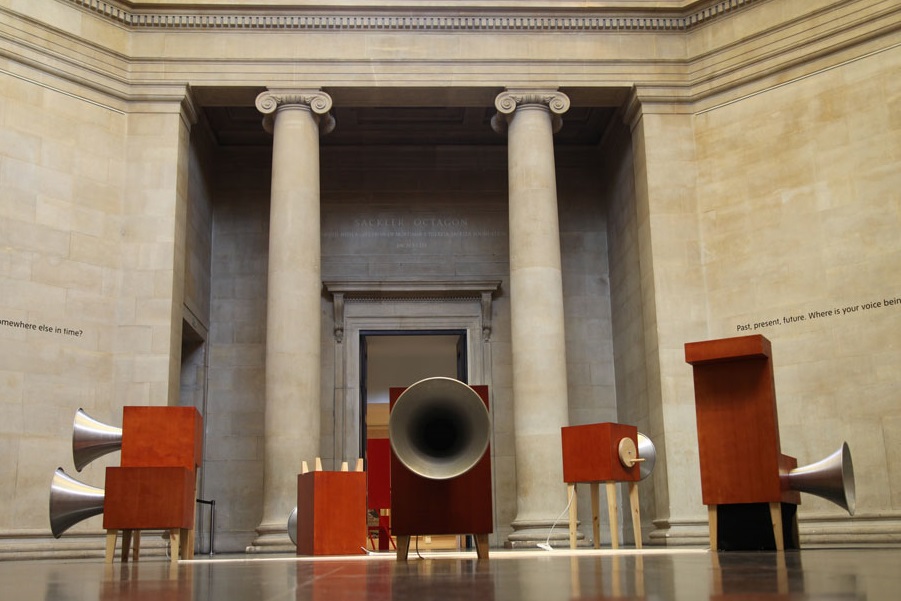 Garden of Russolo
No wonder then that Suzuki's career features many works of sound reproduction eg. those in which loudspeakers are involved such as the Garden of Russolo. The work is done in the spirit of Luigi Carlo Filippo Russolo (1885 – 1947), an Italian Futurist painter, composer, and builder of experimental musical instruments. Already in 1913 Russolo published his famous manifesto The Art of Noises (1913) that announced that the industrial revolution had given modern men a greater capacity to appreciate more complex sounds, instead of confining traditional melodic music. He envisioned noise music as its future replacement, and is why he is often regarded as one of the first noise music experimental composers. Consequently, he designed and constructed a number of noise-generating devices called Intonarumori.
Suzuki's 'Garden of Russolo' (shown at the V&A during the 2013 London design festival) is an interactive sound installation allowing visitors to have a sonic experience using their own voice. The work is based on Suzuki's previous series of sound-activated work 'white noise machines'. The phonograph-like wooden boxes "re-interprete audio inputs into a muffled atmospheric output, twisting and amplifying the original soundtracks".

Electronium Project
Re-imagined the Electronium – Raymond Scott's instantaneous performance-composition machine _ is a work honoring Raymond Scott, an American bandleader, pianist, engineer and inventor who is widely renowned as an early pioneer in electronic music and instruments (eg. Scott was the first person to build an electronic sequencer). Scott's Electronium was conceived as an instantaneous performance-composition machine, able to intelligently generate music by responding to sequenced melodic phrases. In this work, Suzuki ought to recreate the Electronium as software, and bring to life its counterpoint function through the use of modern AI. (To program the AI part of the Electronium, the team collaborated with Counterpoint using Google Magenta's AI software, utilising deep learning code and neural networks trained on Bach chorales to understand relationships between contrapuntal voices, and adapt intelligently to new situations.)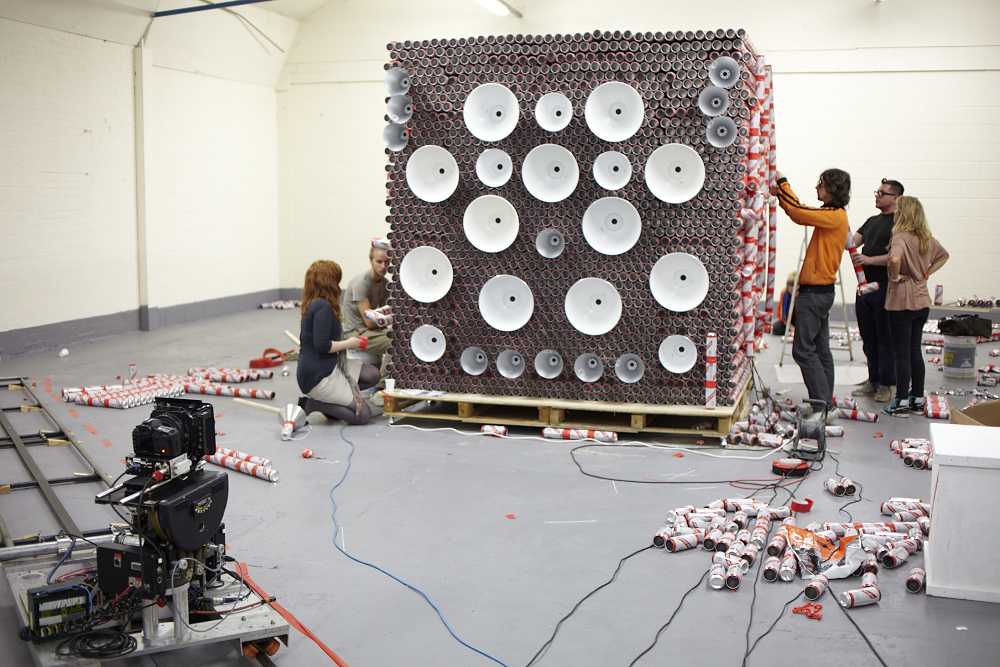 Make something
Part of Red Stripe's 'Make Something From Nothing' campaign, Yuri Suzuki Design Studio designed and created a towering, bass driven stereo system of discarded Red Stripe cans from the Notting Hill Carnival in 2011. The DIY sound sculpture serves as a reminder and tribute to Jamaican reggae, dub and the DIY spirit.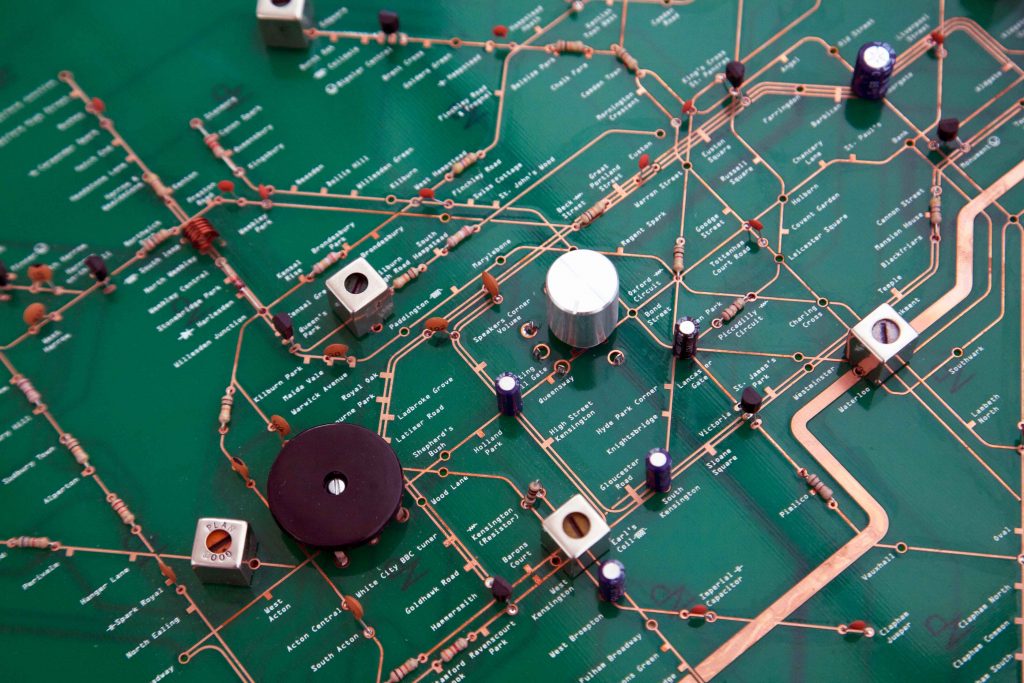 The Map
The map is inspired by a spoof diagram created by the original designer of the London Tube map, Harry Beck, which shows the lines and stations as an annotated electrical circuit. Iconic London landmarks are displayed by means of components relating to their functions (a loudspeaker where Speaker's Corner sits). The "how to explain how electronics work" work unveils the complexity behind the exterior of today's electronic devices.

Warm Leatherette
The soundtrack and video piece 'Warm Leatherette' is based on the similarly named song, originally produced by Daniel Miller. The song is about J.G Ballard's 1973 novel 'Crash' – a controversial story of flesh, sexuality and its violent melding with technology. Suzuki and Nathab Gates created instruments from technological devices readily found in the streets of downtown Johannesburg such as cheap Nokias, televisions, prayer horns made in India and cassettes tapes of Zulu groups sold around the Mai Mai market.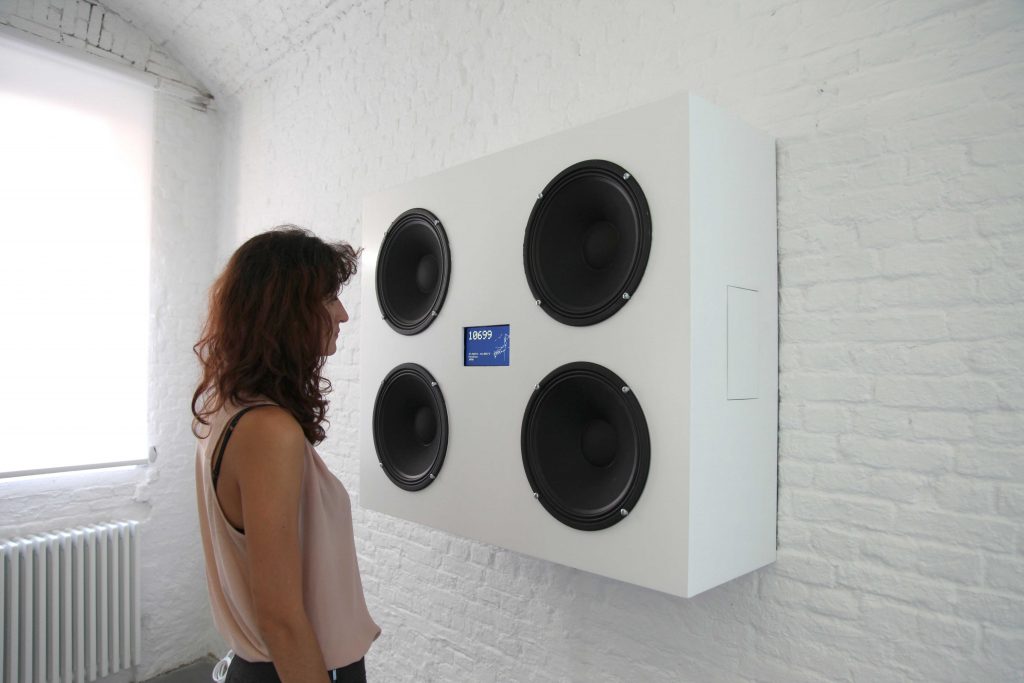 Boom
Boom is a physical representation of radiation around us. A cloud based system is used to select a place of interest, measures the level of radiation of all sort (radio and radar waves, wifi etc.), and is played back through a low frequency bass sound. In Norway 'Boom's' low frequency will be high due to low radiation, wheras in Chernobyl, the low frequency will be extremely low, allowing the viewer to physically feel the radiation through his or her body.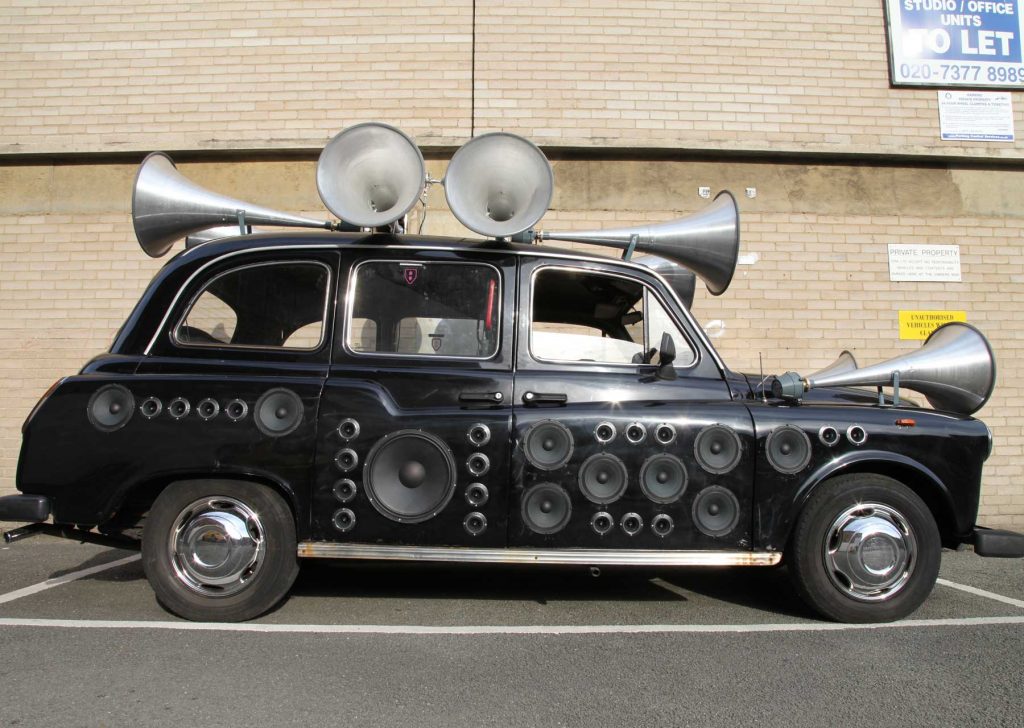 Make The City Sound Better
Make The City Sound Better is a moving installation to translate street noise into music, for which Yuri Suzuki Design Studio transformed the iconic London Taxi into a moving sound sculpture. Microphones attached to the taxi records surrounding noises, such as sirens, construction work and traffic, the software immediately converting the sound into a unique piece of music played back via 67 speakers built into the taxi.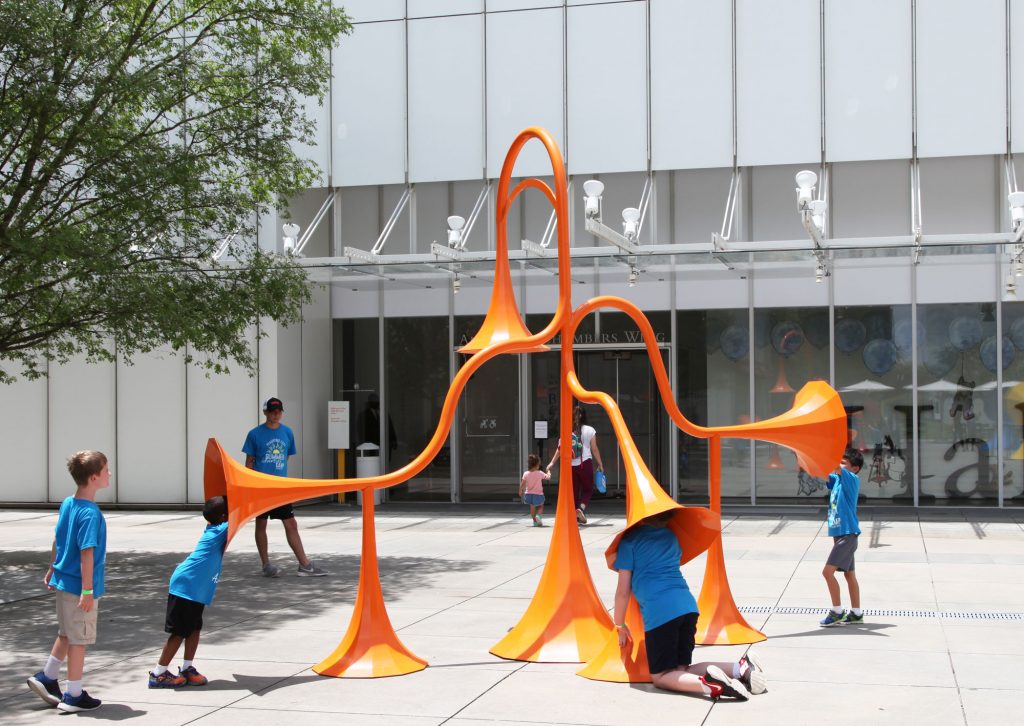 Sonic Playground
This installation is made up of six interactive sound sculptures that manipulate sound depending on where the spectator is standing, listening or speaking. Using matte painted steel horns and pipes, the acoustics can travel from one end to the other in a playful way creating an unique listening experience.
Prepared turntables