Born in 1619 into a musical Venetian family, Barbara Strozzi was a profilic composer and singer, who during her lifetime published eight (seven numbered) collections of songs, which is more than many of the famous composers of her day. Her works were included in important collections of songs, and soon found their way to the rest of Europe and England. In some source, she is sometimes credited with the genesis of an entire musical genre, the cantata.
Not much is known of her, but it is believed that Barbara Strozzi studied singing and composing with Francesco Cavalli, director of music at St. Mark's Basilica. In 1634 B. Strozzi was associated with the meetings of the Accademia degli Incogniti, an 'art group' that is often said to be behind what was later known as Opera and music-theatre. B. Strozzi soon turned out to be a very talented singer, and she performed eg. in Accademia degli Unisoni, where she also developed her compositional talent.
The image below shows Barbara Strozzi holding her viola da gamba/violoncello, and duet music and a violin next to her.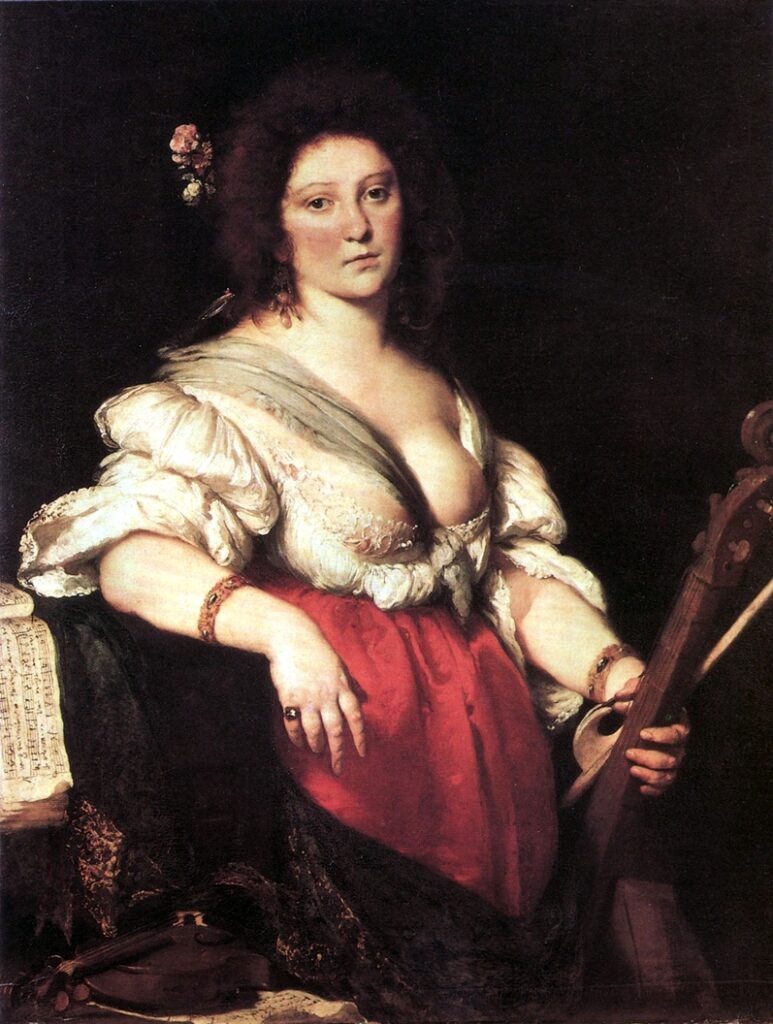 Barbara Strozzi (1619 – 1677) published 125 pieces of vocal music in her lifetime. Each of her seven numbered collections is dedicated to a different patron, including Ferdinand III of Austria and Eleanora of Mantua on the occasion of their marriage (Opus 2), Anne de' Medici, the Archduchess of Austria, Nicolò Sagredo, later Doge of Venice (Opus 7 consisting of 8 cantatas), and Sophia, Duchess of Brunswick and Lüneburg. The eighth collection, Opus 4, is lost but believed to have been written for the Duke of Mantua in 1665.
With the exception of one volume of sacred songs, Strozzi's focus was on secular vocal music in Venice in the middle of the 17th century. Her lyrics are often described as poetic and well-articulated. Like many of her contemporary composers, Strozzi mostly drew from the text of poet Marino. These Marinist texts are described as "a vehicle to express herself as well as to challenge, on a subliminal level, the gender roles of her time".
Celebrating the birthday of Barbara Strozzi
In tribute to the birthday (August 6) of Barbara Srozzi, the lyrical singer, Anousha Nazari, presents a moving interpretation of secular cantata "L'Eraclito Amoroso", an iconic composition by Strozzi. To make believe in the love reverses of Heraclitus, Anousha Nazari and Pedro Rocha invite the listener to a moving journey, highlighting Strozzi's ability to communicate heartbreaking emotion with her music, in this case an abandoned woman's anguish over lost love and betrayal.
The carefully crafted music video provides an audiovisual experience that Nazari's vocal interpretation complements.
On the video, Anousha Nazari transmits the essence of "L'Eraclito Amoroso" with intense passion and emotion: "The intimacy of the solitary female voice, and the sobbing, even moaning melody, masterfully inform the audience about the state of mind of the betrayed lover." The performance reminds everyone of the indelible impact left by the composer on the world of classical music.