Transparency. Not really a property of a sound; rather it's a property of a surface and light. A transparent material or article allows, according to Oxford dictionary, light to pass through so that objects behind can be distinctly seen.  Thus, water can be transparent, ice can be transparent, plastic or glass can be transparent, and so on. The same goes for "translucent", ie. allowing light, but not detailed shapes, to pass through.
Metaphors play a big role when a hobbyist makes his world of imagination collide with his beliefs about facts in order to generate a new understanding of something as abstract as sound.
Transparency is one of the numerous metaphors we apply to sound in order to better understand its nature. There hardly is anything that is literally true in what we say about sound(s): no sound is literally high or low (in one language high sound is young, and low sound old), hard or soft, etc. not to speak of the wide and wild vocabulary of us Hi-Fi enthusiasts. That is not to say that metaphors are useless in describing a sound, on the contrary. They often are very informative to the collective community (of hifi hobbyists) who continuously evaluates the meaningfulness of sound-related metaphors. Metaphors play a big role when a hobbyist makes his world of imagination collide with his beliefs about facts in order to generate a new understanding of something as abstract as sound.
This all came to my mind, again, when I recently saw a pic of a loudspeaker that is literally transparent, namely Harman Kardon's GLA-55 – a two-way loudspeaker from about ten years ago. There was a short period of time when manufacturers of computer loudspeakers, in particular, decided that a cool speaker on a table must be transparent.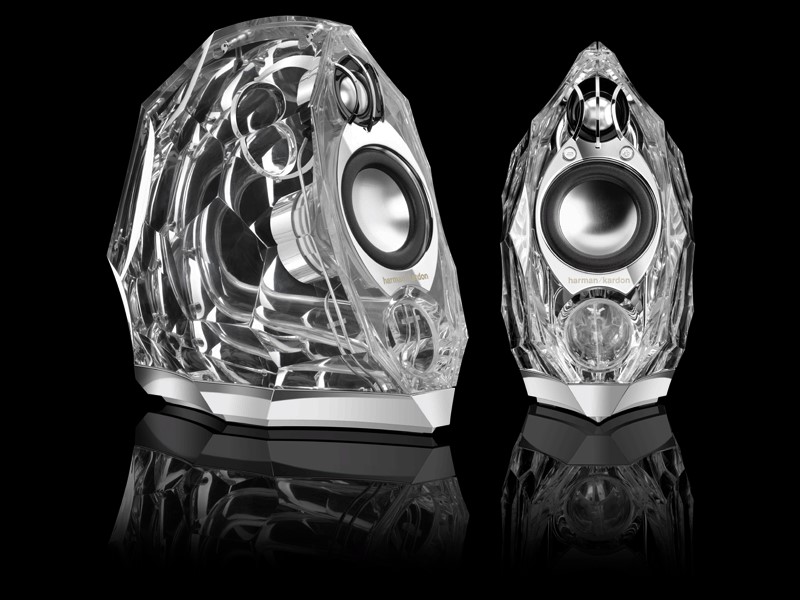 The GLA-55 sports bi-amped (2 x 2 x 26 W) drivers and digital crossovers. As for the drivers,  the GLA-55 features a ported 52 mm metal coned mid-woofer, and a metal-domed tweeter for the HF. The chromed bars are there to prevent unwanted movement of the cones. The 56 W MOSFET Class D amplifiers are hidden in the bottom plate, and the power supply is off the box. The cabinet is made of some sort of acrylic, I guess. A stealth warplane of loudspeakers? A diamond? A piece of Swarovski crystal?
Because of the material and the shape, the GLA-55's enclosure probably is relatively immune to internal resonances (ie. no parallel internal walls and other facts about its construction). On paper that should translate into less distortion and reduced risk of coloration. Another thing that certainly has an effect on the sound is the 24 bit digital signal processing (DSP). Apart from the crossover, DSP is used for equalization and limiting dynamics, as well as levelling the bass and the treble levels, given the speaker's limited size. Frequency response is said to be 35Hz-20kHz (-10dB).
I remember having heard these speakers once or twice, and did not have  major complaints about the sound, but at the same time felt that the sound was still secondary. The transparent cabinet, however, really is kind of unique and interesting because it represents a certain sub-genre among speaker cabinets that every now and then pops up but overall has always stayed on the margin.
Transparency is not an exclusive right of speaker makers, naturally. It's become popular among eg. watch makers, as exemplified here by Louis Vuitton's Flying Tourbillon "Poinçon de Genève" watch.

Other speaker examples
The HK GLA 5 is not alone. My quick recollection says that over the years I've come across a dozen or so speakers with a transparent cab. I mean commercial speakers: the DIY community has of course experimented with all possible materials, acrylic and other. That's what they do. Below are some examples of transparent loudspeakers that immediately came to my mind, most of them made of glass, acrylic or some plastic.
ONEclassic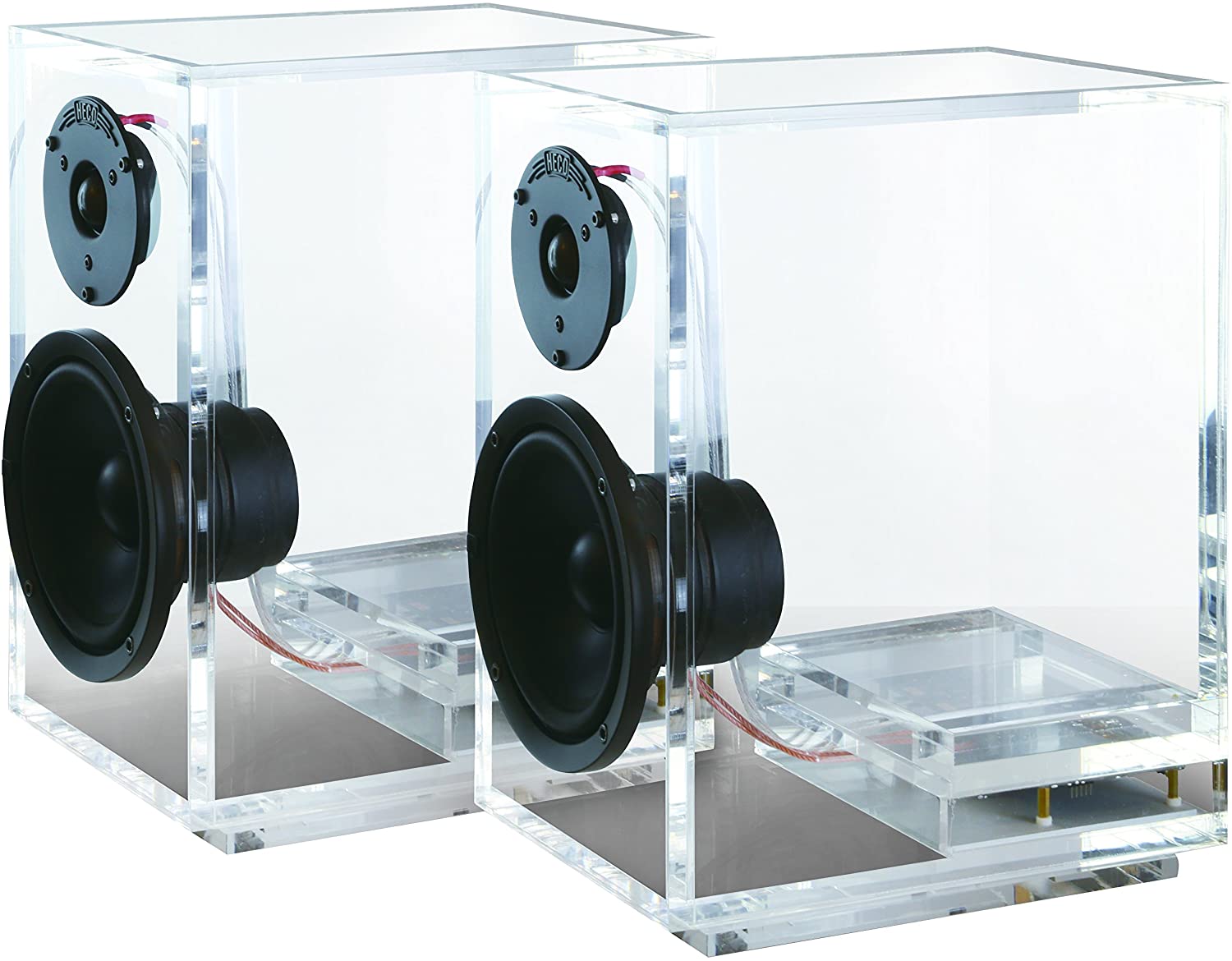 ONEaudio's ONEclassic is made by 100% transparent acrylic, a durable material with proper elastic. Acrylic is 360° fully transparent with shiny edge, and is said to keep shinny for ten years. Acrylic is high density material that makes the 12mm thick ONEclassic a fairly heavy speaker. The manufacturer says acrylic is better than wood in proper sound wave adsorption and reflection. That's because acrylic has high internal damping characteristic. Sound absorption index is close to pear wood. Acrylic sound is natural, basis to warm.
ONEclassic is packed with DECT technology that reportedly changes how stereo sound is delivered to the listener's ears by aligning the sound and removing the audio lag. The ONEclassic 2 sports a 6.5" paper cone woofer, and a 2" silk dome.  The see-through acrylic speaker is plug & play, the frequency response is 65 – 38 000 Hz. The profile of the sound is warm, natural, clear and dynamic. Furthermore, the 7 steps (-3 to +3) tweeter gain control allows adjustment of the tonal.
Harman-Kardon SoundStick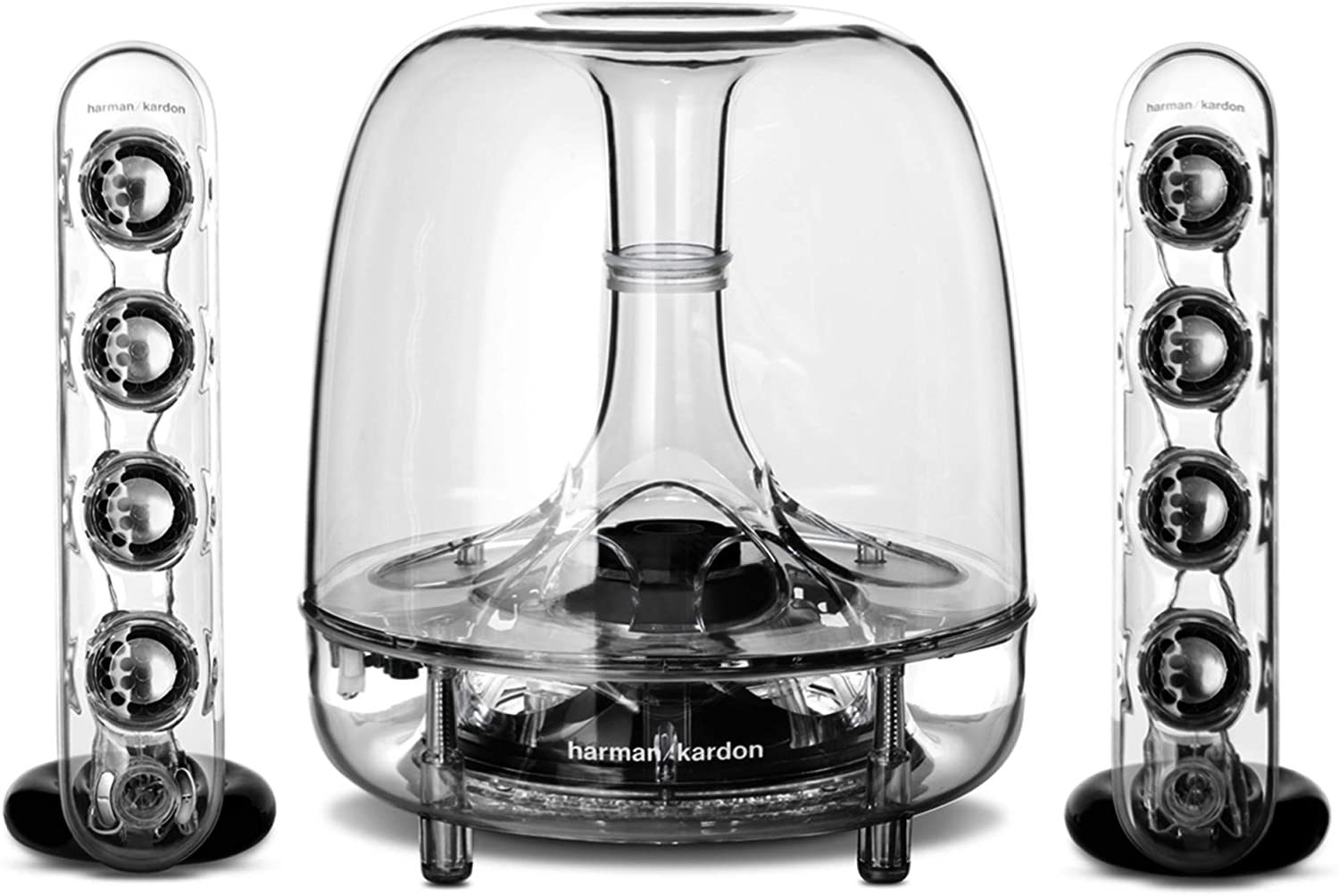 The Harman Kardon SoundSticks 4 speaker system comprises a 150 mm down firing subwoofer and two satellite speakers, each with four drivers of a wide bandwidth. Thanks to its iconic styling, strongly defined by the transparent dome design, the system fits harmoniously into an interior. The design is iconic because this was one of the first widely distributed transparent speakers.
Ferguson Hill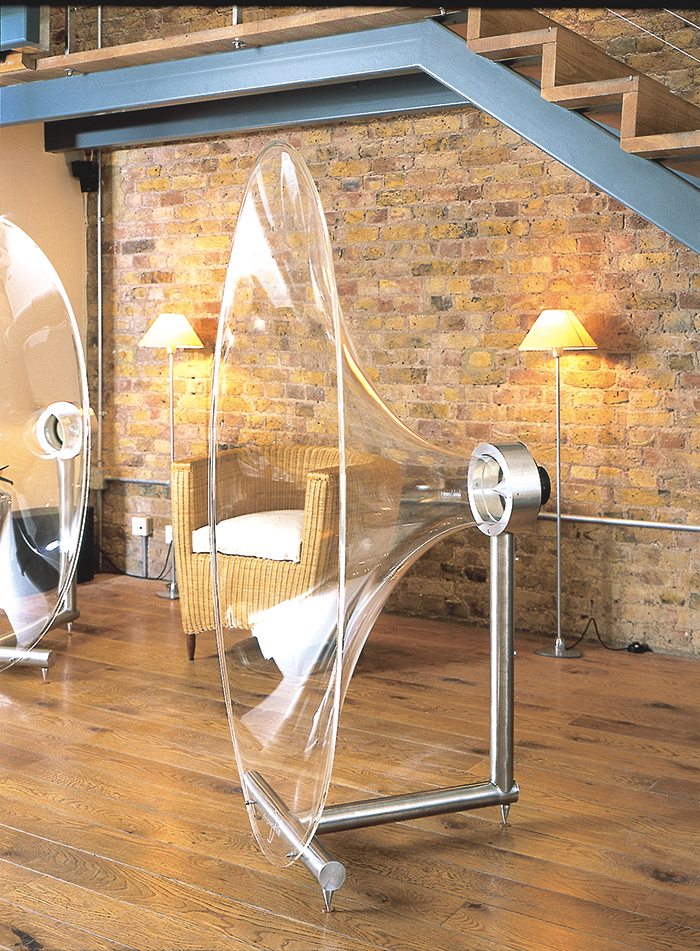 The Ferguson Hill FHOO1 Horn loudspeaker is full range from 150Hz – 20KHz, with no crossover, meaning that a sub bass unit is required below 150Hz. The drive unit is a modified Lowther DX3. The 165 x 92 cm horn is made from toughened cast acrylic, precision moulded, 8mm thick. The support ring and phase plug are precision machined from aluminium alloy, and have a protective anodized finish. The stands are a welded stainless steel construction, satin polished, with internal damping, integral spikes, supplied with floor protector discs. They are said to reproduce music with a high level of clarity and dynamics, and being 100dB efficient, will go loud with just a few watts (5 watts).
The FH007 speaker system is a high-end mini speaker system, scaled down from the larger FH001 horn.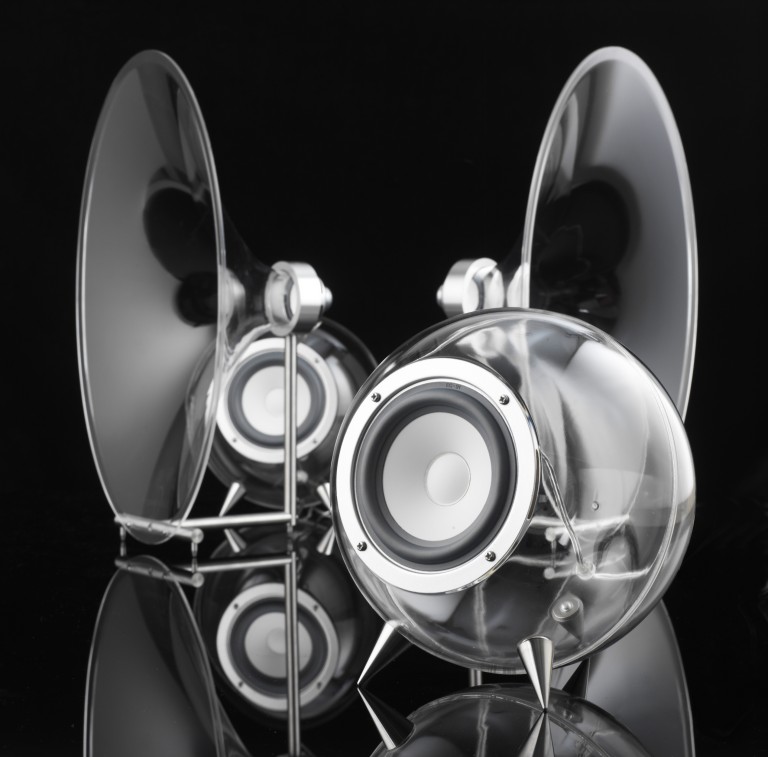 AER Loudspeakers: Goldy & Jazz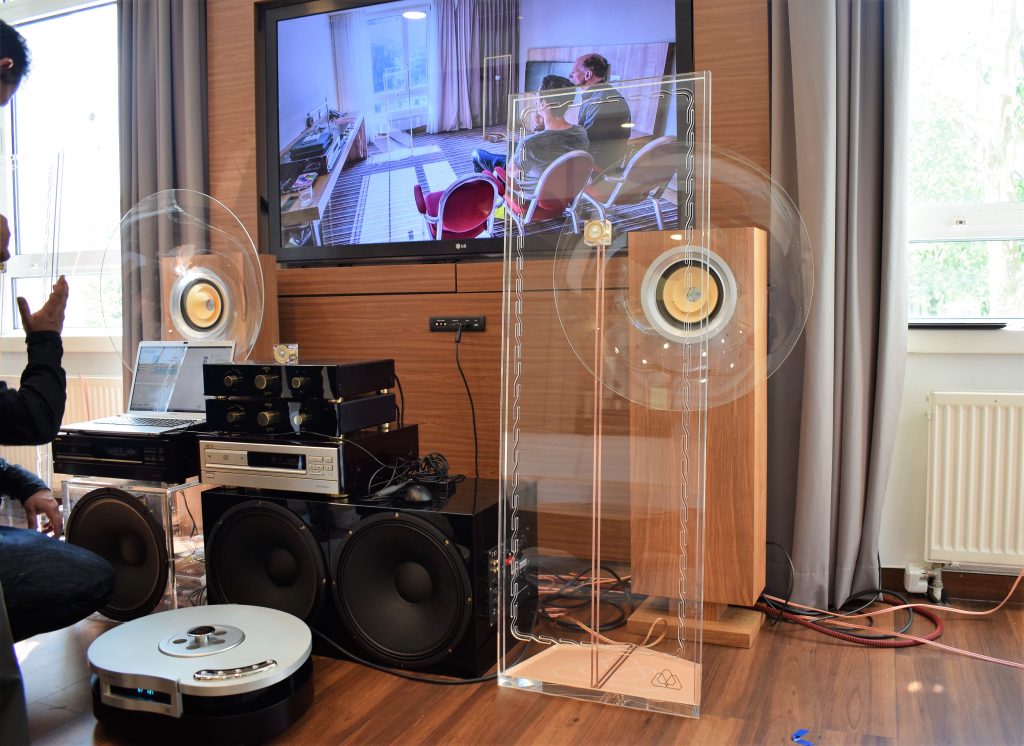 The AER Loudspeakers builds all sorts of (horn) speakers around modified Lowther widebandwidth drivers. In some of them the front horn is made of transparent material (acrylic), like in The Jazz (the speaker behind). The Jazz is an entry level crossoverless, full range speaker based on the AER horn technology: an AER excenter horn around the BD1B driver. The name derives from the sonics: the tonal qualities of The Jazz make, if the company is asked, the speaker ideal for lovers of jazz and classical music.  Due to its 100dB/1W  efficiency, the Jazz can be driven with low power amplifiers.
The Goldy in its turn (the speaker in front) combines unique design with advanced BBX technology. The BBX exciter driver is fitted in a fully transparent acrylic baffle (dipole) .  The 90dB efficient Goldy is said to be able to compete with the bigger multi-way systems. The speaker was present at the Munich Highend the other year, and I must say it surprised many with its astonishingly healthy sound.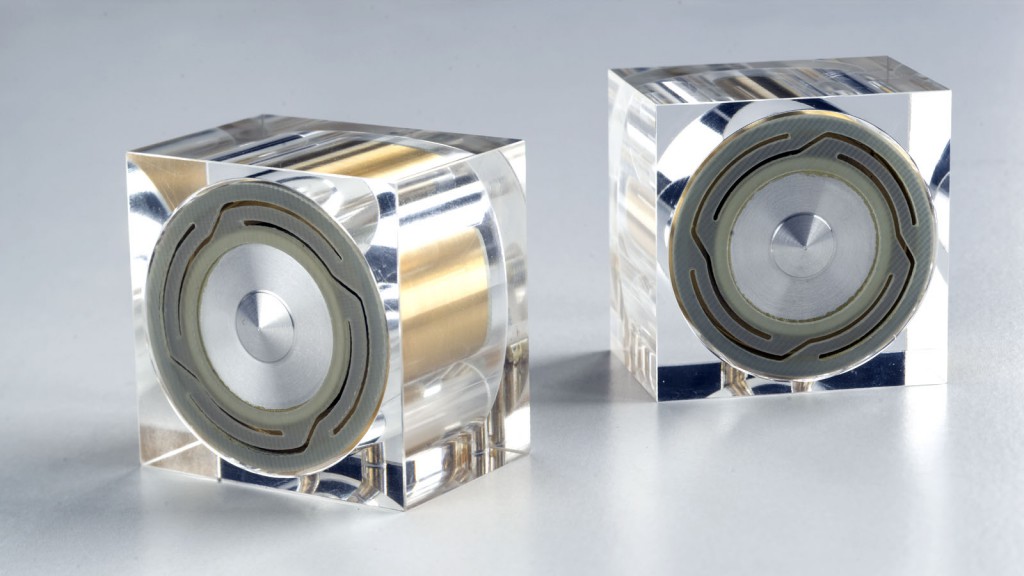 The secret of the BBX drive unit (an acrylic cube of just five cm edge length) is the sound exciter that enables every vibratory surface become a speaker with a wide frequency range, while the frequency response of the resonant surface gets corrected by means of the BBX audio processor.  The drive unit itself consists of a tweeter and the said sound exciter. The bass is limited only by the size and nature of the vibrating surface. The tweeter itself reaches frequencies as high as 30 000 Hz. The Goldy is a point source speaker, and needs no support of subwoofers. Lack of phase error and bad interferences are said to result in homogeneity and almost 3-dimensionality of the sound.
Transparent Sound from Sweden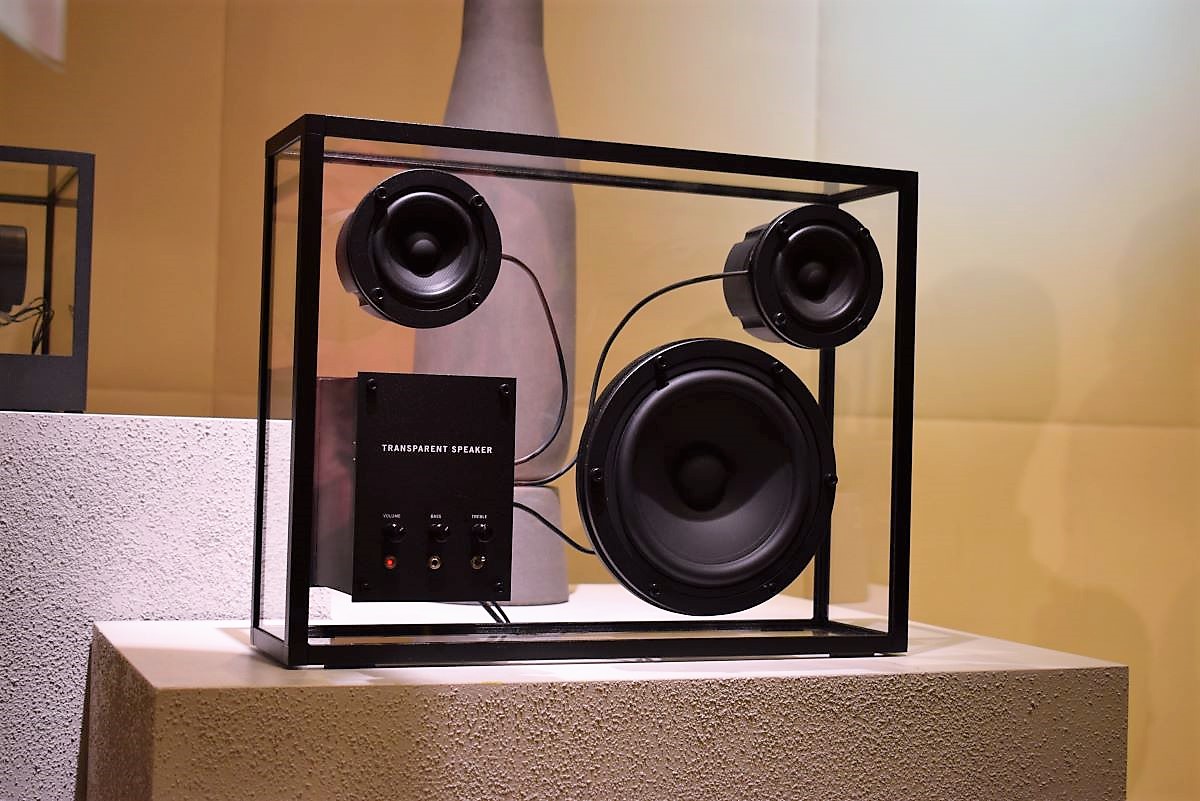 Transparent Sound from Sweden rides on "enduring values with a timelessly designed, modular and fully recyclable speaker". The stated goal is to avoid wastage, and manufacture speakers with fully closed input-output material flows. The Transparent Sound Speaker Black features tightly sealed 10 liter  acoustic volume and the custom designed 6,5 inch woofer to reproduce sound in a  controlled manner. Apart from the woofer, there are 2 × 3'' full-range L/R drivers plus a Class D built amplifier with rated power of 140 watts. The frequency response ranges from 35 Hz to 20 kHz / ±5dB. The output is tuned with high quality digital sound processor (DSP) to reach full transparency. On top of that the speaker offers bass and treble dials for setting on the high- and low-end to fit one's music preference. Interestingly, with the transparent sound the company refers, not to the see-through cabinet, but to a loudspeaker's ability to channel the true intention of a musician (and the recording studio)  through to the listener.