Asia-Europe 5 exhibition is currently on at the Poikilo Gallery (30 Sep 2021 till 9 Jan 2022) in a small south-eastern town of Finland named Kouvola. The gallery hides inside Kouvolatalo, a large exhibition space that sports two museums, the Art Museum and City Museum, covering more than 2200 m2 of exhibition space. Designed by architect Erkki Valovirta, the Kouvolatalo is considered to be one of the most successful postmodern buildings in Finland.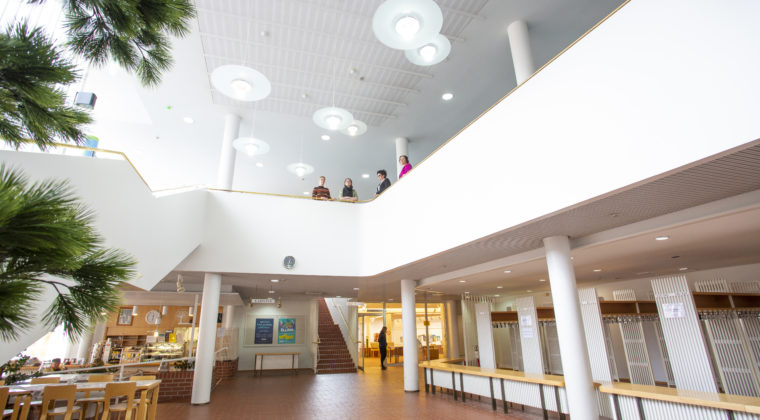 Apart from the two museums, and the Poikilo Gallery, the building seals in Kino Poikilo and yet another art gallery: Kouta Gallery.
The series of Asia-Europe Fiber Art exhibitions was initiated by artist Erny Piret in 2009. Her idea was to relate the richness of the  imagination of Asian and European textile artists to the principle of personal research linked to typical cultural techniques.
Dani Tambour
Le repos de l'ange, 2013
Barbes de poireaux, 2015
L'attente, 2018
Réparations, 2016
peinture, broderie, gants de peau, etc
The very first Asia-Europe fiber art exhibition took place in Lithuania at the Biennial of Kaunas as a satellite exhibition. The exhibition at the Poikilo Gallery (Kouvola) is the Fifth in the series, and presents works from 36 artists with Asian and European background. The AE5 is curated by Marika Szaraz and Raija Jokinen, and it will tour in 4 European countries until 2023.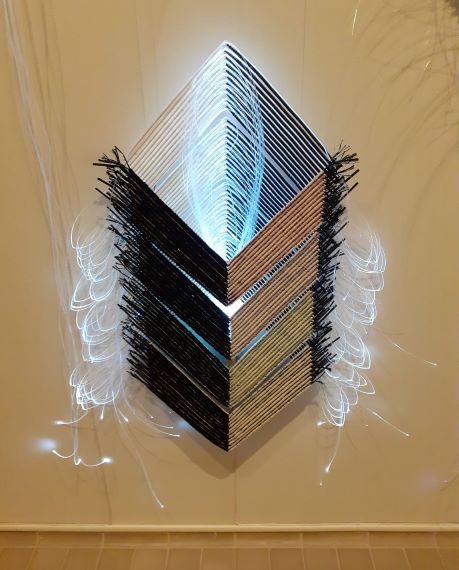 Wlodzimierz Cygan
Traps, 2019
weaving,
wool, viscose, sisal, linen, polypropylene, optic fibers
The selected works have been made by making use of various techniques, mostly out of textiles, paper and other everyday materials that have been manipulated in often surprising and inventive ways.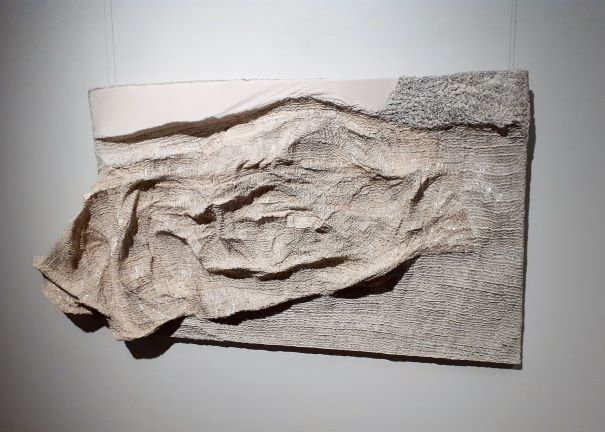 Sandrine Thiébaud-Mathieu
Espace temps, 2019
artitst's own technique,
various fabrics, pins
The AE5 exhibition successfully highlights these original and clever ways in which fibrous materials, combined with different textile traditions, can be utilized. What's best is that the perspective is updated and there's a freshness of personal research and joy of experimentation.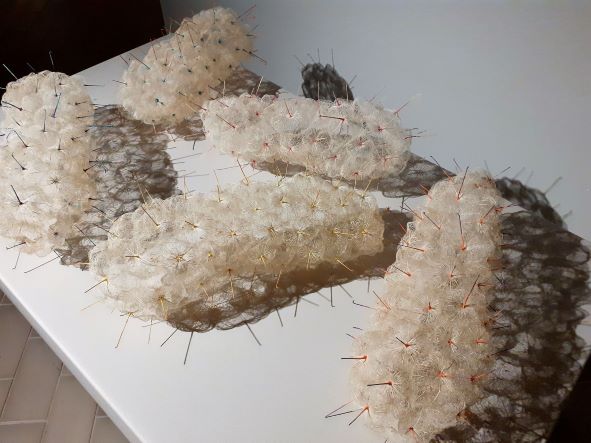 Makiko Wakisaka
Microscopic creatures, 2020
cutting, sewing,
physalis chinese lantern plants, nylon thread, needles
As a result, the very approach of the exhibition comes close to that of contemporary art. As the organizers state, the experimental character of the projects invites not only visual expression but also evokes questions and gives rise to reflection about the value of materials and their endless possibilities and significance.
An example: if you have patience, endurance and vision, this is what you can make of twist ties.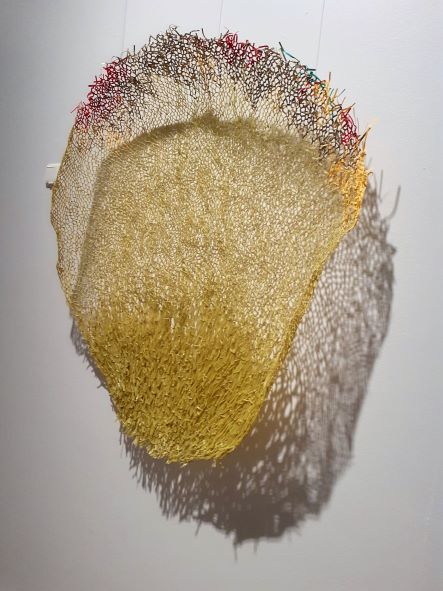 Mi-Kyoung Lee
Dream 2, 2021
coiling, twist ties
Common to many of the sculptural works was their apparent lightness, physical and philosophical. Even the bigger works appear to float in the air as if they were resisting gravity.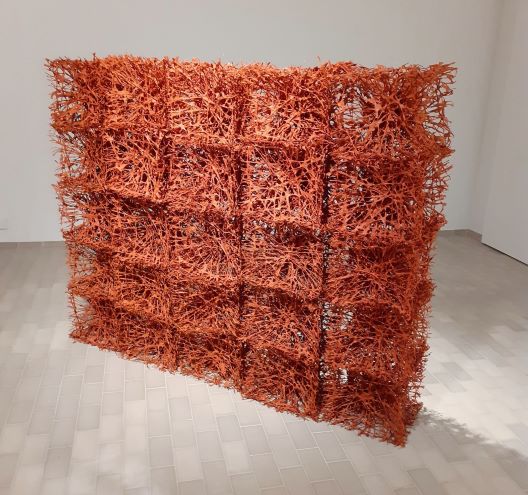 Takaaki Tanaka
Nest Wall, 2013
artitst's own technique
japanilainen paper, branches, flax, metal
And some works literally were placed in the air …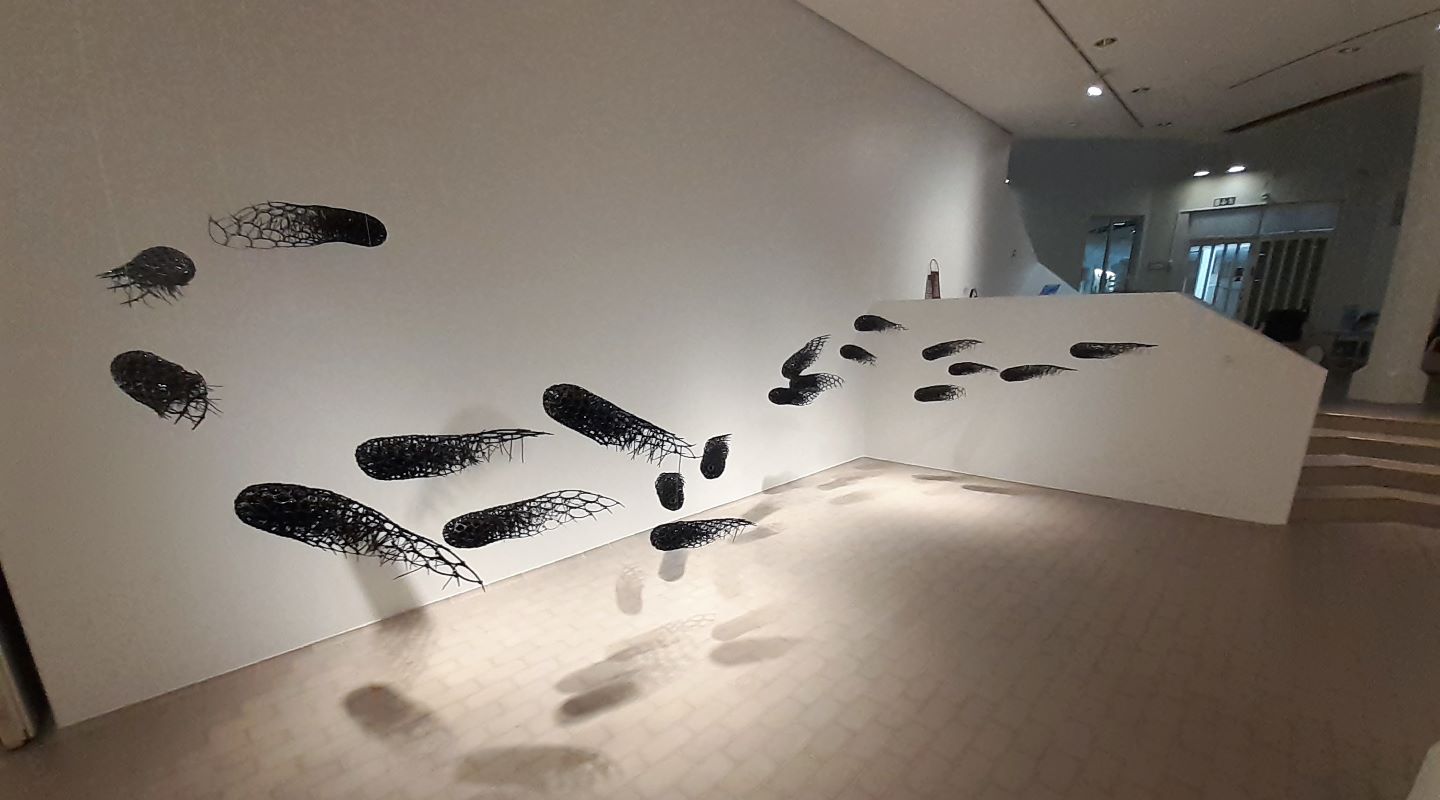 Sui Park
Flow, 2015-16
braiding, plaiting, attaching
black cable ties
Some even dancing (rotating) in the air bringing out the affinity of many works for music-likeness.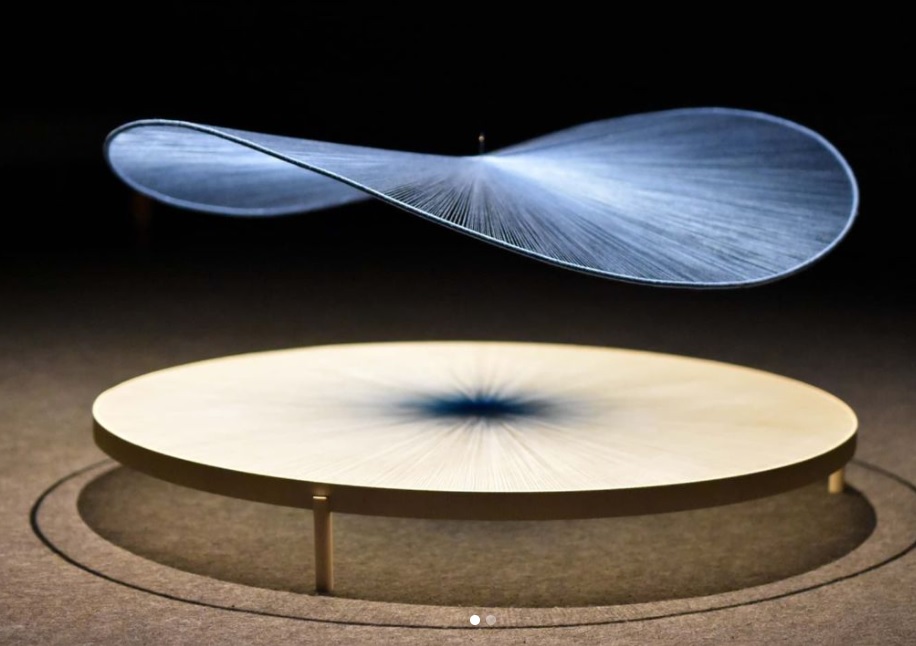 Klara Berge
Invoking – A memory of a Drum, 2019
kinetic textile sculpture,
silk, metal constructions, ink on silk fabric, step engine
No need for a brush and paint in order to bath in the moonlight.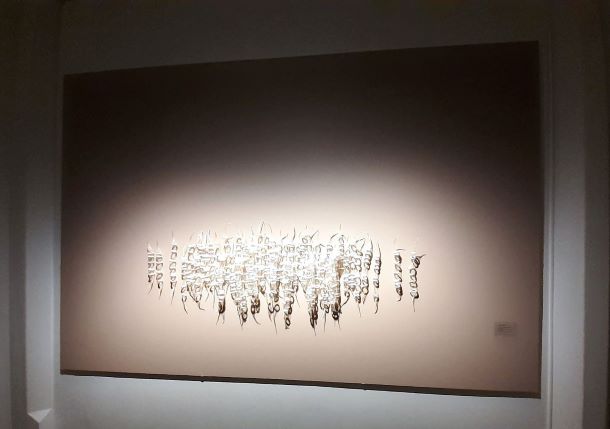 Chikako Imaizumi
Simmer of the Moonlight , 2018
felting, stiching,
japanese banana thread, wool, cotton thread
At the Kouta Gallery, Marjo Hallila simultaneously exhibited her  Graphical objects. This was not part of the AE5 but the works went well with the AE5 material. Hallila's methods are wood carving and painting, and the materials: pine glue board, polyester and polypropylene rope, and acrylic paint. The surface of the elements is dead black, and that is accomplished by using a suitable paint: "Through research and testing, I have found suitable paints that do not refract blue or gray. Some works also have pigment under the paint, but that doesn't affect how the light is absorbed. The works titled Intersections have a different paint than other works."
Hallila's objects leave the viewer in the ontological state of confusion, which is exactly what good art does.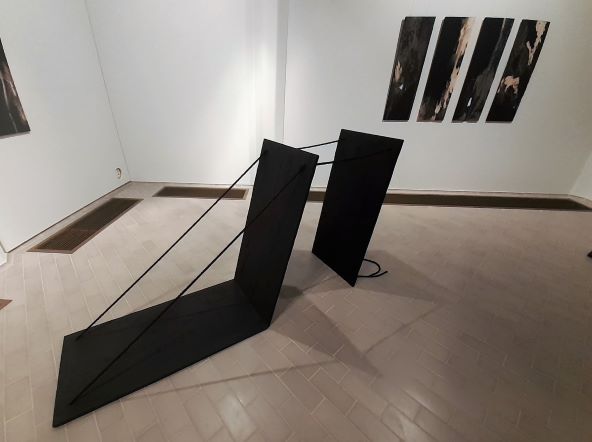 Front: Intersections 2 (2017), three parts (50 cm x 100 cm x 2 cm), techniques: wood carving, painting
Behind: Encounters II 1–4 (2021) (30 cm x 100 cm x 1,8 cm),
techniques: wood carving, painting