Futuro is an utopian elliptical plastic house designed by Finnish architect Matti Suuronen (1933–2013). The shape is reminiscent of a flying saucer with the structure's airplane hatch entrance. Inspired by optimistic ideas and new materials, the Futuro is composed of fiberglass-reinforced polyester plastic, polyester-polyurethane, and poly(methylmethacrylate).
The 4 metres high, and 8 metres in diameter, Futuro house was first exhibited on TV and to the press at the Polykem plant in Vantaa, Finland, at the end of March 1968. International breakthrough took place in October 1968 when the third Futuro (no. 002) was displayed at the Finnfocus Export Fair in London.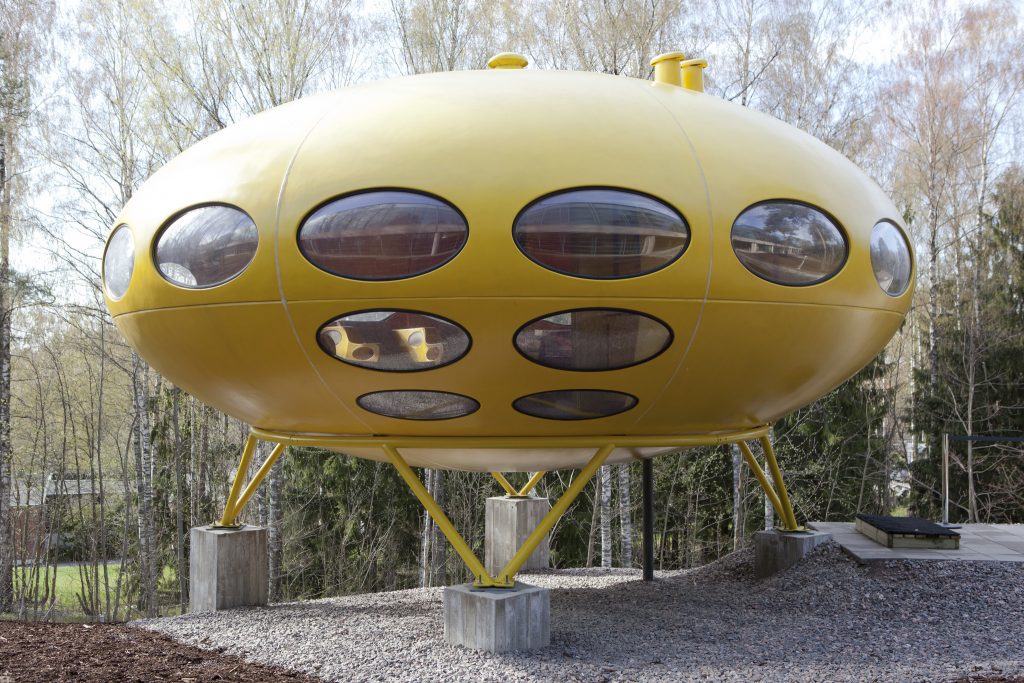 As a "plastic" vision of its time, the Futuro house still fascinates people and collectors. Fewer than 100 were built during the late 1960s and early 1970s, and 62 of them still exist in all over the world. One is situated in the backyard of the EMMA – Espoo Museum of Modern Art, who, to celebrate the house's 50th anniversary this year, has put forward a range of exhibitions and events throughout the summer, including a new artwork, Plastic Heart, by an artist and filmmaker Mika Taanila.
Mika Taanila is especially suited to the work, as he has directed the famous documentary about the Futuro, and also because many of his other works similarly reflect on the relationship between humans and technology as well as utopian and dystopian visions of the future.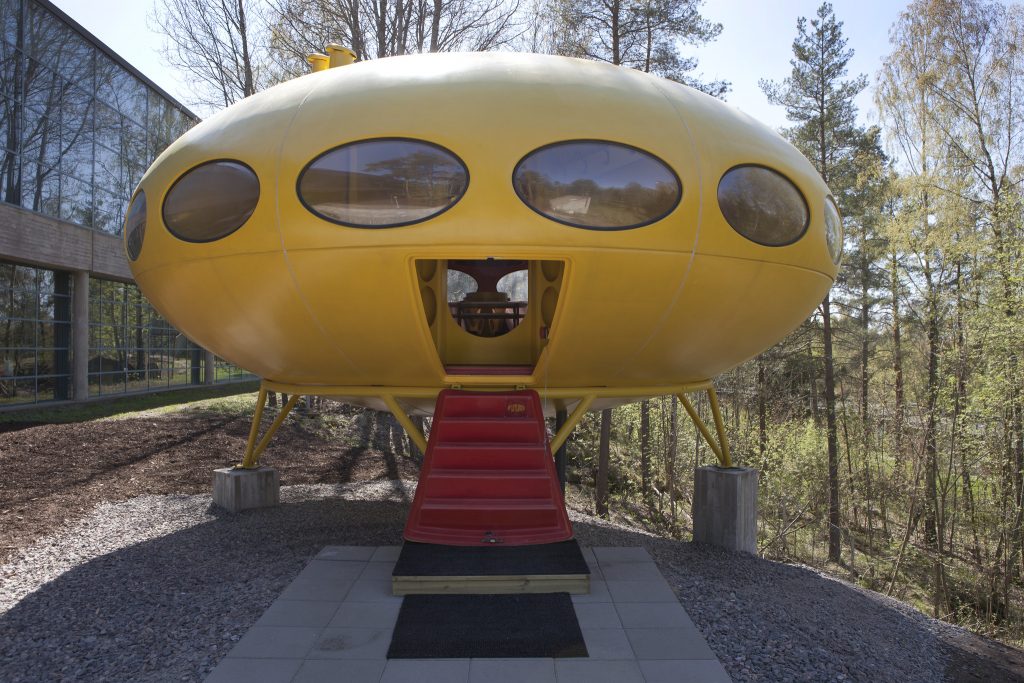 Plastic Heart is a multi-channel sound installation altogether around 30 red Genelec loudspeakers hanging from the ceiling and the walls of the house. The piece has been composed by using only authentic sounds associated with the materials from which the Futuro is fabricated. The sounds are recorded at a factory specialised in restoring Futuro houses, Ekin Muovi based in Virtasalmi, Central Finland.
The oval interior of the Futuro transforms the house into an echo chamber (not very sharp echoes), immersing the visitor in the musical "birth story" of the Futuro. Moving somewhere between documentary and fantasy, the work conjures images of plastics production back in 1968, a time when society was yet oblivious to environmental effects of microplastics pollution.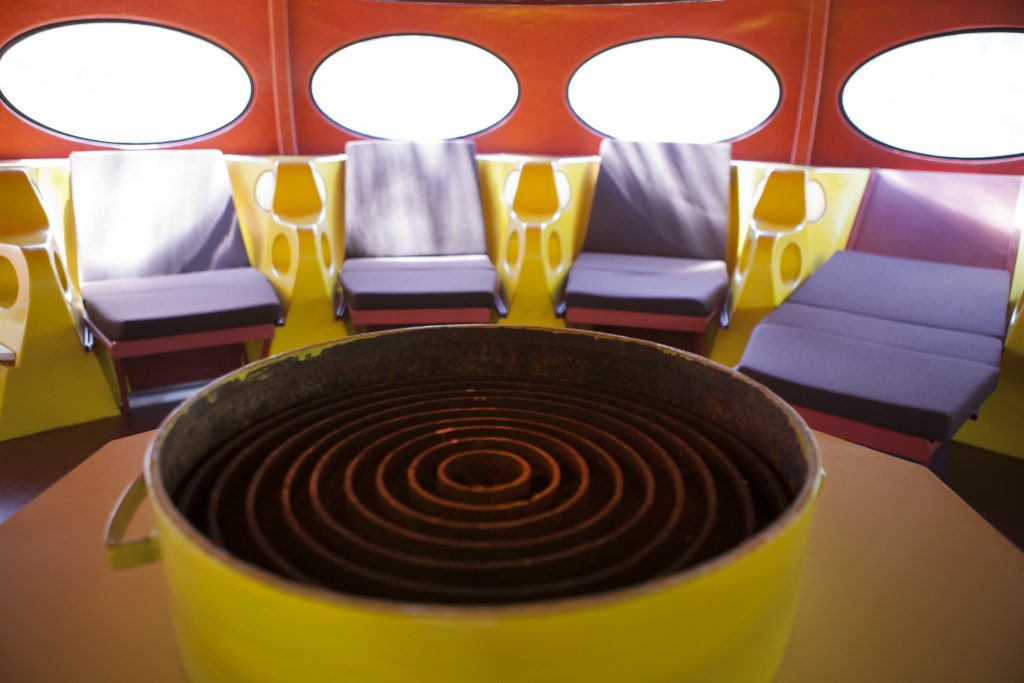 In Taanila's own words, Plastic Heart is a "film without film", it takes the listener on a concrete journey to the core of the Futuro. The experience was somewhat baffling, as the powerful sound world of the artwork appears to be in striking conflict with the initial idea of placing the Futuro in the wilderness well outside noisy urban areas. Many of the preserved Futuro houses realize the idea of "living with the nature".
The Plastic Heart installation is open until 16 September 2018 inside the EMMA Futuro house.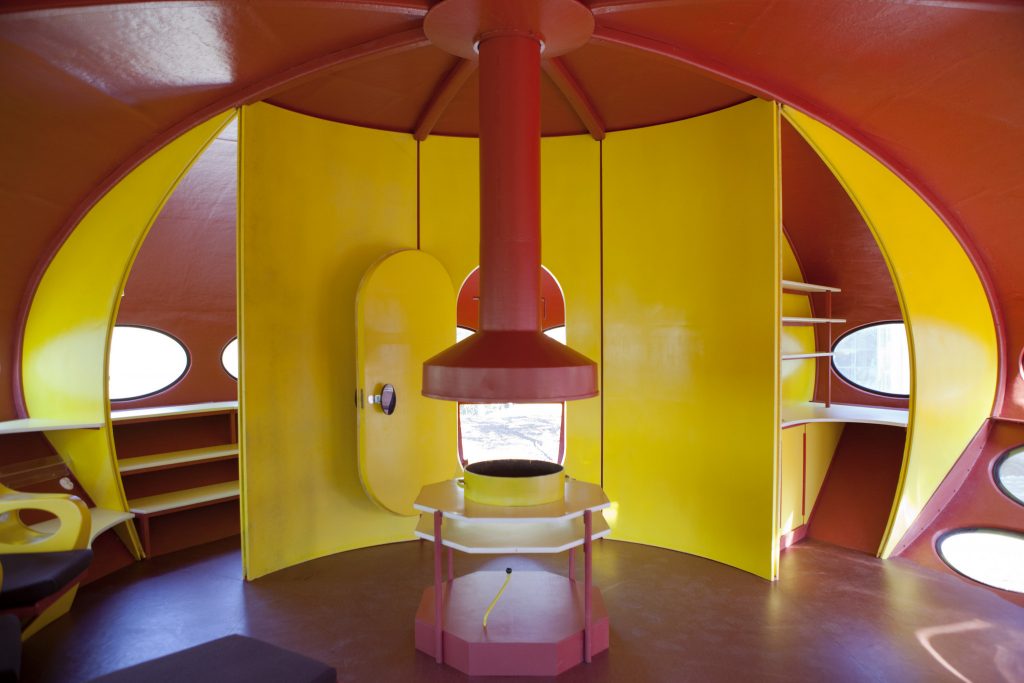 Plastic Heart is produced by the Exhibition Centre WeeGee / Espoo Event and Cultural Services in collaboration with the EMMA – Espoo Museum of Modern Art, with support from Ekin Muovi, Finnvox and Genelec. Plastic Heart is part of the Helsinki Festival programme.
Pictured: Mika Taanila in the Future house at WeeGee. Photo: Ari Karttunen / EMMA/ WeeGee