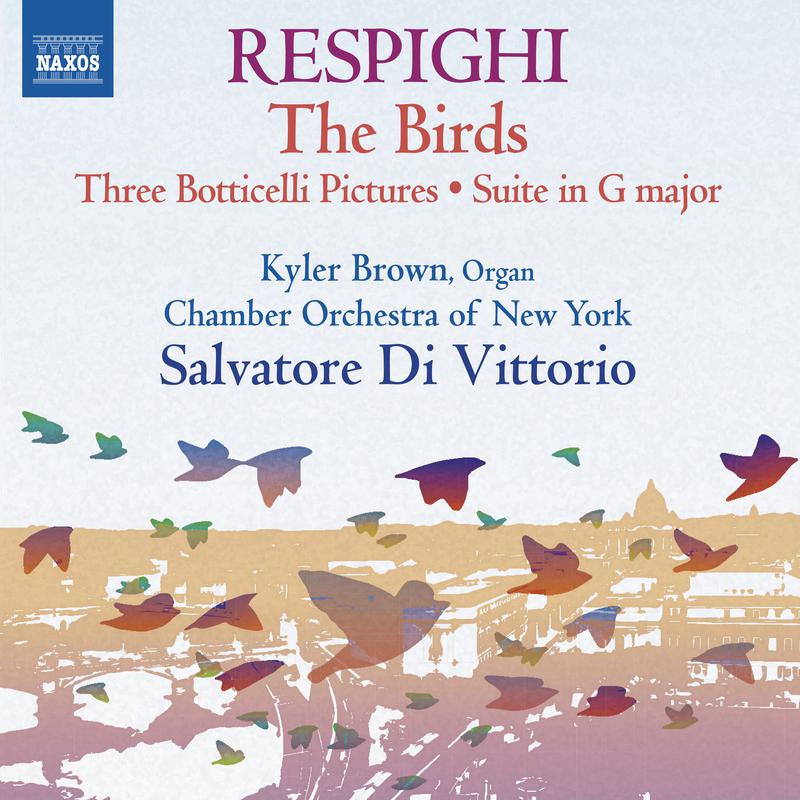 I do have heard and listened to Respighi's music before, but for some reason it has escaped my deeper attention so far (much more so than music of Rimsky-Korsakov or Max Bruch, with whom Respighi studied composition). Not any more.
This wonderfully recorded Naxos CD contains absolutely charming but not naiive orchestral music from the early 20th century composed by Ottorino Respighi (1879-1936), and performed by the Chamber Orchestra of New York under the direction of Salvatore Di Vittorio.
The works include Serenata for small orchestra (flute, oboe, clarinet, strings), major orchestral compositions Trittico Botticelliano and Gli Uccelli (The Birds) as well as Suite in G for organ and strings here presented in its worl premiere recording!
The Serenata is a witfully orchestrated, marvellously transparent and lightful piece, fully enjoyable music, and a great start for the album. Trittico (three paintings) and Gli Ucelli (four birds) witness how skillfully Respighi borrowed from the Italian baroque music and combined the influences with the late 19th century romantic style of orchestration to generate something that sounds impressionistic but is not, a fact best revealed by dance like rhythms. Respighi's music has originality on par with other great composers, and the fact that his music occasionally possess openly programmatic aspects doesn't bother at all.
Paying hommage to Bach, Frescobaldi and Corelli, Suite in G minor for Organ and orchestra is most empowering music I've heard for a long long time. It remotely reminds me of Poulenc's famous Organ concerto in its boldness, but is more baroque in spirit. What a drive in the first movement!
The well-recorded CD has become one of my favourite orchestral recordings.