Glancing over Roni Martin's training bunkhouse, it is obvious that he has a very intimate relationship with all his instruments as well as the equipment used for producing and reproducing music: Hammond M100/Leslie HL822 (1967) at the end wall, Rhodes MK2 on the floor, Yamaha vintage PA speakers in the middle of the room not to speak of all the stacked guitar and other amps at the side wall. The adjacent room hides Roni's studio stuffed with a large selection of exotic studio gear.
Are you a gear freak by any chance?
"Absolutely! I've tried to reduce it, to find some sort of balance, but it's true that ever since I was a little boy … in fact, I remember how when five I found a led and pushed it directly into an electrical outlet … ha, ha, ha … also as long as I can remember I have garnered stores or flea markets to discover old turntables and other used stuff. "
And your career as a producer and a studio professional, how did you get into that?
"My first memory of recording takes me back to my first band's training cave at a basement of a theater where my friend's dad was working. There were some sort of recording devices, a quad track Fostex Tascam … There I used to make and record my own music every day, even when the other guys were not present. More crucial was, however, when around the turn of the millennium, I went on to participate in various studio projects with Jukka Orma and Otto Donner, both very famous producers and my most important mentors."
It was Jukka Orma who produced your first band's Winha's first two albums containing mainly hard psychedelic rock, wasn't it?
"Yes. For recording the second album, Important from 2001, we spent nearly four years. Such anxiety tells at least that the sounds of the album were not indifferent for those involved. Now years after it's more obvious that that particular album was a kind of a technical-artistic experiment."
the studios had a rich mixture of studio technology from the 1950s and 1960s, all sorts of tubed preamps and the like. Methods of work were also similar to those of the 1950s and 1960s. Those standards set 50 – 60 years ago still continue to be a model for me.
You were also involved in making Orma's solo album produced by Donner in early 2000?
"The record was made at Orma's studio at the Cable Factory, where my studio is today. I remember I spent long periods of time in the studio. I was the jack of all trades and took part in all sorts of activities  … I recorded and mixed some songs for Otto's albums, but there were all kinds of projects with different people.
"The time spent with Orma and in Otto's studio was essential to me, especially because the studios had a rich mixture of studio technology from the 1950s and 1960s, a variety of tubed preamps and the like. Methods of work were also similar to those of the 1950s and 1960s. Those standards set 50 – 60 years ago still continue to be a model for me.
It was a like a studio commune. Forsman, Orma, Donner, and I … After 2006, I mixed and mastered, together with Orma, numerous albums. When Timmion's producer Didier Selin dropped out the studio, I moved in and am still there. "
Self made, best made
Your hardware is not just a result of collecting different gear. You've also been an enthusiastic DIY-hobbyist?
"Yes, I've diy'ed several devices mainly in order to fully understand what's inside the equipment. My first self-made realization was Bill Putnam's LA2A compressor, the schematics and components of which were easily found on the net. My latest DIY project is Bill Putnam's 1176 Blues Stripe Compressor. For a couple of years I built a lot. I also built my own tubed guitar amplifier, with which I still play all my gigs."
The amplifier is the 15 Watt Fender Deluxe 5E3 clone by the Mojotone's Kit with 6072A in the front and the RCA 6V6 NOS as the power tube. The rectifier is 5Y4 and the phase inverter 12AX7. It's "point to point" soldered and the OP transformers are from Hammond.
Which loudspeaker element you prefer?
"Instead of the original Jensen Alnico, I use Sica's repro-elements from Italy. They have a similar paper cone and an adhesive suspension. Not everyone likes them, but I think they produce a great sound. They just have to be burned in properly, so the sound opens up and fully blossoms. And the magnet must definitely be Alnico as in Jensen. It has a great effect on the sound! "
Any accidents?
"Some, as always with electricity. The worst episode was with my Hammond. Major disasters I have avoided partly because I can always trust on an amp specialist Joni Vesasen, who frequently goes through my realization before I connect them to the wall outlet. Joni has also helped me in restoring old gear to their former glory."
Apart from the DIY stuff, what else you have?
"A Fender Vibro Champ from 1967, the best studio amp in the world, to which I usually hook the live guitars in the studio. There is also a modified Fender Bassman from 1969, Mojotone's Tweed Deluxe Custom (5E3 / Princeton) and Marshall's 2 x 12 inch from the 1960's."
What's your story with guitars?
"My first electric guitar was Ibanez Road Star II, and the sound was horrible. Then it was Gibson Fireberd's turn. Its neck got broken during a tour in France in 1995. The same thing happened with my next Gibson, the Gibson ES335. With the help of the premiums, I went and bought my first great-sounding guitar Gibson Lespaul Custom 1987. I'm not saying Firebird or 335 are bad guitars, but at the time I played them for example through the Peavey Classic 1977, the sound of which was pretty terrible. "
And Fender?
"A colleague of mine was against Gibsons and began talk me over to join the Fender camp. As a result, I acquired Fender Telecaster Custom 1975. Ultimately, I moved to the Fender camp after I discovered, after a long search, Stratocaster Avri FSR (Factory Special Run) 59 reissue from 2007. It's a lightweight special model with a Stevie Ray neck and special mics."
How much the mics matter?
"They are unbelievably important. They are the ones that produce this bright and clear sound of my Strato. Of course, the neck and the weight and so on also affect the sound. In addition I own the Fender Stratocaster AVRI -62 reissue, the Fender Jazzmaster 66 reissue and the Fender Precision bass guitar. "
Any acoustic guitars, apart the one your father built for you?
"The best I currently have is steel stringed Martin D35. In comparison, the Fender Malubi, which I also had, was just a piece of shit".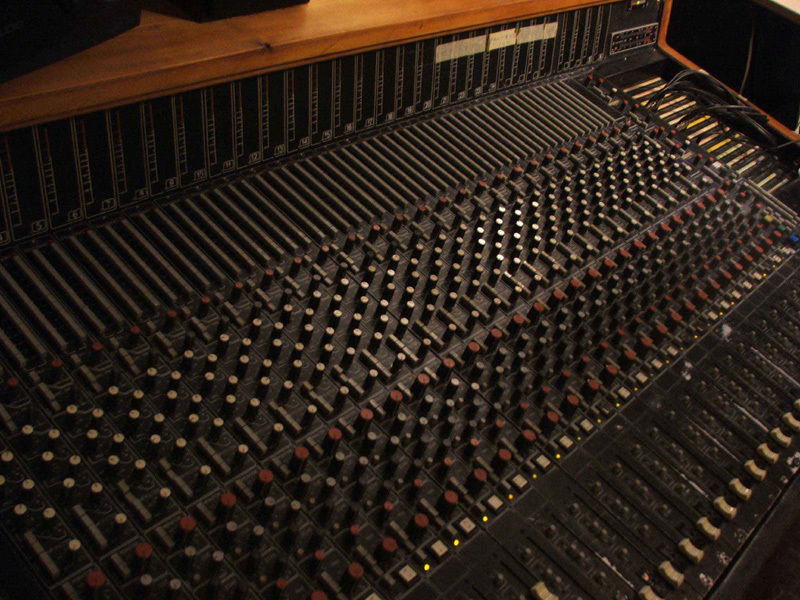 ABBA's and Roni's
Ok, let's go back to your studio. I saw all sorts of vintage treasures there?
"That's true. I have, for example, Telefunken V376 Microphone preamp, EMT 140ST tube echo and Dynacord Echocord S62. There is also the PM670 "Fairchild" -style Vari-Mu Compressor and two G-Pultec EQP-1 tube equalizers. The Otar's MX 5050 8-track 1/2 "multi-track recorder is complemented by the impressive Telefunken 15A master tape recorder."
But one is on top of others, your Harrison mixing table?
"It is the genuine Harrison 2824, and I'm very proud of it! It is one of the in-line mixing tables manufactured by Harrison between 1975 and 81, a kind of inline table ultimate version. Only dozens were completed. Mine is No. 71, and its from the Finnish Broadcasting company. ABBA's Harrison is now owned by the Finnish microphone designer Martin Kantola!  The device weighs 400kg and is completely analog. It is stuffed with transformers, the master channel alone has 16 transformers! The design is rugged and the implementation of the peak is high quality. The advantage with Jensen transformers is brilliant, all feiders of the finest quality … "
For monitoring, which loudspeakers do you use?
"My monitoring loudspeakers include Yamaha NS-10 and Genelec s30c + 1092. My old set-up had Genelec 1030 plus a sub. I had it for almost 12 years, but more and more often I found myself feeling that the high frequency precision should be more musical. Then I got the Genelec s30c, whose ribbon tweeter is in its own class. I like it very much. I also tried Genelec s30b but it has a different amp than the c, and the sound is terrible.  The Yamaha NS-10 is a good speaker in the sense that it sounds like standard home loudspeakers would sound. With the Genelecs everyting sounds better than they actually should."

So how do you record? What are your main principles?
"While we were touring with the Flamenco Group, I had a long computer-based period.  I only operated with a laptop and used my nylon guitar to imitate a bass guitar, the rhythm section and so on. My first flamenco album was made in this way. When we returned from Spain, I felt I had had enough of singing alone and of recording with a laptop. I had a strong desire to replace the tape with a live band. Using a live band and recording live performances started to feel right, especially in multidimensional dance works. At the same time it was a social event, not just a shredding. "
So the best records are recorded live?
"Definitely. That's why I'm such a great Dylan fan, for example. Although there are imperfections in live recordings, they also have some real and right and lively quality missing from pure studio productions. And with improvised music such as jazz, live recording is indispensable. My flamenco music is kind of jazz. The best recordings are recordings of the present situation".
And with improvised music such as jazz, live recording is indispensable. My flamenco music is kind of jazz. The best recordings are recordings of the present situation".
"I became aware of this when I read an interview with T Bone Burnett, the guitarist on Dylan's Rolling Thunder Revue band, dealing with recording and producing albums. The message was that one should make recordings as they were made in the 1950's, meaning that one can hear the band playing as an ensemble, rather than a collection of closely microphoned instruments separately. The whole group should be considered as one unified body."
Your recording procedure?
"I usually start by searching the very spot in the room where the band sounds the best and where the whole sounds good, and it is there that place the pair of ribbon microphones. Then I try to determine the right volume for the space. I also need to make sure the playing mode sounds good, then I add a stereo pair of spatial microphones, one mic up, and finally the near field mics as required. My reference is Duke Ellington's recordings from the late 1950s. It's not that complicated. The starting point is a fabulous room, a heavenly competent band and sickly good arrangements, it's almost there …".
And your home stereo?
"Nothing special. I do have Technics SL1000 studio-turntable with the SME 3009 Mk3 tonearm and the Goldring cart. Since the player sports its own RIAA and preamplifier, the signal goes directly to my Pioneer's line input and from there to Dali's little bookshelf speakers. I want to listen to the music at home just as normal people do, not hi-fi. Besides, my kids are still so small that the devices are under a constant threat. Broken loudspeaker cones are not unusual, and cocoa has fallen over the amp."