How to recognize the presence of true art? Here's a suggestion. Look into yourself. See if you start to become aware of your loneliness, the solitude that hovers around our existence, and you understand how much you have suffered, how isolated you are, that there's no real bondage with other human beings, and ultimately, can never be. If these are sort of thoughts that speed back and forth in your mind, then you just might have met true art.
True art transcends time. True art is eternal. By definition it reminds us of our mortality, witnesses of our triviality as individuals, the overwhelming meaninglessness of things that come and go.
While watching Compañía Kaari & Roni Martin's "Kill Carmen" the first thought in my throat was: this is where my miserable me should be. At the source of pure child-like creativity. Music, poetry, dancing. So sad, so happy – at the same time. Tragic but not dead serious.
True art consoles and cures, becomes a companion. It sets us on top of our everyday experience, not as an excuse for cheap escapism, but as a common proof of where human beings are at their best: artistic creativity.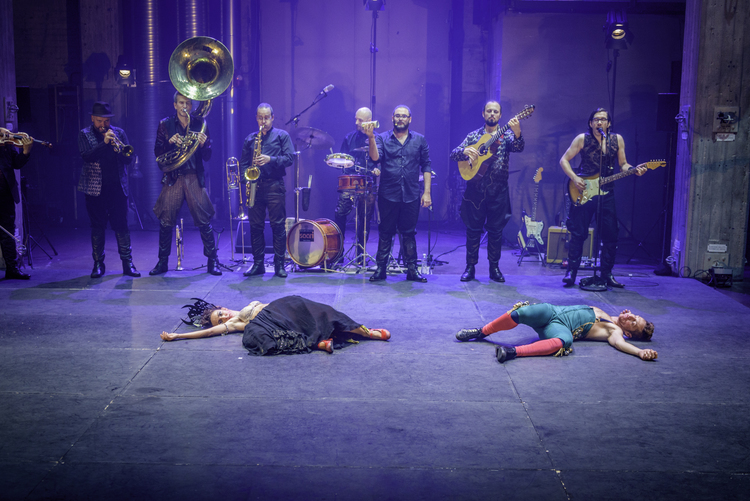 Kill Carmen is a true Kunstwerk but at first it puzzles. What kind of performance is it? A concert? Definitely Not. A dance show? Dancing yes, brilliant in fact, but show, No. Music theater? Kind of.
Trying to figure out how to classify Kill Carmen (always the first step in an attempt to understand something) I accidentally remembered Kurt Weill's The Threepenny Opera (Die Dreigroschenoper). I'm happy that I did because noticing many parallels is unavoidable, starting from the 'libretto' with a strong social (though not perhaps political) echo.
I don't think Kill Carmen owes anything to The Threepenny Opera, although I'm positive that Kaari & Roni Martin (artistic direction) as well as Atro Kahiluoto (dramaturgy) have read their Brecht and know well Weill's music. Those who haven't seen or heard Kill Carmen might, however, benefit from the knowledge that the overall effect is alike:
… wild, absurd, grotesque, shamelessly sensual, funky, funny, pulsating, smoky, brassy, bubbly and so many other imaginative things. Compañía Kaari & Roni Martin's take on the classic story of Carmen, the freedom fighter, is an impassioned melange of traditional flamenco dancing (not traditional choreography though) and modern song poetry, by musical means that combine elements from funk to folk, flamenco always as a unifying theme in the background.
Music is interpreted by a combo of nine first-class musicians for absolutely fantastic sonic colors and amazing rhythmic pulse.
The music, cleverly written and arranged by Roni Martin, is interpreted by a combo of nine first-class musicians for absolutely fantastic sonic colors and amazing rhythmic pulse that momentarily grows into almost gigantic proportions, and all this with minimal percussion instruments and without a bass. The wind instrument ensemble (sousaphone especially) plays a major role here, but for the performance as a whole, so does Juan Antonio Suárez Cano's flamenco guitar, Alfredo Santos' solo vocals, and Roni Martin's electric guitaring.
When doing his vocal part, I wished Roni Martin would have stepped a bit forward to become a Santos-like solo singer, a counter-part, which would have given the songs and their lyrics more meaning; now he was just a man in a line, one of the nine Don José's who in their turn go and kill Carmen.
And again and again she survives. Carmen not only makes men mad, she's a continuous threat to the whole society.

ON STAGE
Carmen: Mariana Collado (ESP)
Torero: Carlos Chamorro (ESP)
Don José: Erno Haukkala (trombone and sousaphone/FIN), Samppa Leino (saxophone, trumpet and sousaphone/FIN), Roni Martin (vocals, electric guitar/FIN), Henrik Perelló (violin/FIN), Antero Priha (trumpet/FIN), Karo Sampela (percussion/FIN), Alfredo Santos (vocals/ESP), Juan Antonio Suárez Cano (guitar/ESP)
Cleaner: Pablo Suárez (piano/ESP)
PRODUCTION
Artistic direction: Kaari and Roni Martin
Choreography: Kaari Martin, Mariana Collado and Carlos Chamorro
Music: Roni Martin
Lyrics: Roni Martin, Atro Kahiluoto, Pentti Saarikoski
Direction: Kahiluoto, Martin, Martin
Dramaturgy: Atro Kahiluoto
Light design: Ville Virtanen
Live sound: Ilari Suonpää
Costume design: Erika Turunen
Costume production: Anja Behm ja Johanna Vehmas
Make-up and hair: Kaisu Hölttä
Photography: Kim Laine, Janne Mikkilä, Joonas Antikainen
Premiere: 28th August 2015 at Pannuhalli, Helsinki Festival
Duration: 60 min