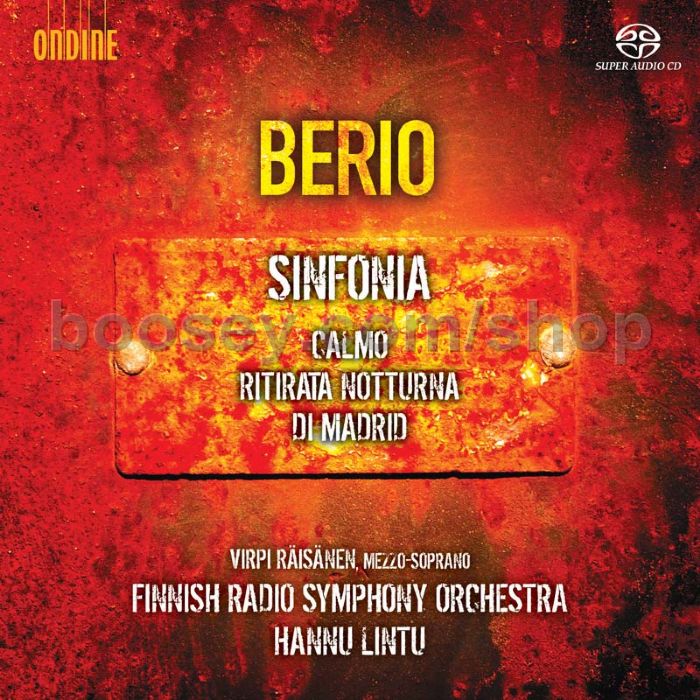 After successful Ligeti and Messiaen CD's now comes a new album dedicated to orchestral works of an Italian modernist Luciano Berio (1925-2003). The Finnish Radio Symphony Orchestra performs Hannu Lintu conducting.
The recording begins with Berio's orchestral adaptation of Luigi Boccherini's popular Ritirata Notturna di Madrid. An attractive piece of music, as is Calmo for mezzo-soprano and 22 instruments. The work is sung with true dedication by mezzo-soprano Virpi Räisänen.
A highlight of the disc, and the very good reason to buy it, is Berio's most well-known work, the iconic 5-movement Sinfonia (written for the New York Philharmonic and dedicated to Leonard Bernstein). Bringing together collage technique and modernism, the symphony is one of the master pieces of the 1960s.
Here's Wikipedia: "It is a musically innovative post-serial classical work, with multiple vocalists commenting about musical (and other) topics as the piece twists and turns through a seemingly neurotic journey of quitations and dissonant passages. The eight voices are not used in a traditional classical way; they frequently do not sing at all, but speak, whisper and shout words by  Claude Lévi-Strauss, whose Le cru et le cuit provides much of the text, excerpts from Samuel Beckett's novel The Unnamable, instructions from the scores of Gustav Mahler and other writings."
This disc is what I believe Ondine should do more: release music, symphonic and other, that is not mainstream but forms a milestone for 20th century Western art music.