Seen from the supply side, the world's most significant Hi-Fi fair, the mid-May Munich Highend, was as megalomaniac and exhausting as always, but less explicitly taken, and especially when filtered with the experience gained from previous shows, it is easier to skip less relevant parts, and the beauty of the whole thing emerges. All of a sudden, one begins to notice interesting trends and topical experimentations.
Anyway, here we go. The Part I is dedicated to sound sources, in particular the analog ones. The image below nicely paves the way for the rest.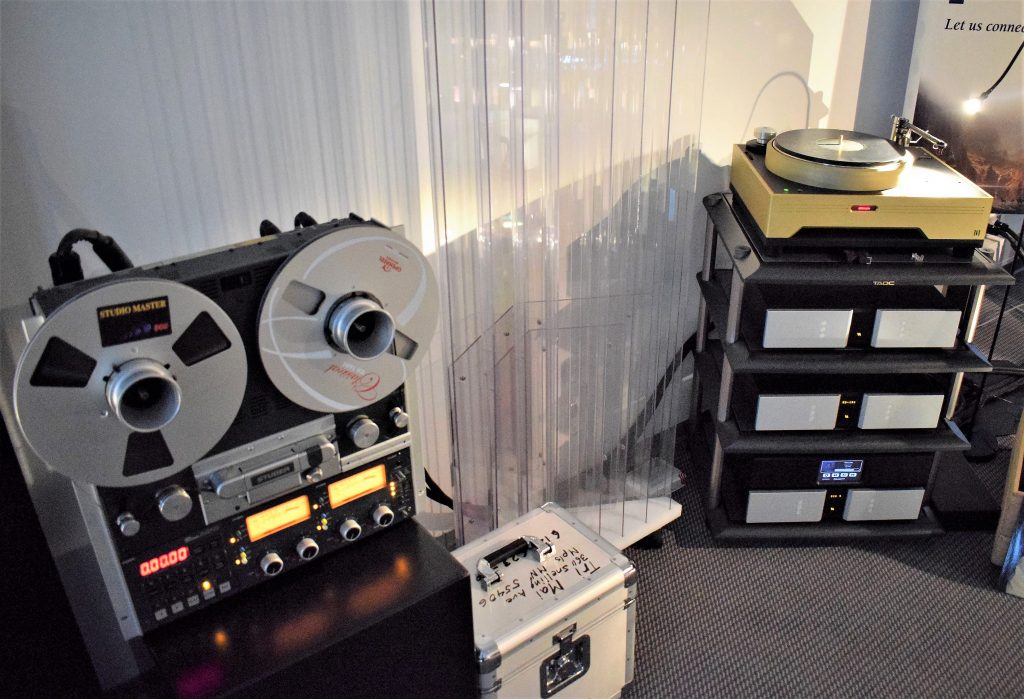 Reel-to reel tape recorders started to appear at the HiFi shows some five years ago, but until now their role has been more that of a curiosity than an equal sound source for program material. This time it was different though. 10 "/ 15ips reel-to-reel tape recorders were in two dozens of rooms, and not just in Tim de Pavaracini's EAR Yoshino system. This time they were also used.
One that certainly trusted on the tape recorder as the principal sound source was the loudspeaker builder of Ecobox whose three-way open back dipole speakers were matched with their Revox Revival project: the renovated Revox A77 Mk4 inserted in a good-looking stand.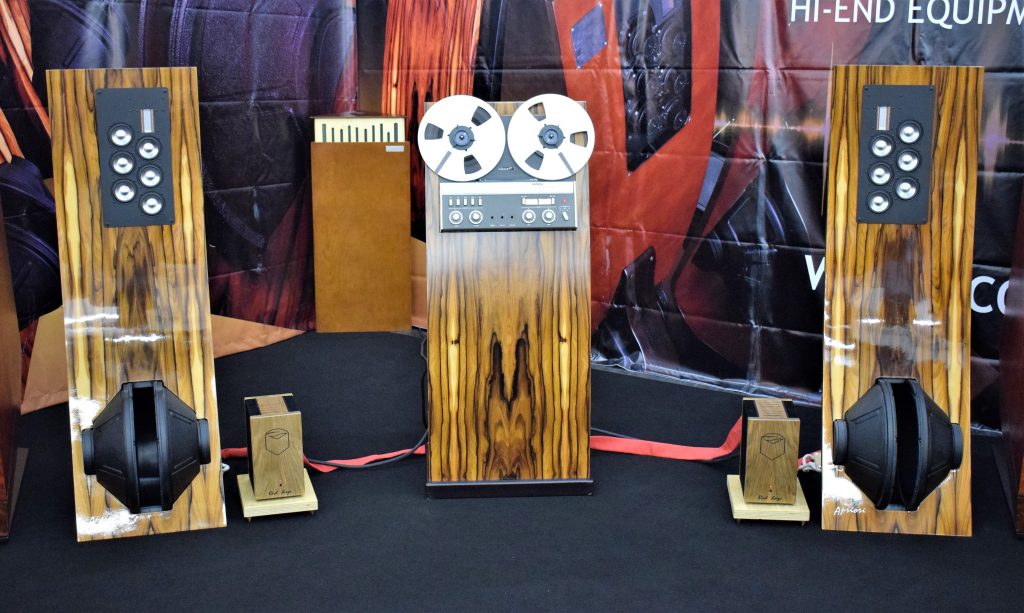 M
This ancient recorder is presumably Leveers-Rich Mark 4, the version with push-buttons.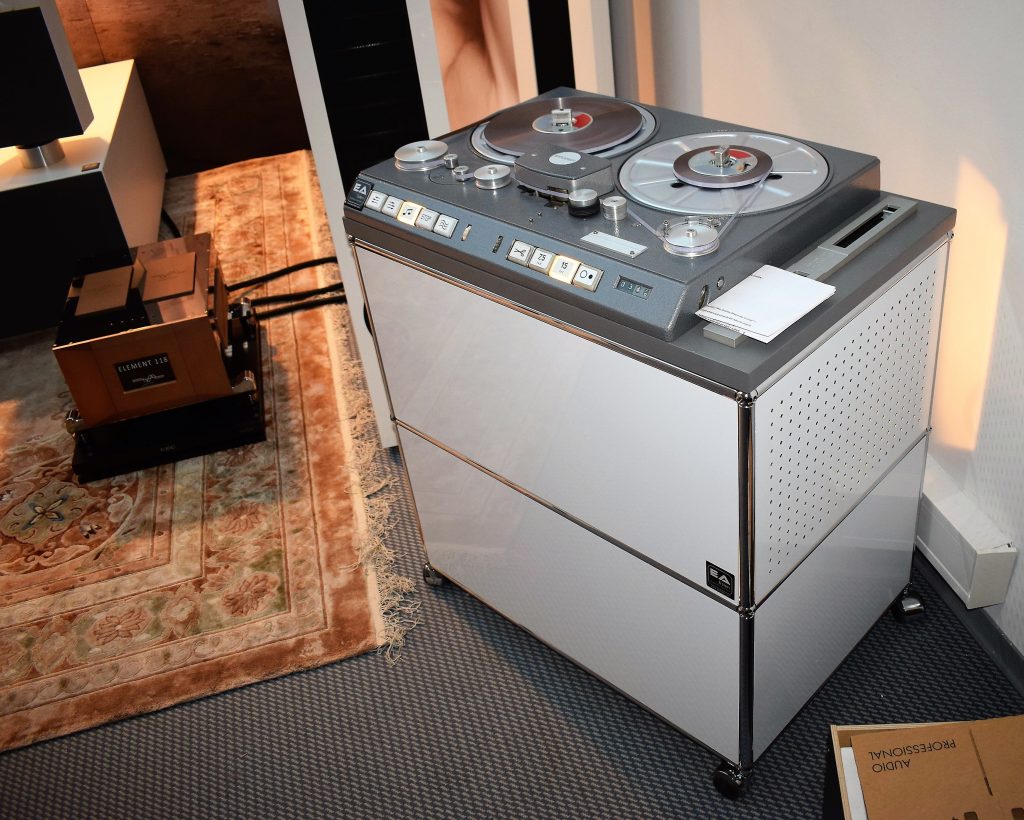 And here's the system it was associated with. The woofer section seems to be hidden in the sideboard. Very interior-friendly.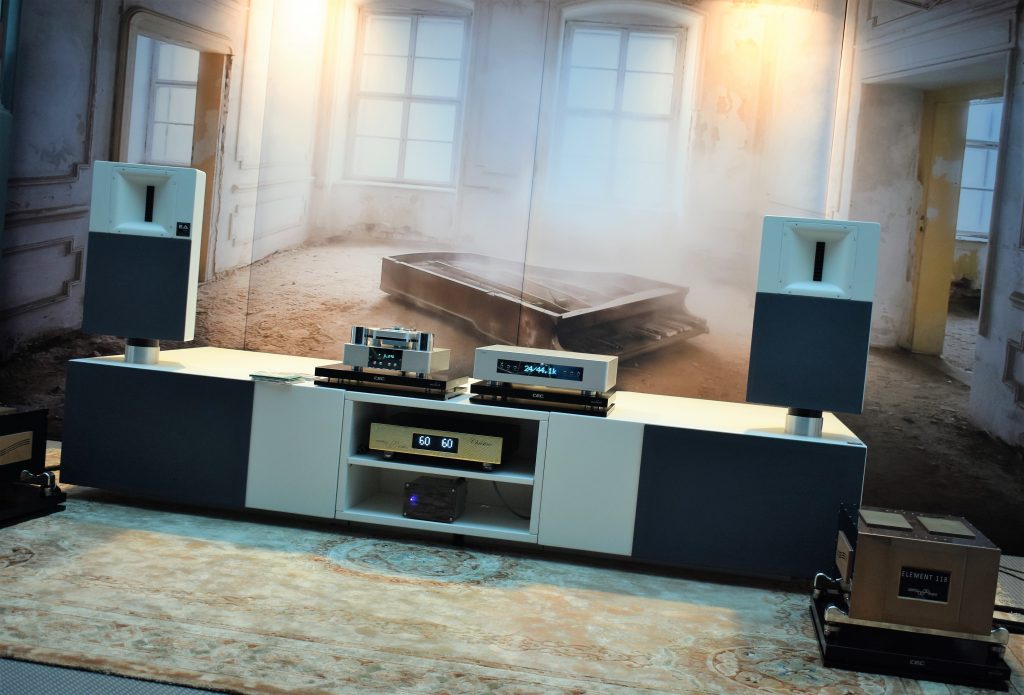 For Nagra, of course, it is more than natural to use a tape recorder as a sound source (one might perhaps ask why it hasn't done so before) along with others, which reputation it has earned with its …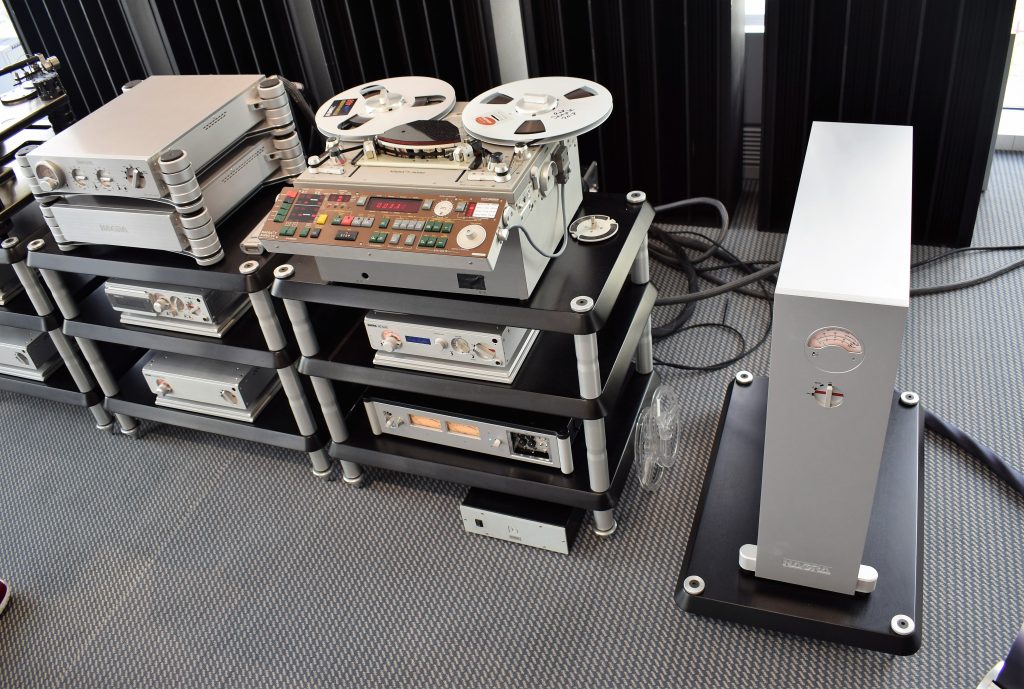 … vintage field-recorders such as Nagra 1, or more famously …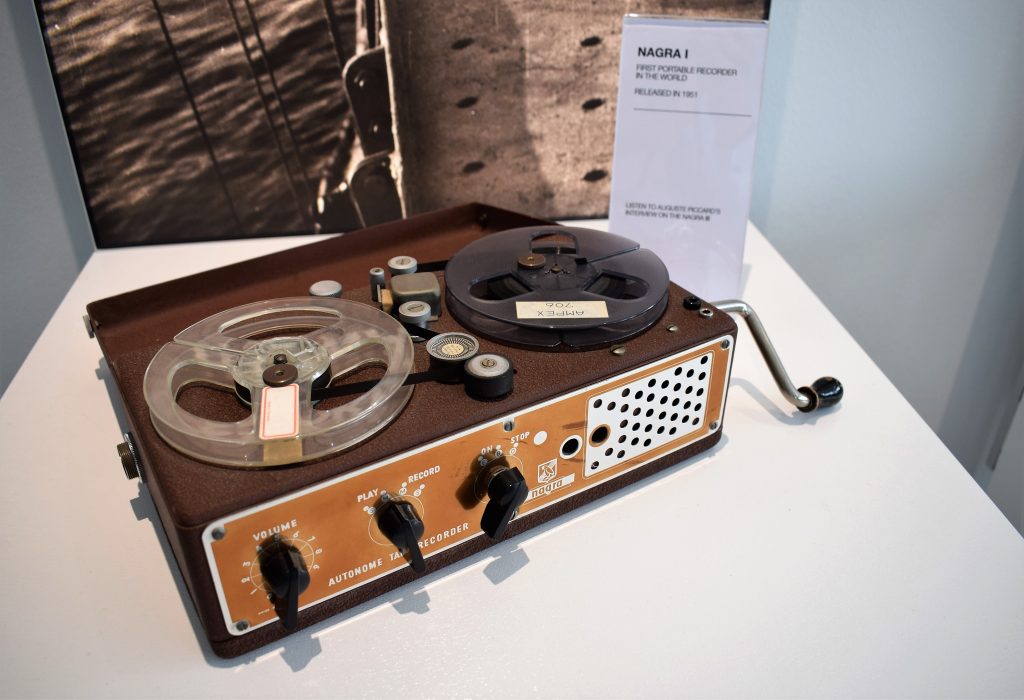 … Nagra IV S!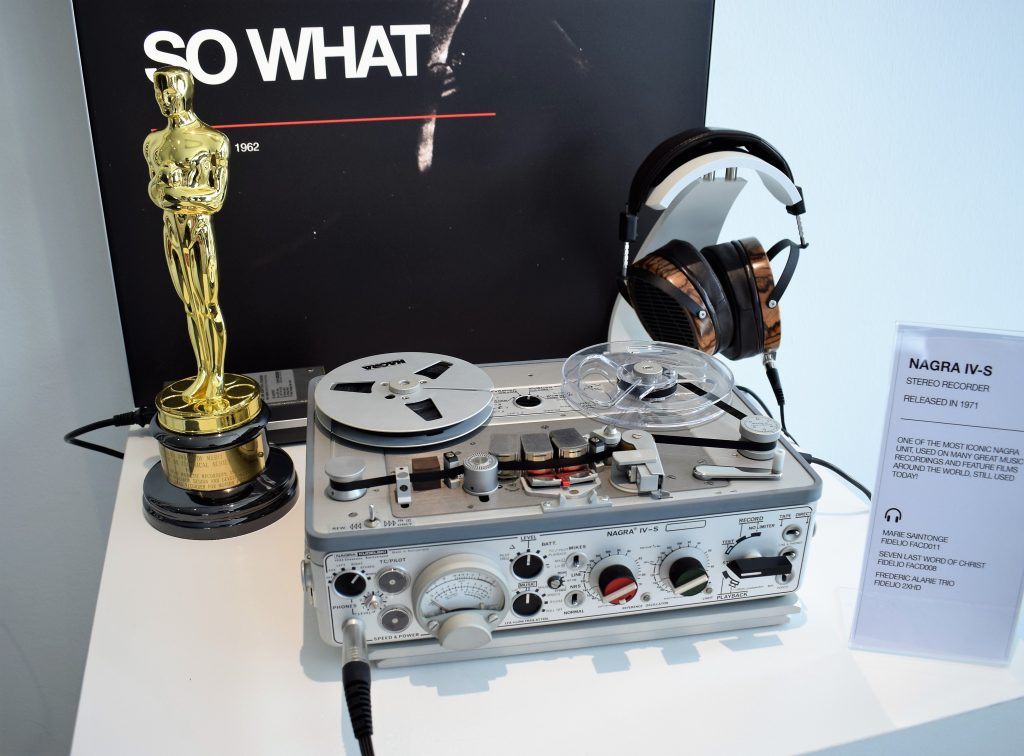 The Munich Show would not be Munich Show without device sporting fancy  extravagant outlooks. Kostas Metaxas had subjected two Swiss Stellavox recorders to his imagination to create a Metaxas & Sins GQT Portable Recording Device 1. His turntables and speakers are just as wild looking.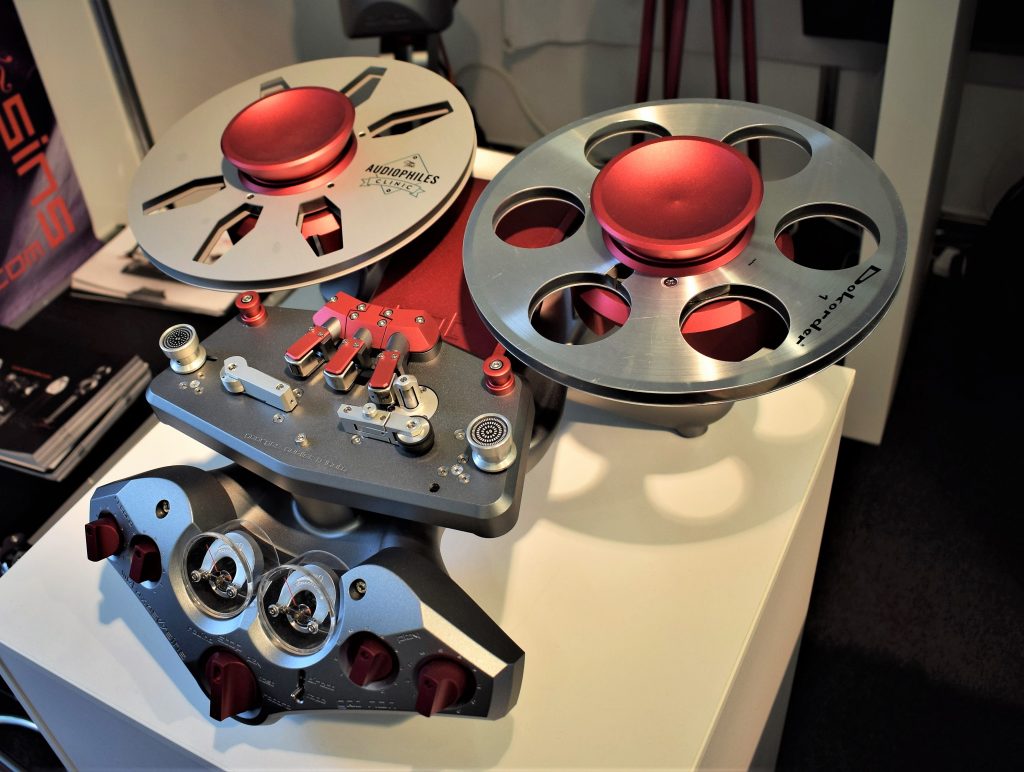 And it wasn't just the hardware. For the first time I saw that music material was available on tapes. For instance, Jimi Hendrix on Hemiola's master tapes.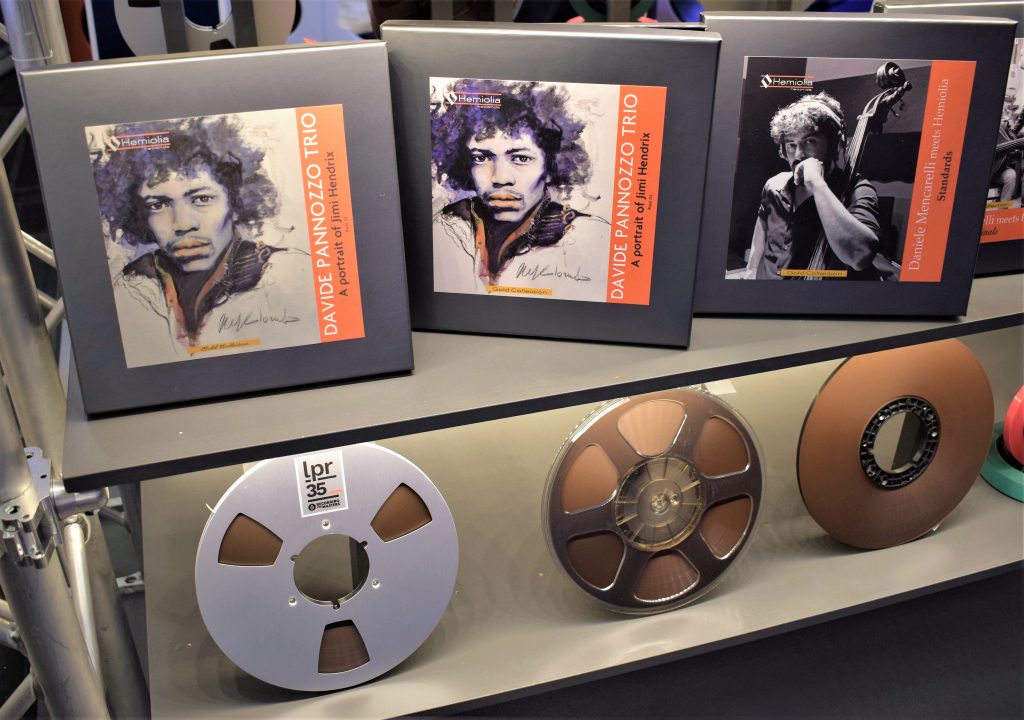 Those tapes could be listened to through headphones on Otar's tape recorders.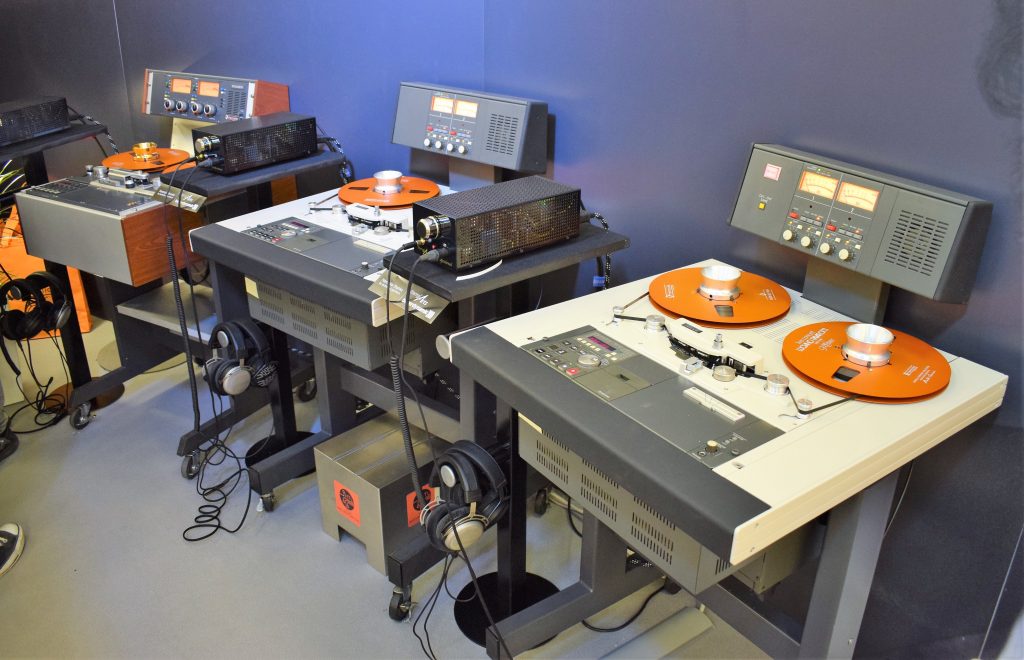 A great example of the fine use of the tape recorder was the room by the TAD (Pioneer's top label) where the massive Reference speakers received a signal from TAD's own amplifiers and these from the Studer. A highly vivid and pleasing performance both in terms of music and sound.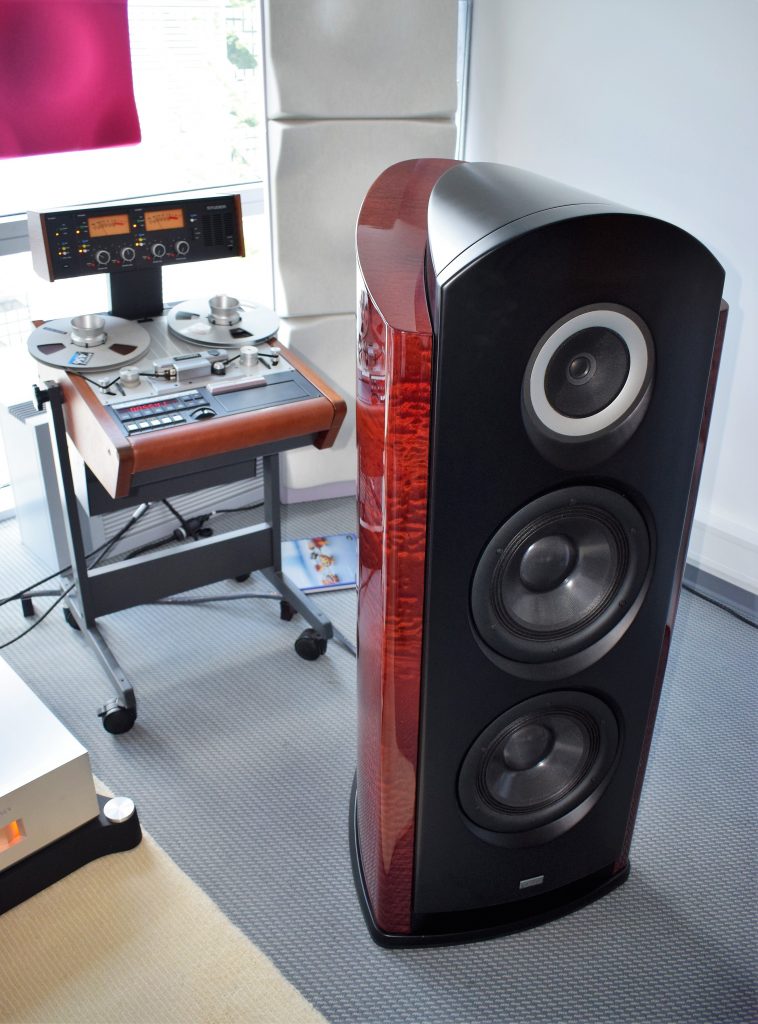 Turntables
There is no reason any more to talk about the turntables as one homogenous group of devices. The trend is toward more diverse players, and also specialized production of turntable components such as tonearms, cartridges and accessories. For some people a turntable means, for example, a gold-plated spider of the Acoustic Signaturen Invictus kind, for others …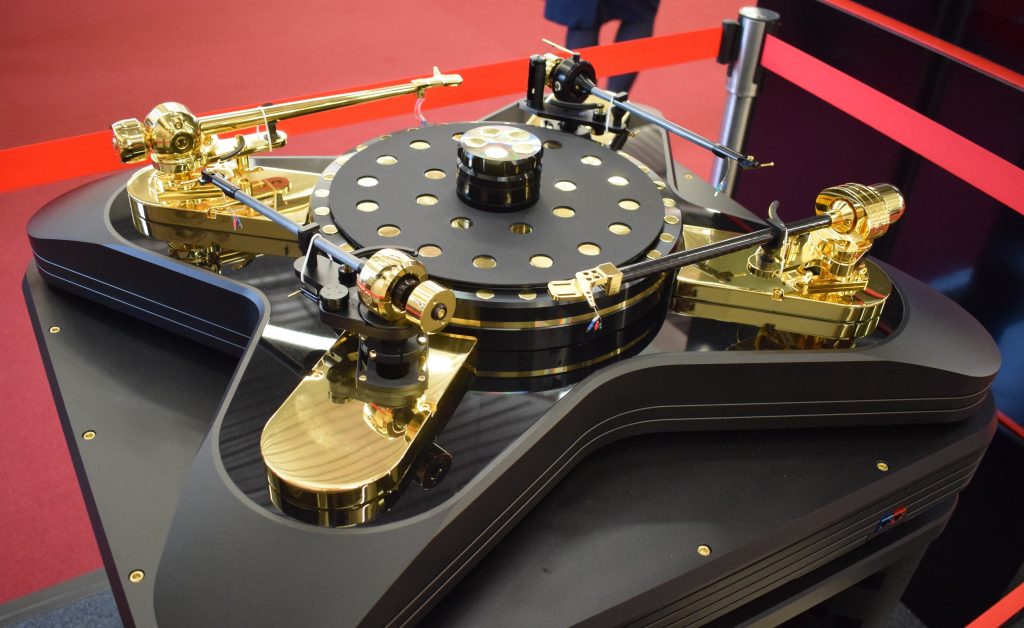 … a massive TT rack a la Rutherford Audio's air-suspended The Apolyt, which is claimed to be immune to 0,5 Hz vibrations coming from the ground.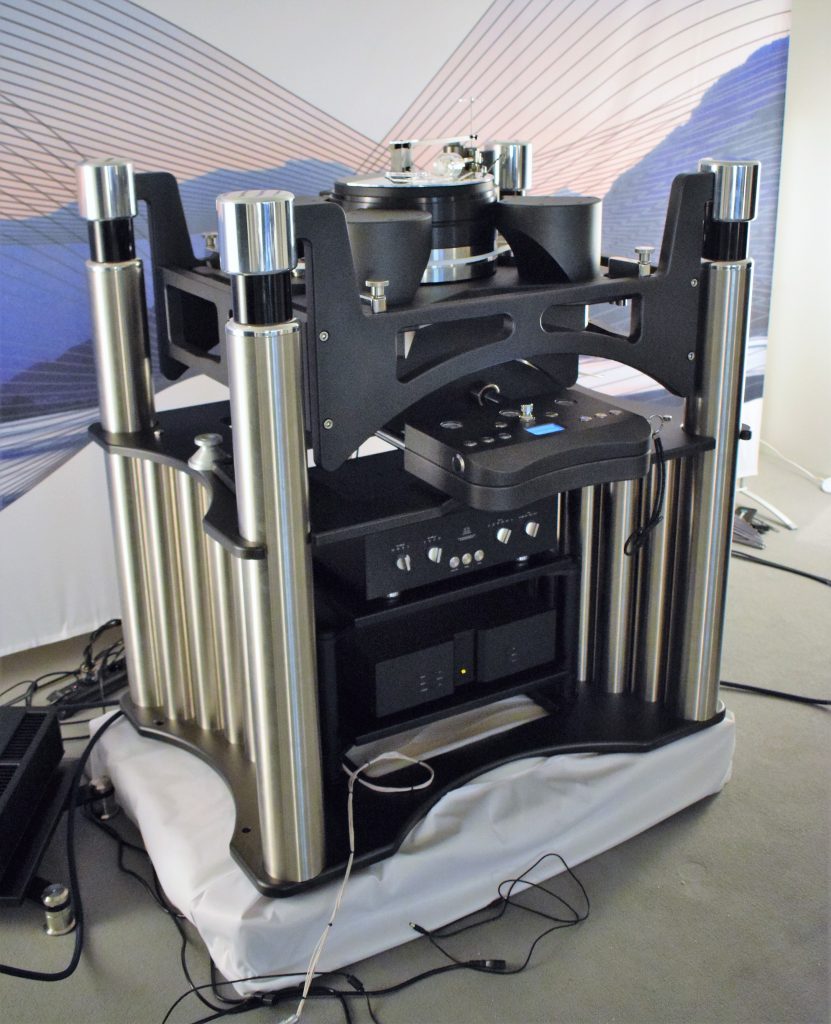 To realize the actual size of this turntable system is revealed here.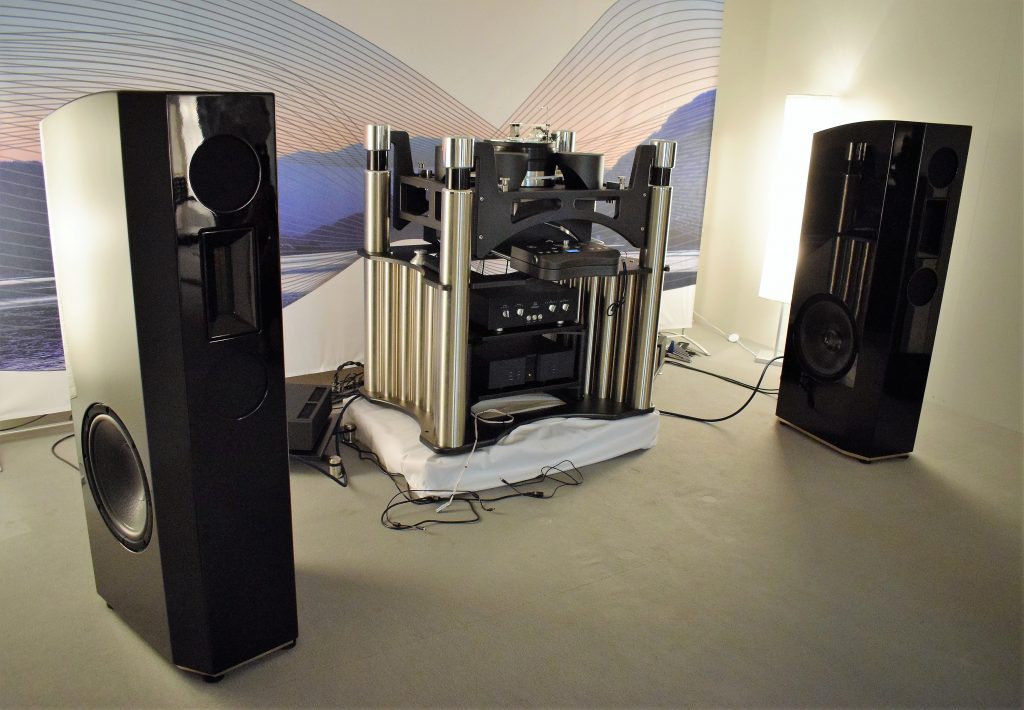 One of the most corridor-debated turntables was no doubt the SME's new integrated player Synergy. More compact than anything else produced by SME so far, Synergy immediately evokes prejudices: a SME turntable with an integrated pre-amplifier? The property typically belongs to much cheaper instruments. But why not? The Synergy cost about 15,000 euros, out of which, if you will, goes to the 4,000 euro Ortofon Winfield Ti cartridge and another substantial amount of money to the preamp by Nagra. The individual pictured below is one of the five protos made for the trade shows, the first saleable Synergy leaving the assembly line in September.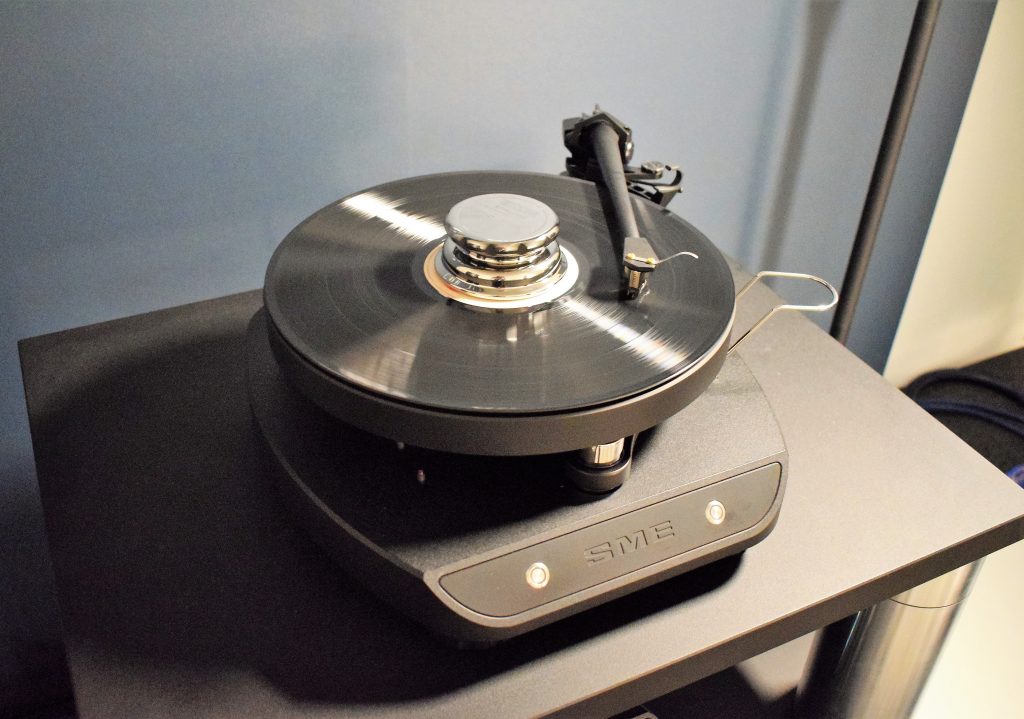 One of the mighty TechDAS Air Forces.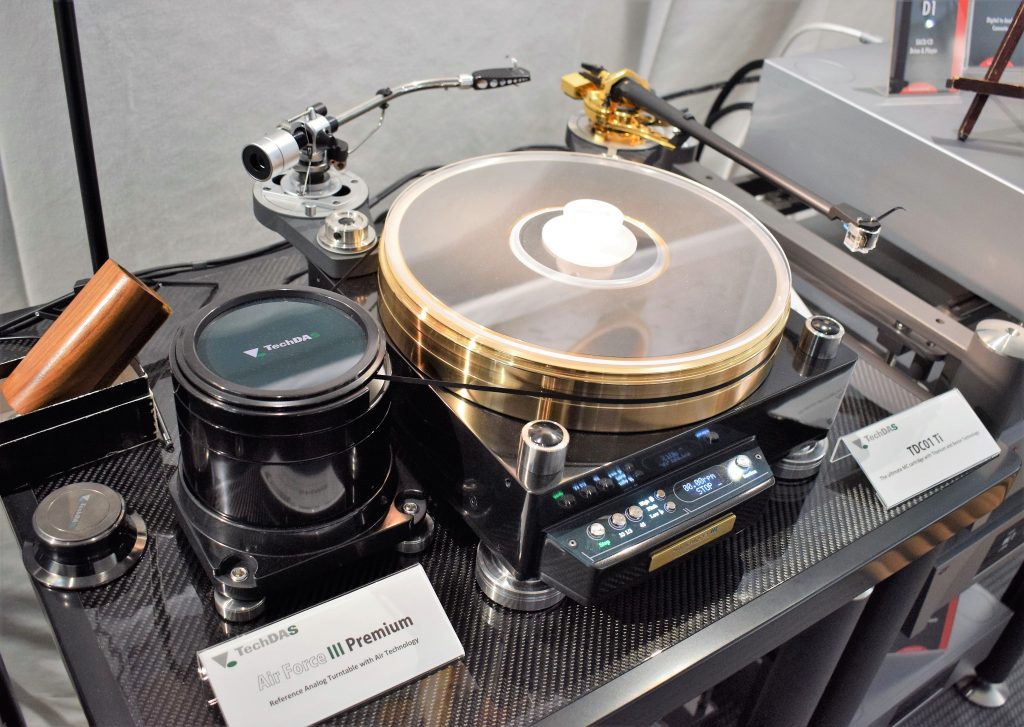 Another kind of beauty and elegance.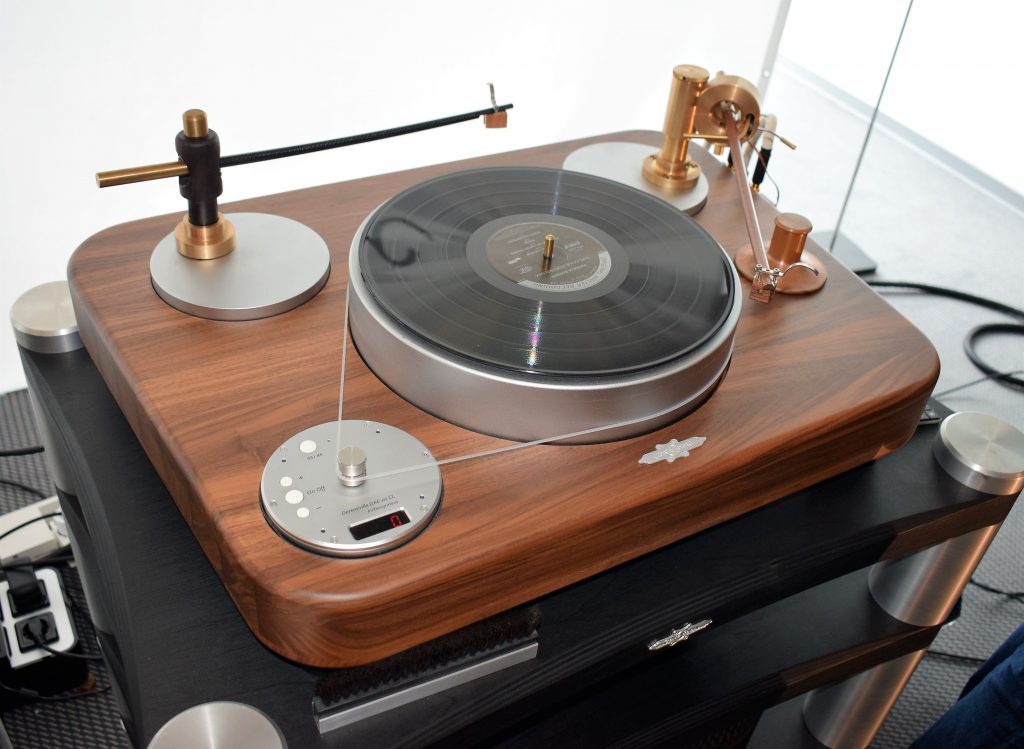 Another stick-to-basics realization.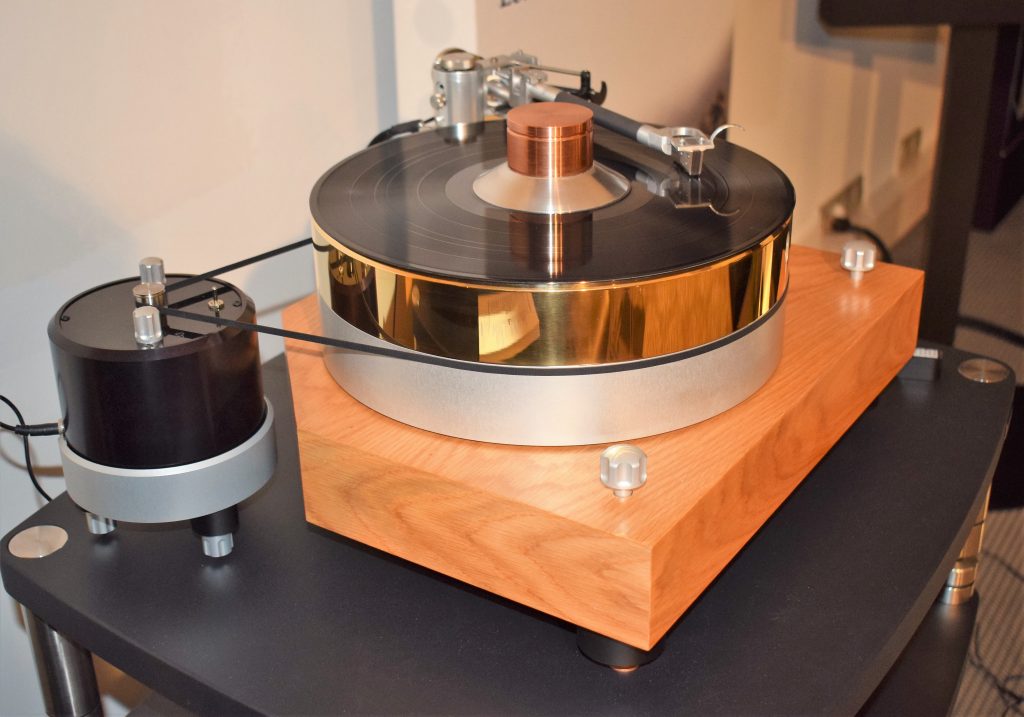 ONKK's lipstick-red Cue DD turntable with a dsp-controlled direct drive motor, aluminium plinth, ceramic bearing and cylindrical suspension, directly from the UK.
Pro-Ject's way to respect the 50 years of The Yellow Submarine.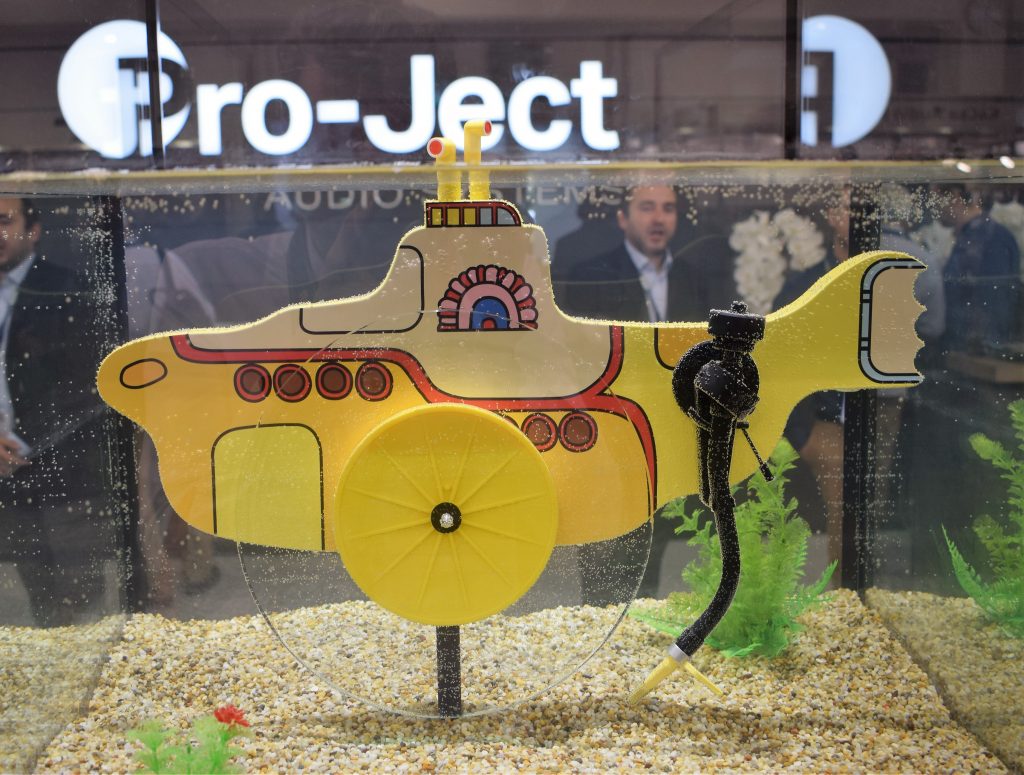 Two respectable vintage turntables with 12 inch classic arms, metal and wood.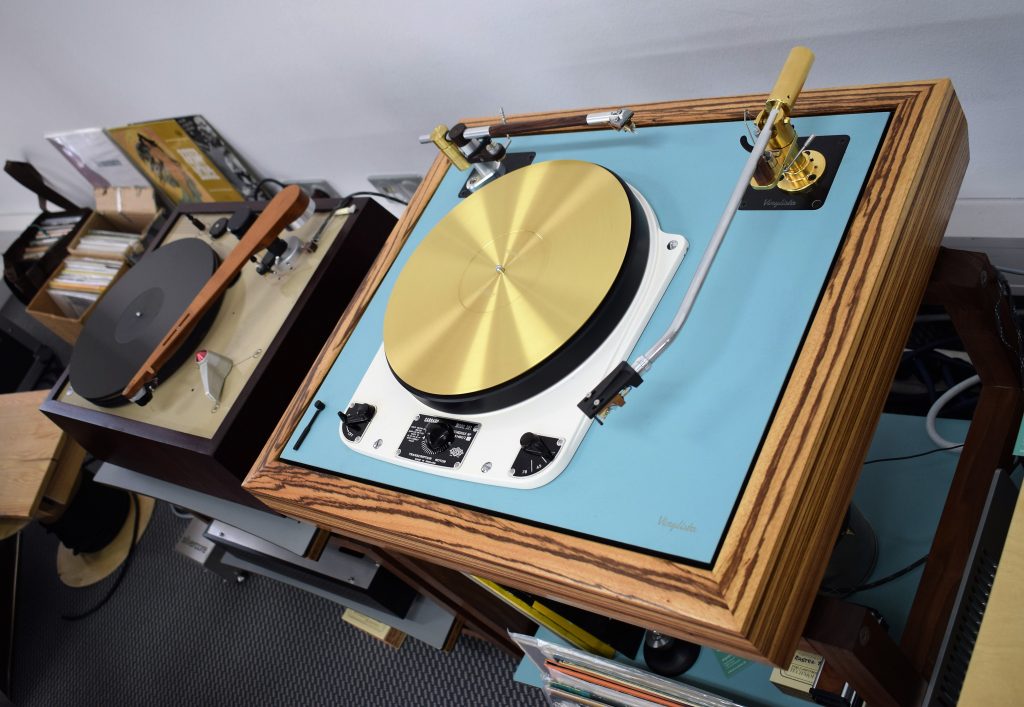 After more than 30 years of absence, SAEC's famous SAEC WE-308N tonearm soundtrack with the Double Knife Edge bearing from 1978 is again in production. The new arm is the SAEC WE-4700 and, I was told, after certain fine tunings, fill find its way to shops in early autumn. The estimated price is around $ 10,000.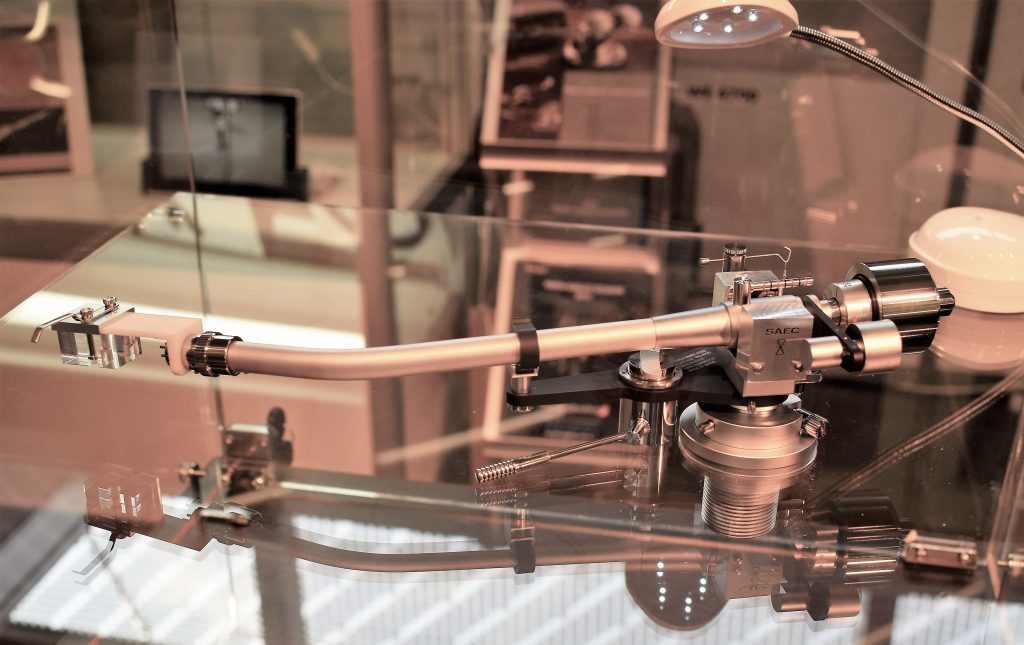 Something very special is going on with this turntable, and it's not only the tonearms.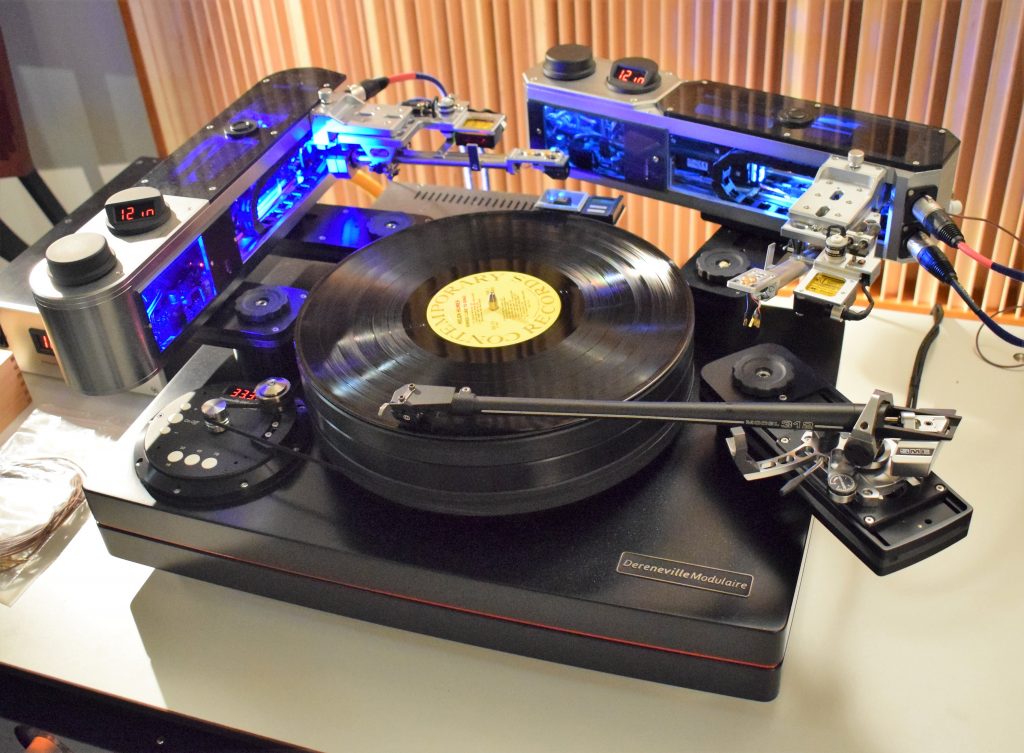 This is a macro-model of Audio-Technica's exceptional ART-1000 MC cartridge, in which the coils are at the stylus end of the cantilever, not at the back. The AT has not invented this structure, but it's rarely seen in modern cartridges. The 3-ohm coils are at a 0.6 mm distance from the magnetic gap yielding 0.2 mV output voltage.
The system of this modest room featured a cartridge with probably the lowest inductance/impedance figures of the show: 0.3 uH and 0.4 ohm. Haniwa's Precision Vinyl Disk Pick-up System makes best of these values by means of the current input system (the current loop with 0.25 ohm input impedance) and a special circuit in front at the input of the RIAA EQ.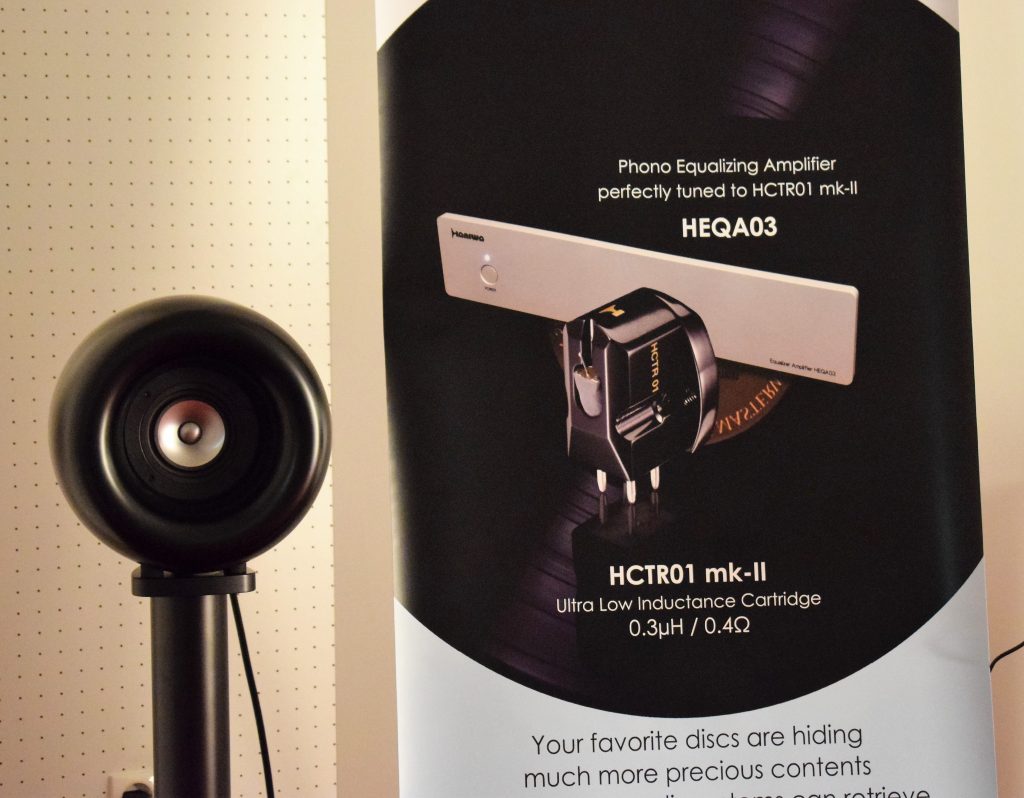 When there are record players, there are records, and where there are records, there are record washers. One of the many was Hannlin Mera.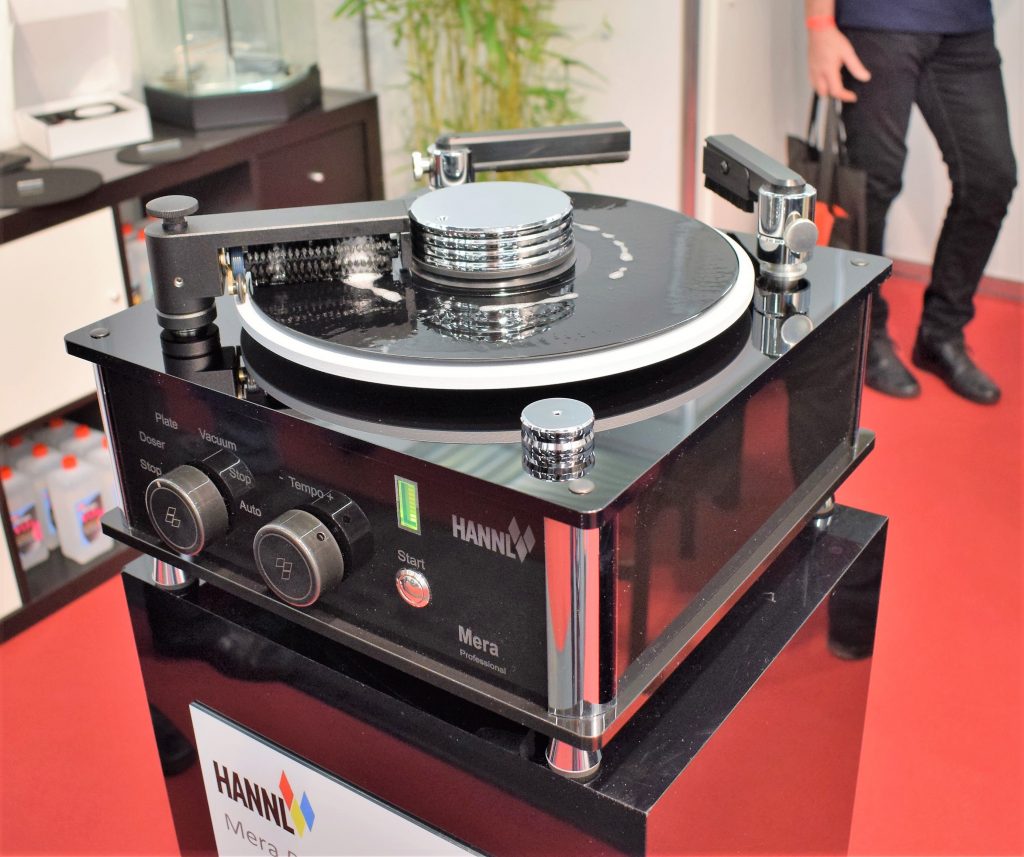 A sympathetic compact TT system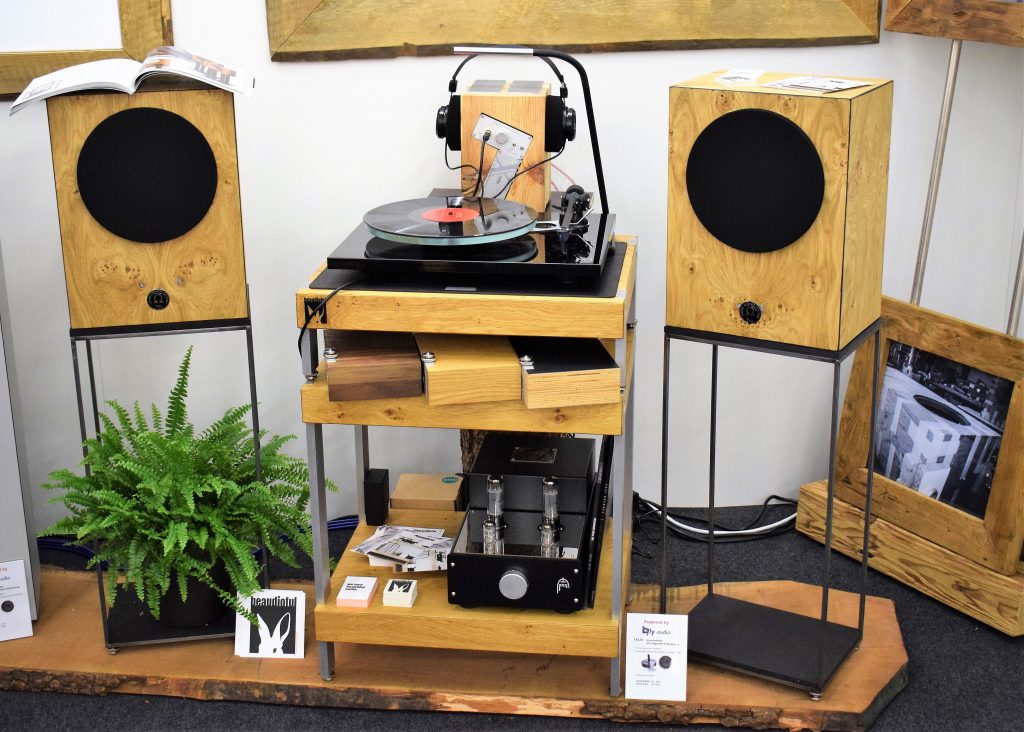 Digital sources
CD Players and less anachronistic digital sound sources were, of course, present in abundance. As for CD Players, for a good reason so: there are still many who haven't ripped their CDs, and have no intention to do so in the future. Here's just one example from the most extravagant end: the Italian Omega Audio Concept's The Stream CD Player in the midst of electronics from the same company.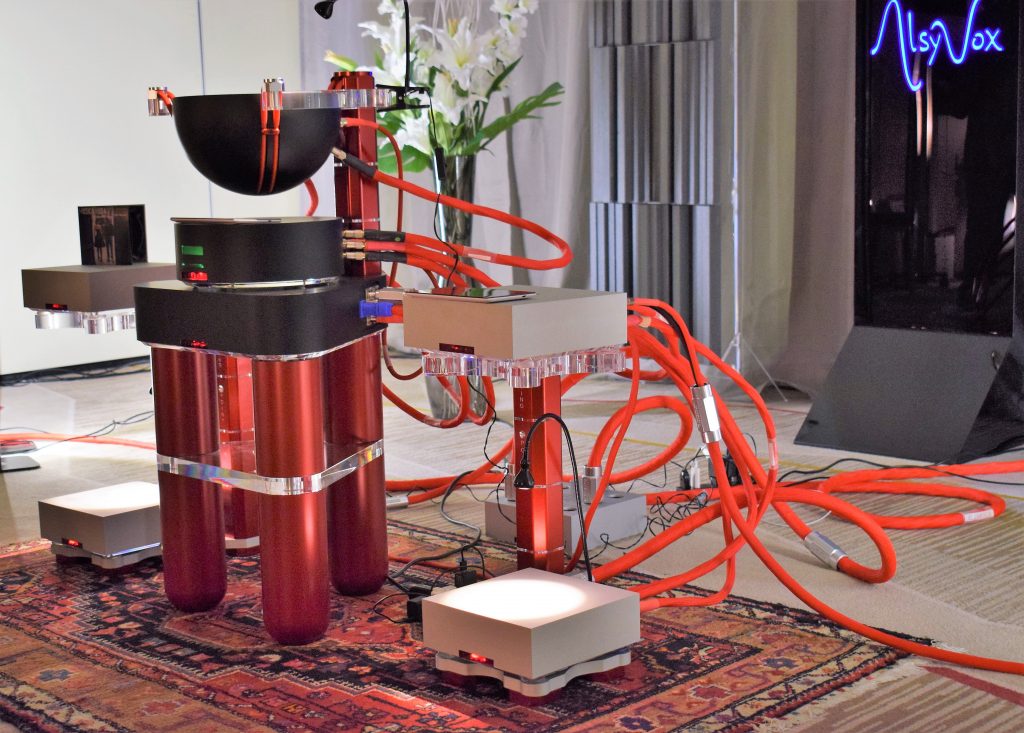 The spherical shape aluminium cabinet, 3 independent power supplies with linear regulators, CD-Pro2 LF Philips transport mechanics plus the DA Converter unit with Sigma-Delta AK 4384.