Danish Hi-Fi is quite a success story. It dates back to the 1920s and 1930s with classics such as Ortofon, B&O and Vifa. Then there is the big number of conventional Danish manufacturers like (electronics) Gryphon, Copland, Densen or (speakers) Dali, Dynaudio, System Audio, Audiovector, Peak Consult or (tonearms) Mørch. Recent newcomers include Vitus Audio, Gato, Buchard Audio, Raidho, Tangent, Jern, Bergmann Audio, Phison Audio, Soekris Engineering and Alluxity.
And that's not all. Along with Vifa comes Scan-Speak that started already in the 1970s, and makes drivers, which numerous highend manufacturers make use in their speakers around the world, just like they use Janzen's, another Dane, components in the filters.
And when the speakers need a high-quality protective fabric, it's most likely sourced from Danish Kvadrat. I positive that their success is a cultural thing.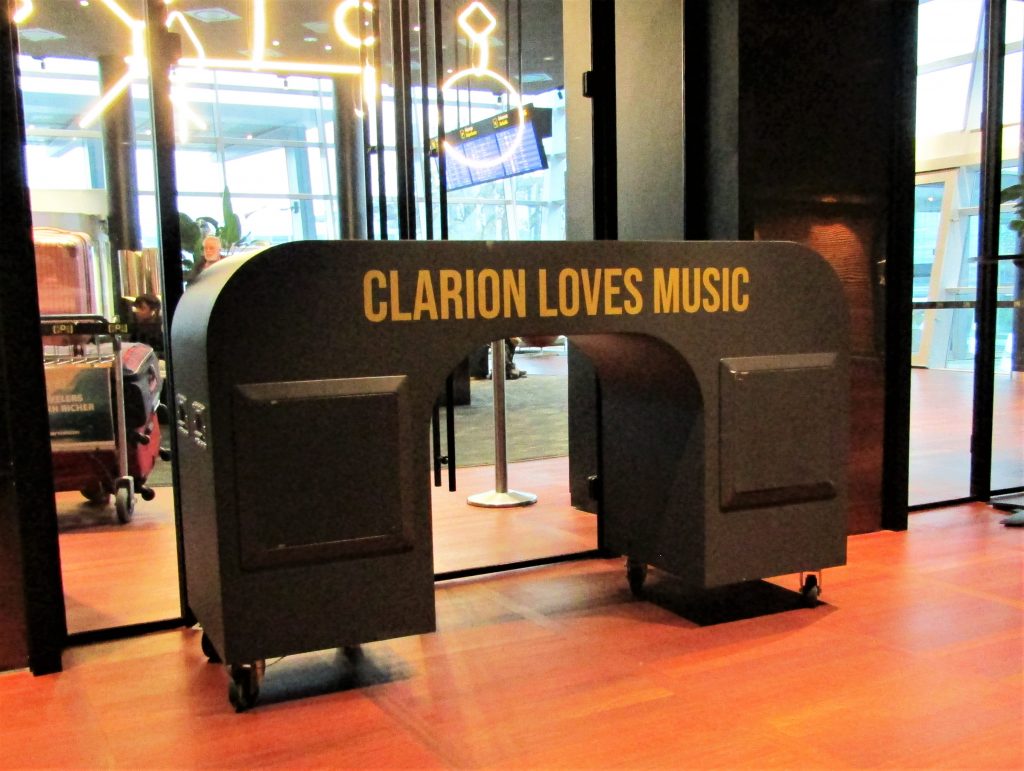 Given the glorious history and long traditions, the Copenhagen Highend Fair (Clarion Airport) is a surprisingly understated and homely event. The list of exhibitors remains almost the same from year to year, and no major changes in the supply either. Yet for example the Harbeth demo in Copenhagen this year was one of the absolute best, if not the best I've witnessed, and I have participated in dozens of them over the years in different countries. Only very rarely have the big Harbeths (M 40.2. Anniversary) behaved in such a disciplined and well-defined manner particularly in the bass department. Stunning! Was it due to power and control of the Parasound's power amp, lubricated with the Manley Neo-Classic 300B RC pre-amp, or what, I cannot say.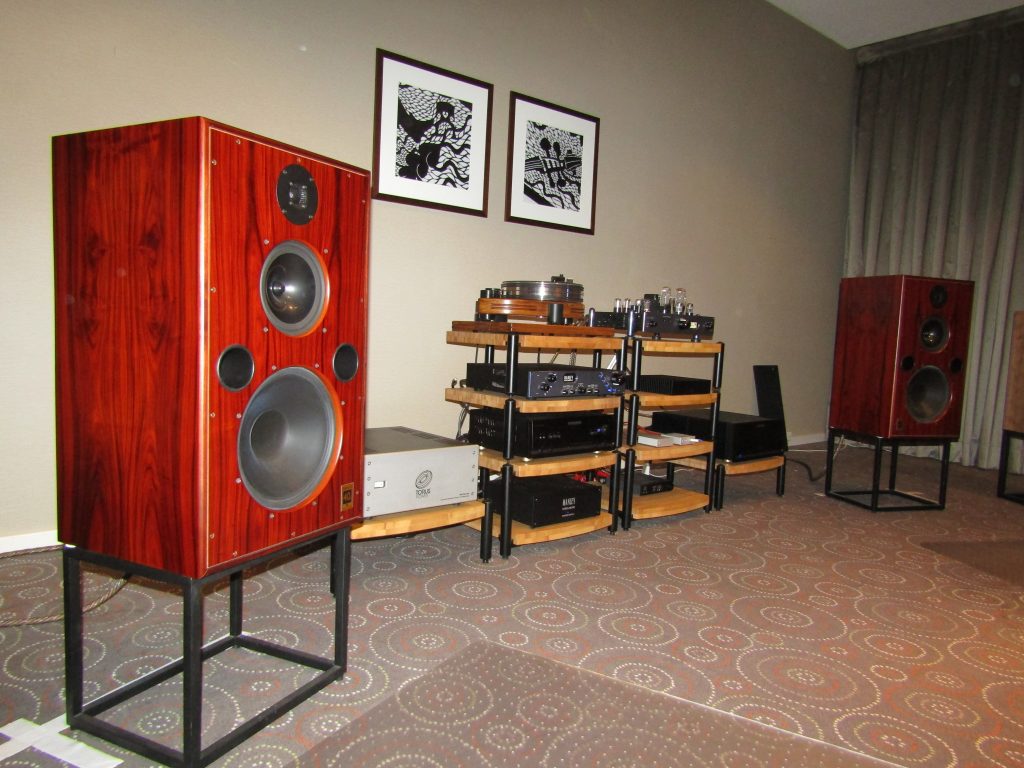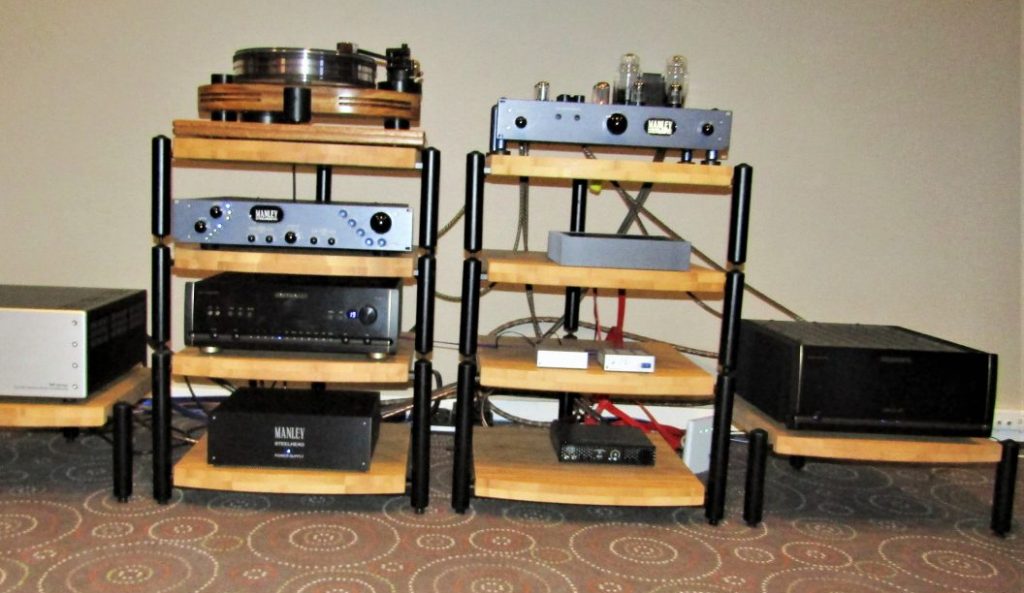 The conciseness of the Show is also a strength. Not only can one easily go around the event in a day without sweating but it also contributes to the friendly spirit of the Show, and inner safety of the visitors. The latter is utmost important for those who choose to hobby bare technology. The Copenhagen Show is more like a quality dealer show rather than one that strives to cover the whole industry. And because of this nature, dealer demoes in Copenhagen are of high quality and speak for long experience.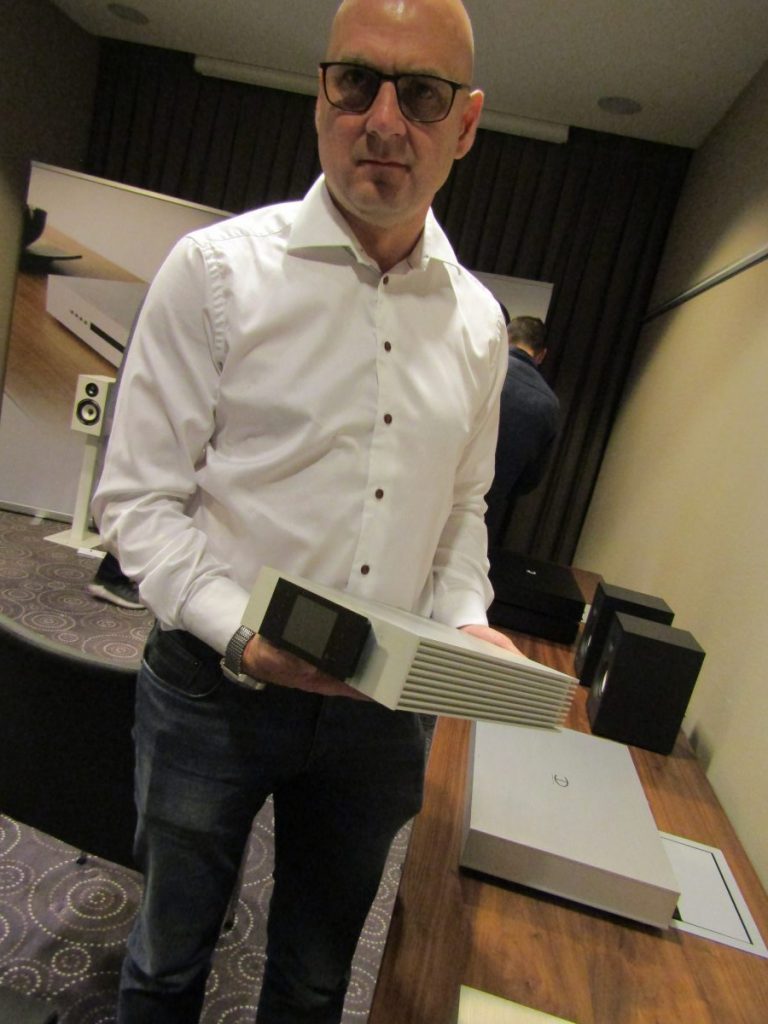 The chairman of the Fair's  arrangement board (D.H.E.S.), Thomas Sillesen from Densen Audio, holds the company's brand new 32/384 DAC. In the background, Triangle Borea BRO2 speakers sing with the support of Densen's DINO AMP and the Densen OXYGEN CAST streamer, all with a stripped front panel. Why? Well, because it makes packaging easier and lessens the risk of damage during the freight transport, explained Sillesen. Along with sound quality, those matters must be factored in too.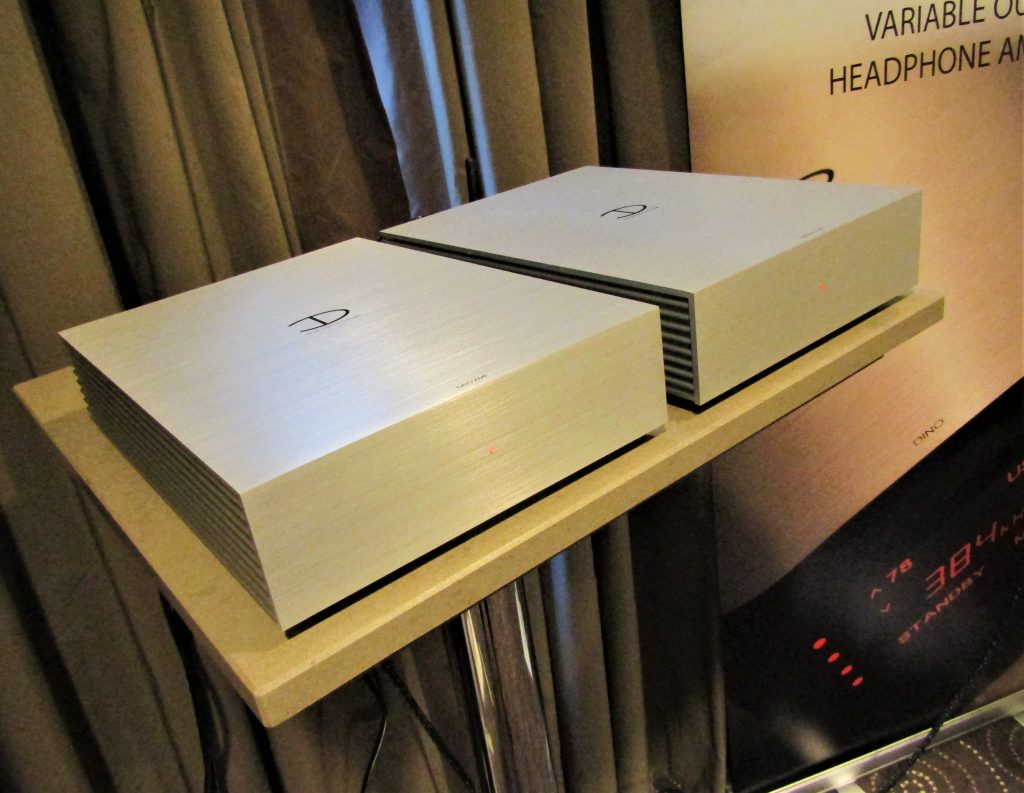 I've been able to audition GoldenEars loudspeakers at several Shows,  but never before in a position to compare their musical message to that of Magico's or Stenheim's loudspeakers (electronics coming from Innuous, Solution etc.).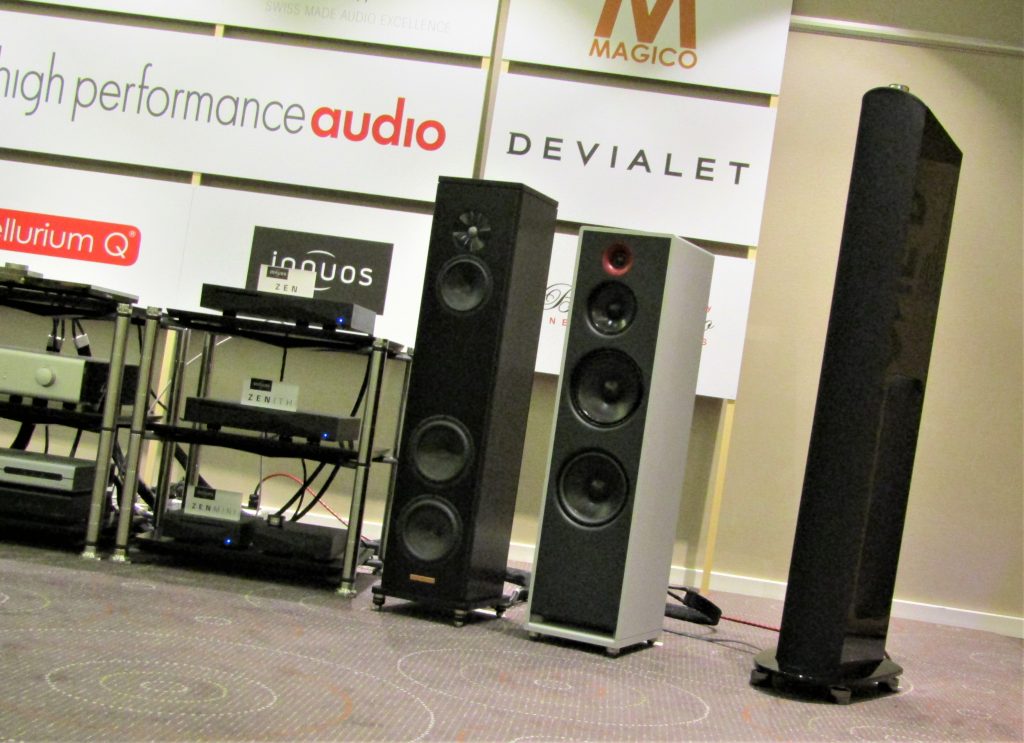 If you're interested in how Living Voice's superbly subtle sounding loudspeakers behave either under the command of EAR Oshino or Lavardin amplifiers, come to Copenhagen!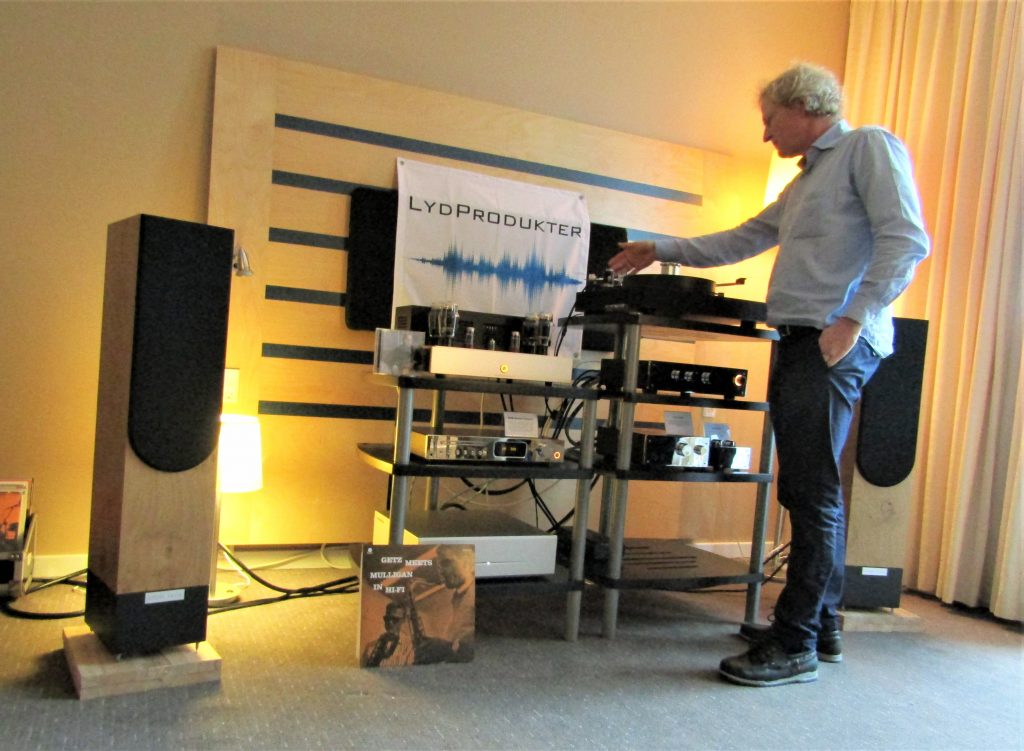 Here, however, LydProdukter has chosen to drive the bigger Living Voices with Canary Audio's Class A stereo amp CA M90, two 300B triodes per channel outputting 24 W per channel (also sporting 2 x 6SN7 and 1 x 12AX7).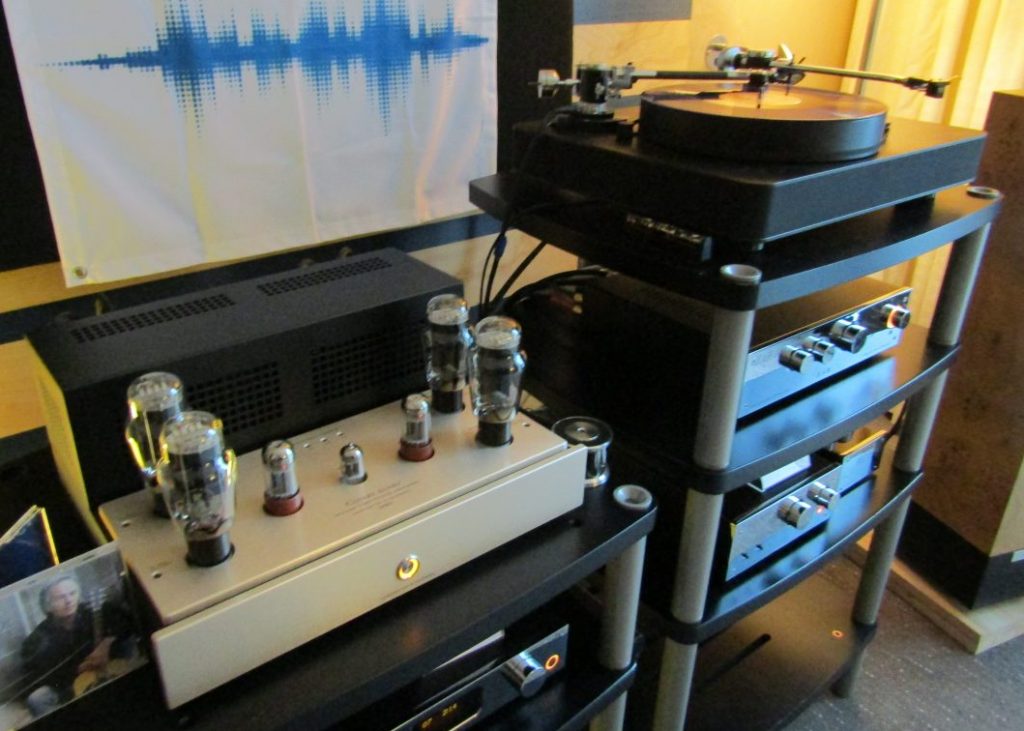 Thanks to the dedicated importer / dealer, Triangle speakers always put up a good show in Copenhagen, this time starring the Signature Alpha and Cambridge Audio's Edge electronics.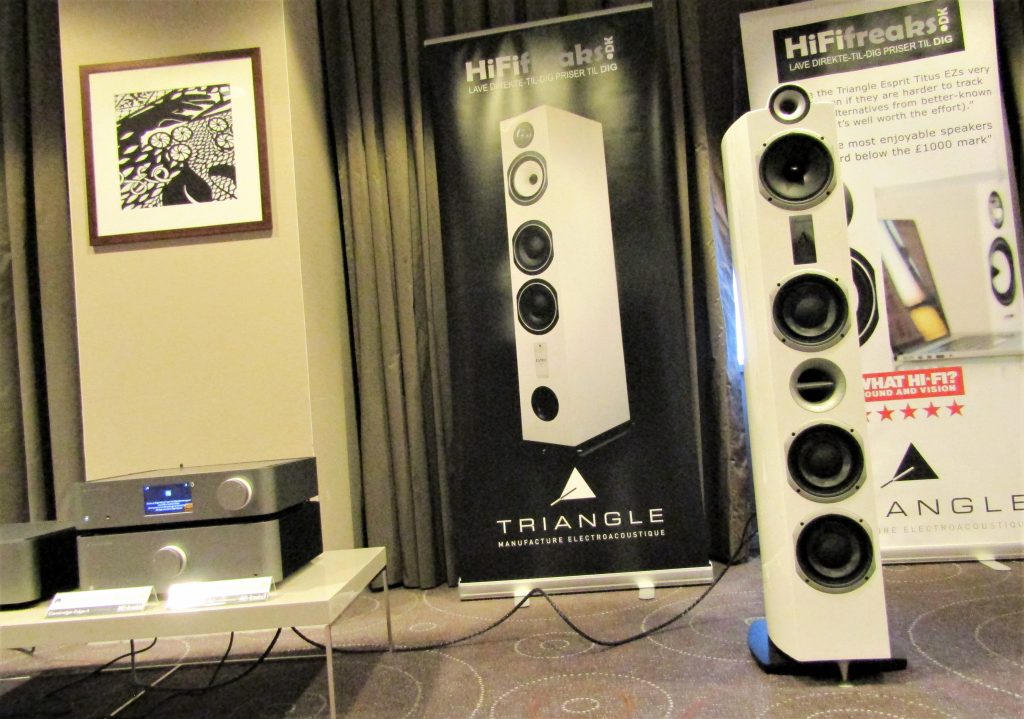 One of the uplifting observations was to notice how self-evidently, in spite of all kinds of digital players, turntables were used as the default: Avid, Clearaudio, Dr. Feickert, Bergmann, TW Acoustic, Fletcher Audio etc. Here's the Audio Note UK's new three motor TT Three.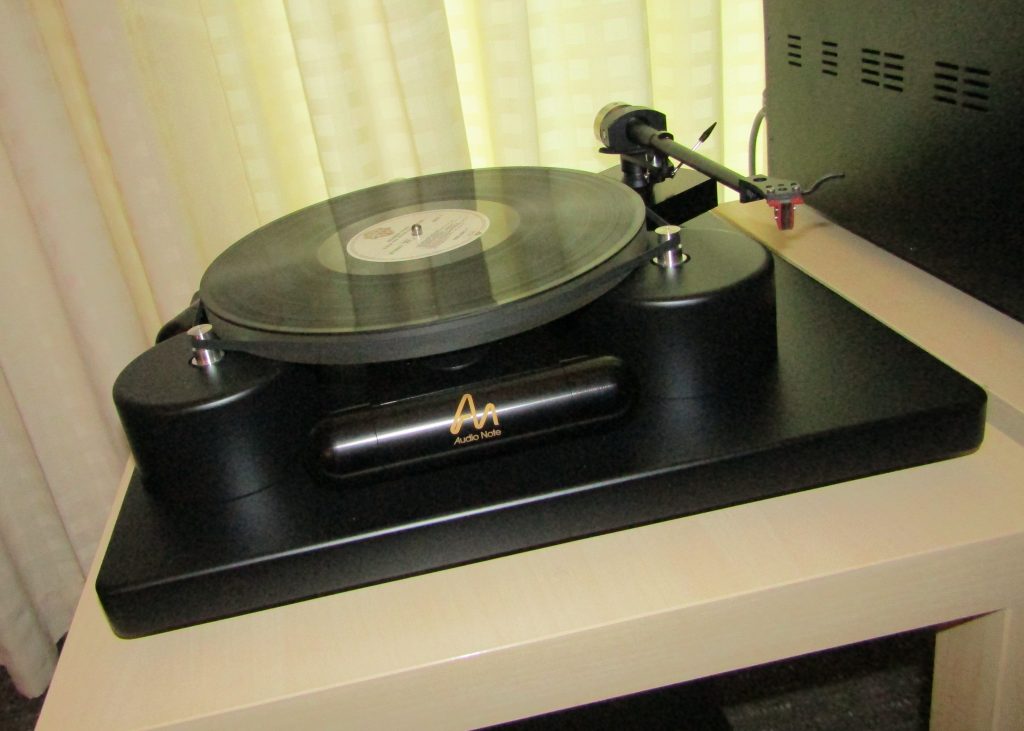 No need to finger jumpers at the bottom: Skinbjerg Audio's Pickup RIAA amp provides access to adjustments openly on the front panel.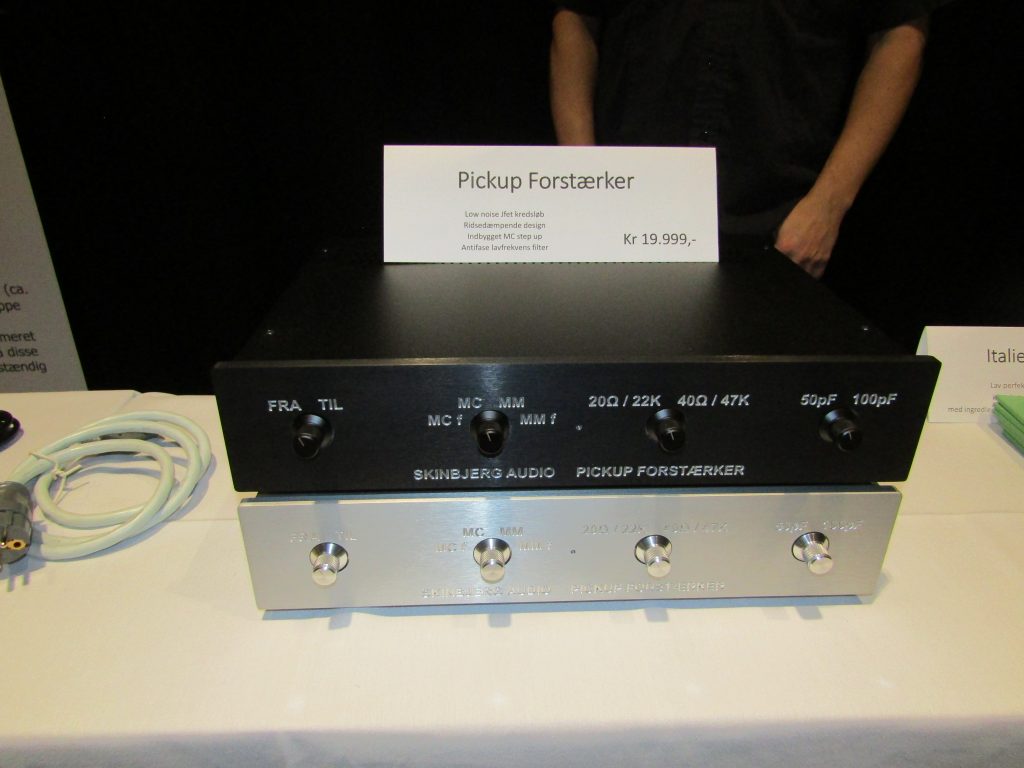 One of the main attractions of the Show was Zoltan Bay (Bayz Audio) himself introducing his Courante omnis featuring a radial tweeter and two 7-inch woofers inside the C-shape cylinder. The selection of sample music was most prudent at the Fair, and the sound quality first class. A smart and highly enjoyable demo.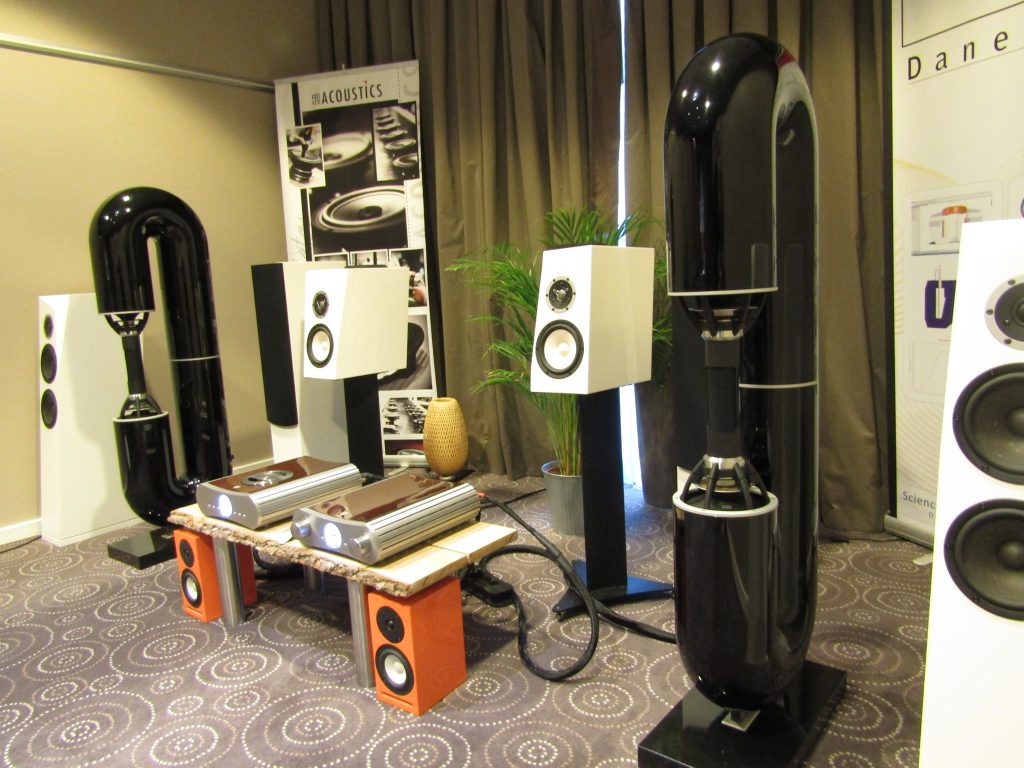 Another climax: the awesome Animas by the Greek Tune Audio together with rare Zikra Audio 211 mono blocks. Anima comes with floor-firing 15" woofer (below 250Hz), 5-inch midrange and (> 1500Hz) 1-inch compressor driver with neodymium magnet and titanium membrane, all mounted in a horn. The manufacturer recommends for the 109 db sensitive speaker a 3-watter SET, preferably a zero-feedback design. In the demo, the signal travelled from the TW Acoustic Raven AC turntable (Ikeda 9″ arm carrying the Ikeda 9Gss Gold Silver Coil cart) through the Bespoke Audio passive pre to the Zikra Audio power amps. The point of reference was Boenicke's tiny W5 SE (a 3-inch widebander with a 5.25-inch side woofer).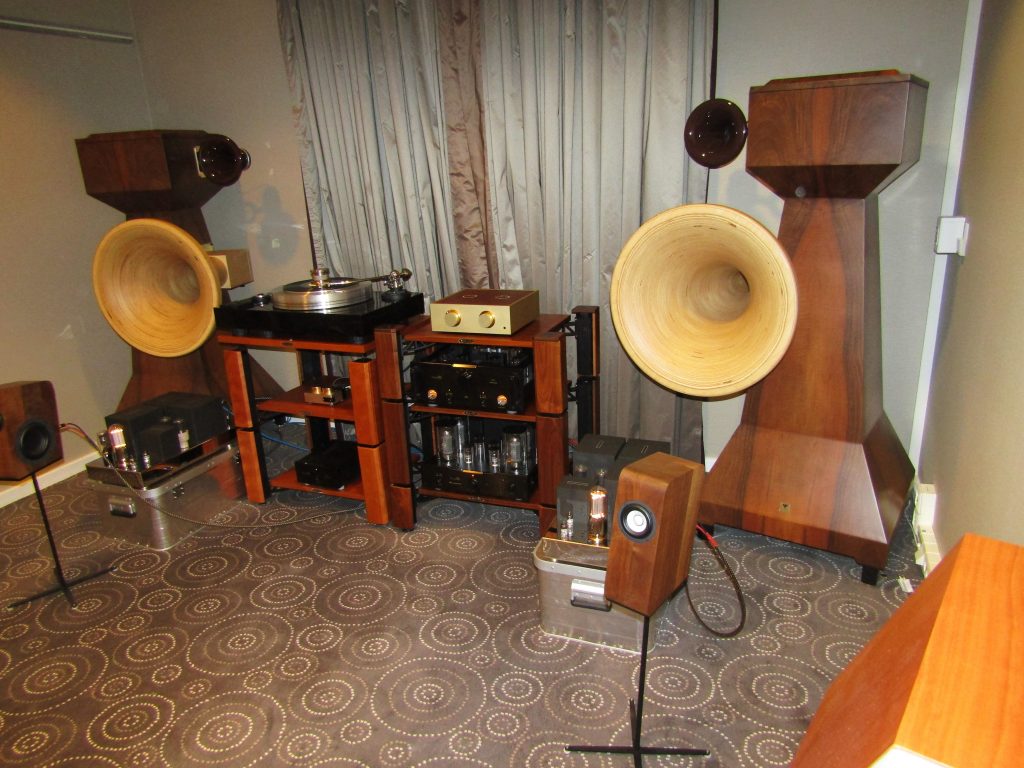 Stage Accompany's manly M-59 monitor is a 135kg 3-way design with two woofers (<100Hz), two midrange drivers and one ribbon tweeter (> 1400Hz). The speaker for large studios comes without a passive filter and is designed to sound great with the company's own HE50 active crossover/amplifier. With nearly 100 dB sensitivity the speaker is capable of 130 dB SPL. Very interesting to hear such speakers in this context!
One of the curiosities of the Copenhagen fair is the fierce competition between the two Audio Notes, UK and Japan. There are historical reasons for this. Audio Note Japan once began its European conquest from Copenhagen, where the current owner of Audio Note UK imported them and sold via his Hi-Fi store in Copenhagen. The race was tight again. The stunning AN UK system sang unisono with Vincent Belanger's (above) live cello (Belanger told he will soon release a new album under the AN UK music label).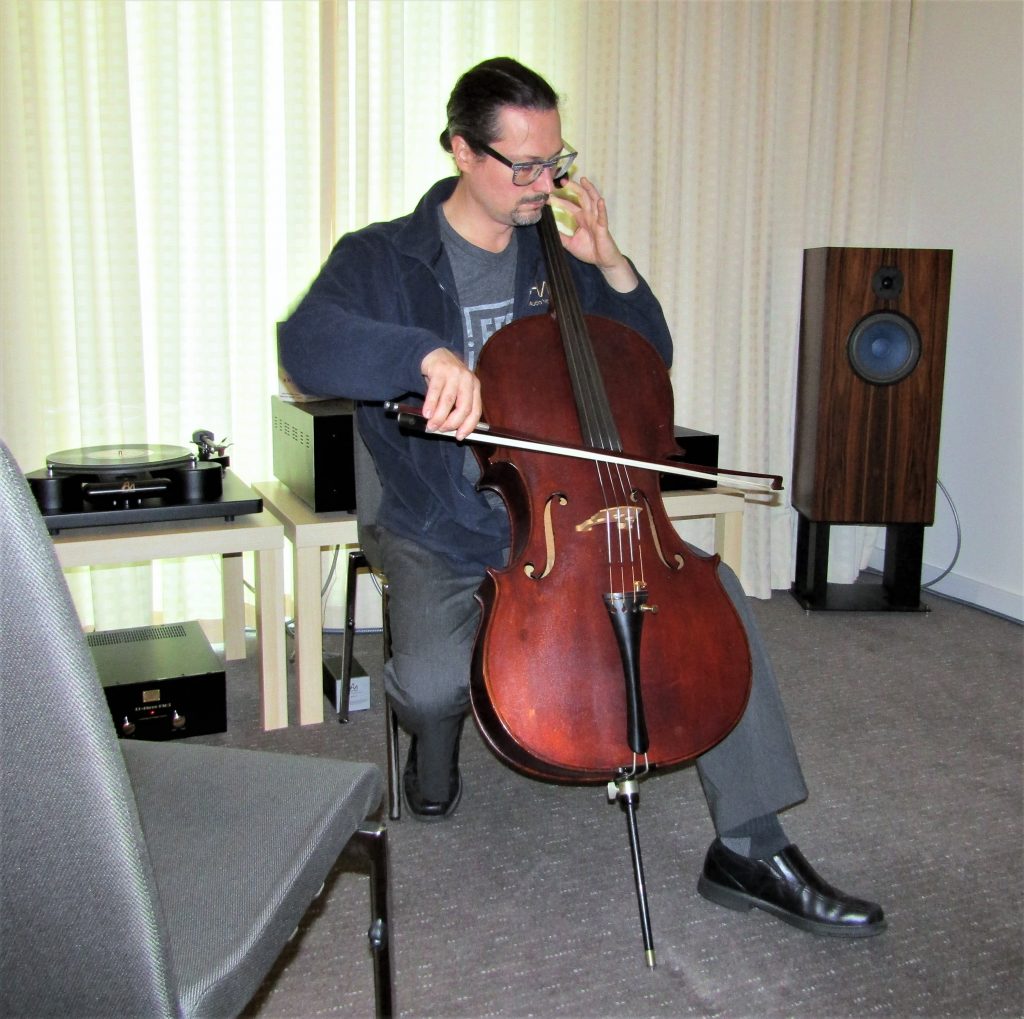 Audio Note Japan chose its impressive 8 watt Souga 2A3 stereo amp (4 x 2A3, 2 x 6072, 2 x 12BH7, 1 x 5U4GB) for the job of driving the tunefully sounding Devore Fidelity O / 96 speakers (another Peter Snell inspired loudspeaker). The source was a Nagra CD player. Very high quality music playback from both systems.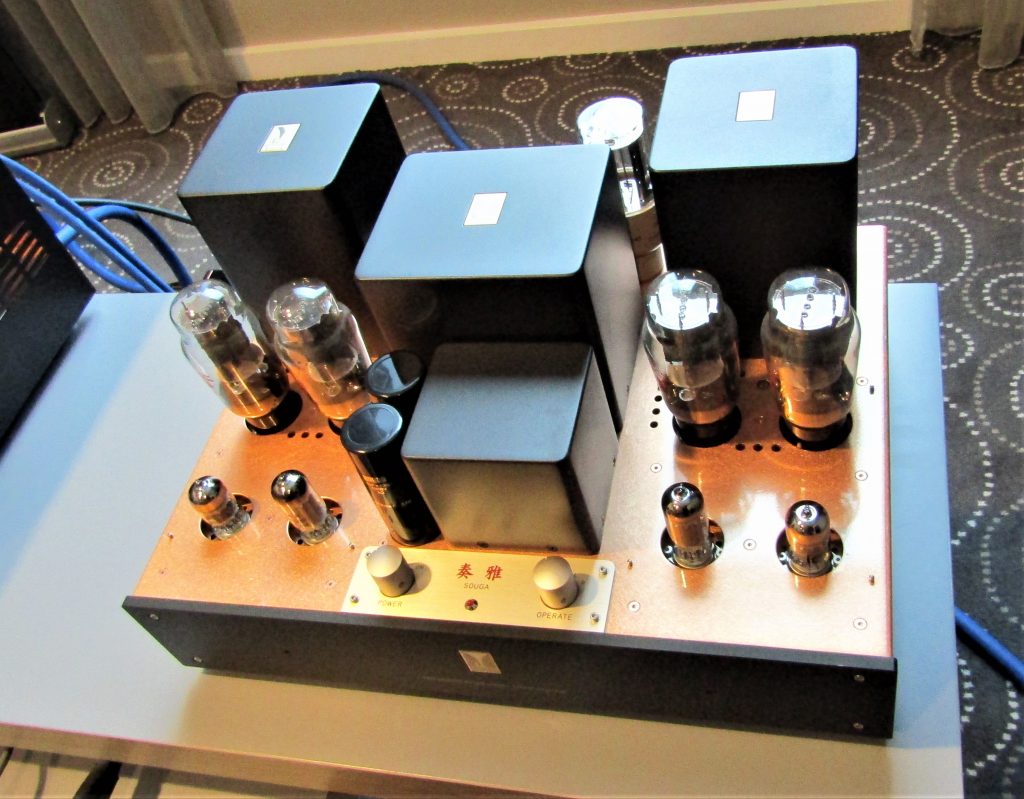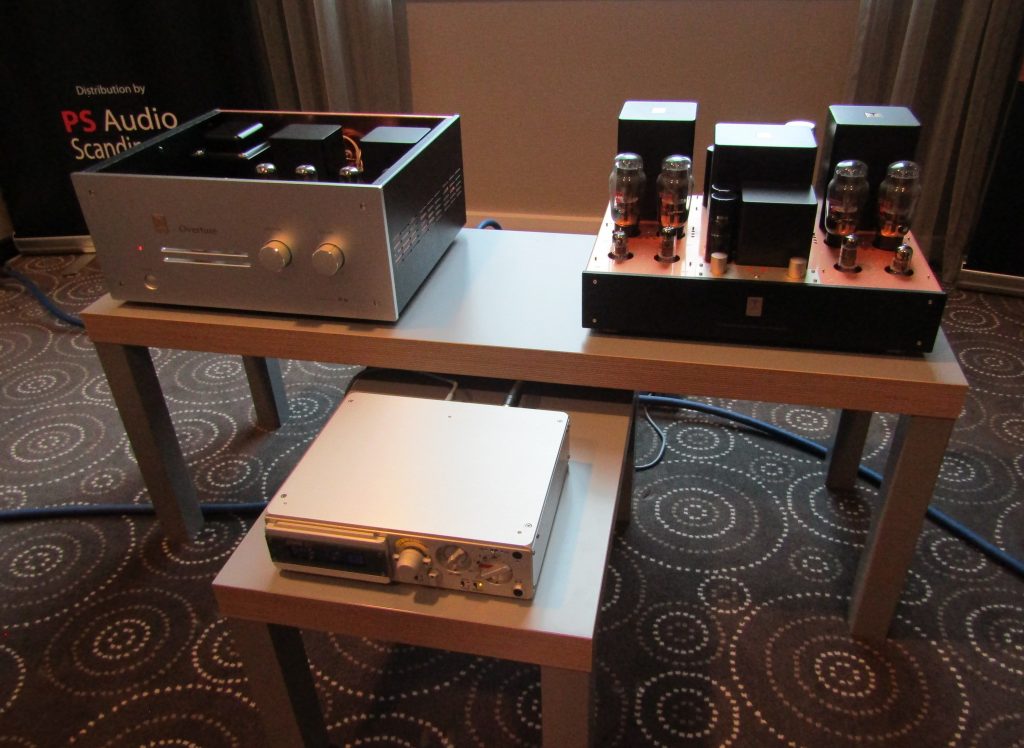 In the retro department, Wharfedale demoed its new Linton speakers driven by a pair of Quad amps.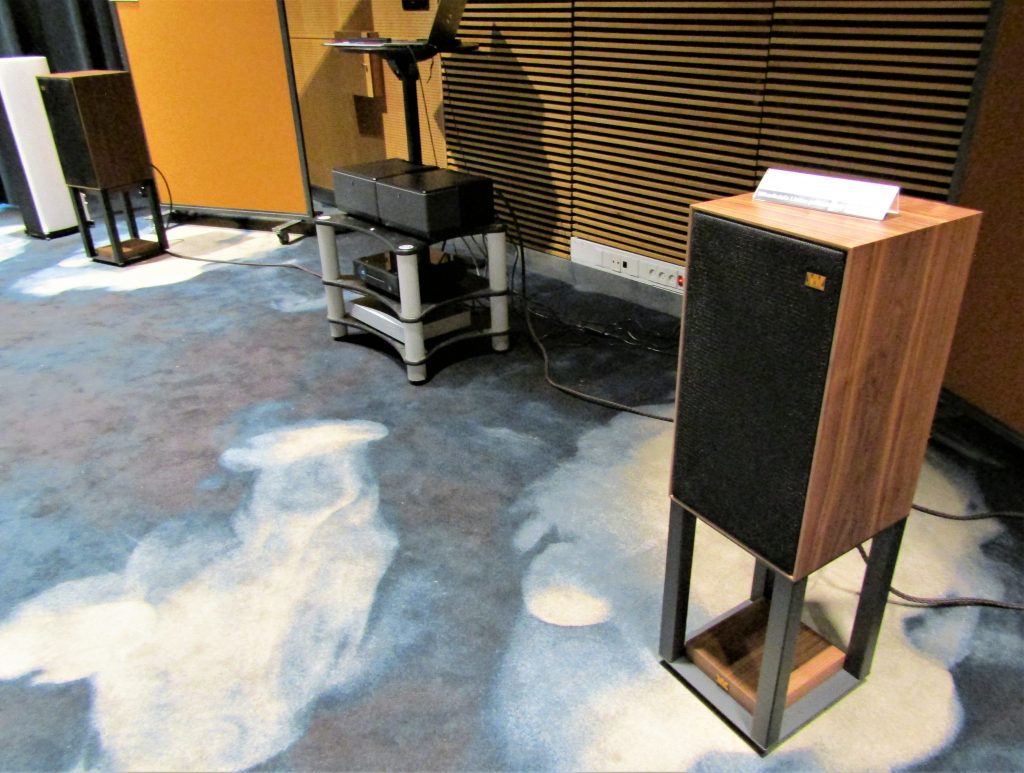 But the true show-stopper was the return of the Danish (!) Duelend, a manufacturer who is remembered for its horn loaded single-driver speakers back in the 1970s. The speaker in the pic is a Duelund from 1975 with a horn loaded Lowter driver or Coral.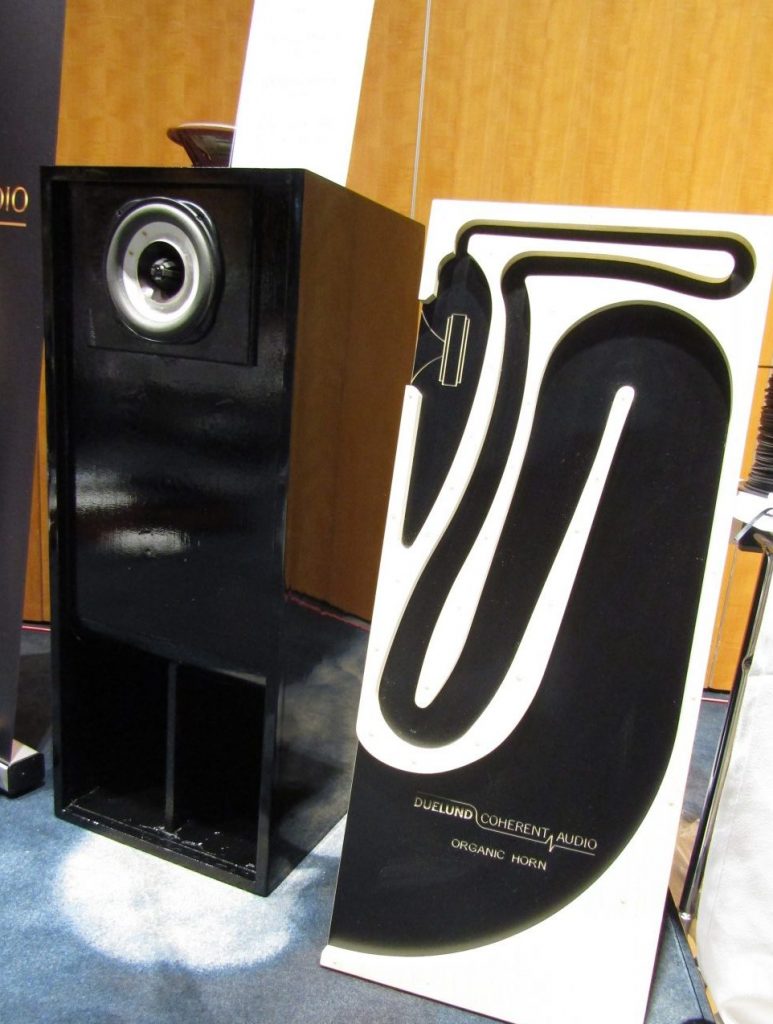 The revived firm now manufactures its own 5- to 8-inch Kevlar coned / low Qts (0.2) widebandwidth drivers as well as Western Electric type of cables and quality components. Duelund's guys recommended a sealed enclosure for the new 8 incher.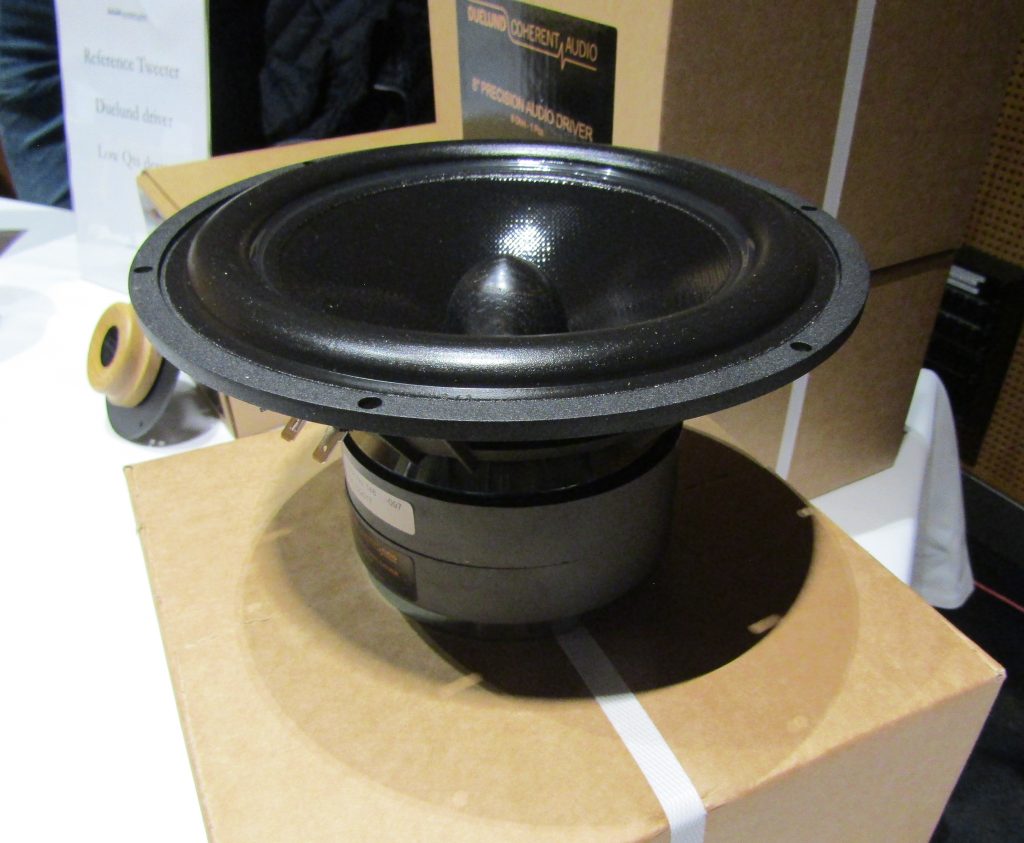 I've never seen before that Kimber Cable demoing its cables with ESLs. In Copenhagen Kimber cables were between Quad's inexpensive all-in-one amplifier and the mighty Quad 2812 ESL. The designer of Kimber's new cables, Nate Allen, argued for quality highend cables by referring to perfectionism in all areas of life, and its positive effects in  eg. how it can fine-tune the listener to embrace music in a novel way.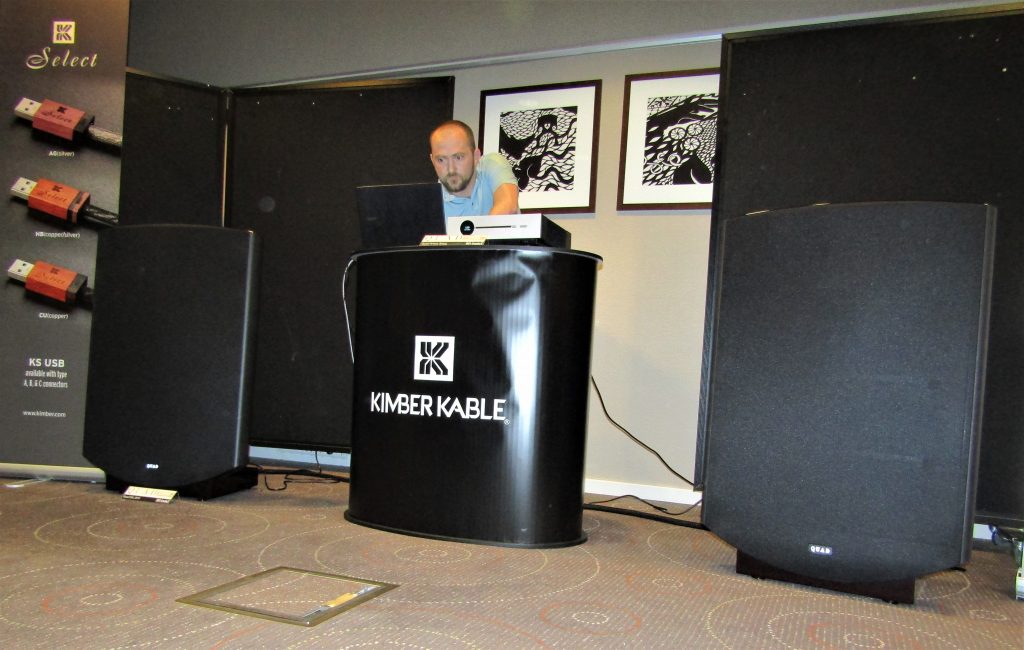 System Audio's Ole Witthøft is a man whose views on audio the Danish hobbyists are keen on learning. This time the topic of the lecture was how even a familiar song can sound different and musically more meaningful when played back through a right kind of equipment. The demo song was Eagles' Hotel California and the source Avid's turntable with the help of Avid and Primare electronics. And, of course, there is the difference, for example, in how the screams, whistles and applauds come out in the beginning of the track.
One thing about the System Audio room I didn't get: If one end of the room looks like this …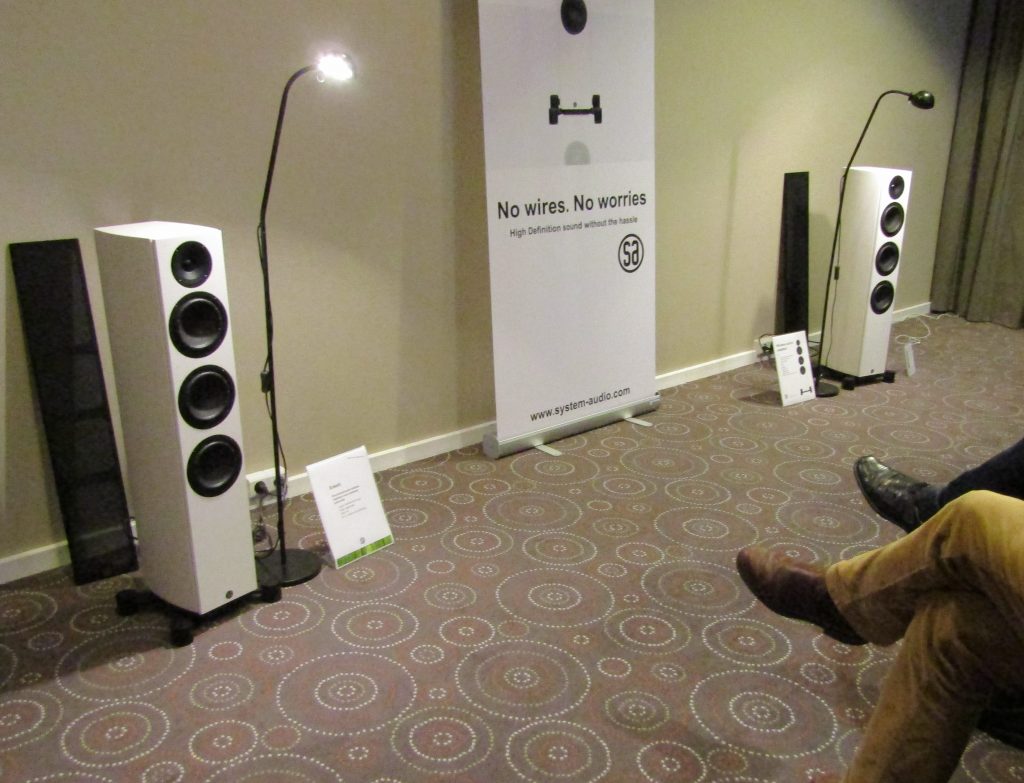 and the other end of the same room like this …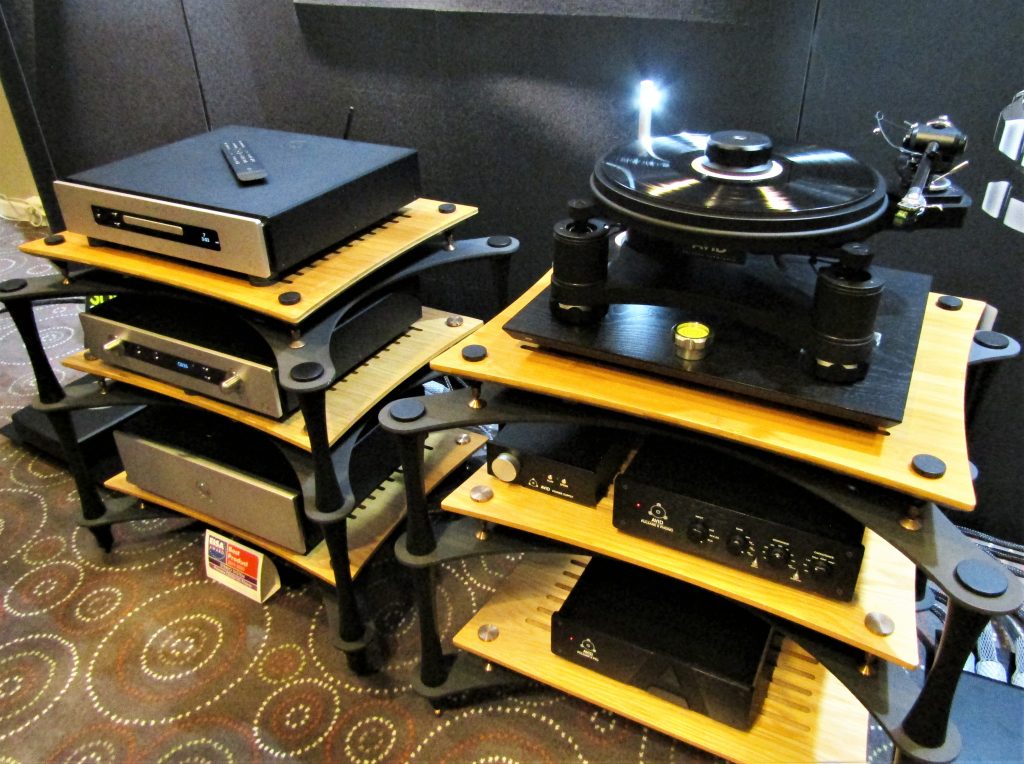 how could any lend his ear and mind to the former, no matter how worriless the cableless system were? But that's only me.
In Danish, JERN means iron. A large amount of graphite cast iron has gone into the cabinets of Andrew Quint's Jern speakers.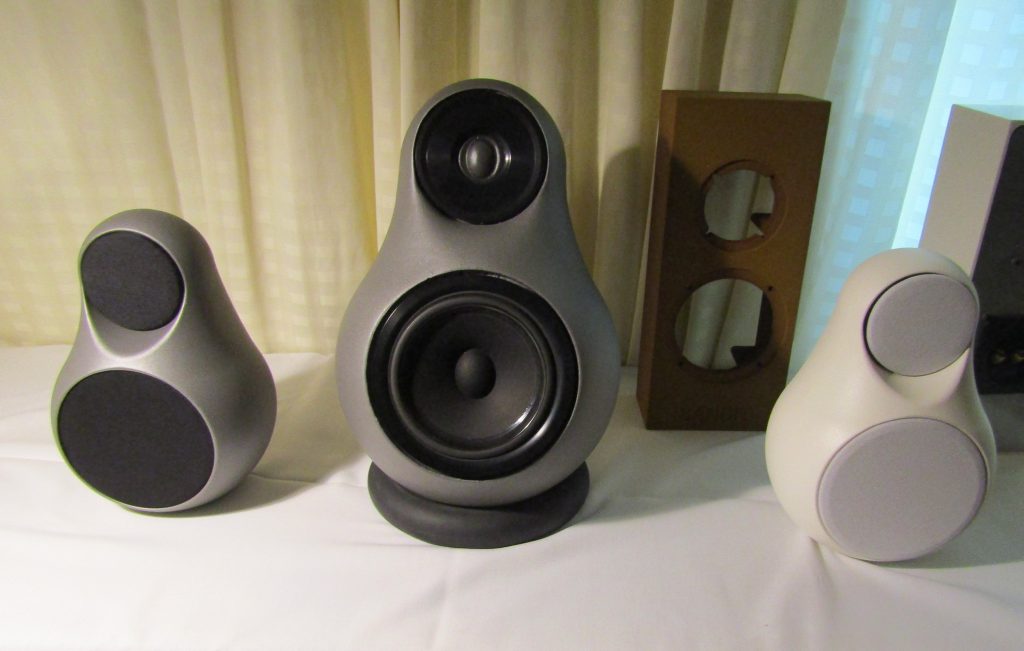 All in all, a stylish small-scale high-quality trade and hobby event! Recommended. Also  for good food and tasty beer in Copenhagen.