In addition to major nation-wide Shows there are other more limited ones. They may be  narrower in the supply but also more faithful to the subject matter.
One such annual Show in Finland is organized by a small group of dealer-importers/manufacturers (Solaudio for example) who only invite dealers/importers specialized in highend hifi as well as manufacturers whose main aim is not mass markets. Thus, the supply is very much concentrated on the higher end of audio, and so is the demand: with hardly more than 500 visitors over the two days is not exactly record high but those who arrive are practically all highend hobbyists who know what they're looking for, and need no similar consumer education and information sharing than the crowd at more general shows. These guys come to have unusual and atypical experiences, and meet their fellow hobbyists. They may have heard of some gear that has only recently been imported, and want now to see/hear it, and so on. In short, it was a true highend event down to the last detail, truthfulness not measured in dollars but in spirit.
What follows does not tell the whole story: there were a dozen more equally attractive systems on which I unfortunately failed to take a pic of decent quality.
Let's get on with a system composing of the Italian Vrel Electroacoustic horn speakers fueled by the Tektron TK211 SI ECY integrated tube amp (also from Italy) and the Ayon CD player. There were qualities in the sound that are easy to fall in love with but also some less orthodox ones.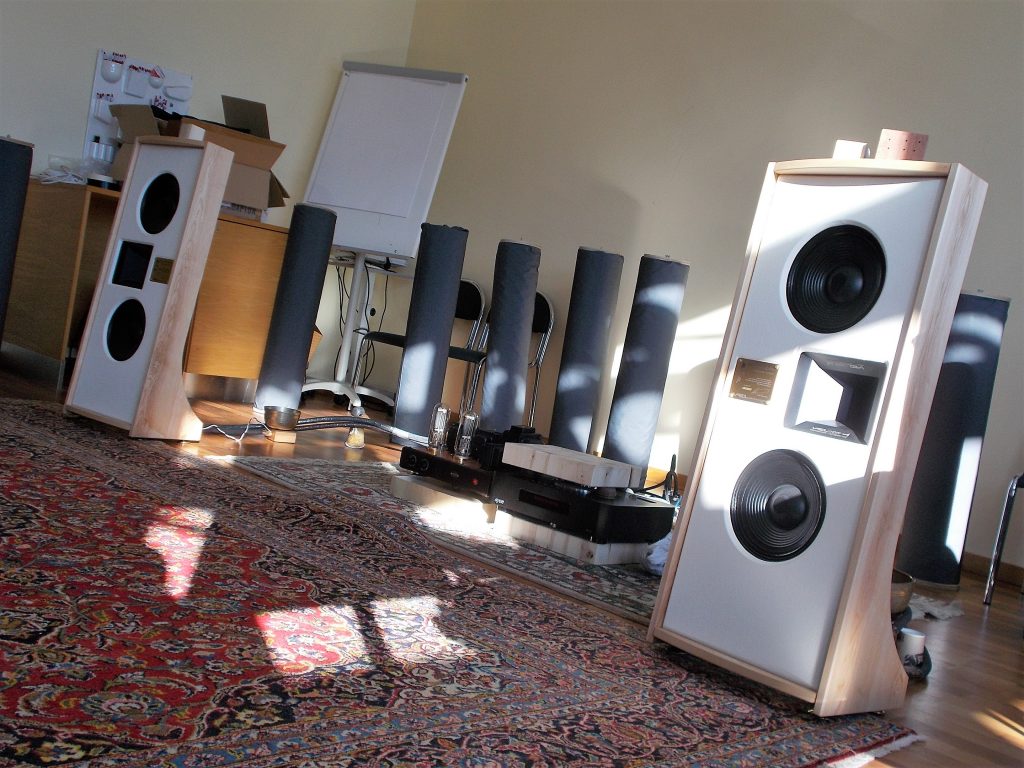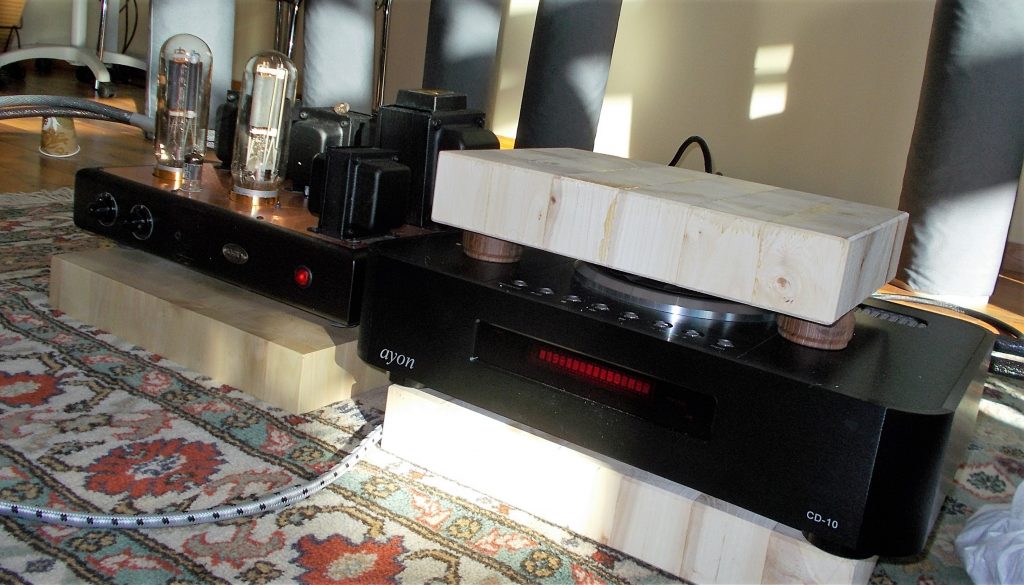 The FinkTeam's two-way floor stander Borg reproduces the sound from a 10.25 inch high-power mid/bass driver and an Air Motion Transformer (AMT) tweeter meticulously crossed (4. order Linkwitz-Riley) at 1600 Hz, this time its 10 ohm (average) impedance  controlled by the Musical Fidelity's Nuvista 800 amplifier – to good effect so!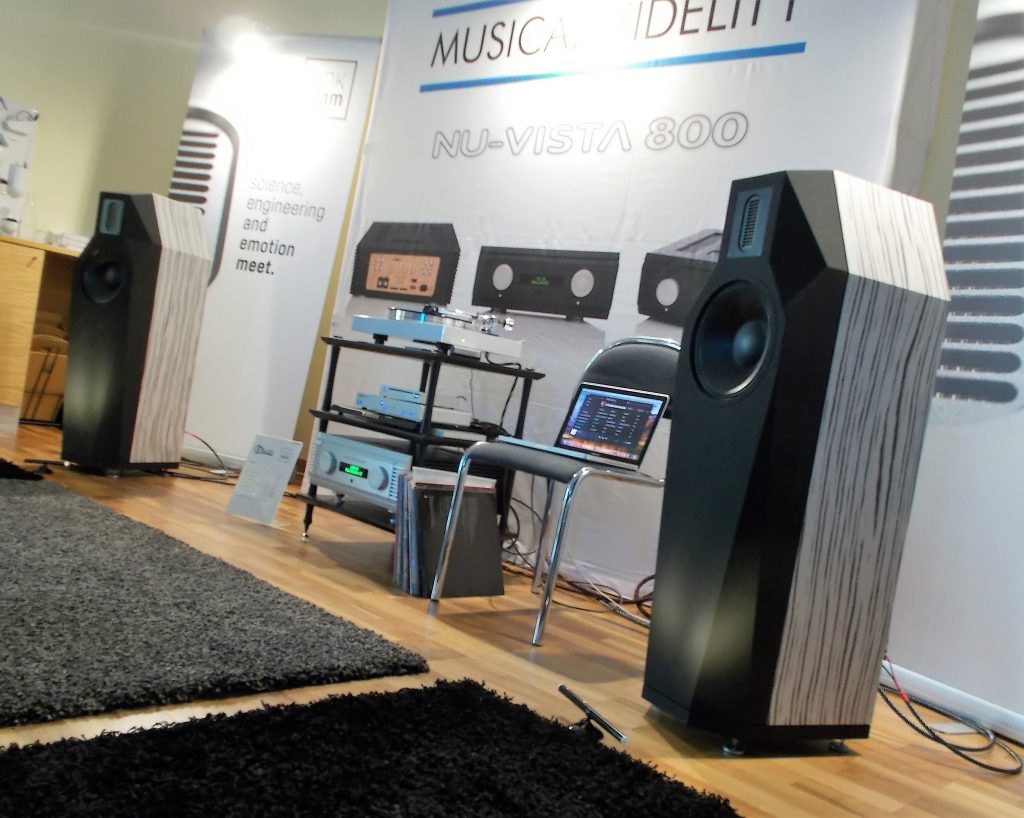 The Finnish Taipuu Speakers is better known for its massive 3- and 4-way floorstanders but this time their show piece was the all new stand mounted M1212 (left).  It too is a handcrafted DSP active speaker with a carefully crafted solid enclosure and state-of-the art audio technology designed to enable numerous room correction functions customizable by the listener. In case that you happen to have a chance to audition these speakers pay attention to their unusually well-controlled bass performance. And when I say "unusually" I really mean it.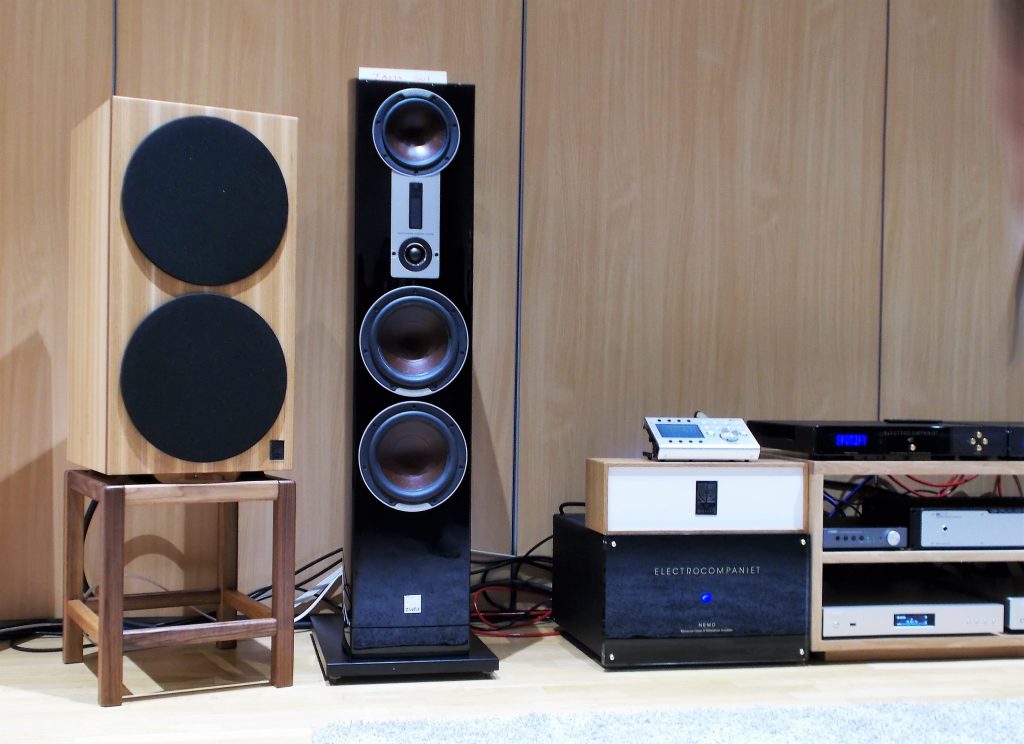 Hifihuone demonstrated how a compact system need not forgive in quality: Marten Duke 2 loudspeakers were driven (via Jorma Design cables) by the Moon Neo 330A amp, the digital only source coming from MSB: the UMT Signature media transport together with The Discrete DAC, plus their power supplies.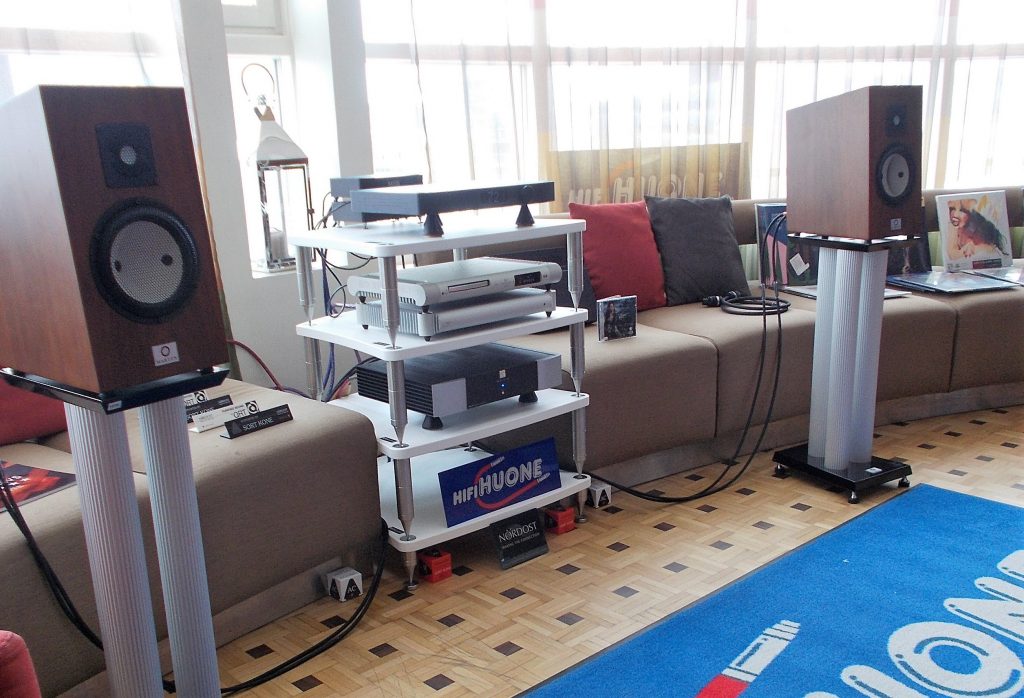 These frighteningly gray devices by Yamaha and Cambridge Audio, were placed to command the new KEF R-Series speakers R11 and R3 respectively.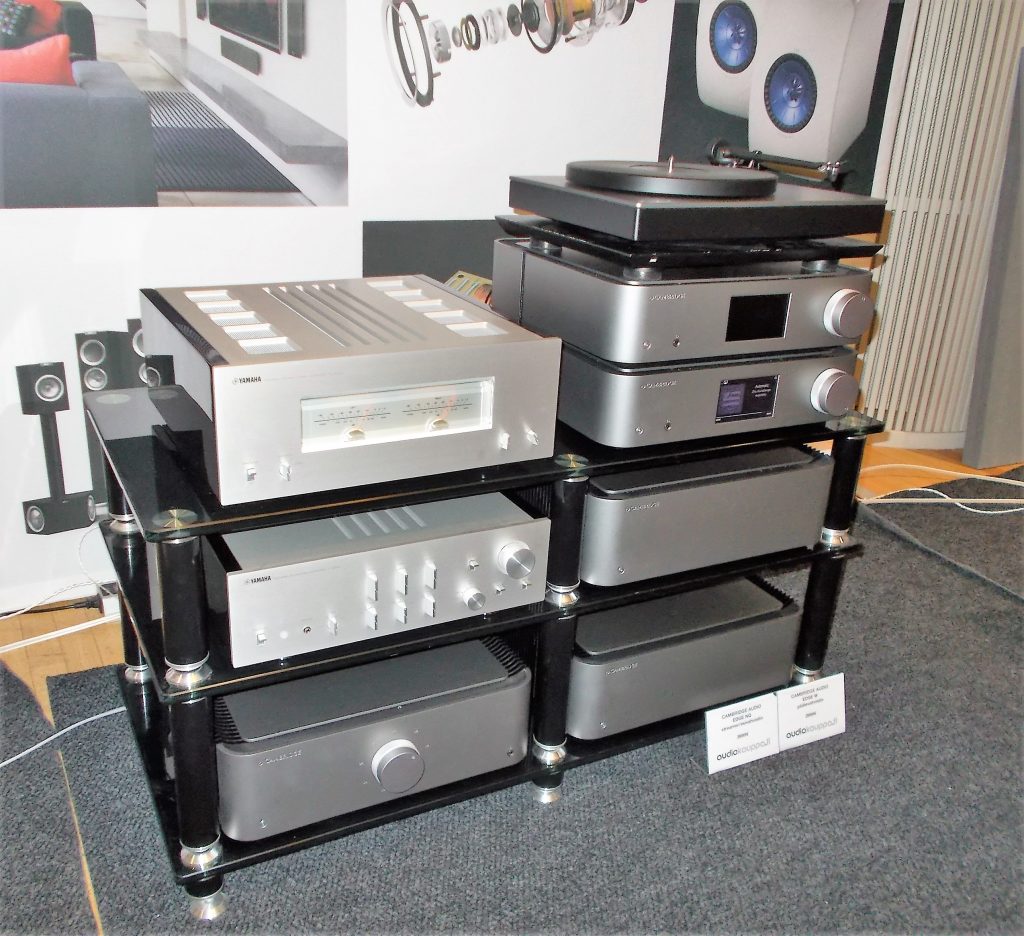 Kii Audio Three with the BXT bass extension. I've heard the combo now on several occasions and the sound's always been of a high quality, "competent" being the word that first comes to mind, quasi-faultless. But at the same time I always find myself wondering whether it's too technical a product? Should it leave something for the user's imagination and creativity?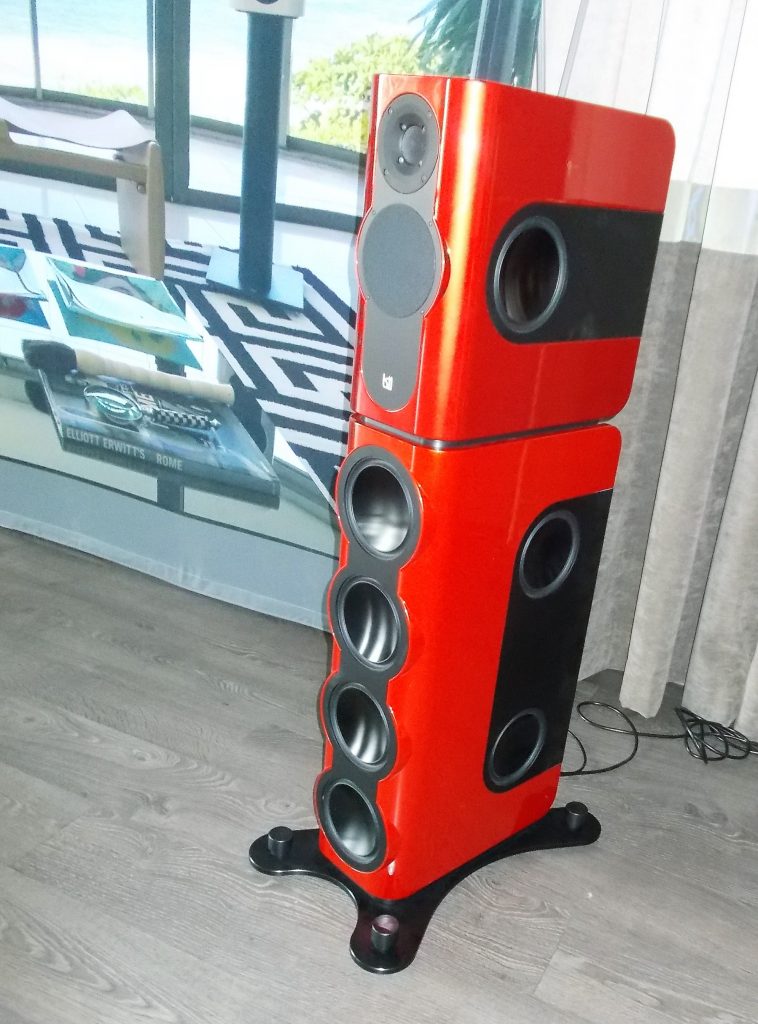 A brilliant yet reasonable system by Sound Factor: the Spatial Audio M3 TriodeMasters  reproducing the signal from the Air Tight ATC-1 & ATM-1S (16 ohm out) combo.  Quite a different sound than the one offered by the Franco Serblin Accordos together with the Air Tight EL84 AM201H integrated. The analogue source: Kuzma Stabi R & FourPoint9″ &  SoundSmith Paua & Sound Smith MCP-2 phono stage. The digital source: Bluesound Vault2 / EAR Acute III DAC.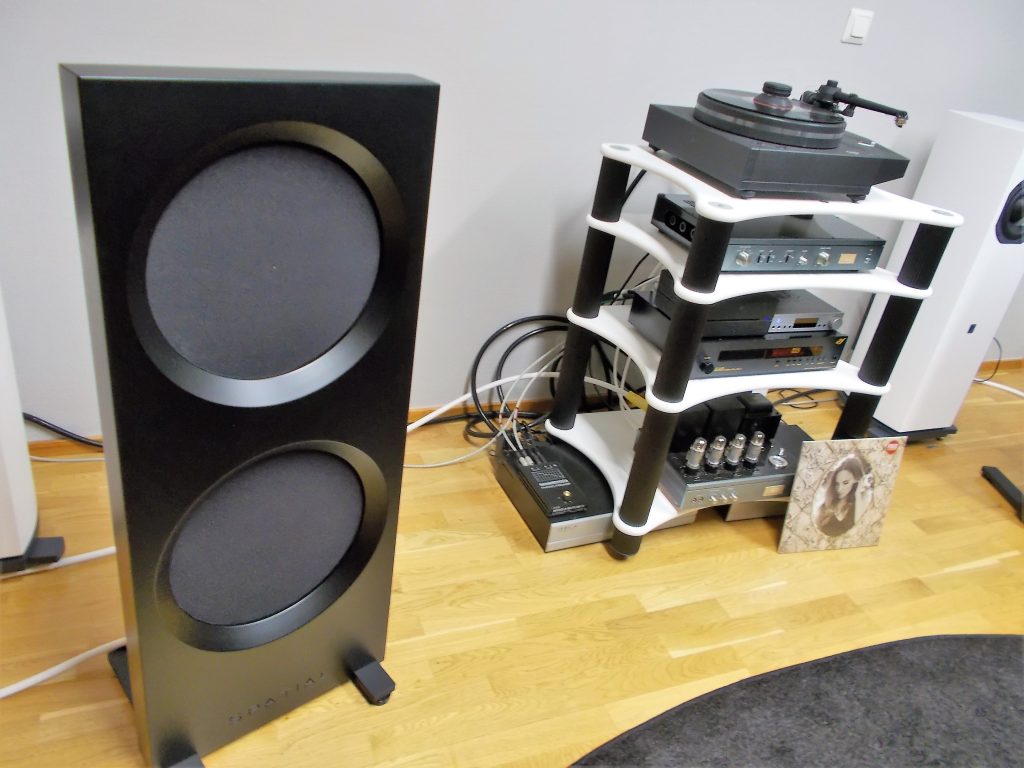 Erik Konka is an experienced audiophile and manufacturer of Hi-Fi tube electronics, of all sorts. Check his website here to get better understanding. For the show he had carried two full tables of tube gear (amps, peculiar phono-stages etc.), and these were asked to produce sound through bottomless, open back loudspeakers sporting two 12 inch EMS widebandwidth drivers per speaker. Adding the second driver per channel may undermine the point-source idea of using a single driver but as Erik explained, giving up puritanism offers other advantages.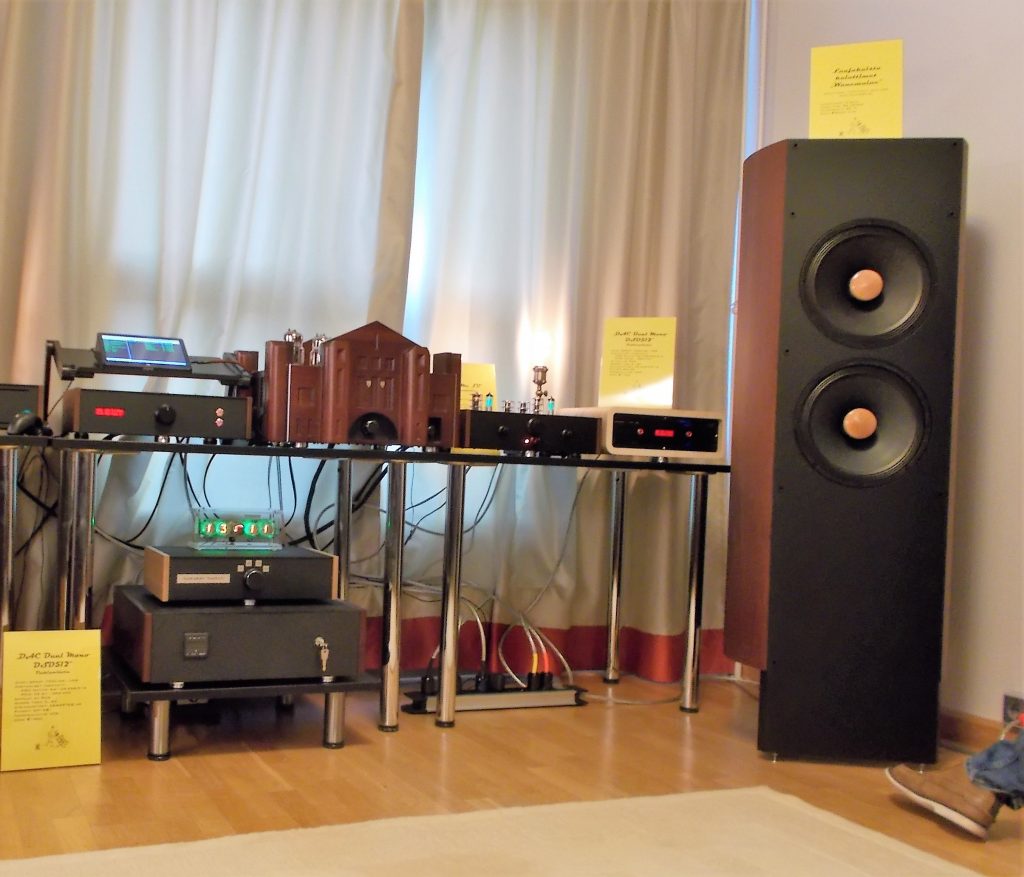 The red Wanemuine is a 30W OTL (Output Transformer Less) full triode tube power amplifier whose design owes to the Jugend style of the Estonian first national theater Wanemuine.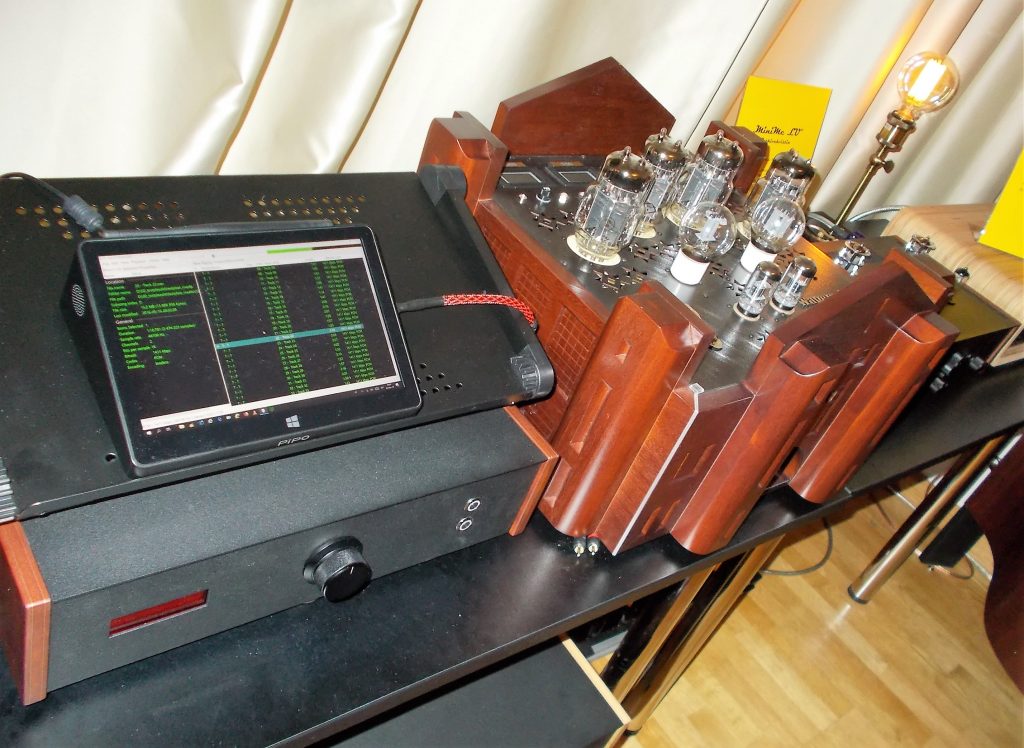 Penaudio's Alba loudspeakers happily married with Ensemble electronics from Switzerland.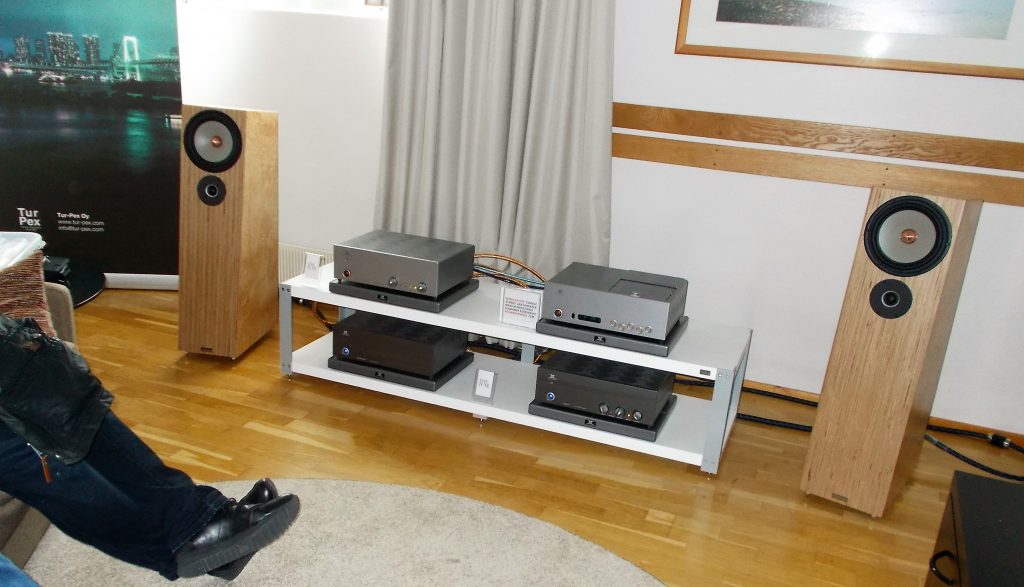 Finns may have an acquired taste for dipole bass by having, for decades, exposed their ears to the Gradient Revolutions. Anyway, here's one DIY realization at the room of the Finnish Hi-Fi Hobbyists, and again with a dipole bass. Might well have been the theme of the show!