It all started from selfish reasons.
The head designer and founder of the Finnish loudspeaker manufacturer Penaudio, Sami Penttilä, wanted to build a pair of loudspeakers for himself first and foremost in order to better enjoy music. Enjoy. That's the word. At first there was no more complex motivation behind the decision than the desire to enjoy the music. The decision eventually lead to long-term consequences that are still effective today.
Following the decision, the company's very first loudspeaker model – the Penaudio 7.6cx – saw daylight in 1999. A new model Apprentice soon followed, then Rebel, Infiltrator, Invasion ja Chancellor. Twenty years after, Penaudio's selection features almost 20 different models, many of them winners of prizes and awards.
The first model and its immediate successors already possessed many of the technical features that were to become characteristic of the later Penaudio models: the relatively small size, the narrow front baffle, quality bass/midrange drivers, soft textile domes, top notch crossover components. Most importantly, and this is quintessential to the Penaudio story, the very first speaker models already featured that neutral and yet natural and pleasant sound , which has become the trademark for Penaudio's loudspeakers, along with other sonic qualities such as overall coherence and the wide listening spectrum.
Today not much have changed, and that, given the current global business environment and unpredictable trends, technological development, changing consumer habits etc., has to be considered as an achievement!
And today? Today Penaudio speakers still sport high quality drivers, because "quality drivers is what matters most". In practice, the requirement has meant that, over the past 20 years, basically all the woofers and mid/woofers and the tweeters are sourced from the selection of the Norwegian SEAS so much so that today all drivers of the Penaudio speakers are the exclusive SEAS Excel Series units.
And like in the beginning, the bass of all Penaudio models is tuned the size of the listening room in mind: small speakers for small rooms, bigger models for bigger rooms. The textile domes of the first Penaudio's speakers were not placed inside  otherwise fairly popular wave guides, and they still aren't: Penttilä did experiment with tweeter waveguides but did not warm up to the idea. Instead he found out that a way more important for the ideal sound was that the mid/woofers are crossed at some quite high a frequency (typically 4000Hz) to cover all the fundamentals.
And just like the drivers, the components that go into the Penaudio speakers still represent the highest quality whether it concerns internal cabling (special highend cables), binding posts (the best WBTs), et cetera. And of course, there's the hand-made birch plywood finishing, from which Penaudio is recognized worldwide.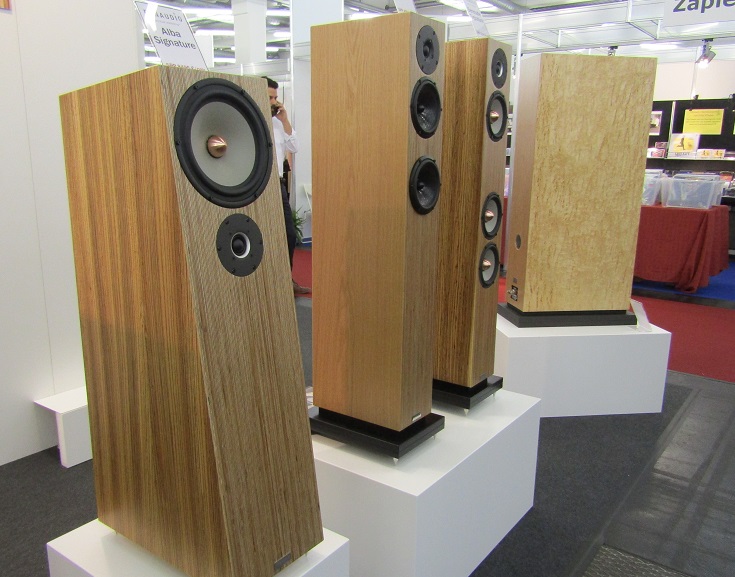 Then and now
Today Penaudio celebrates its 20th Anniversary in the business of speaker building, and you may think that I wrote the above text for this particular occasion, but No. The truth is that text is reworked from the article I wrote seven eight years ago to honor  Penaudio's 13th Anniversary. I dared to quote the old text, because today not much have changed, and that, given the current global business environment and unpredictable trends, technological development, changing consumer habits etc., has to be considered as an achievement! This must mean a lot to Penaudio too. It's a sign that the process has not been arbitrary. The company has been able to systematically pursue its goals and values, and doing so has produced wanted results. Knowing what the company has gone through over the years and on many levels, one cannot but admire its perseverance and steadfastness. At the same time, many famous loudspeaker manufacturers have disappeared from the scene or have been forced to keep a lower profile during the same period. But not Penaudio.
Before looking at the company's past ten years or so, let's get away with certain facts about the man himself, the founder of the company and the designer of the Penaudio speakers.

Sami Penttilä
Sami Penttilä (b. 1975) took his first piano lessons at five, and then learned, at the age of 12, to play guitar, before acquiring, three years later, his first true hi-fi separates:
"Around the time, I had bought my first real hi-fi speakers, quite expensive B&Ws or something … They replaced my Hitachi receiver and JVC C-cassette recorder, and the removable speakers, which I had lifted up on the ear level and loosely stuffed the ports, in order to make them sound a tad more acceptable. In those early days I read all possible Hi-Fi magazines and wolfed down Do-It-Yourself Hi-Fi Guides."
The 1993 was an epoch-making year for Sami in many ways. It was then that he joined, as the guitarist, the band called Sie, and it was then he made his first recordings/mixings, and it was then that he built his first own loudspeakers based on a then popular speaker kit. All these decisions had future implications in Sami's life.
"Along with the guitar I started to listen to music that I felt was my own music, which at the time meant Wasp, Twisted Sister, Scorpions and Dingo. With the band Sie we mainly played rock of the 60's and 70's. We even recorded a few songs at our drummer's home studio. Looking back now, I notice that already at that time I was obsessed with getting the sound right. Knowing nothing about recording etc. didn't prevent me from experimenting with the correct placement for the mics, listening to the result, and then repositioning the seats, and listening again, and so on."
Around the time of setting up Penaudio in 1999, Sami still dreamed about becoming a better instrumentalist, this time as a bass player. In the process, he continued to play and record/mix music in particular together with his brother. On the side, he designed loudspeakers for a furniture company called Murea. Once Penaudio was there, the first ply-finished loudspeaker Charisma showed up at the Frankfurt Highend Fair in 2002 accompanied by the Charm sub. The success instigated export, first to Japan and the Netherlands. And the rest, as they say, the is history.
In 2007, Stereophile put Penaudio Serenade on the A Class list, and in 2012 Penaudio Cenya ended up on the B Class list. In 2013, majority of shareholding was sold to the Latvian company Worldaudiodistribution LLC. Two years later the production/logistics was relocated to Latvia. The in 2017 Finland celebrated its 100 years of independence, and to honor the occasion Penaudio launched a special model, the 6.6cx Finland 100 (just 100 pairs were made). The latest model, the flagship Sonata Signature, was released in 2019.
Looking back
So, Sami, in hindsight, how would you sum up Penaudio's past 20 years? How do you feel about it?
"Well, it has been an astounding period, very instructive but also from time to time strenuous and difficult. Deep down I feel the balance is positive, and the experience all in all rewarding and such that I can feel a touch of pride of what I've been able to accomplish in what could be called, the "most important" period of one's life."
You've always been interested in music, and enjoyed it by listening, playing, recording and even composing … 
"Yes, I grew up into listening to music, learning from my father especially, who by the way still tours Hi-Fi fairs and is an active music listener. Looking back now there have been certain decisive moments in the past. One was in the mid 90s when I moved to the town of Jyväskylä, after my girlfriend who was a semi-professional violinist, and then a bit later, when I went to study wellness technology/engineering at the Jyväskylä University of Applied Sciences. I was so lucky to have teachers who were personally interested in audio, physics, electrical engineering and acoustics. Among the fellow students there were many music enthusiasts and hifi hobbyists, with whom I could share my personal interest in loudspeakers. Consequently I begun to read more books on loudspeaker technology and acoustics, and was slowly tuned in to the idea of building a loudspeaker for myself, partly because the fairly expensive Kef Reference One's that I bought in 1998 with the money I earned from a summer job, turned out not to be exactly what I was looking for sonically from a loudspeaker, and what I was accustomed to hear in concerts and live performances."
I was slowly tuned in to the idea of building a loudspeaker for myself, partly because the fairly expensive Kef Reference One's that I bought in 1998 turned out to be not exactly what I was looking for sonically from a loudspeaker.
So the combination of wellness technology and loudspeaker building originates from this period?
"Yes, I guess so. Then, in the fall of 1998, I purchased a bunch of components and coaxial drivers from the Gradient Labs, and started making tests with various crossover frequencies. As a default I set the dividing frequency between the midrange unit and the metal dome tweeter quite low, and noticed that nothing good followed from the decision sound-wise. I then got a chance to test the 140 mm SEAS coaxial element with the textile dome. I immediately preferred the coaxial driver because I had heard it in Gradient Lab's speakers, and liked the sound, and the textile dome over the metal one, because I had heard a "softer" sound coming from the OR's 170Hi, which also sported a soft dome. But it didn't help. As long as the crossover frequency was set too low, it didn't sound good at all. So I thought why not lift the crossover line substantially higher … and everything started to make sense, the sound became more natural. Working on the 14 cm Seas coaxial, I then made lot of experiments with a proto until one morning in March 1999, my very first loudspeaker was finished. The feedback I got about their sound from my classmates and closest friends was largely positive."
And ever since the high crossover point has been an inseparable part of the Penaudio concept. But it's still a long way from the drawing table to an actual commercial loudspeaker?
"Yes. In spring 1999 I ordered ten pairs of cabinets for a model called the Penaudio 7.6cx, inserted the drivers and assembled the filters, and packed the speakers in a piece of paper and drove to a prominent hi-fi dealer wo first listened to the speakers and ten took three pairs for sale, on the condition that I would submit proper packaging boxes, which I then did. It didn't take too long that the new speakers found their way to a half a dozen dealer shops. A particularly important salesman for Penaudio's products was Mitro Koskiluoma, who had heard them while working for another dealer, and then later took Penaudios for sale in his own shop and has persistently continued to do so ever since."
Penaudio goes international
But was that already real business? It wasn't long that Penaudio begun selling loudspeakers to foreign countries and be present at the international markets?
"Well, first off, I was lucky was when I got venture investors such as Jyväskylä Technology Center and Midinvest Oy. Without them Penaudio would never have got offthe ground and become anything significant. With the risk money I was able to icrease the stock, get some salary for myself and a new leased Nissan Almera 2.0 GTI!"
Yes, that's true, I remember how excited you once were about cars? Tell us more about that. How did cars go with good music and cooking?
"I had always had a soft spot for fast cars, and never acquired cars that would be suitable for transporting the speakers, or children, or pets. I've always bought them on the principle that I want to have one for myself. Driving was a lifeline to me. It let me escape troubles of the work, money, and relationships. Acceleration, sounds, g-forces. Investing money in a 24-year-old guy who since his boyhood had followed the Miami TV series, might not have been the most sensible thing to do from an investor's point of view."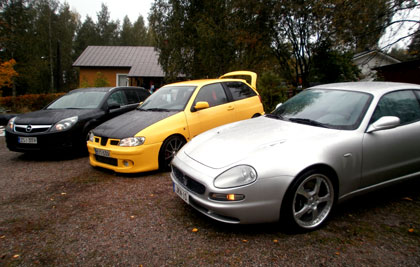 Which cars did you have?
"One was Opel Tigra 1.4-16v, where the backseat was ripped off for my 84cm & 80kg Mastin del pirineos puppy to get in there. It was the only car that I didn't tune. Then there was the family wagon, Opel Vectra C caravan with the 2,8 litre V6 turbo engine and a remapped ecu and larger exhaustion pipe. It sported 300HP and 440Nm of torque, and did 0-100km/h in 6 seconds. And my true hobby car was a totally remade Seat Ibiza 20VT with new suspension, brakes, seats, harnesses, tires, engine, aerodynamics etc. It had 365 HP and 480Nm, and weighed only 1100kg, so it was superbly fast, … fit mainly for track use."
More than cars I now fancy picking berries, raising hens, keeping a garden plot with grapes, apples, cherries, bush blueberries etc. We have chilies and peppers in a greenhouse, we go fishing and pick mushrooms. The music and the food are still there as before.
And which cars you have now? 
"I still have the supercar Maserati 3200GT. When I bought it, it was something that I had  been dreaming of my whole life. It is a piece of art, leather from top to bottom, a 3,2 L V8 on the deck, 48 valves and twin turbo. It too has gone thru tuning: remapped ecu and exhaustion. It does 442HP and 600Nm. Its speedo has 320km/h rating… In the standard 371HP mode it should do 280km/h. But nowadays I use it only for occasional summer driving, and it's heavenly I must say. I also have another hobby car in the garage, the 1988 Jaguar X-JS V12 convertible, also for cruising on the countryside."
"But it's true that my values have changed since 2012, partly because of moving away from the town to the countryside. More than cars I now fancy picking berries, raising hens, keeping a garden plot with grapes, apples, cherries, bush blueberries etc. We have chilies and peppers in a greenhouse, we go fishing and pick mushrooms. The music and the food are still there as before, but less cars. As utility vehicles we have a fully electric VW eUp and Hyundai Ioniq Electric. They are charged with 21 solar panels. That is, ecology is important to us, and moving away from the town has certainly made living ecologically a genuine option to us.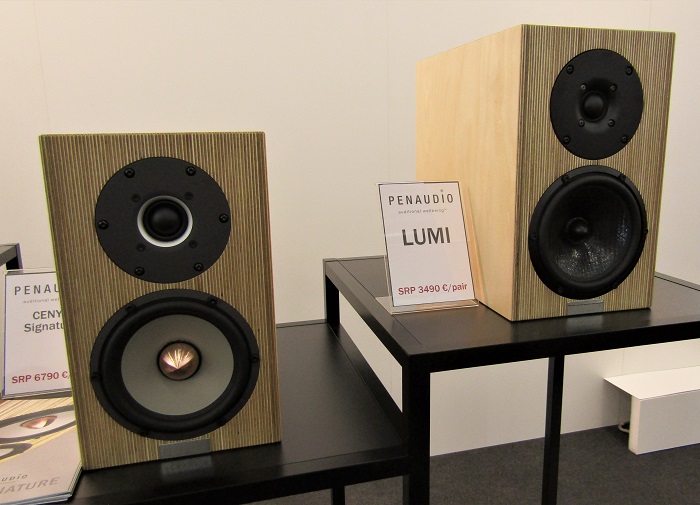 Back to speaker building, how the whole thing got off the ground?
"Yes, the resources that I got from the investers were fast spent, faster than would have been sensible, in ads, in hi-fi fairs and so on. But I guess that all somehow led me to where I am and the company are now. So then, in 2001, my business partner Tommi Forss begun to consider how to take the Penaudio sound abroad. It soon became obvious that the key to international success lies, as much as in the sound quality, in the appearance and finishing of the speakers. Tommi had seen, at the Habitare Interior fair, an interesting lamp with striped wooden pattern made by Nolla-Nolla, and showed our prototype two-way standmount loudspeaker to the guys of Nolla-Nolla. They agreed to make the first version of the loudspeaker with the same ply-striped finising, and as the result, the Penaudio Charisma was born. In addition to the old lineup, we had equipped the speaker with alpha-core foil coils and internal wires, WBT terminals, and a 12 cm paper cone Seas Excel mid-bass element. It was quite a risky business, because no one in Finland had ever exported loudspeakers with that finishing touch. In spring  2002, we then attended the Frankfurt High End trade fair, with the idea that if this didn't work, we might end up doing some completely different business. We packed the little speakers, CD-player, amplifier, cables and tripods in a suitcase and set off. At that point we didn't have a name logo, so attached wooden letter pieces to the cabinet to form the name Penaudio."
And how did it go from there?
"During the Show, Sonneteer's Remo and Haider began bringing clients and the press to our room. Not too long after the fair, we began exporting Penaudio speakers to Japan and to the Netherlands, and a bit later to the USA, Taiwan and Italy. Next five years or so were time of growth, and the period in a way culminated in Penaudio's speaker reaching the Class A category on the Stereophile Recommended list in 2007. Soon after that the company faced hard times, not least because I had to figure out what the next goal would be. That led to an almost total collapse of Penaudio, but fortunately I was able to keep my head above water until the WAD took over. Thanks to WAD, Penaudio is still going strong and is perhaps more alive and kicking as ever."
Back to the present
So how does it feel after 20 years of success, failure, joy, sorrow, strugle, wins and setbacks and what have you?
"Well, it's been a long journey. Time runs. It's already five years now since the deal/agreement upon the cooperation with the WAD was signed. Since then the situation has very much stabilized. My role in the current setup is just product design and development, plus to take care of the Finnish hi-fi and highend fairs. In addition, I may attend some foreign highend shows and am occasionally available for the old importers and for press interviews."
Are you happy with Penaudio's current collection of products?
"One could say that our current collection, which was renewed last year, has reached the level where it's so final as it can be. Clear, transparent in design and sound, consistent in prices. The new flagship model, Sonata Signature, my latest work of art, with which I again crossed the borders and went against and beyond the conventional Finnish speaker design ideology, pleases me a lot."
I'm no longer so concerned about whether my speakers are classified as the best or second or third best. I'm more worried about in what kind of world my 7 and 8 year old kids will live then.
And the future?
"It will be interesting to see what the next 10 or 20 years will bring along. It may not be any easier than the first 20 years because the traditional hi-fi clientele grows older. I may no longer have the courage and strength I once had when building up the Penaudio brand. Back then I had to go ahead without knowing which direction would be best, and yet I was ready to throw everything away to save my company. I'm no longer so concerned about whether my speakers are classified the best or second best. I'm more worried about in what kind of world my 7 and 8 year old kids will live then. They are then about the same age as I was when I started with Penaudio."
"Music will always be in me. I listen to music while developing new loudspeaker models, or just for the leisure or whenever we're recording music with my brother. I bought electric drums for my kids, and have practiced to learn to play them. While driving, I still can't listen to music for some reason, only speech. All in all, I don't know what else I would do if I weren't doing what I started to do 20 years ago … the world's best speakers!"
Thanks, Sami.