… in order to write about them based on my own experiences of their shop. Nothing ever came. But now a News Letter arrived, and the symphathetic explanation for the delay was: "we're a bit lazy". In times when everything is supposed to be online, this delay is great news!
Well, here it is: 12 Tónar – Newsletter – 17 November 2010
Skli Sverrisson Sera II the new album is now out. Following his acclaimed and award winning Sera, released on 12 Tonar in 2006, Skli teams up with a host of brilliant musicians, for another take on his unique and fascinating soundworld. More on the albun and listenables tracks can be found on the 12 Tonar webpage.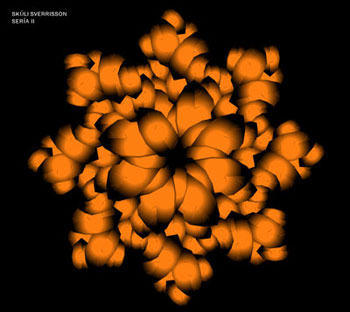 Apparat Organ Quartet the long awaited new album should be out in December. Incredibly, it's been eight years since the release of their timeless classic debut! After their mindblowing performance during the Iceland Airwaves Festival, it promises to be quite a release.
Steindr Andersen & Hilmar rn Hilmarsson, the legendary duo has patiently been working on an album of Rmur for over four years! Steindr will deliver his favourite Rmur with Hilmar's haunting soundscapes and musical surprises in the background. The album is scheduled for release on 12 Tonar in the new year. The pair introduced a few songs in an exclusive show in our packed shop during the Iceland Airwaves Festival.
Rökkurro, our favourite group has just returned from London where they charmed the english audience in their own special way. Just to remind you that their brilliant second album released last August Annan heim is now out on vinyl as well. The LP is released by our friends at Inner Ear Records in Greece.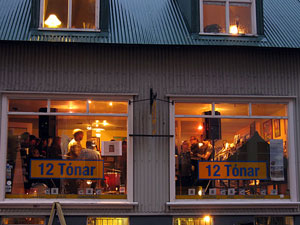 12 Tonar Instore concerts at the Icelandic Airwaves Festival
For the last few years we have some cracking concerts during the Iceland Airwaves Festival. We will never forget when Hot Chip peformed here and the floor nearly collapsed! Or when the magic of Patrick Watson took us completely by surprise, what a brilliant musician he his. Or Architecture in Helsinki, or Trabant or Gavin Portland etc. etc. And are you, dear reader, one of the lucky few who witnessed the 16th century pirate Tobias Hume and his Violone?
Our instore program this year started on Wednesday when Rkkurr played songs from their new album. As it was the first proper day of the festival there was excitement in the air, and many of their foreign fans and friends were in the crowd. A few photos are available on the Rkkurr Facebook site. Thursday had a special treat in-store, when two legends of the Icelandic music scene, Steindr Andersen and Hilmar rn Hilmarsson, both longtime Sigur Rs collaborators, premiered songs from their forthcoming 12 Tonar album. The shop was absolutely packed and dedicated fans, like Amber and Jasper from the Netherlands, were waiting for over an hour to make sure they wouldn't miss a thing. It was a very intense performance which held the audience spellbound. The voice of Steindr is surely one of the most amazing instruments around; the sound of Iceland, old and new.
Friday was completely different and as in many previous Airwaves festivals, we had special guests from the Canadian quality label Secret City Records. This time it was the awesome Diamond Rings, with his fresh cocktail of riffie guitars and electronics. As an unscheduled bonus act after Diamond Rings, a five piece impro-noise group from Denmark called Selvhenter played their hearts out. How can one resist the combination of two violent drummers, trombonist, violinist and a saxophone player? In short, it was a blast, and one of the best concerts we've ever had in our store.
We had plans to have a quiet Saturday, but out of the blue Miku from Japan came with her homemade CD and wanted us to listen to her music. We did, and loved it. Her artist name is "hugvilla" and she played a very, very nice program in the evening, so nice in fact, that she had to play it twice!
And as it was Saturday night, what better than to end it with some dark and drunken melancholy from Mark Steiner. He was introducing his new and highly recommended CD, Broken, and for fans of the miserable old world of Nick Cave and the sound of Australian Swamp like we are this was just perfect. We closed the shop and stumbled into the night, completely Broken…
Well, that was is from Reykjavk for now!
More about the new records on 12 Tonar webpage: