"It is very pleasant to see paintings here. They have big collections. I am more moved by other arts than by the music of others." Should we believe him? Does he really mean it? We all know it doesn't take much to utter such sentences. A compliment perhaps? A grossly exaggerated way to say "how nice"? Or was he just silly?
The recent exhibition Sibelius and the World of Art at the Ateneum Art Museum in Helsinki didn't doubt Sibelius' integrity: it focused on aspects of the art world that they thought inspired Sibelius, and on the artists and artworks that were closest to him. The task the exhibition set to itself was "to explore the links between the composer's work and the art scene of his time, both on a personal level as well as in the context of the art movements of the day".
So what were the links? True links? Art institutions, particularly with exihibitions of this kind, tend to commit, admittedly goodwillingly, to over-interpretation, the end result often being to some extent artificial. Here's my list of possible links after having gone through the exihibition material and having seen the art works on the spot.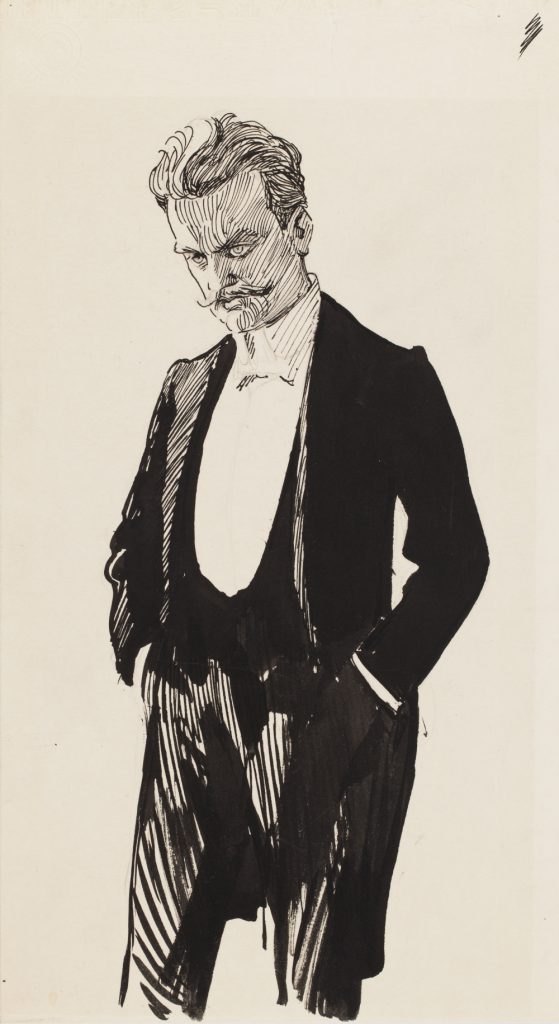 Link No 1: Folk poetry. "Interest in combining different art forms was common among artists at the turn of the century, one of its manifestations in painting being the depiction of intangible musical moments. On the other hand, Sibelius, along with other composers, became interested in poetry, the sung folk poetry (Kalevala) especially. Poetry provided material for his compositions.
Link No 2: Art museums. Sibelius was a keen traveller. The young Jean Sibelius travelled to study music in Berlin, and in Vienna. He worked on his Second Symphony at Rapallo in Italy and his Third Symphony in Paris. The piece Tapiola he composed in Rome. During these trips Sibelius is know to have visited museums and art exhibitions with his artist friends.
Link No 3: Synesthesia. "At the end of the 19th century, connections between the arts and combinations of different sensory realms were considered important." Sibelius' artist friends considered Sibelius's syneasthesia (associating colours with sounds) as the sign of a true artist.
Link No 4: Swans. "Fantasies about a lost Golden Age and references to forces of nature and the animal kingdom were recurring themes in arts alongside ancient mythology and swan symbolism." Both are reflected also in Sibelius' early works.
"I see swans in my mind all the time, and they bring brilliance to life. It is odd to see that nothing in the whole wide world, not in art, literature or music, affects me as much as these swans + cranes + bean geese. Their calls and their being." Sibelius's diary entry on 24 April 1915
Link No 5: Art collector. It is well documented that "Sibelius' home Ainola, designed by the famous Finnish architect Lars Sonck, was vital for Sibelius' art". The walls of Ainola became covered with works of art that the composer had purchased or received as gifts from fellow artists, relatives, as well as official bodies.
Some works were chosen because Sibelius' was genuinly attached to them, but even if not it is noteworthy that many of the paintings were of very high quality and provided by leading Finnish artists such as Eero Järnefelt, Pekka Halonen, Axel Gallen-Kallela, Albert Edefelt, Magnus Enckell etc. all of whom Sibelius knew personally.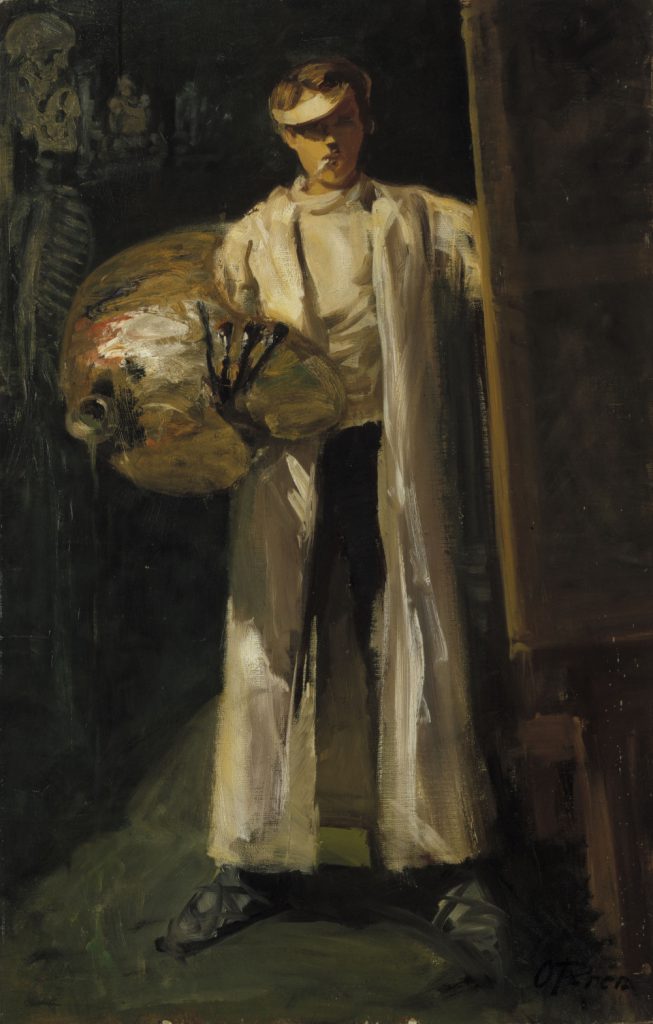 Link No 6: Oskar Parviainen. Sibelius was an inspiration to artists, and he himself was surrounded by a circle of artists such as Oscar Parviainen. Two paintings of Oscar Parviainen, "Funeral" and "Prayer" (Death of a child) were especially important for Sibelius. The initial ideas for the former were born in Paris, where Sibelius and Parviainen became friends in the beginning of the century.
In 1905 Sibelius improvised a funeral march. The atmosphere of the piece stayed in Parviainen's mind. He produced a number of funeral sketches, the most advanced version of which he eventually gave to Sibelius. Thanking the artist in 1908, Sibelius mentions that he recognizes the Parisian ideas that in developing have deepened in strong red and black colors, but at the same time preserved their sketchy wildness. Behind Parviainen's "Prayer" were both the composer's musical ideas, and daughter Kirsti's death in 1900. This work, in which the mother figure leans over the dying daughter became particularly close to Sibelius.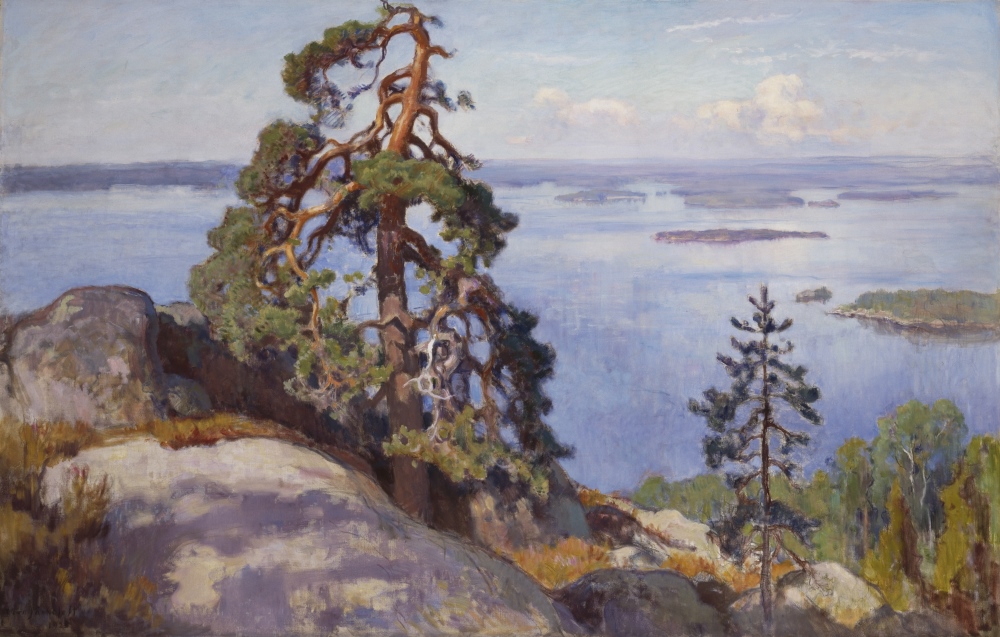 Link No 7: Forest. One distinctive feature of Finnish art, from Sibelius's generation up until the present day, is the significance attached to the forest. At the end of the 19th century, artists began to incorporate metaphorical and mythical elements into their pictures of nature.
The forest, trees and birds around Ainola played a major role in Sibelius' life. He wrote intimate piano pieces to trees just as many painters depicted various trees in their paintings.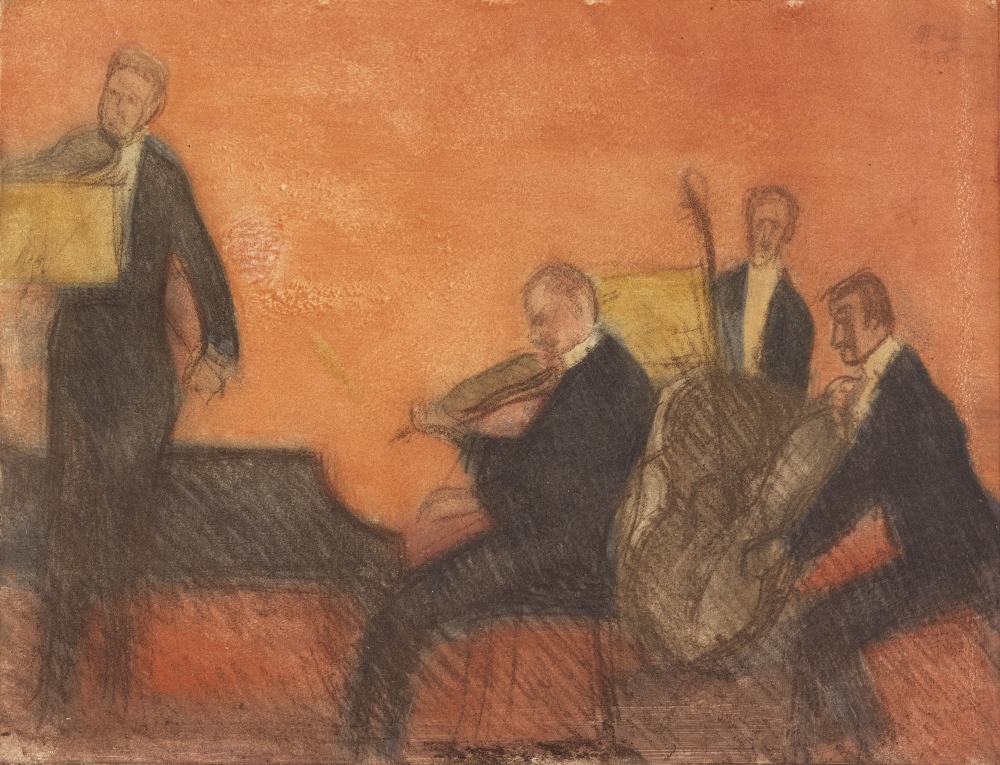 Link No 8: Symphonic Landscapes. "Viewed from a high vantage point, a landscape creates a imposing and magnificent atmosphere. Such a landscape became a national symbol in the late-19th century. The strong brush-strokes and colours of 20th-century modern painting create forms which express the link between the different parts of the landscape and the primitive rhythm of nature."
"Sibelius found influences for his compositions in landscapes, internalising his experiences as emotional evocations, even as structures for his symphonies. The experience of visiting the Koli heights in 1909, and the impact the magnificent views had on him can be heard in his Fourth Symphony."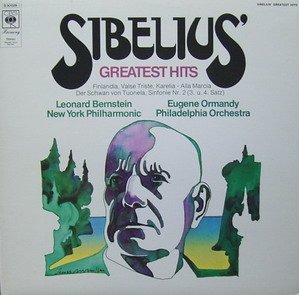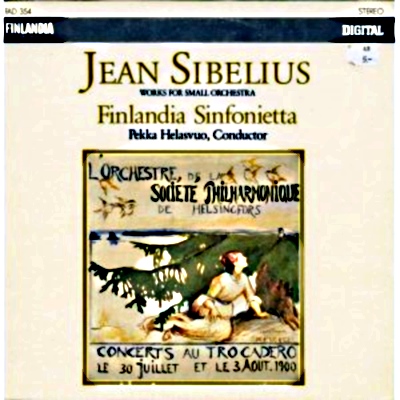 This connection was nicely expressed in the art work of selected LP covers portraited in a glass vitrin. There was eg. Deutsche Grammophon's "Jean Sibelius: Finlandia, Valse Triste, Die Schwan von Tuonela, Tapiola" performed by Berliner Philharmoniker, Dir. Herbert von Karajan. (1960)
Finlandia Records' "Jean Sibelius: Works for Small Orchestra. Concerts au Trocadero le 30 Juillet et le 3 Aout 1900." by Finlandia Sinfonietta, Dir. Pekka Helasvuo. (1985)
Columbia Masterworks' "Sibelius Greatest Hits." Leonard Bernstein, Eugene Ormandy, Sibelius. (1970)
ateneum.fi/en/sibelius-and-world-art