The Stockholm HIGHEND MÄSSA 2020 (Highend Show 2020) was held in February last year, as it has been year after year. No warning signs, no panic. There was something in the air though; the atmosphere was a bit dim. The enthusiasm and splendor of the past year event was kind of lacking. However, there were enough visitors to prove that the demand side had not completely withered.
On the supply side, a few new entrepreneurs tried their wings, a few traditional exhibitors had opted out, Totem and Heco, for example, and some, like Audionord, scaled down in a big way. Normally, the importer of Magnepan, Magico, d'Agostino, Devialet, etc. has occupied the Sheraton Hotel's large, iconic corner room, which offers a huge view directly over the Central Stockholm with Royal Castles and the like, and where Audionord has always demoed the finest equipment at the fair. In 2020 Audionord had retreated into a small booth at the fair's second building at Kapitel 8, and was replaced by Kii Audio, who had masked the corner room completely dark and planted two wireless Kii Three BXT speakers in place. Symbolic? Or not?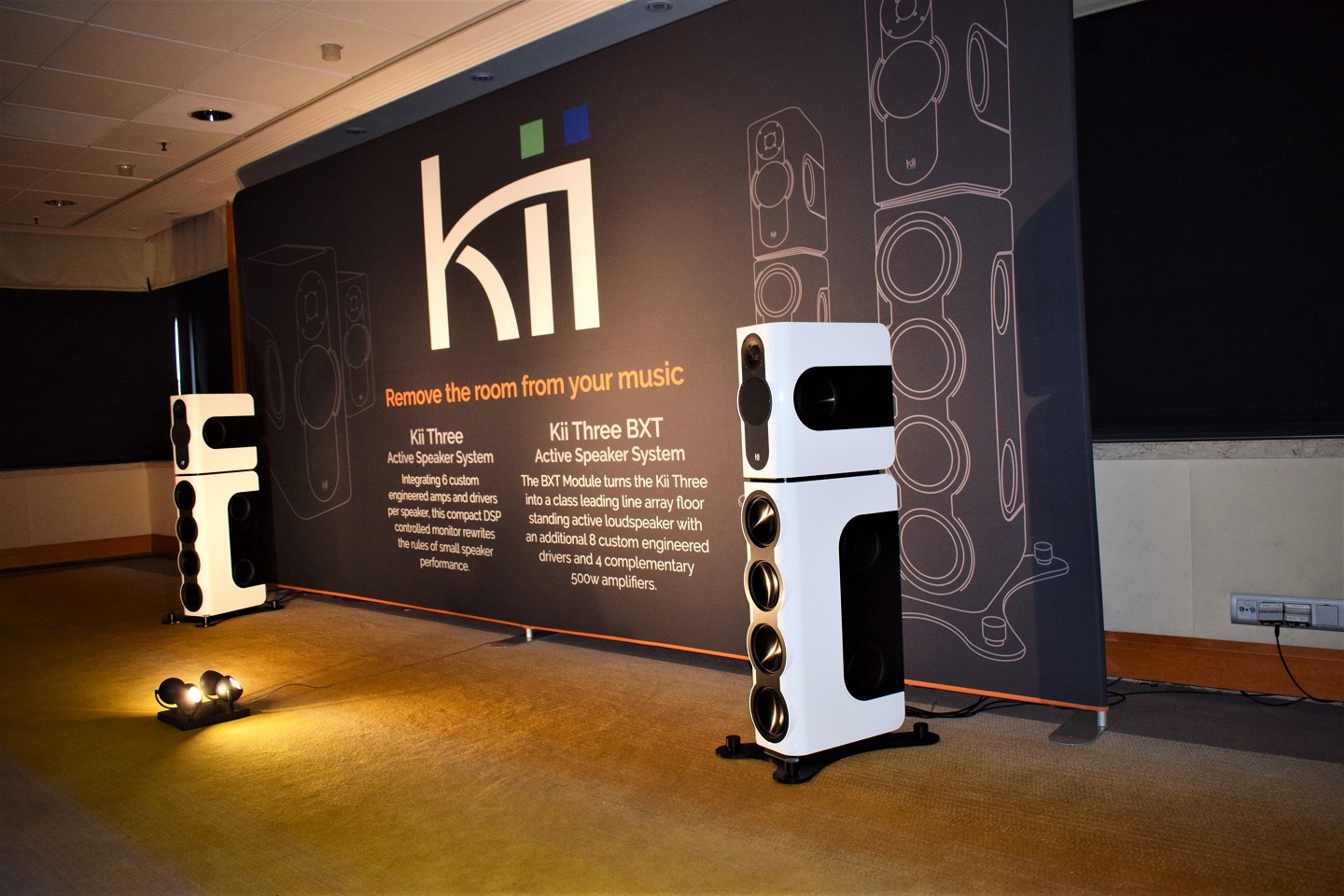 Otherwise, it was business as usual: HIFI-Agent in their familiar room with familiar brands (Paradigm, Thorens, Martin Logan, Cyrus, Quad and Bladelius); Septon drove Sonus Faber Olympia and Klipsch Heresy speakers trusting exactly the same stack of Audio Research's cutting-edge electronics; PL Audio was present with almost identical Focal constellations; nor did the Technics room offer a big surprise. High class stuff, decent sound, no complaints, but familiar and safe, as it was at the HiFi Club room where the acclaimed Hegel amplifiers were demoed with Bowers & Wilkins 800 series speakers.
Generally speaking, the Best in Show sound was found in those rooms where omnidirectional speakers dominated. From the previous year there was Oido Audio quasi-omnis, this time in stylish gray.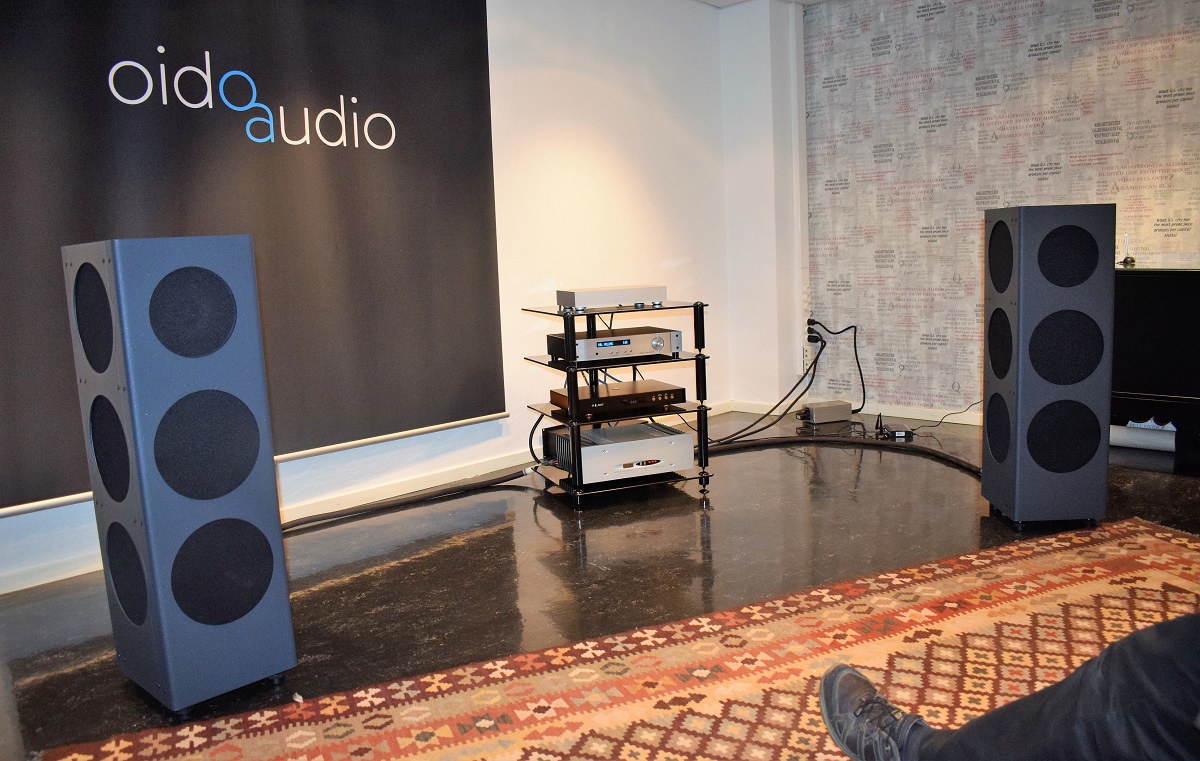 Second, there was the Musical Hi-Fi's mbl & Valvet combination, and thirdly, the Bayz Audio cylinder speakers with the best-for-money electronics in the Audio Concept's room.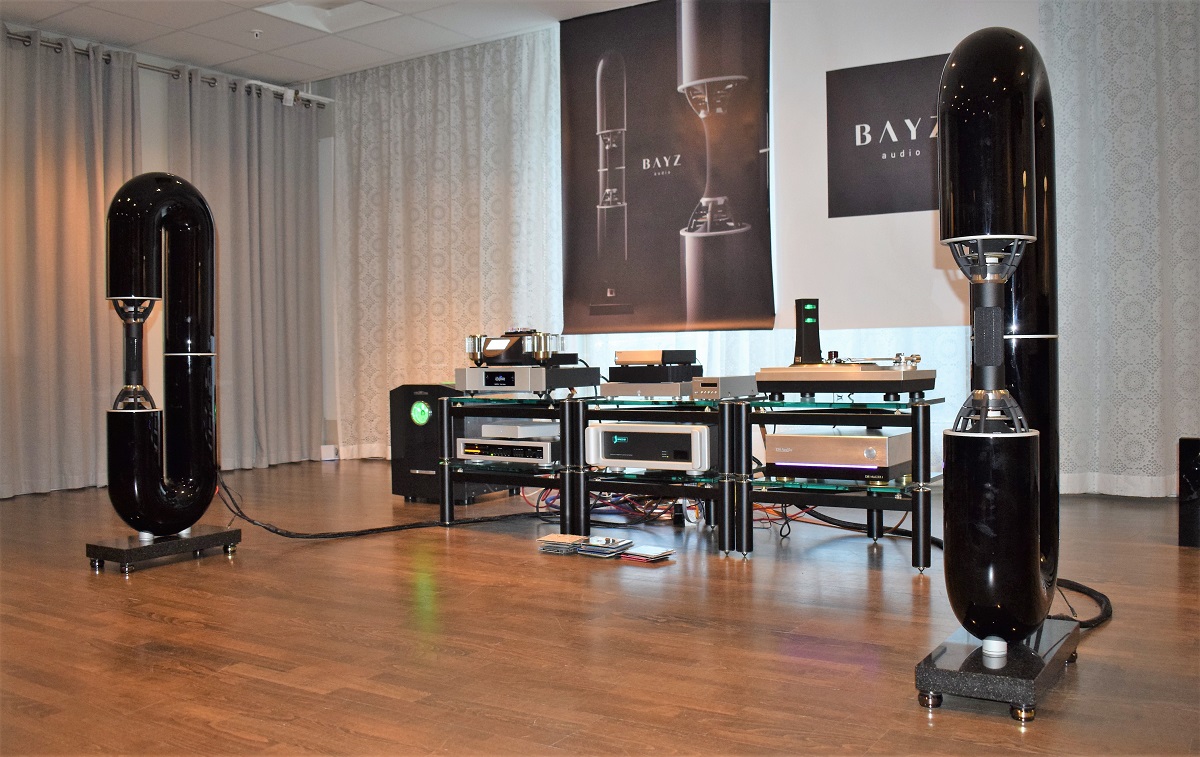 It was also nice to witness the Audio Note UK and Devore loudspeakers at the same Show, just as in Copenhagen, the former with its own dedicated amplifiers, of course, and the latter with the Macintosh's new hybrid amp. Both speakers owe to Peter Snell, and I think it can be heard too. Both rooms excelled in that the music wasn't just soft jazz or something but covered also punk.
Audio Note UK's Peter Qvortrup had sent his son Daniel to the Show.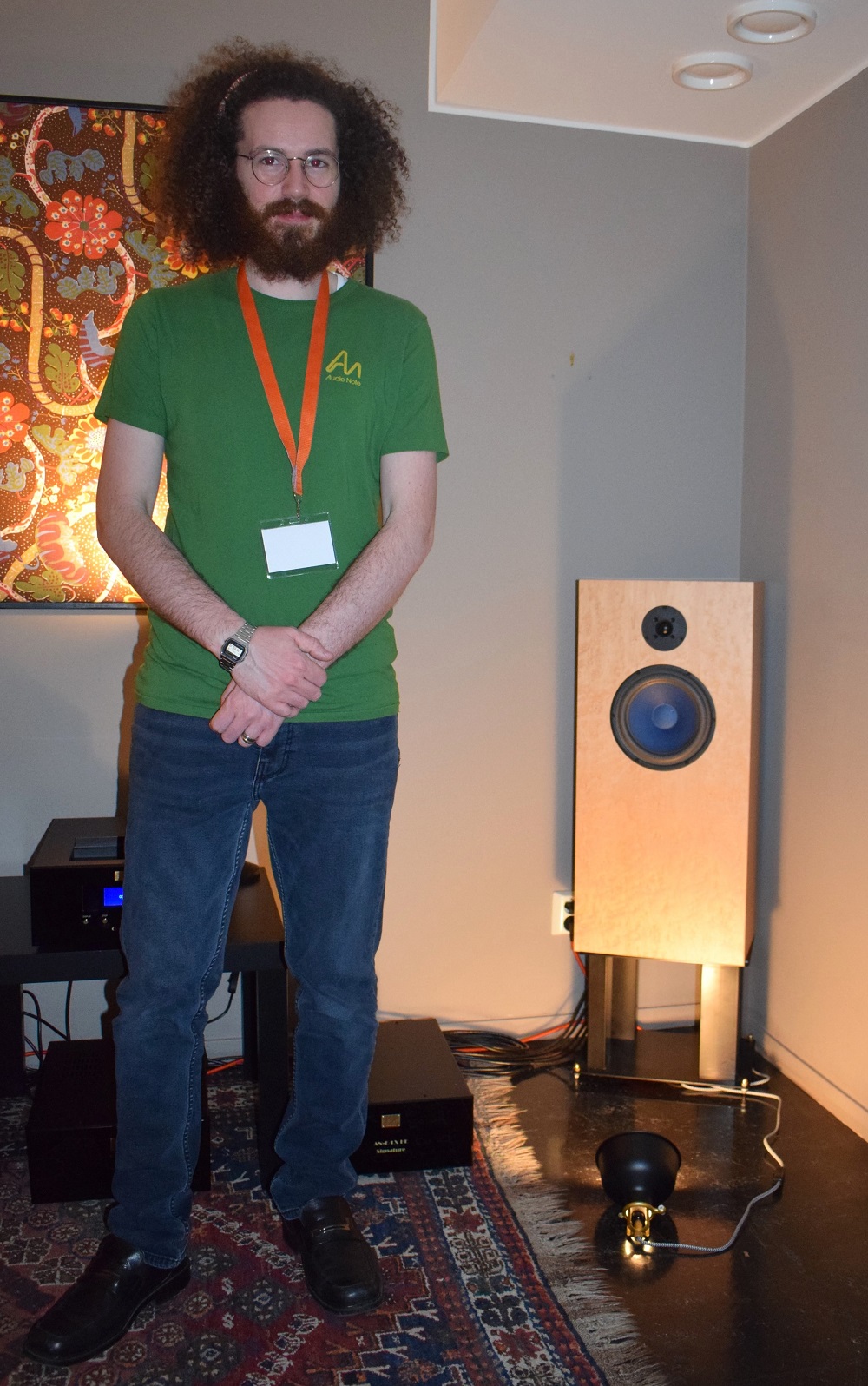 Dan knew to tell me about the company's coming new DAC and a new CD. At the heart of the AN UK line-up was this time the legendary Meishu 300B Tonemaster amplifier, a thoroughly reworked version.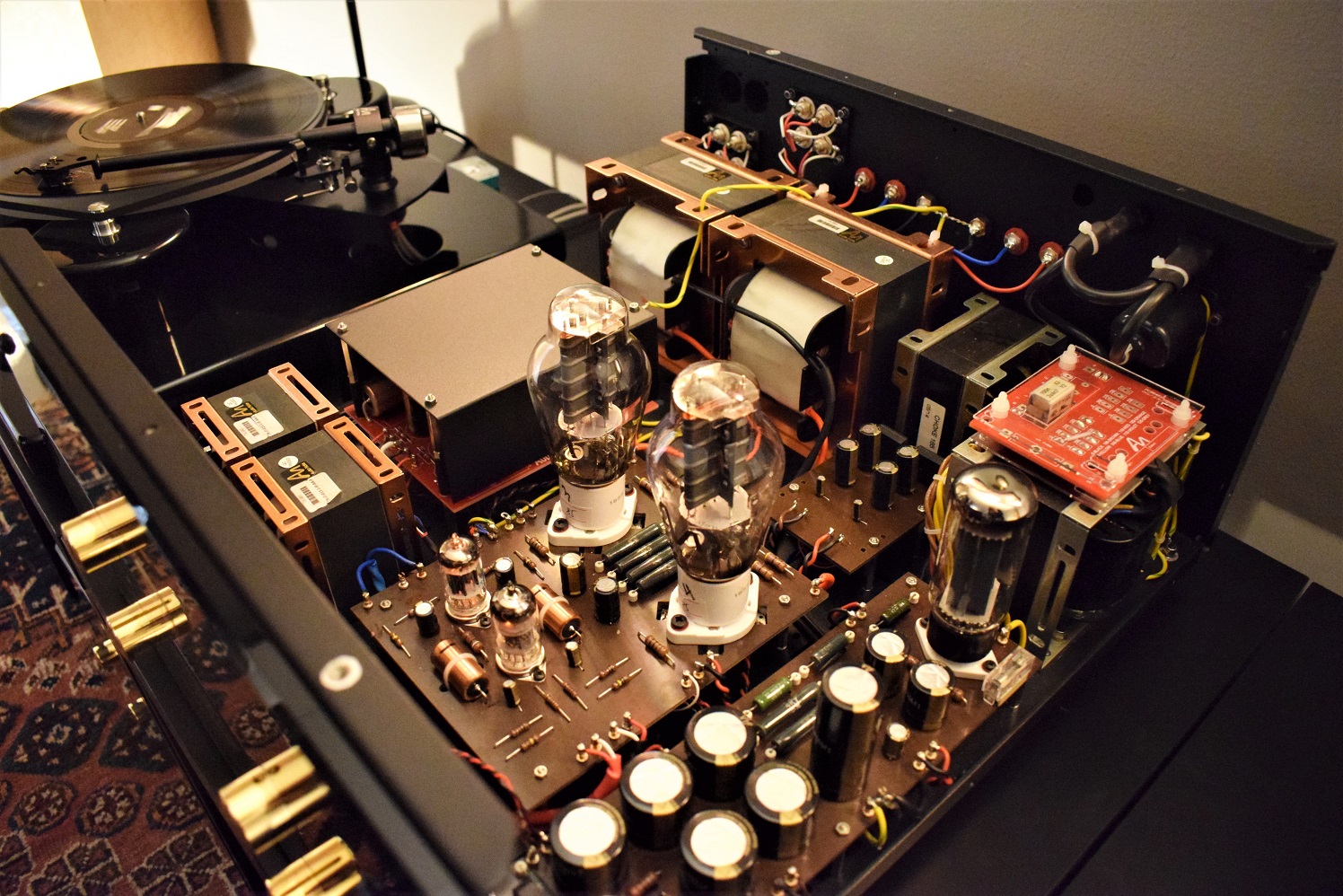 PS Audio favors clear-lined hardware. This time the system consisted of a DeVore O / Reference loudspeaker and McIntosh's new hybrid-integrated MA352, both from the New Continent. No soft whispering jazz in this room. Punk and heavy. Though not quite as hard cannoned as in the AN UK room. Well done though.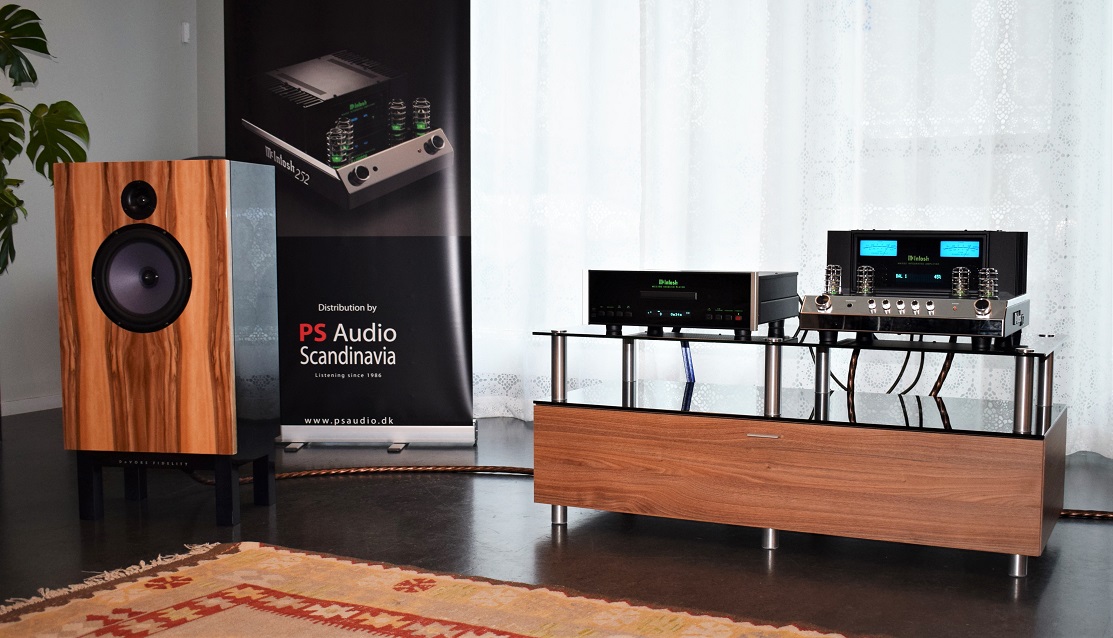 One of the show-stoppers was the new Swedish Fasico OB3 active speaker, a dipole speaker developed in Karlstad and Linköping and manufactured in Värmland. The OB3 stands for open (back) baffle. The woofer is an 18-inch Acoustic Elegance Dipole, and the midrange the Scan-Speak Illuminator 12MU. There are three  tweeters to choose from: Scan-Speak Illuminator 662000, Scan-Speak Illuminator Beryllium 664000 and Raal ribbon tweeter from Serbia. The amplifier is Hypex's nCore Fusion FA503 (2x500W + 1x100W) and the cabinet made of 54 – 81 mm birch plywood. The speaker seemed to be at home with a variety of music, and the bass department was excellent.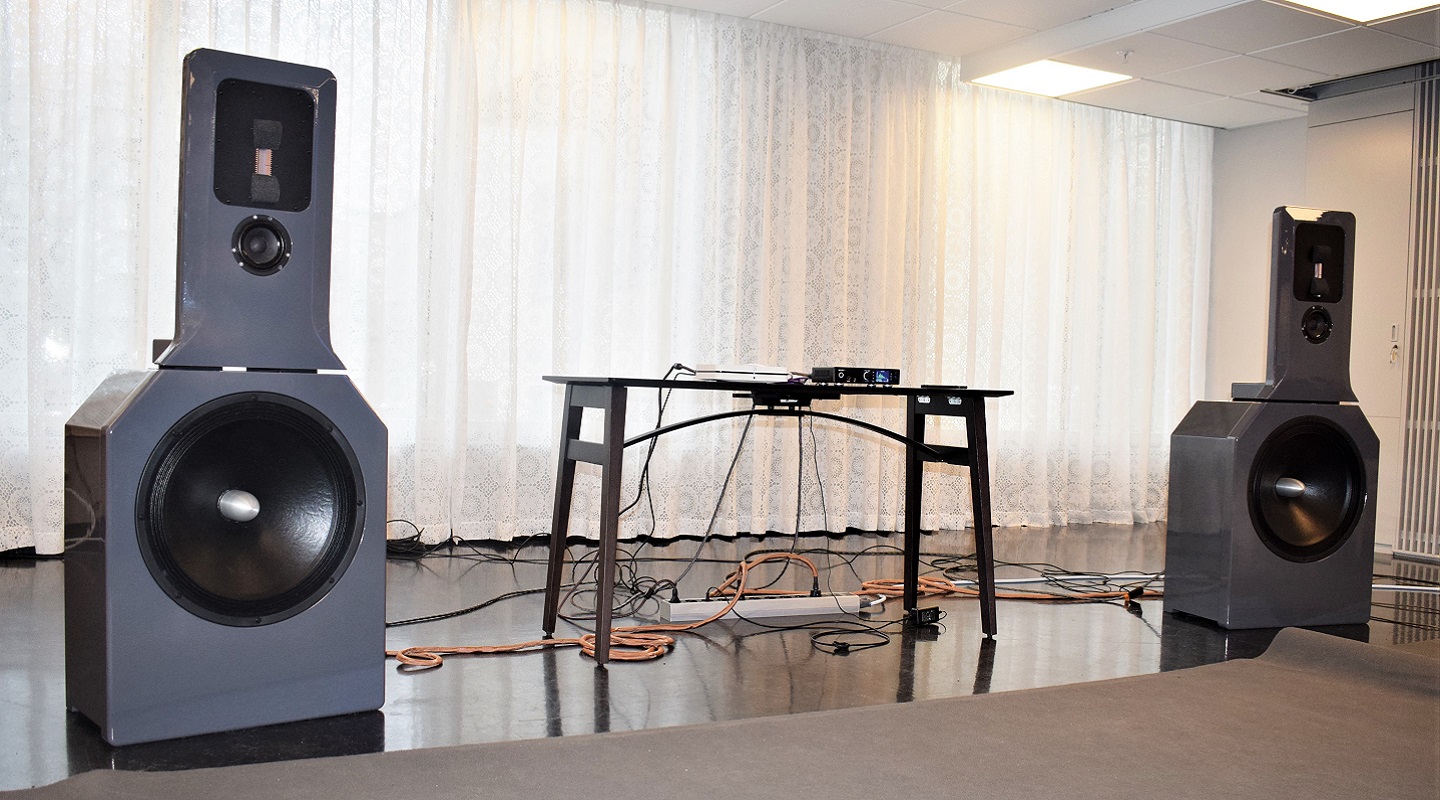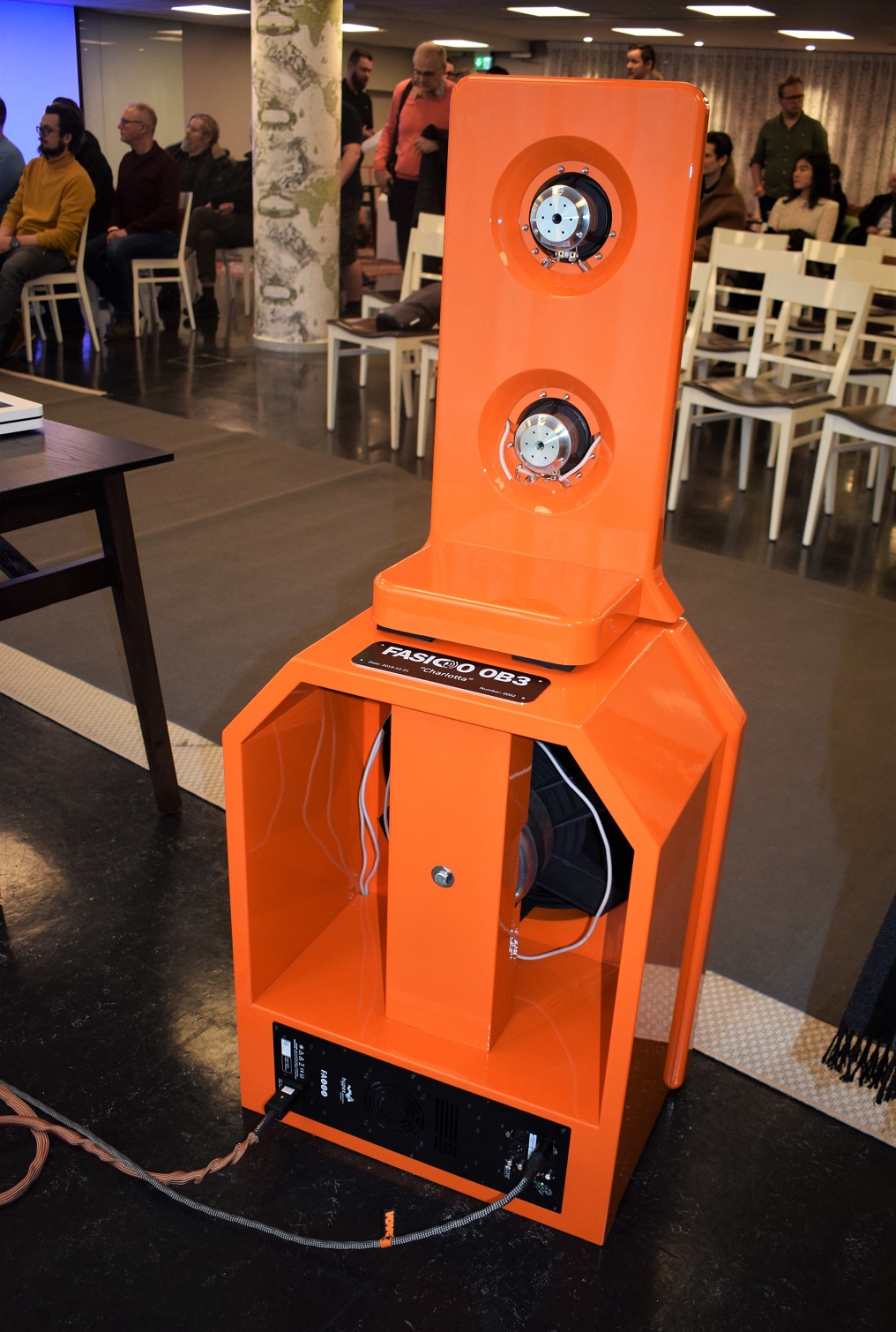 The amplifier manufacturer Valvet has joined forces with several different speaker manufacturers over the years. This time, its amps were paired with the omnidirectional mbl 120 tripod speaker, and the sound was one of the most appealing I've ever heard in the Valvet system: a very exciting, tasty and relaxed sound, EmmLabs sa/cd player was one of the sources. What makes this sa/cd interesting is the fact that it was designed by Ed Meitner, who Sony and Philips called for help when they were developing the sa/cd format into a working standard.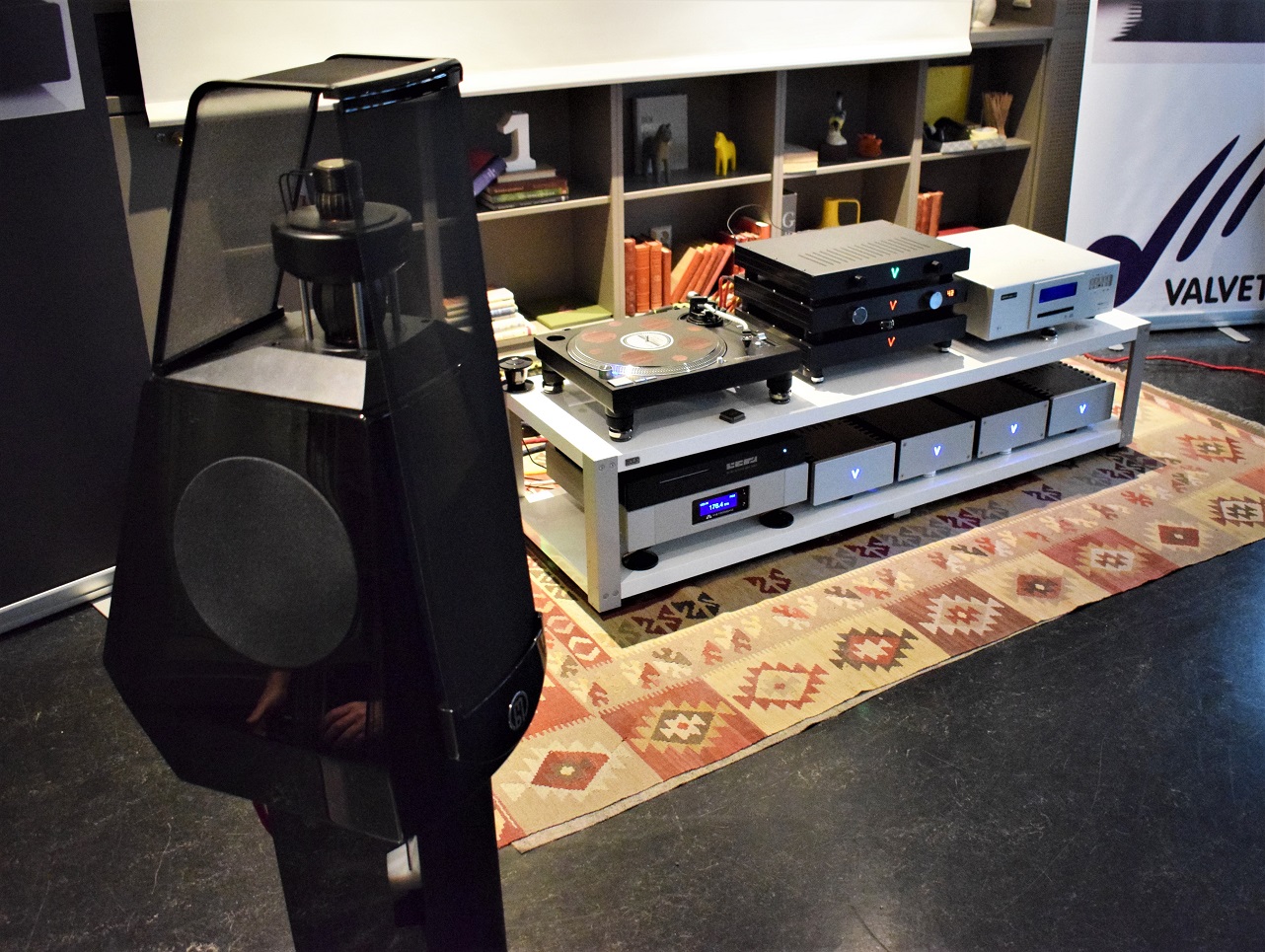 Bayz Audio's Courante speakers produced great sound both from the two 7.5-inch woofers, and the special radial tweeter with its 360 degree sound. The speaker appeared to work well with all music, but notably baroque music probably because it was designed by using baroque music, whose sworn friend and expert Zoltan Bay is, especially Handel's vocal music. Zoltan told me that he's also an amplifier designer, and that on his design table currently was a Class A transistor amplifier that does not require high bias current to reach the Class A operation.
Swedes know how to launch a product. We remember Teenage Engineering and its little active Carlsson speaker, and now Transparent Sound that rides on enduring values with a timelessly designed, modular and fully recyclable speaker. The stated goal is to avoid wastage and manufacture speakers with closed input-output material flows.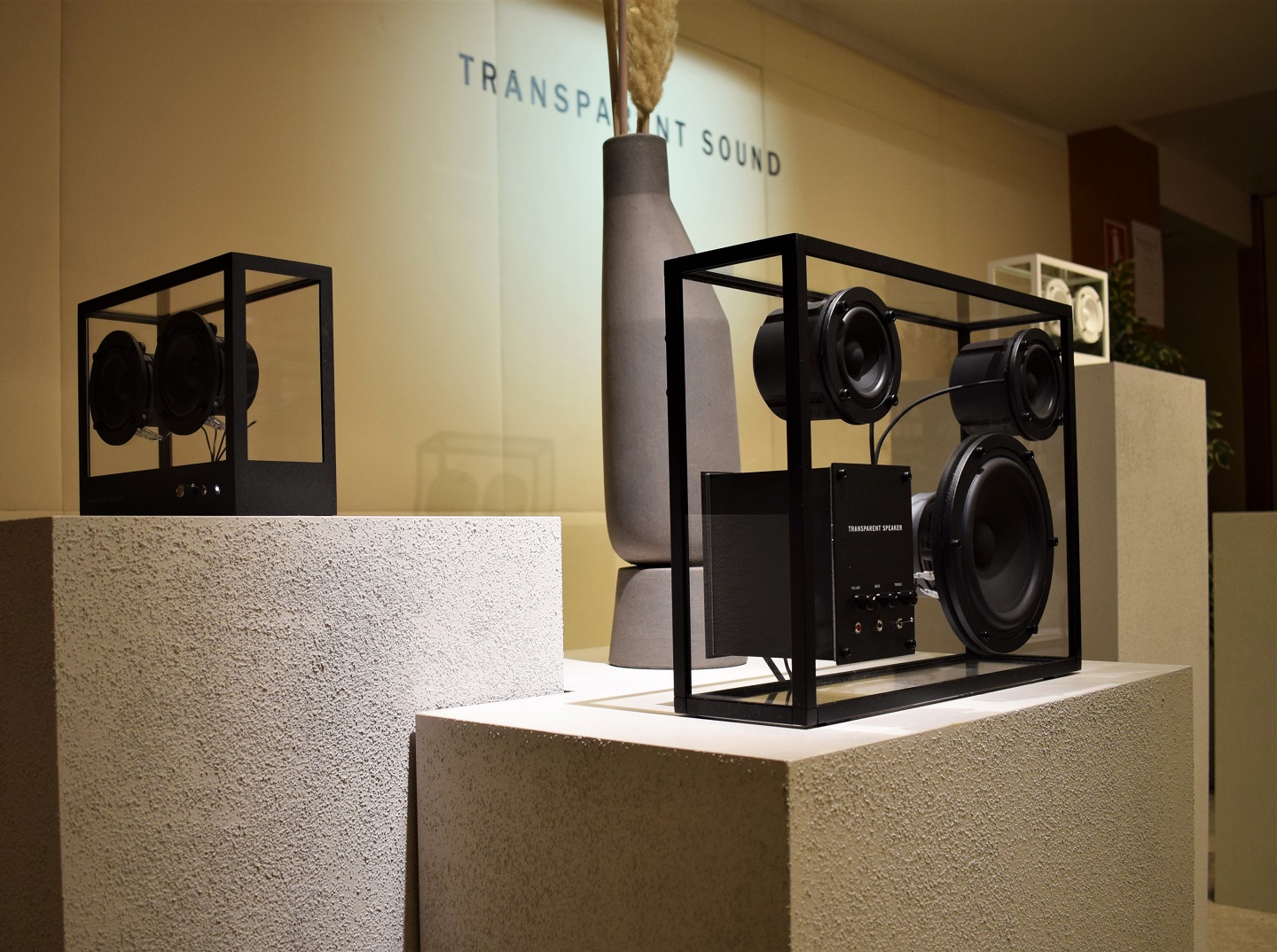 Digitalbild resorted to KEF's speakers as the habit has been in recent years, but the actual theme of the 2020 demo was Rega's amps, and especially Rega's new turntables: Planar 6, Planar 8 and Planar 10. Peter Funk shared information about Rega's existing cartridges and gave info on the ones to come. Rega Apheta 3 cartridge will soon plow the groove of the Serge Gainsbourg LP.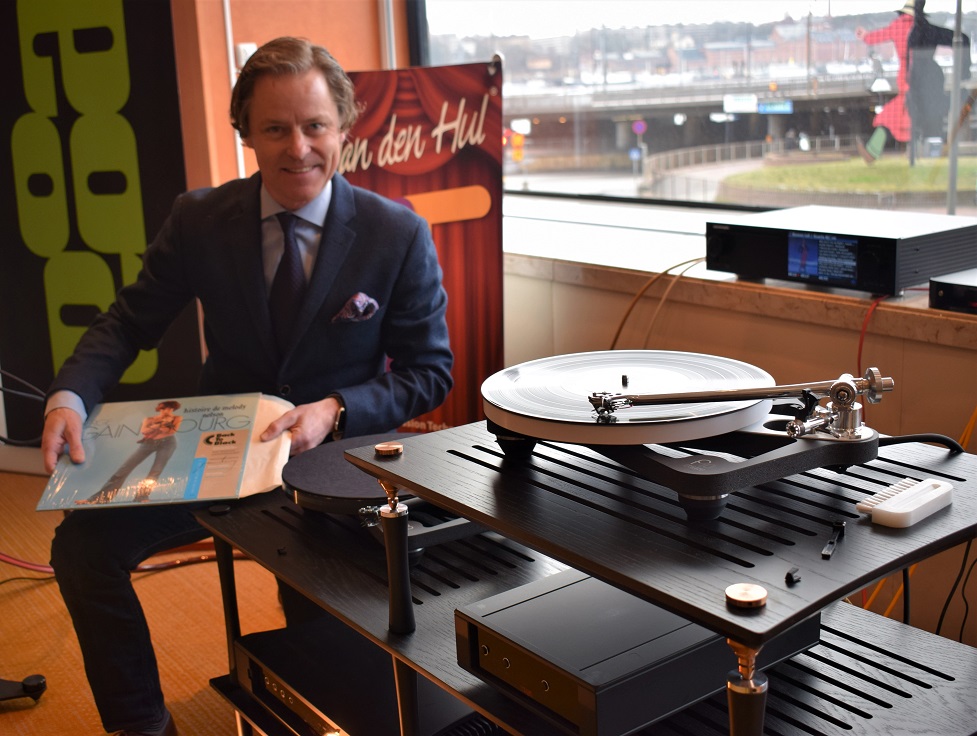 One of the most delicate rooms of the fair belonged, once again, to Perfect Sense, this time with Verity's Lakme speakers, and Boulder's outrageously fine 866 integrated amp. Verter's Touraj Moghaddam played rare LPs from his own collection on Verter's MG-1 MKII player, which featured a brand new Verter Mystic cartridge.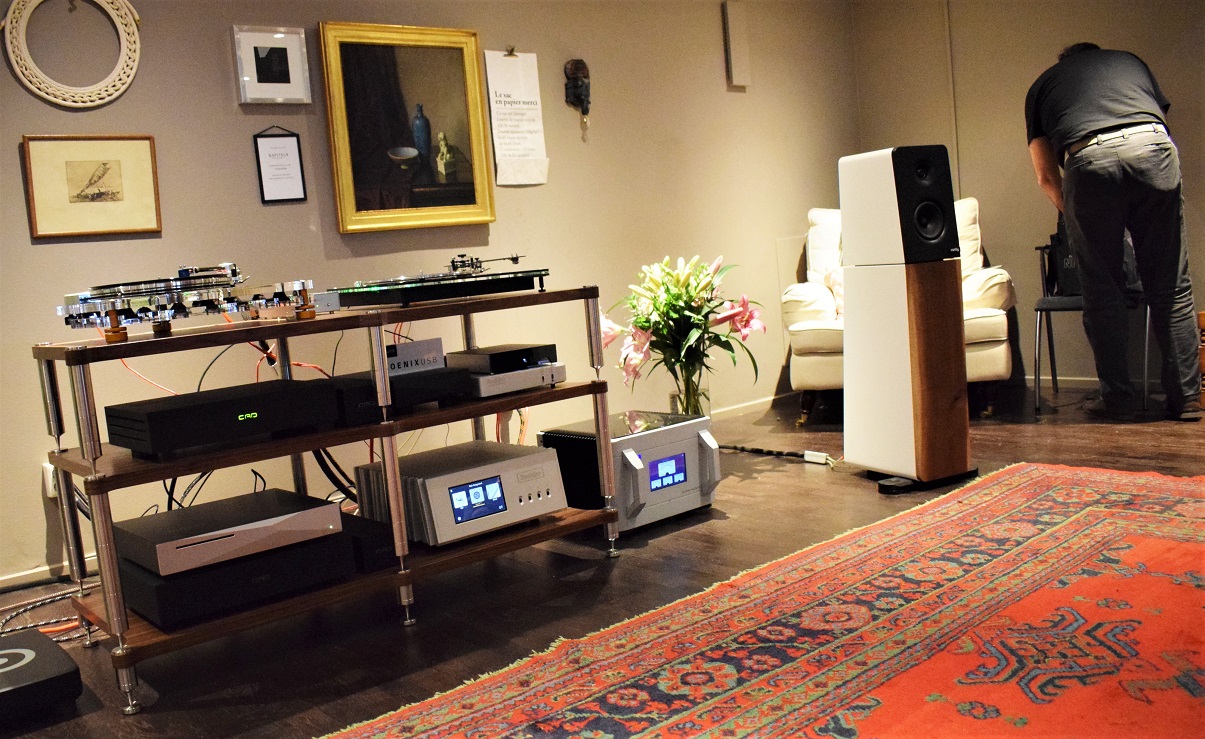 Genelec approached audiophiles in a new way by abandoning its enthusiastic white podium, and showing its flagship Model One active speakers in the most rugged cowboy-inspired line-up. The idea of using flight cases as equipment racks was borrowed from Kii Audio, the blue WireWorld had been chosen as the power cord, and the Solid Tech damping discs had been slipped under the Chinese-made daci! The raw, not-EQ'ed sound was most competent in a Genelec-like way.
't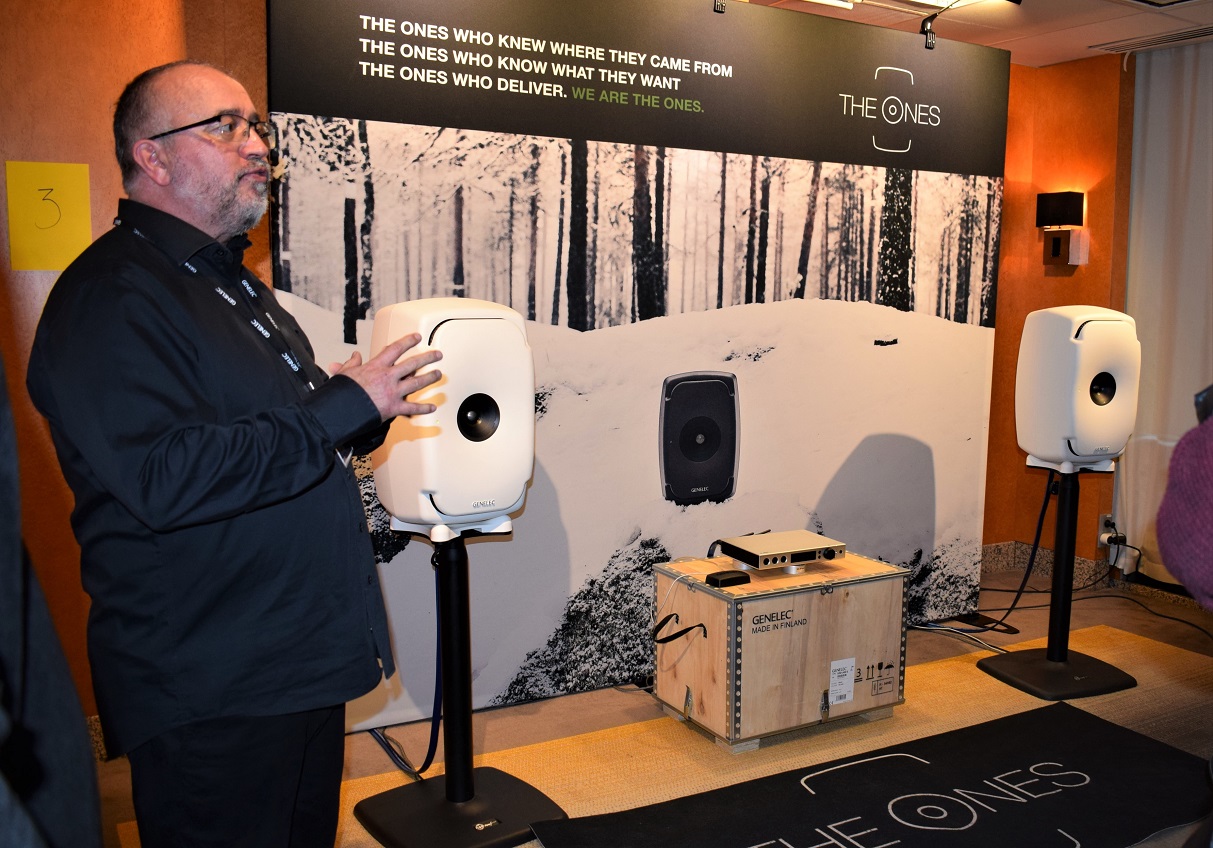 Transient's room was supposed to demo Bryston, but only a small DAC was from Bryston. The speaker was a semi-active Avantgarden Zero TA, the top of which was driven by a LAB 12 tube amp. The source was a Garrard 401 with Jelco tonearm and Hana's cartridge.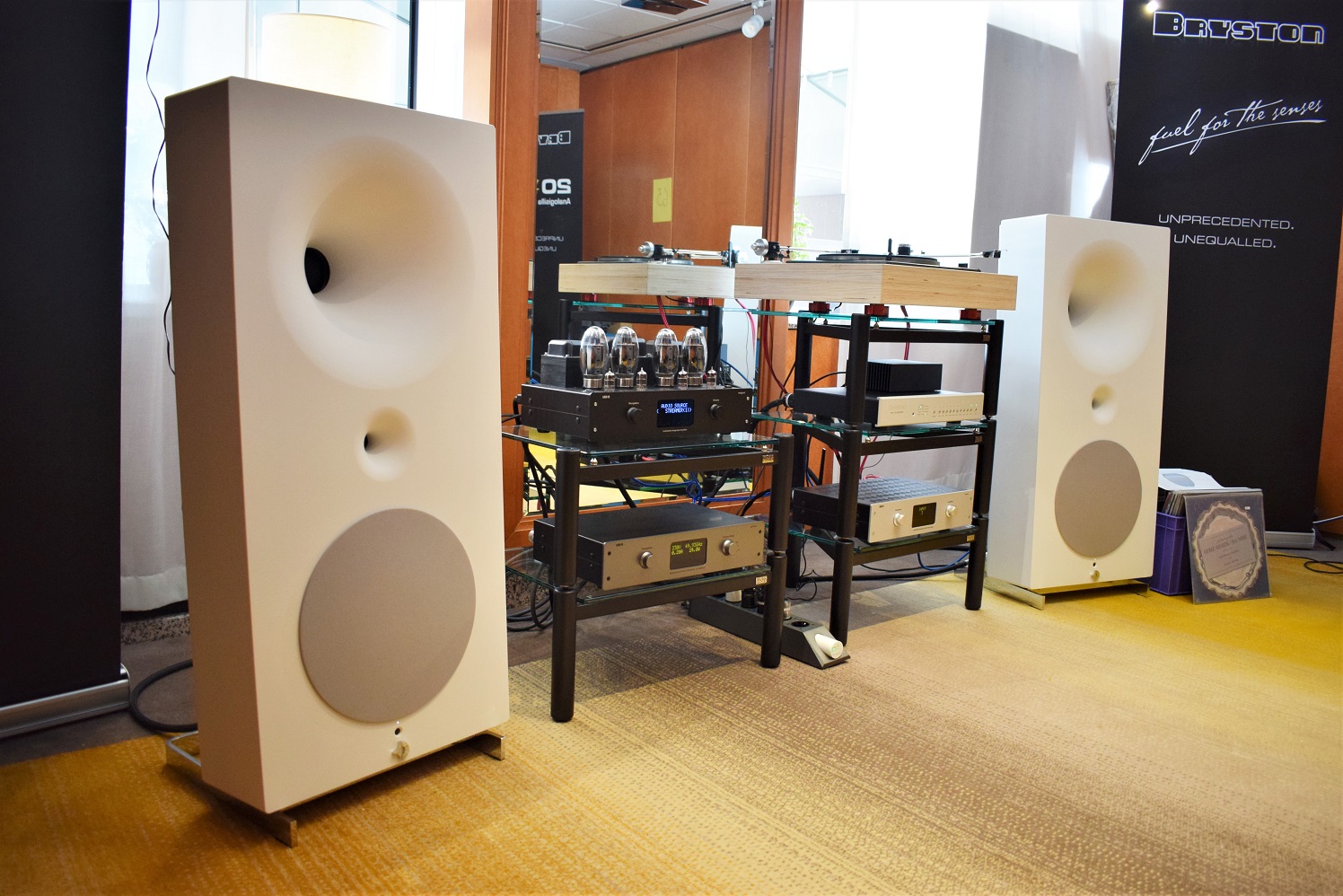 For years, EAD Sweden, which has a factory in central Stockholm, has been manufacturing widebandwidth drivers kind of resembling Jordan's elements, for the Swedish DIY folk. Now Anders Fransen said he has started making ready-made speakers with space left for a separate tweeter or smaller broadband element. According to Fransen, it is preferable to have a smaller widebandwidth driver, and set the crossover frequency down in the 200 to 400 Hz region, rather than have a larger driver and cross above 8 to 10kHz. One way or another, the crossover frequency should not lien in the so important midrange. Easy-soing, round sound.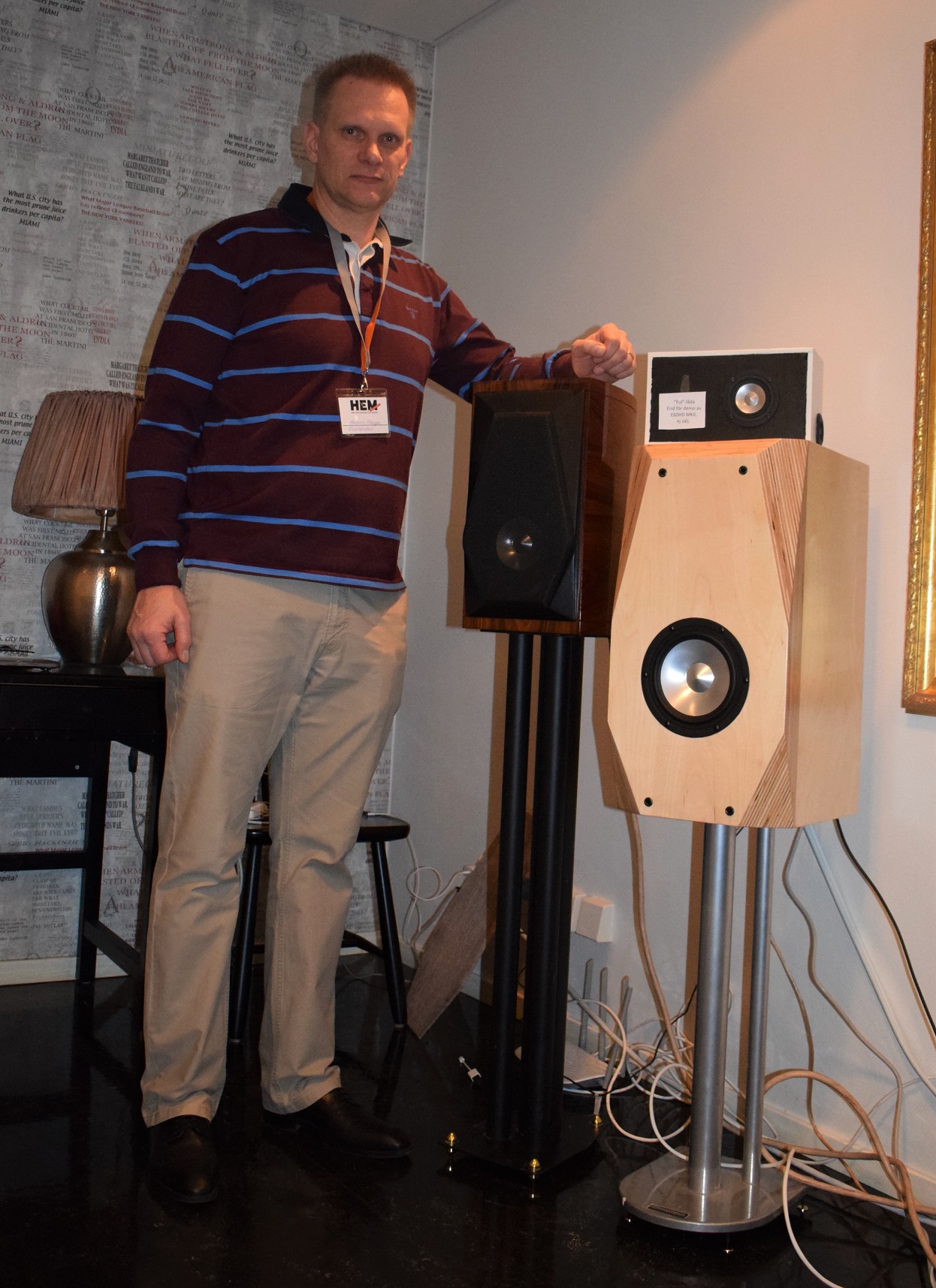 Old School HiFi is known as an advocate of a analog sound. This time, there was no turntable but instead a Revox reel-to-reel recorder and a 42-year-old Nakamichi 1000 cassette deck. The latter sounded surprisingly good, at least when the speaker was Vrel's 99dB sensitive Bequadros run on Tektron tube amps.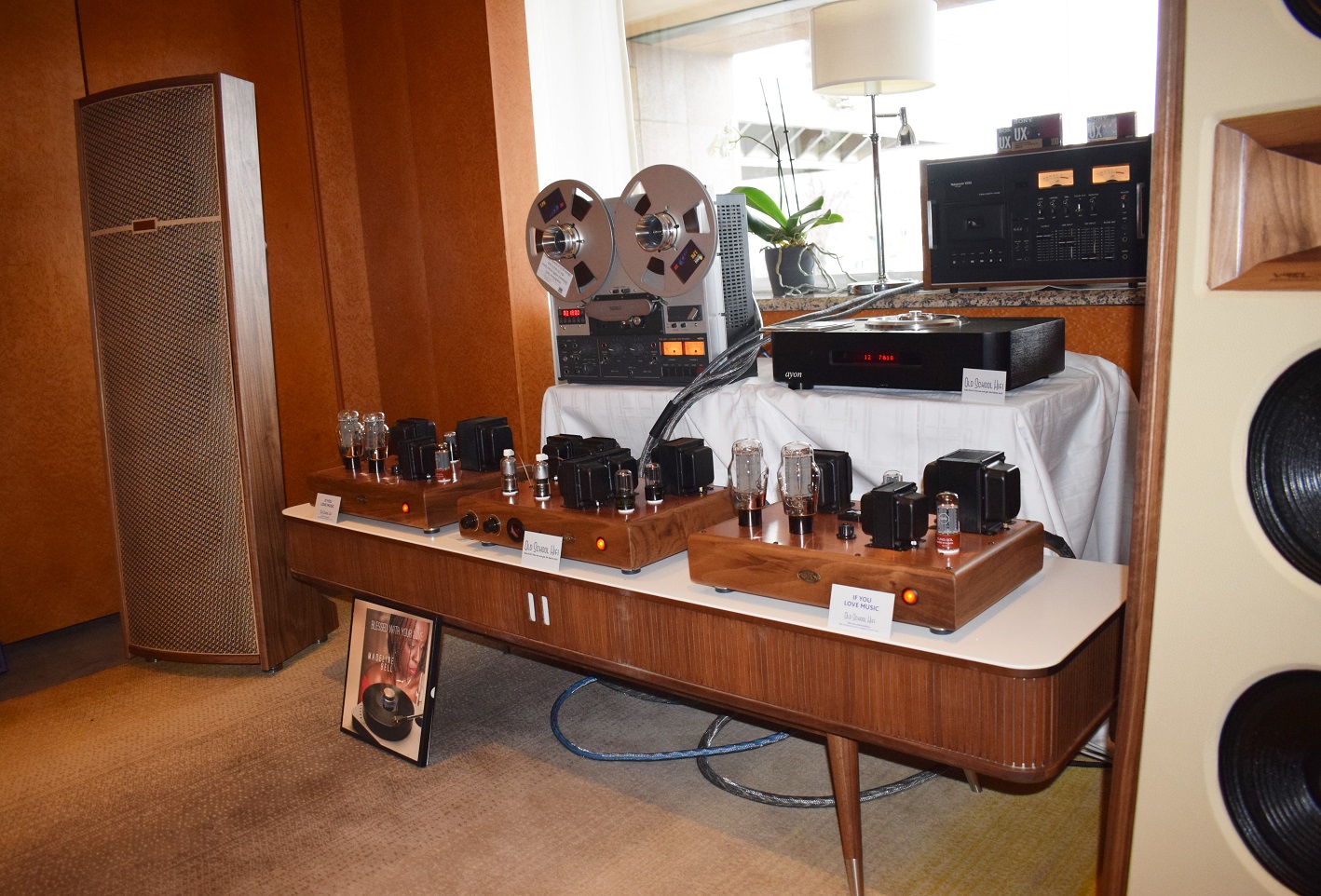 Hi-Fi Consult maintained the reputation of the Swedish speaker manufacturer QLN, and for a good reason so. This time, the demo featured QLN's new 3-way model with Prestige Five driven by AVM electronics. The other system consisted of Vienna Acoustics' Beethoven Concert Grand Reference speaker together with Audio Analog amplifiers.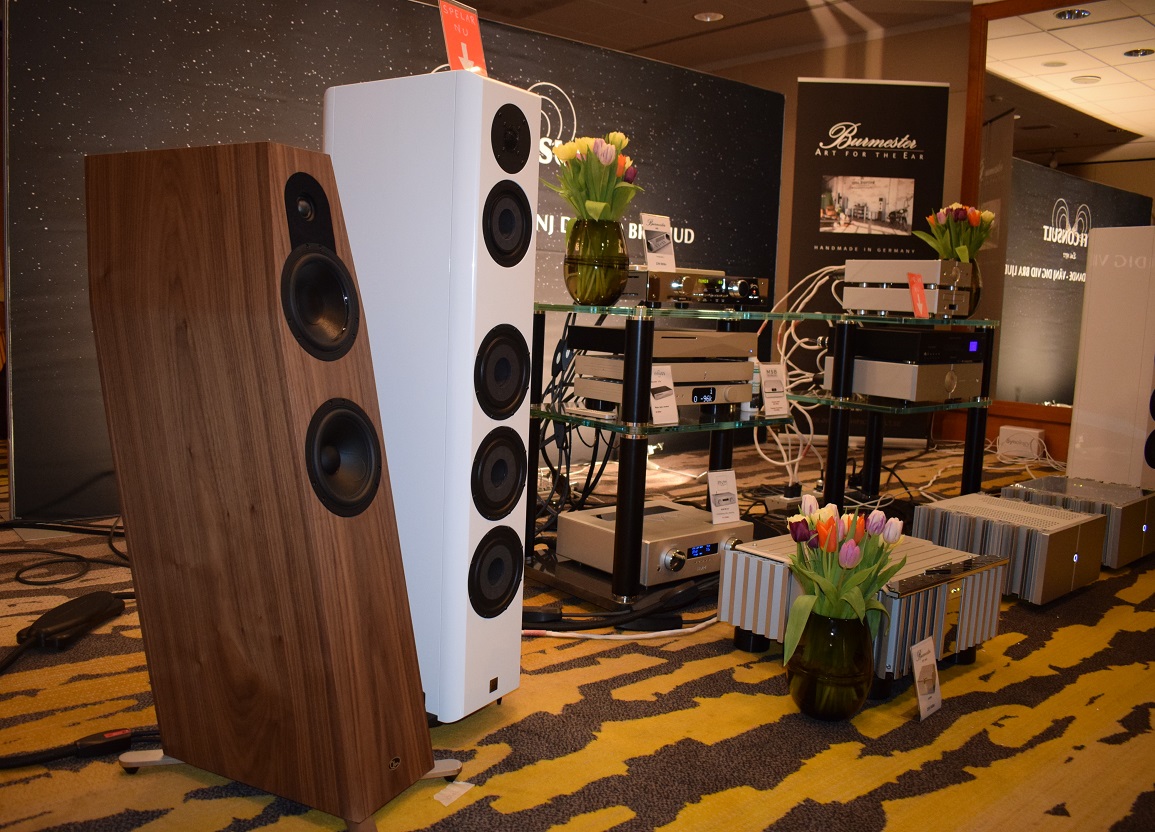 After Dan D'Agostino left Krell, Krell was brought back to the US in 2016. The renewed Krell's first product was the integrated amplifier Krell K-300i, a kind of direct follower of Krell's famous Vanguard amplifier. The K-300i Class A power amplifier produces 150 W to 8 ohms and, according to Krell, without getting hot as typical of Class A amplifiers. The demo speakers were Triangle's influential Magellans. No complaints about the sound.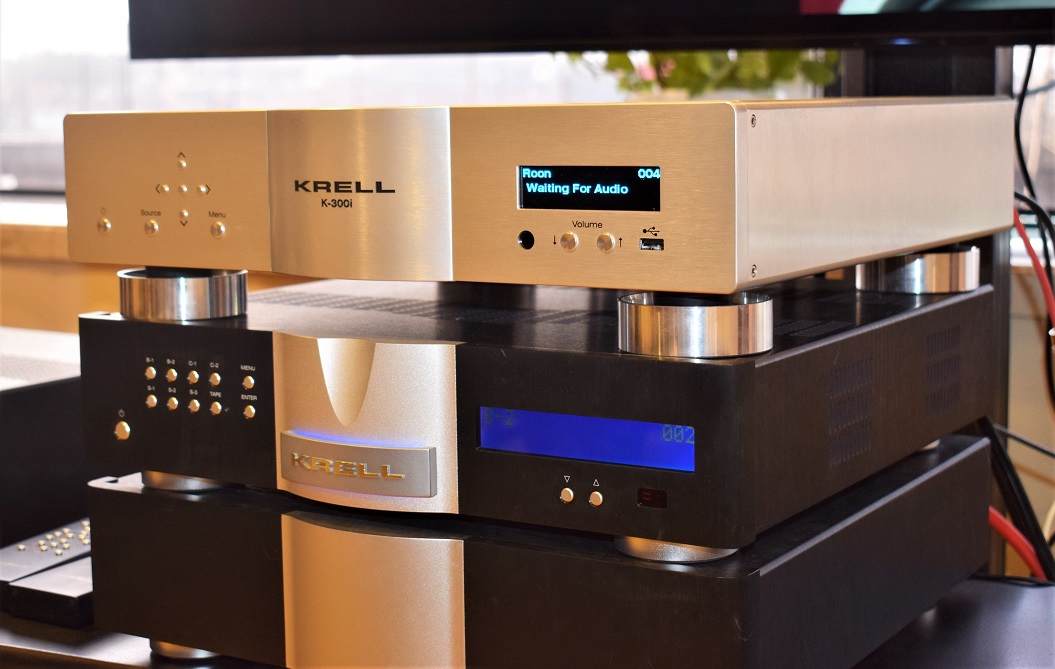 Dan D'Agostino's current company Dan D'Agostino Master Audio Systems has so far produced insanely large power amps and other gadgets with illuminated meters etc. The latest entrant is the 200 watt Progression integrated amp that was hooked to Magico A1 tripod speakers at Audionord's room. The sound quality ranged from insignificant to brilliant.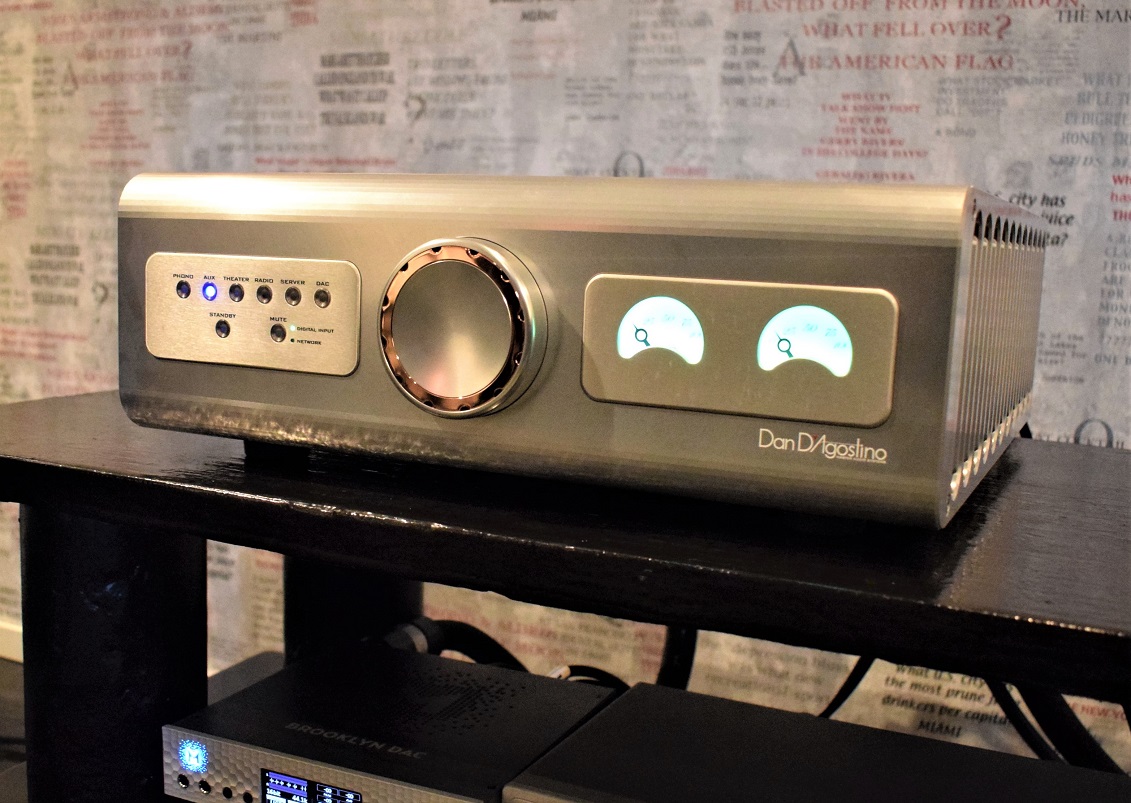 The world's largest Swedish hi-fi magazine Hifi och Musik is also one of the world's oldest continuously published (> 50 years) hi-fi magazines. Pictured is the Editor-in-chief Jonas Bryngelsson chatting with a committed reader.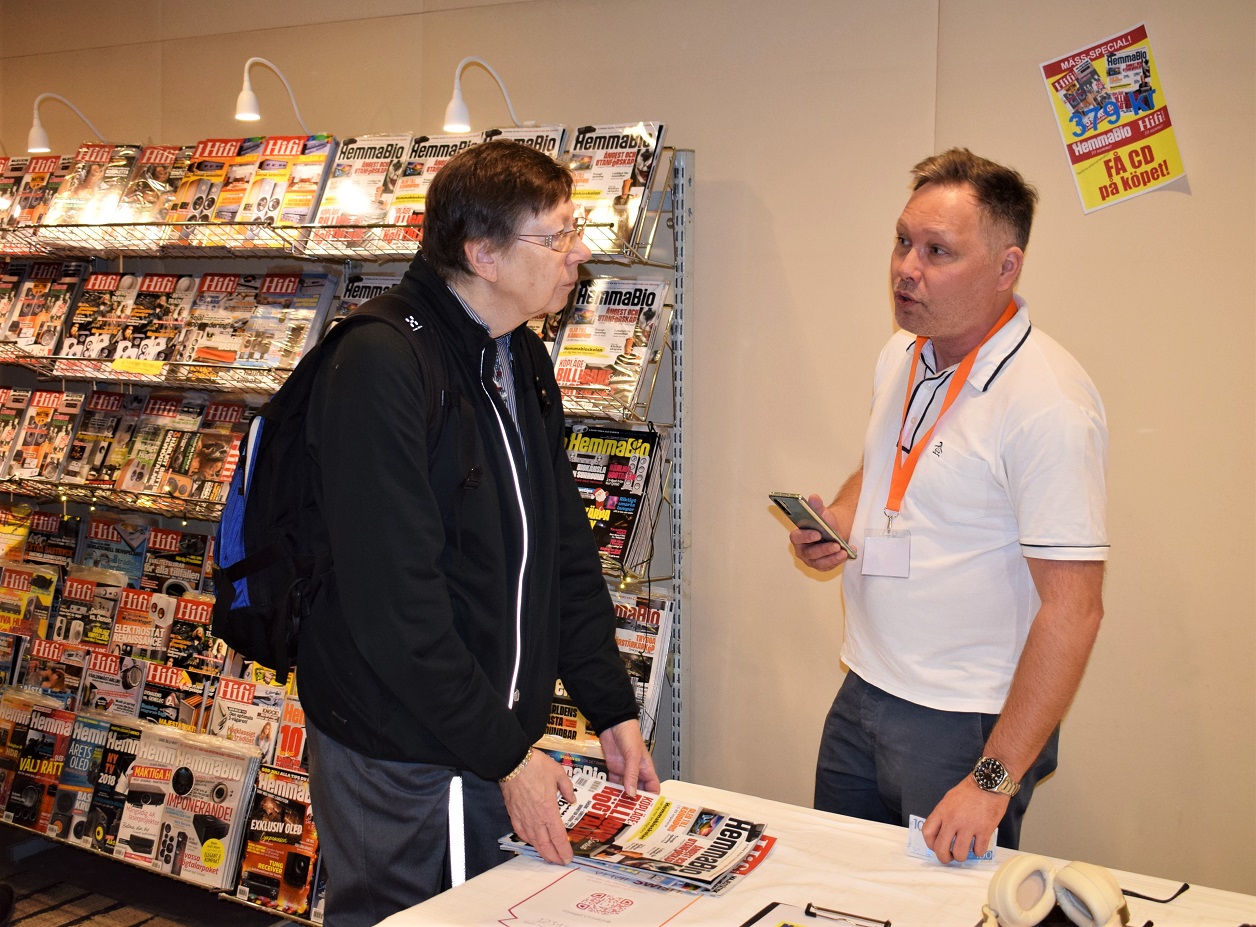 The iFi Aurora is a streaming single-box device made of bamboo and aluminum with a tubed preamp, and transistors at the output driving a total of eight drivers. ART room matching technology (32-bit ARM Cortex microprocessor) automatically optimizes the sound regardless of where the device is placed.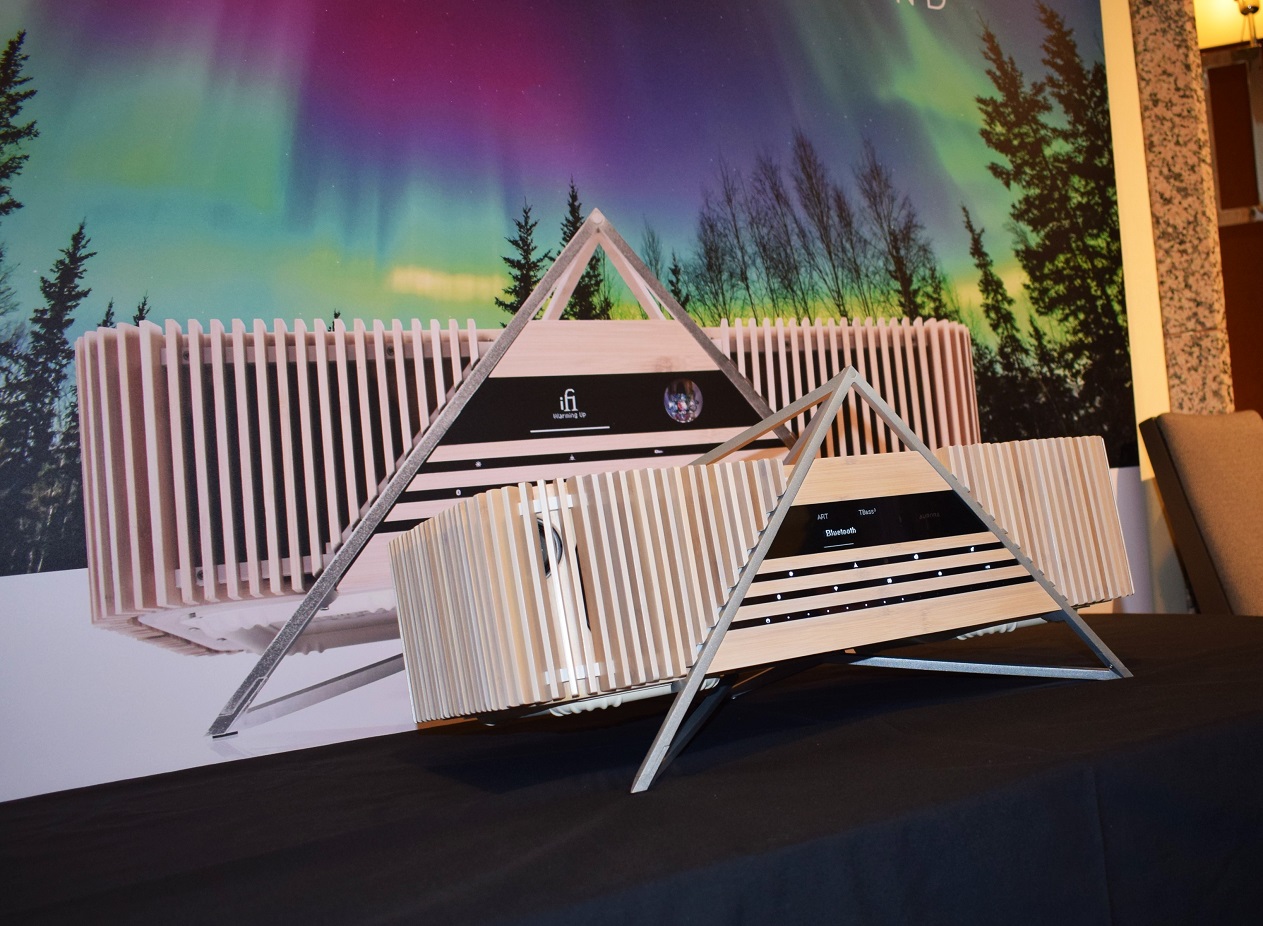 A philosophical kind of question?  What set most systems apart from a situation where live musicians with their instruments would have been in the same space playing the same music in the normal way? Timbre? Sound image? Dynamics? None. Right answer: too low volume. No musician or band would be able to play at such a low volume as was used at many presentations, not even a solo violinist. Should there be a demo penalty for playing music too quietly in much the same way that the new law penalizes a driver who drives too slowly in the highway?
Or maybe Hi-Fi playback should be conceived as a kind of model competition? Not looking for a natural sound identical to a live event, but for some sort of miniature of it. If the systems were really aimed at genuine volumes, perhaps no one would be able to listen to it, as no speaker is fully able to emit sound into the room as the musicians would radiate it, and only a few speakers / hardware are able to create even a credible illusion of it.