The 2023 Helsinki HIFI EXPO was held 16-17 September at the Helsinki Exhibition Center. Everything was on display, from the smallest to the largest and from the cheapest to the most expensive. Grand systems were well presented this time, so let's start with them.
FULL-RANGE SPEAKERS
ROSSO FIORENTINO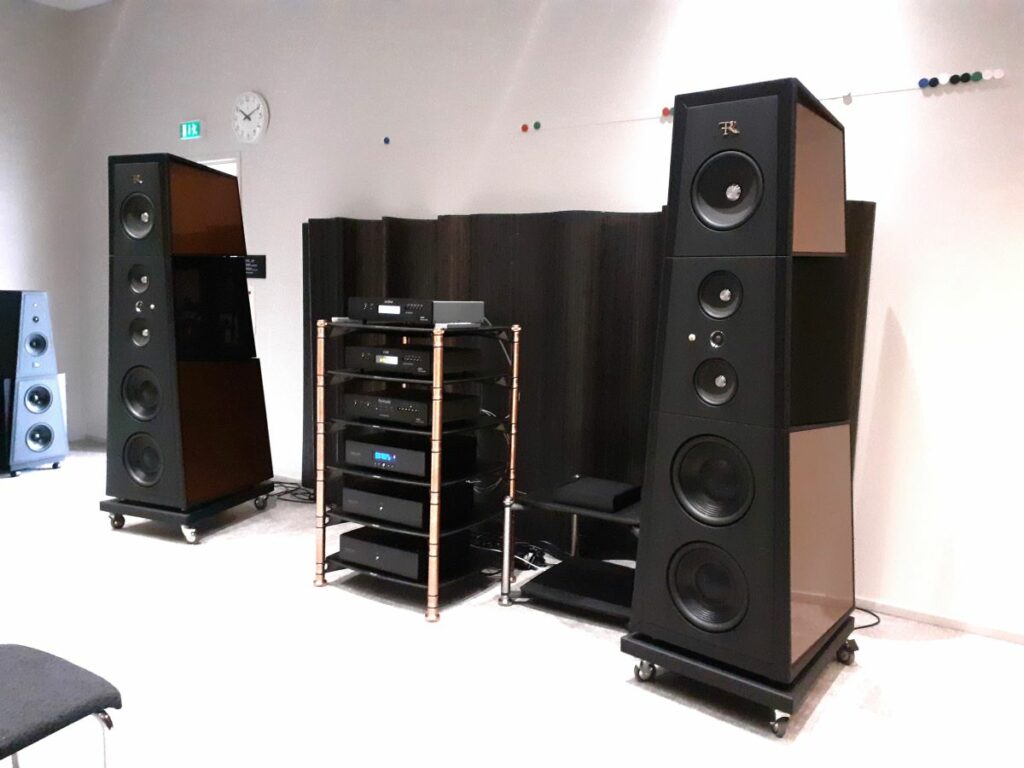 This is not strictly speaking a new loudspeaker but made its first show appearance in Finland: Rosso Fiorentino's 2 meters tall and 170-kilogram heavy weight masterpiece Florentia, which the company describes as a modern architectural monument. Amplification by Norma Audio REVO SC-2 LN pre-amp controlling the powerful Norma REVO PA 160MR mono-blocks. All Aqua source: Acoustic Quality Formula xHD R2R converter fed by LinQ HQPlayer. For CDs there was the Aqua LA DIVA M2 CD player (also connected to the Formula xHD DAC). And of course, in Italy as we are, the equipment rack was Bassocontinuo's Revolution AEON X carbon fiber thing. Total: €188,580. Must say that the sound had some extraordinary qualities, such as its gentle authority, perhaps partly due to its leaking side panels for the midrange drivers.
GENELEC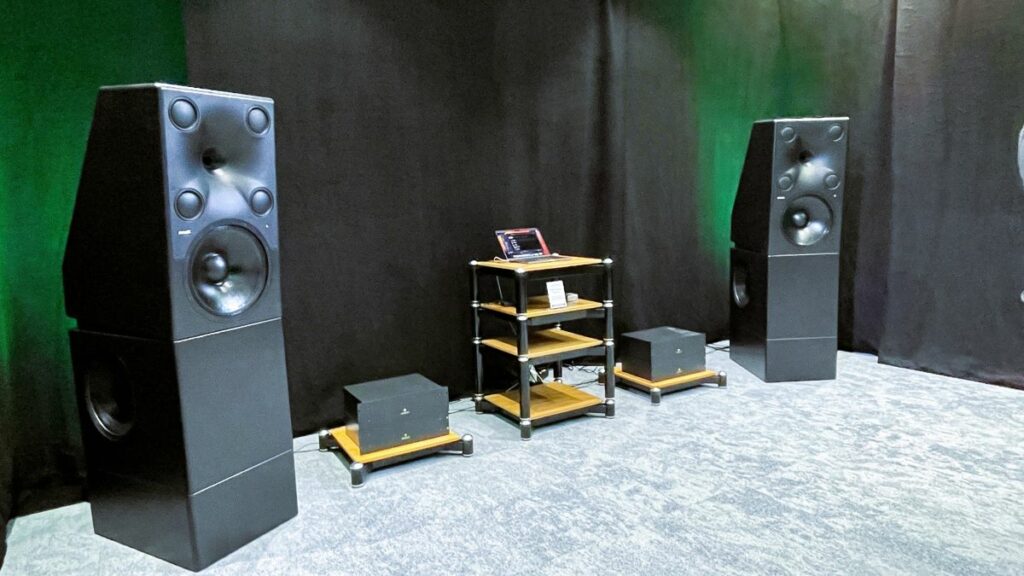 To honor its 45th Anniversary, the Finnish pro-market manufacturer Genelec brought along the new SAM Series 8381A active monitor speaker featuring their Adaptive Point Source technology. With six kilowatts of amplifier power, the new speaker should be capable of 126 dB SPL while at the same time performing like a true full-range speaker: 20 to 35 000 Hz. According to Genelec, the 8381A also serves audiophile-type of music listening by intelligently adapting the sound to any acoustic environment. As a technical achievement, the 8381A is definitively a must-experience case, but that does not entail that the sound at the Show would have earned unequivocally positive comments. The tone was somewhat dry and gray, undeniably flat but uninspiring, as if the speaker was forced to perform technically optimally no matter of what. But as said, go and listen if an opportunity arises.
MARTIN LOGAN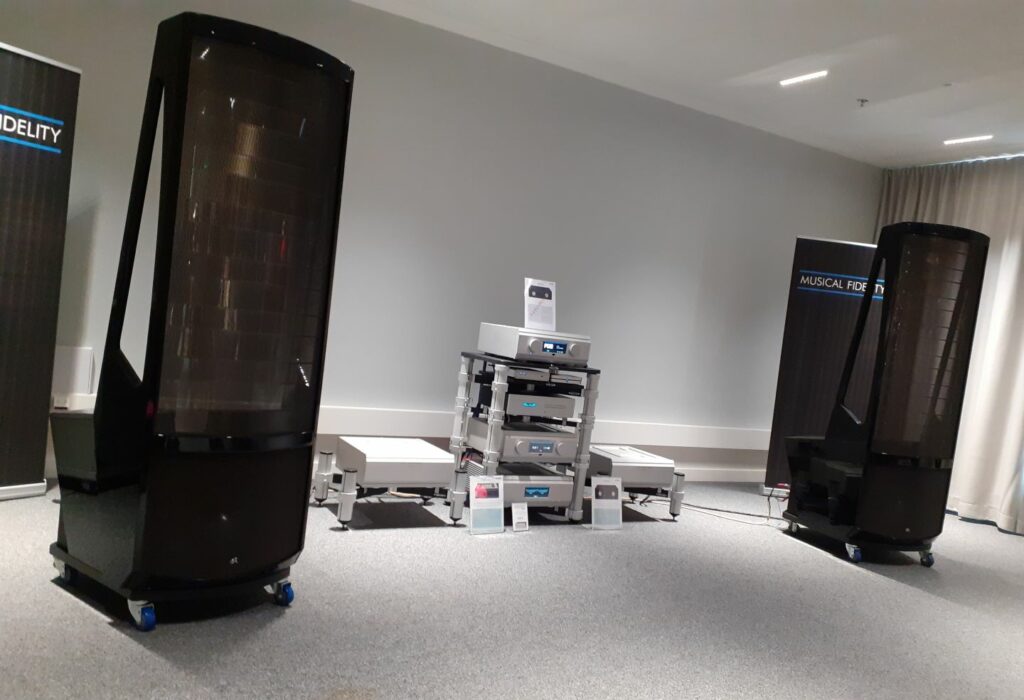 This huge system featured Musical Fidelity's source and amplification hooked to Martin Logan's mighty Neolith electrostatic loudspeakers. The big sound impressed with its physicality but suffered from incomplete adaptation to show room acoustics. Yet it was easy to hear the obvious potential.
HOPIA AUDIO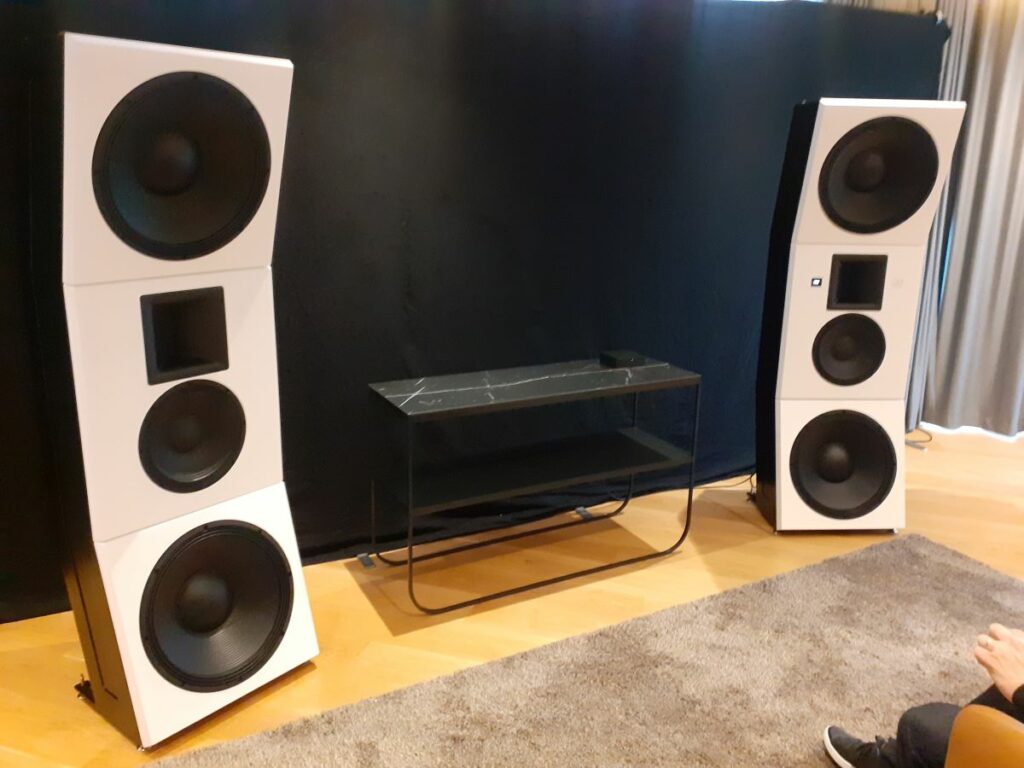 Hopia Audio is a new Finnish loudspeaker manufacturer who world premiered its favourite child, an active open-back DSP-speaker, Hopia Audio 15. It's a massive and exotic loudspeaker with a full array of Beyma drivers. An interesting concept and promising sound! The demo proved again that DSP is a good hired man but a poor host. It will be intriguing to follow where this speaker develops into in the near future.
SCHETL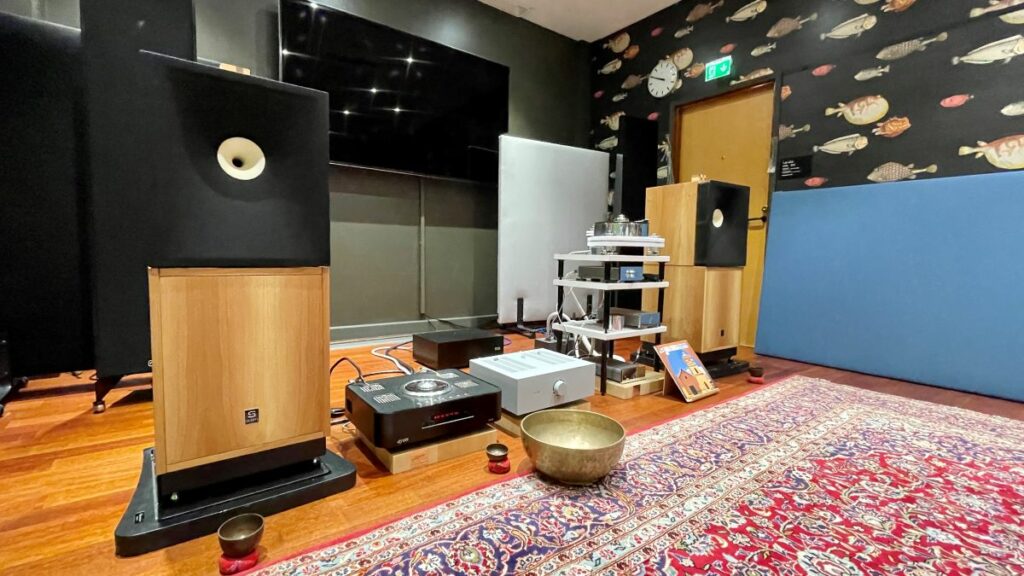 Now, here's a prime example of what it means to set up a true audiophile system: the amplifier was Sroll's latest integrated Sroll Epigram MK II from Czech Republic; digital source: Ayon Audio's CD player, and the analogue source: Transrotor turntable and phono stage, also from Germany. Cabling: Tiglo from Japan. The speakers are made by Schetl, Hungary. The model in question is Pathway, a high sensitive 3-way built on the new Under-Excited Transmission Line (UETL) concept. This room was my Show favourite, not just soundwise but also because of the attitude behind it!
WILSON AUDIO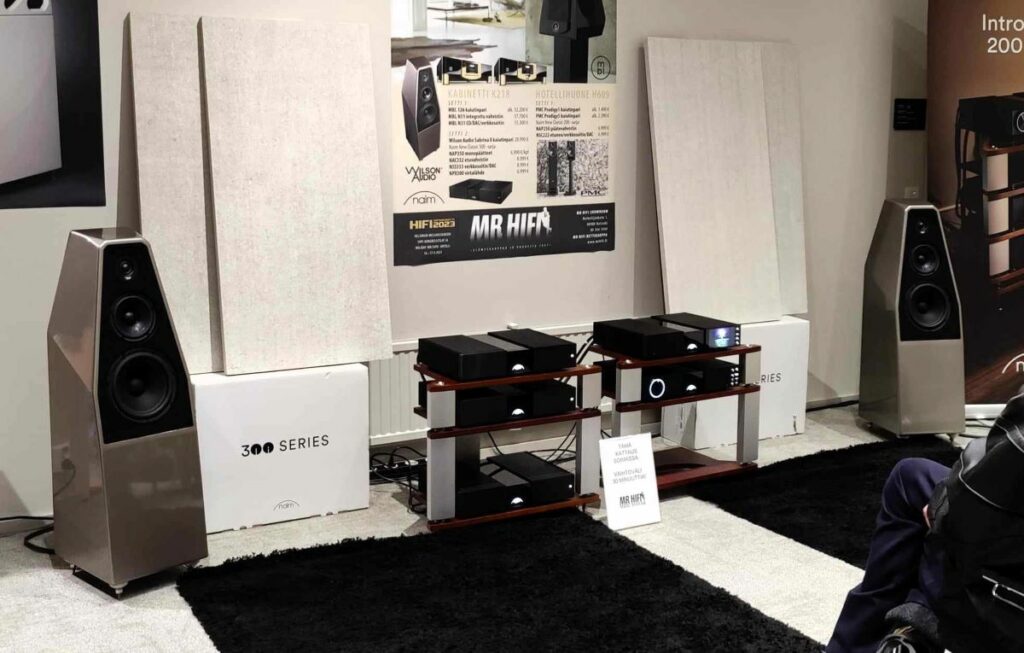 Wilson Audio loudspeakers aren't that often combined with Naim electronics. But in this a pair of Wilson Audio's new Sabrina X speakers were married with Naim's new Classic 300 Series, including NAP350 mono blocks, and NSS333 front-end (NPX300 power supply). Very smooth performance!
BOWERS & WILKINS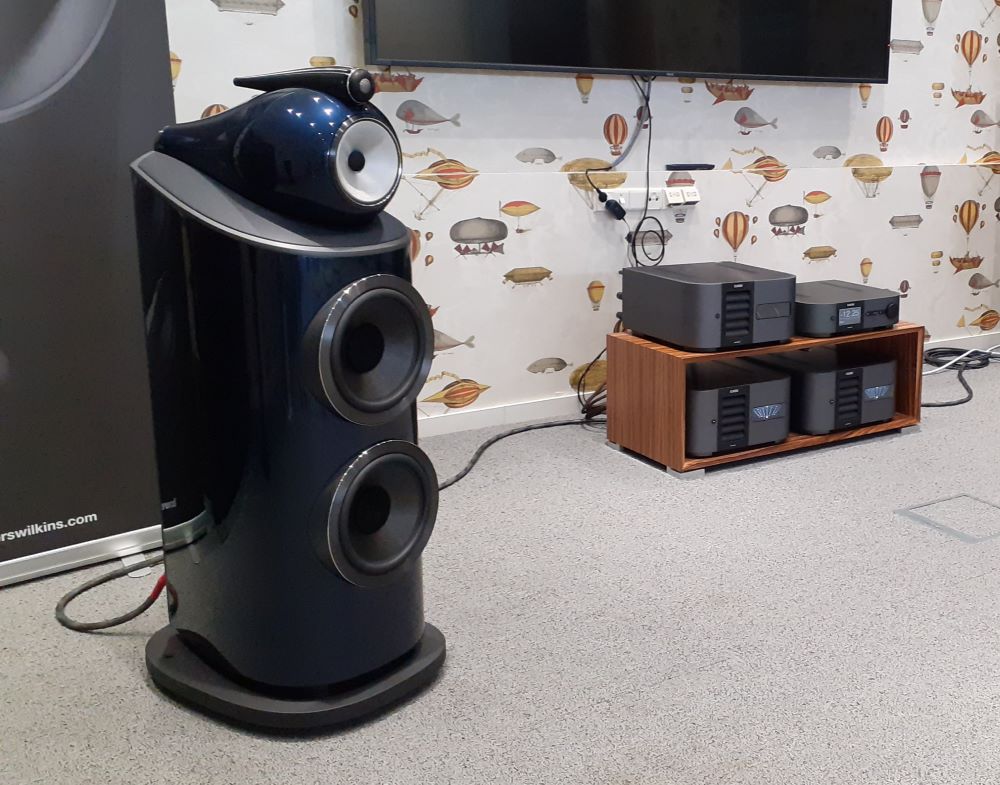 The B&W 801 D4 Signature with massive Classe mono blocks.
AMPHION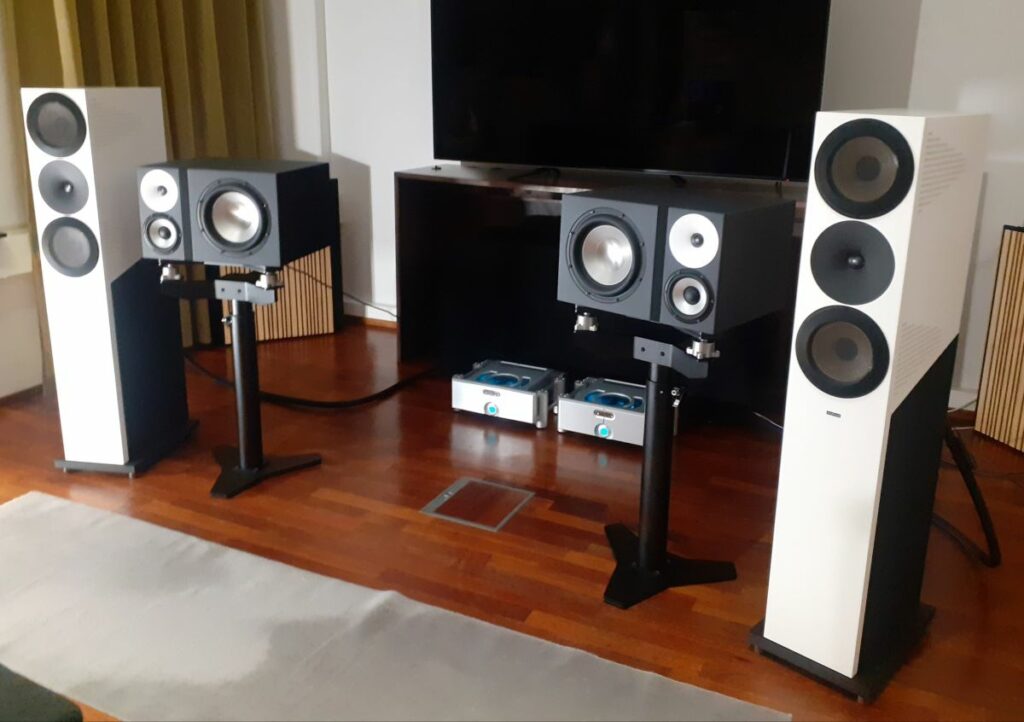 The three-way Amphion Krypton with its cardioid midrange enclosure was working with Chord's great mono blocks. The proven Amphion sound!
LARSEN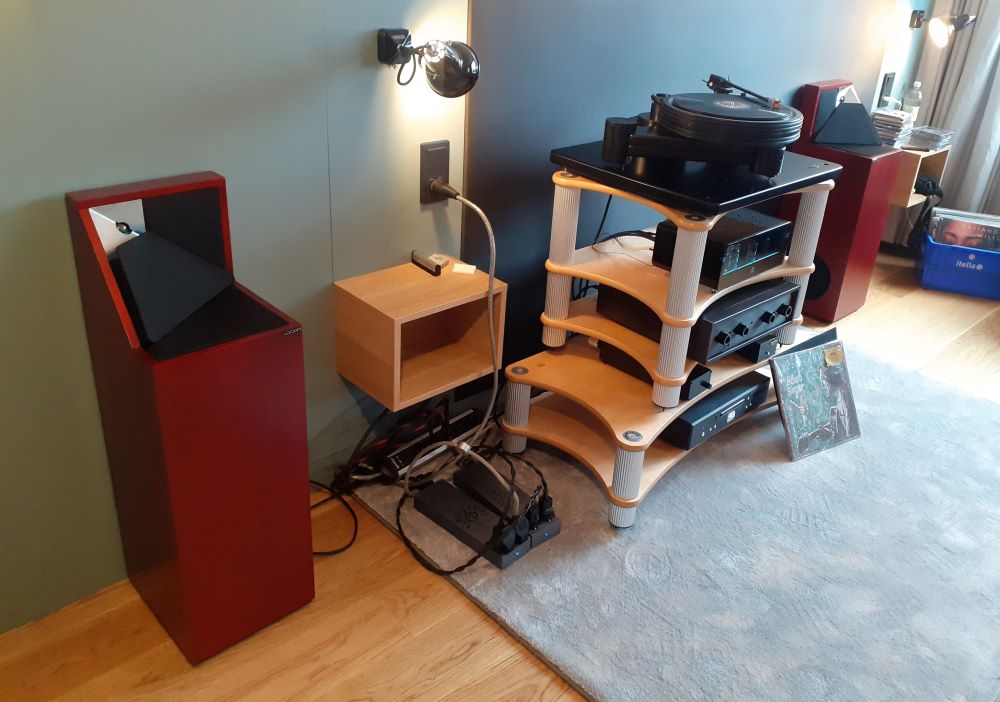 Larsen 8.2 half omni loudspeakers, Moonriver reference integrated amplifier, and Pear Audio ODAR turntable (12″ Cornet 3 tonearm + London Decca cartridge): the most relaxed sound at the Show? Something like that.
STANDMOUNT SPEAKERS
MARTEN AUDIO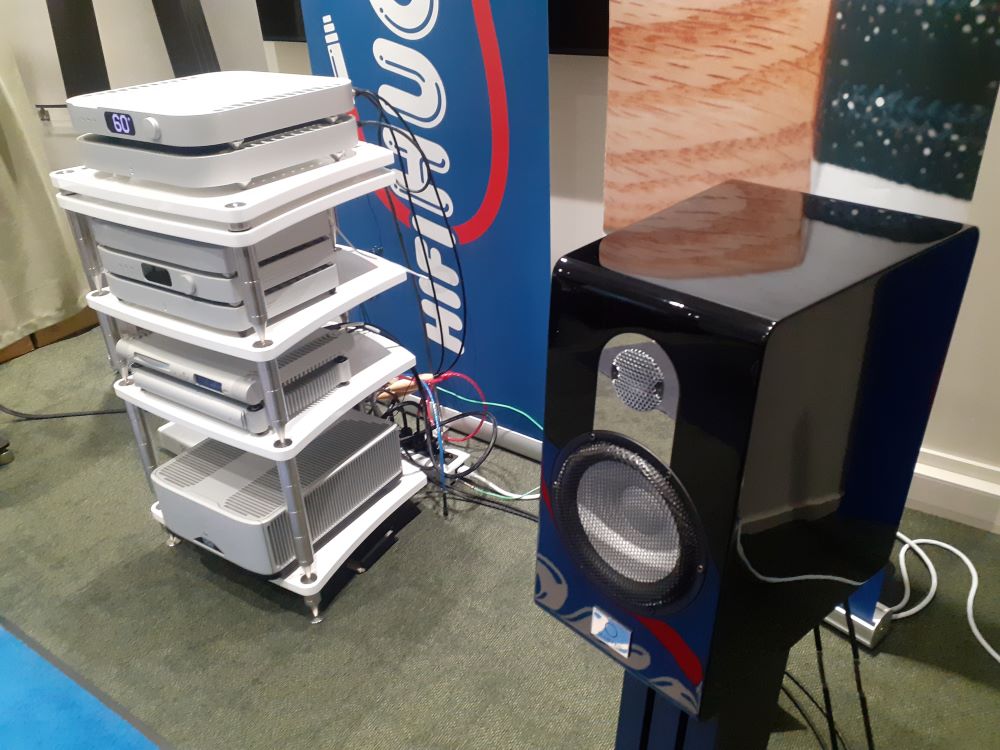 A true highend two-way system: Marten Parker Duo speakers, and a respectable pile of MSB electronics, including MSB The Premier DAC.
MBL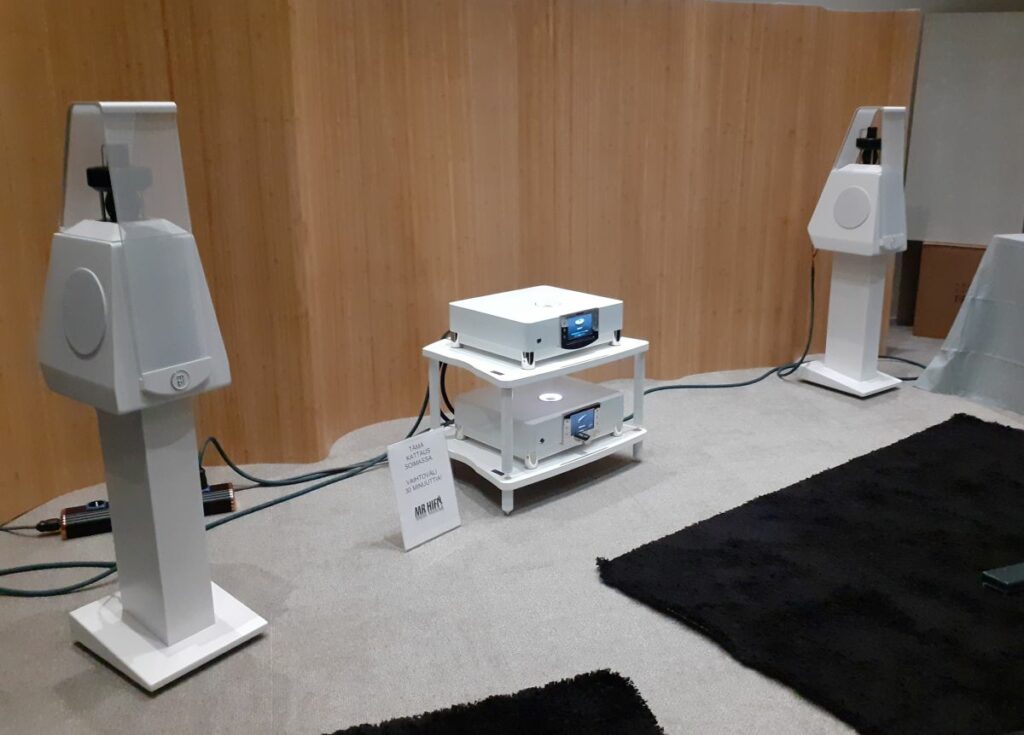 A full MBL system put together from Noble Series components, including MBL 126 loudspeakers, MBL N51 integrated amplifier and MBL N31 cd/dac/network player. An easy-going widely radiating sound.
FISCHER & FISCHER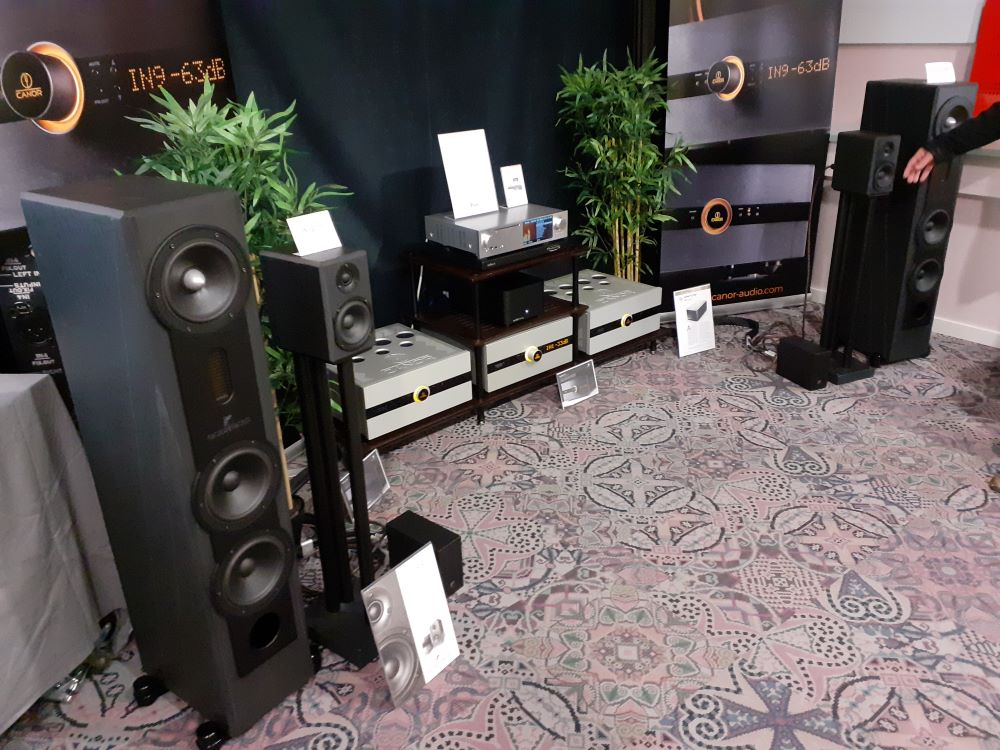 Fischer & Fischer's non-resonant slate loudspeakers such as the petite Klein that always fools the show-goers with its negligible size.
BOOKSHELF SPEAKERS
BOJIS AUDIO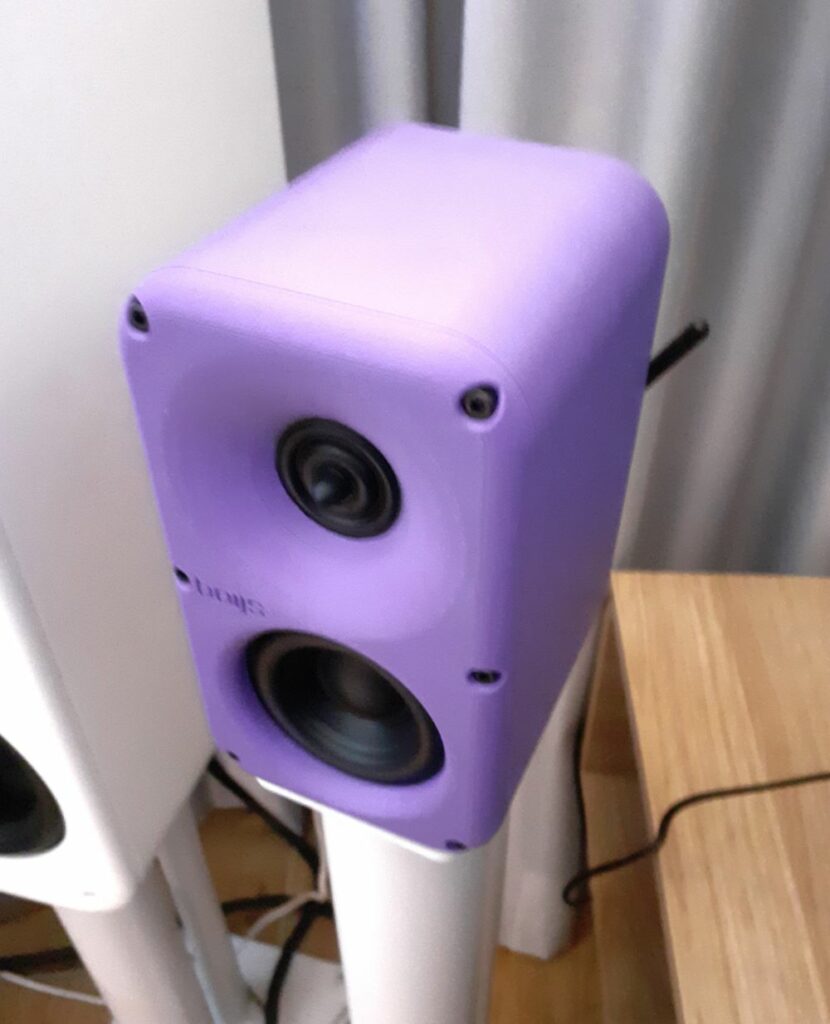 Bojis Audio's new 3D printed Half Three is only 22 cm tall but provides a large with decent bass performance (the manufacturer claims 55Hz/-3dB. The waveguide for the tweeter is of Bojis Audio's own design, as is the clever woofer port. The passive version cost 599 euros, and the the active version (WiFi, Airplay, Spotify Connect, Bluetooth 5.0, DLNA, UPnP) a hundred more.
GRADIENT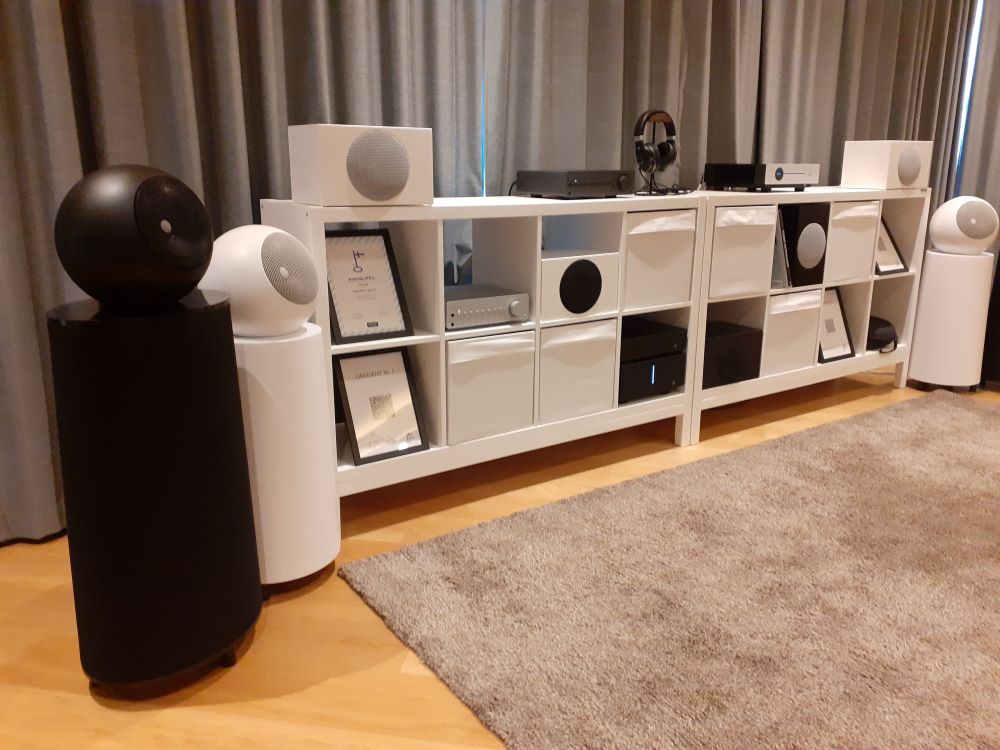 In addition to standing Gradient Revolution R-5 flagship and the smaller Gradient 1.4, Gradient demoed its new BS-1 bookshelf speaker (on top of the book shelf), borrowing the technology from the highly regarded Gradient 5.2. That included the same coaxial driver joined by a passive radiator on the rear panel. The speakers were singing with Quad Vena II Play and Quad Artera Solus Play amps.
MIDLE CLASS
B&W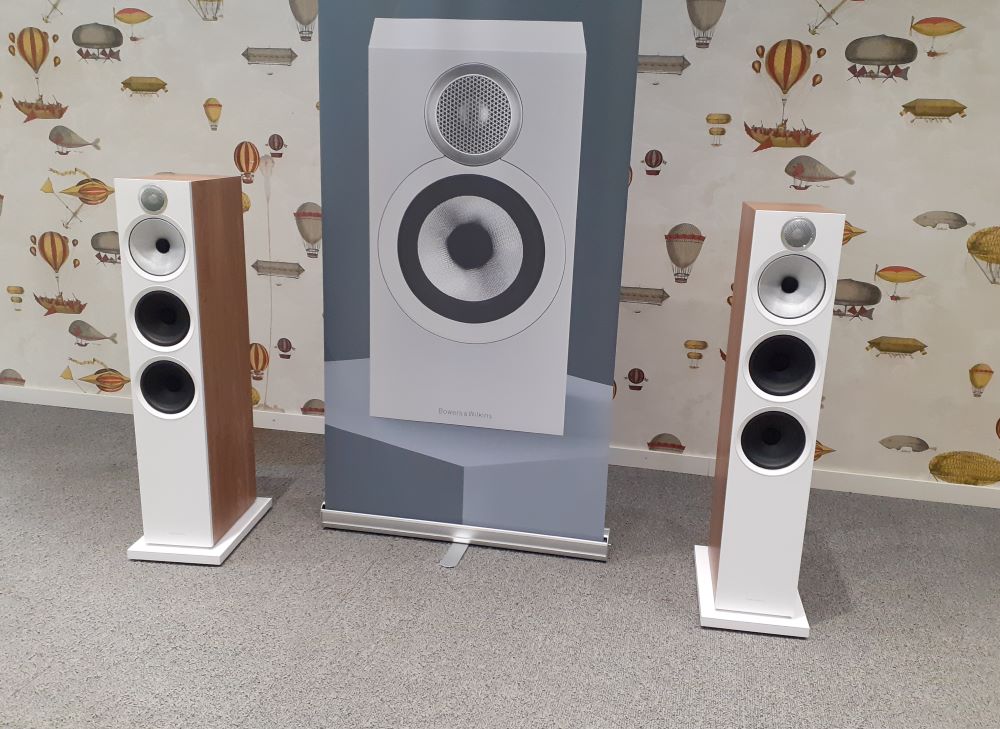 Not that long ago Bowers & Wilkins launched the new 600 S3 Series, after 25 years of the original 600 Series.
PCM & NAIM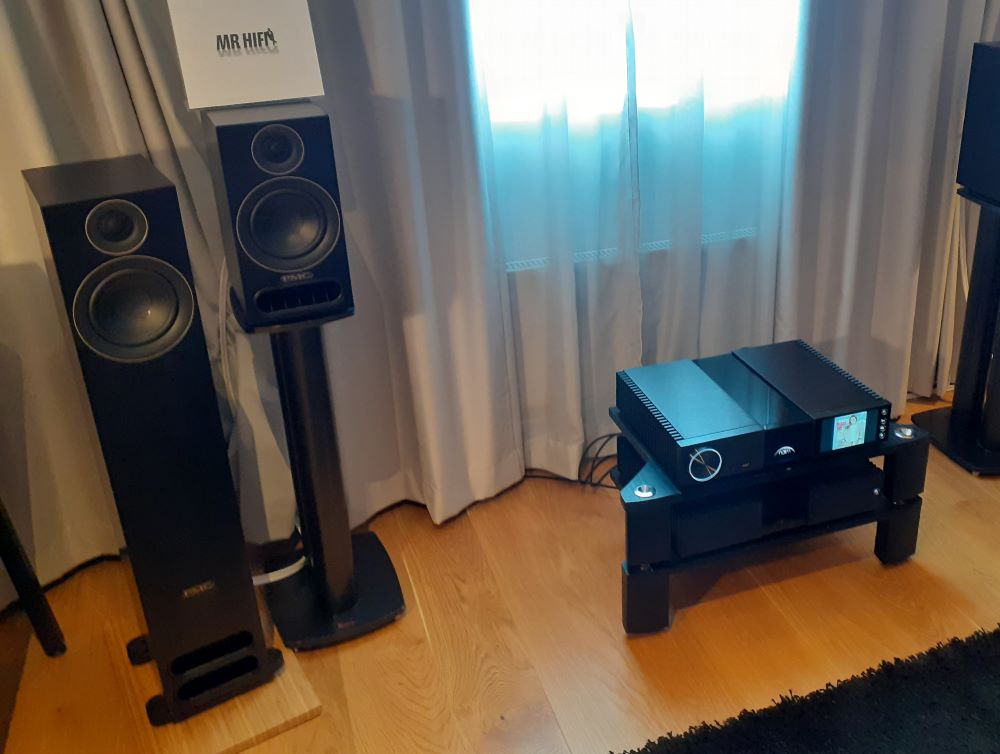 This little system with its cheerful sound received lots of positive feedback: PMC's new Prodigy Series: Prodigy1 and Prodigy5, together with Naim Classic 200 Series NAP250 power amp and NSC222 preamp/network player/DAC.
VESTLYD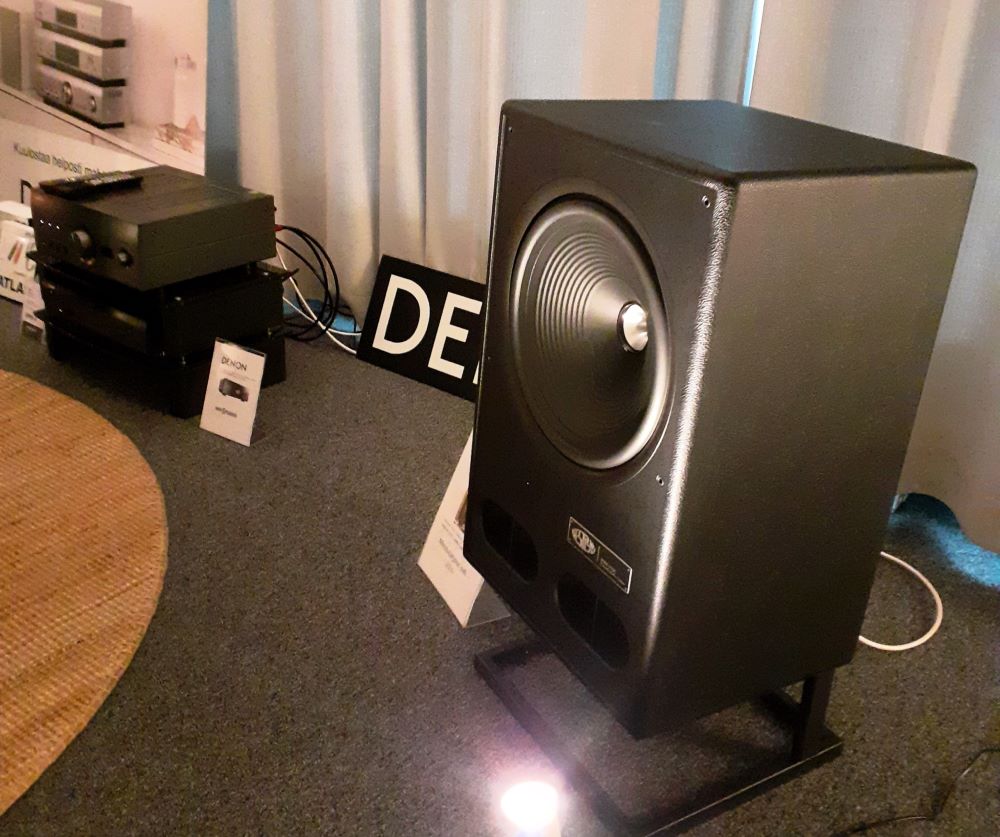 Vestlyds loudspeaker sports 12- or 15-inch coaxial driver reaching 95 dB / 1W sensitivity and 130 decibels of SPL. Plus the speaker can take in 500 watts of amplifier power. It's easy to see what the makers aim to with the design, but the sound may not be for everyone. Yet, in its own personal way and timelessly elegant looks the speaker will probably win friends in some circles.
AMPLIFIERS
MOFI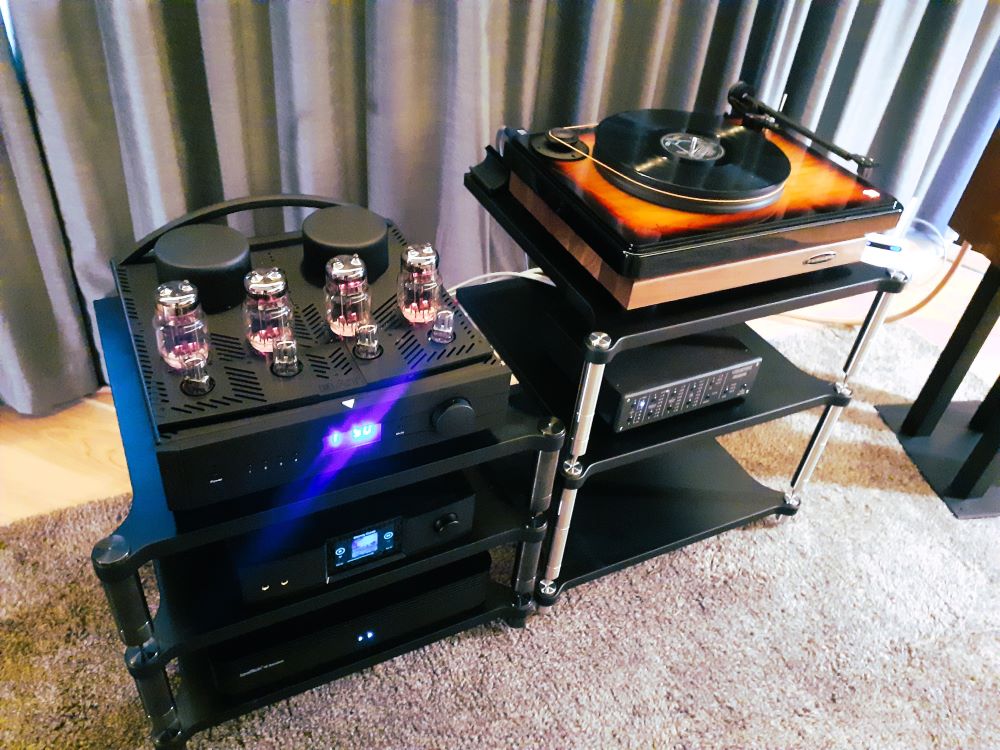 MoFi's Source Poin 8 coaxial loudspeakers were driven by BAT's 55 watter fully balanced VK81i with 4 x 6SN7 at the bow, and 4 x 6C33C-B at the output.
MUSICAL FIDELITY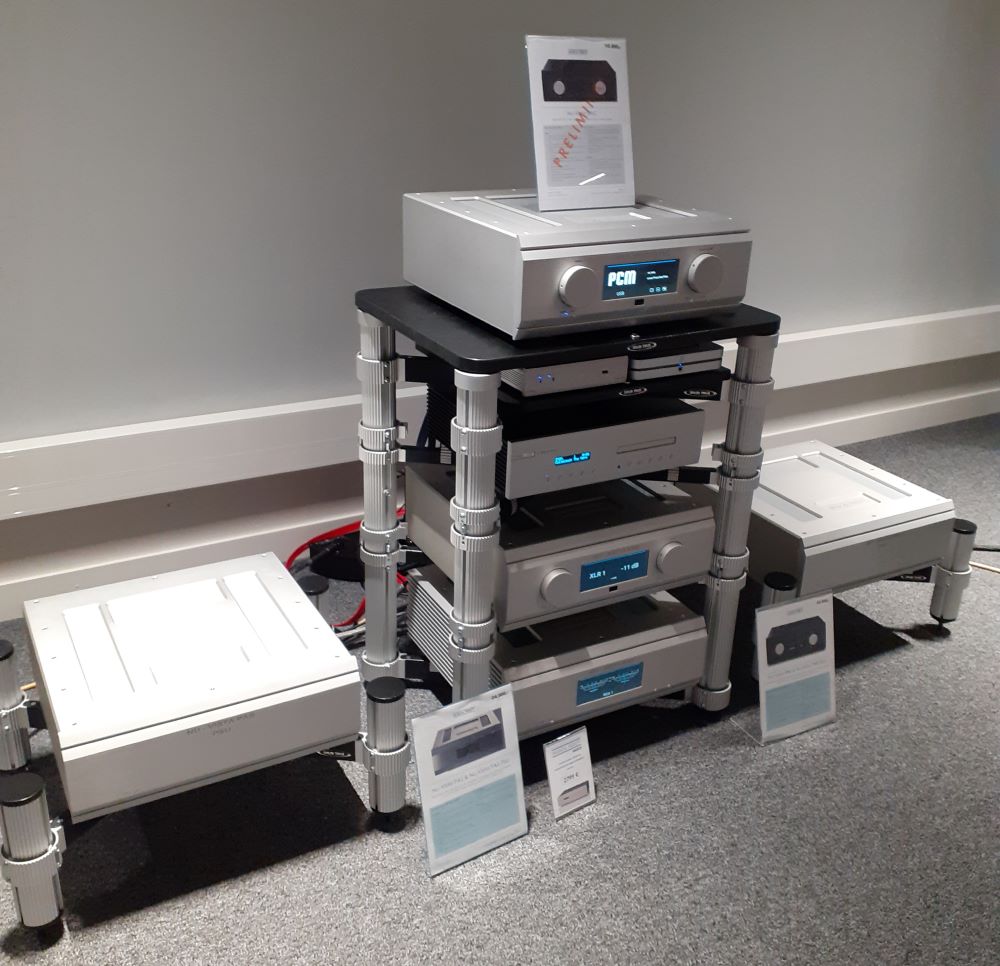 Somewhere in the middle is Musical Fidelity's newly launched NuVista hybrid-integrated amplifier Nu-Vista 800.2. The amp delivers more than 330 watts of power per channel into eight ohms (500 watts into four ohms and 1,000 watts peak power into two ohms), and the current capacity is 120 A.
CANOR AUDIO AND FISCHER & FISCHER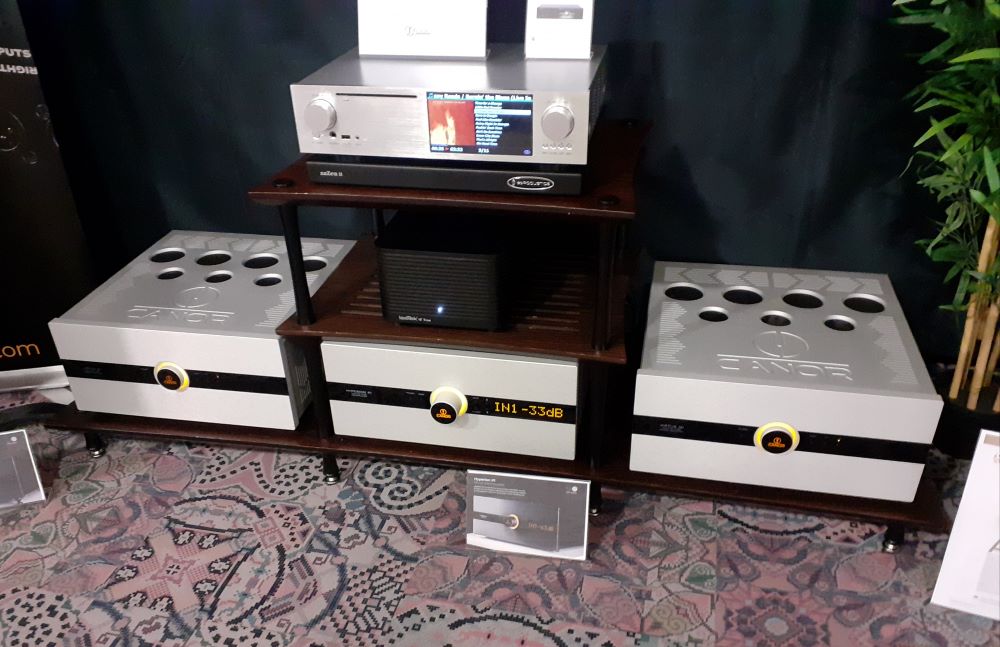 Another "For first time in Finland" was Canor Audio's Reference Line Hyperion P1 pre-amplifier and Virtus M1 mono blocks. The digital source came from Cocktail Audio.
SCROLL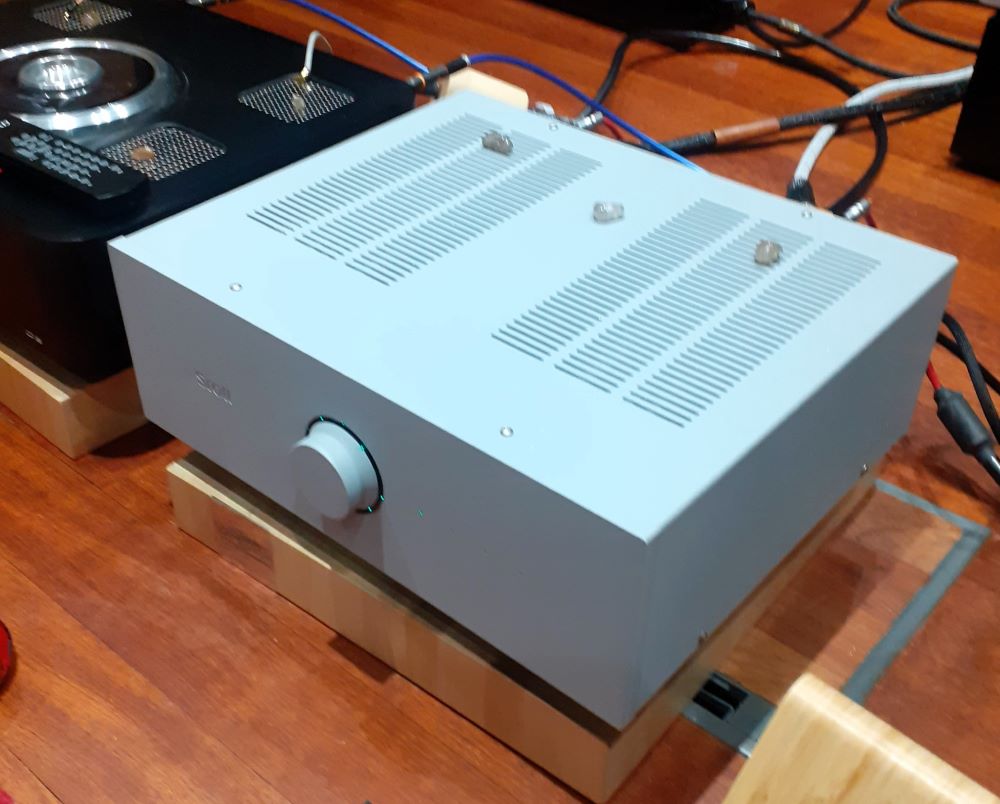 Sroll from Czech Republic makes interesting products such as this 21 kg, high-resolution integrated amplifier Epigram MK II: 4 Ω: 2 × 230 W, THD 0,0002 %, input impedance: 9,5 kΩ, voltage gain: 34 dB.
UNISON RESEARCH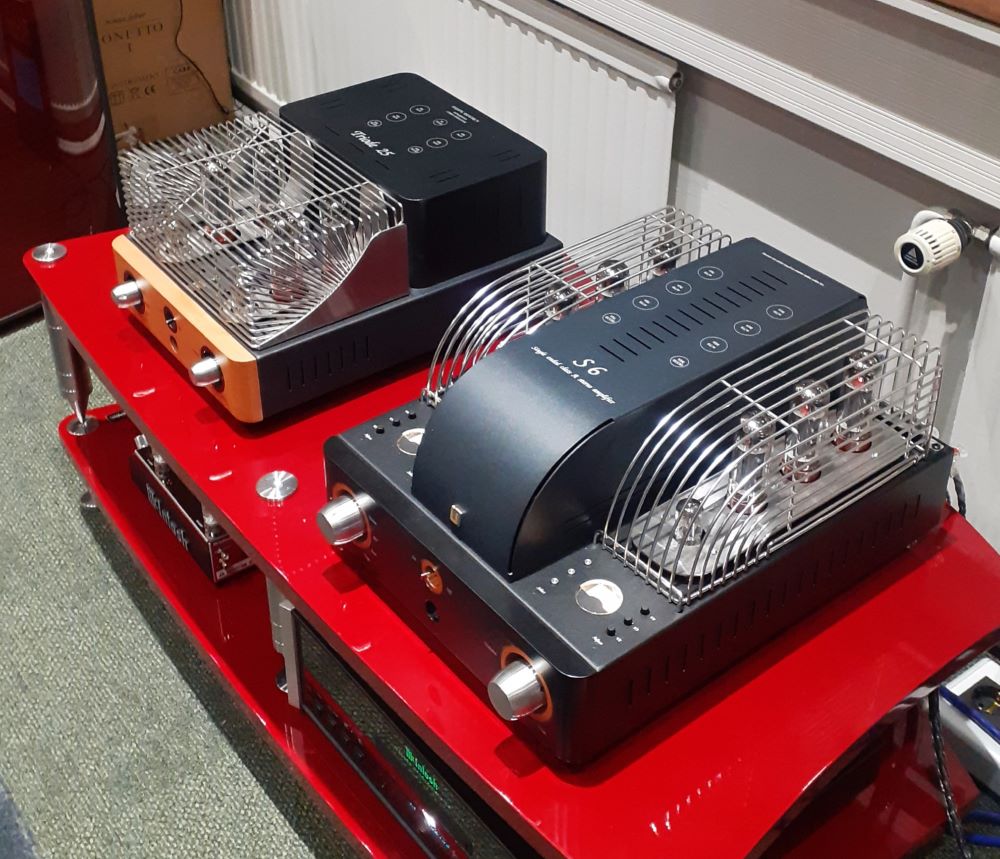 Unison Research S6 ja Triode25 tube amps were set to control the new speakers of the Sonus faber Homage Series: Serafino G2 and Amati G5.
MISCELLANEOUS
WITH OR WITHOUT ACOUSTIC TREATMENT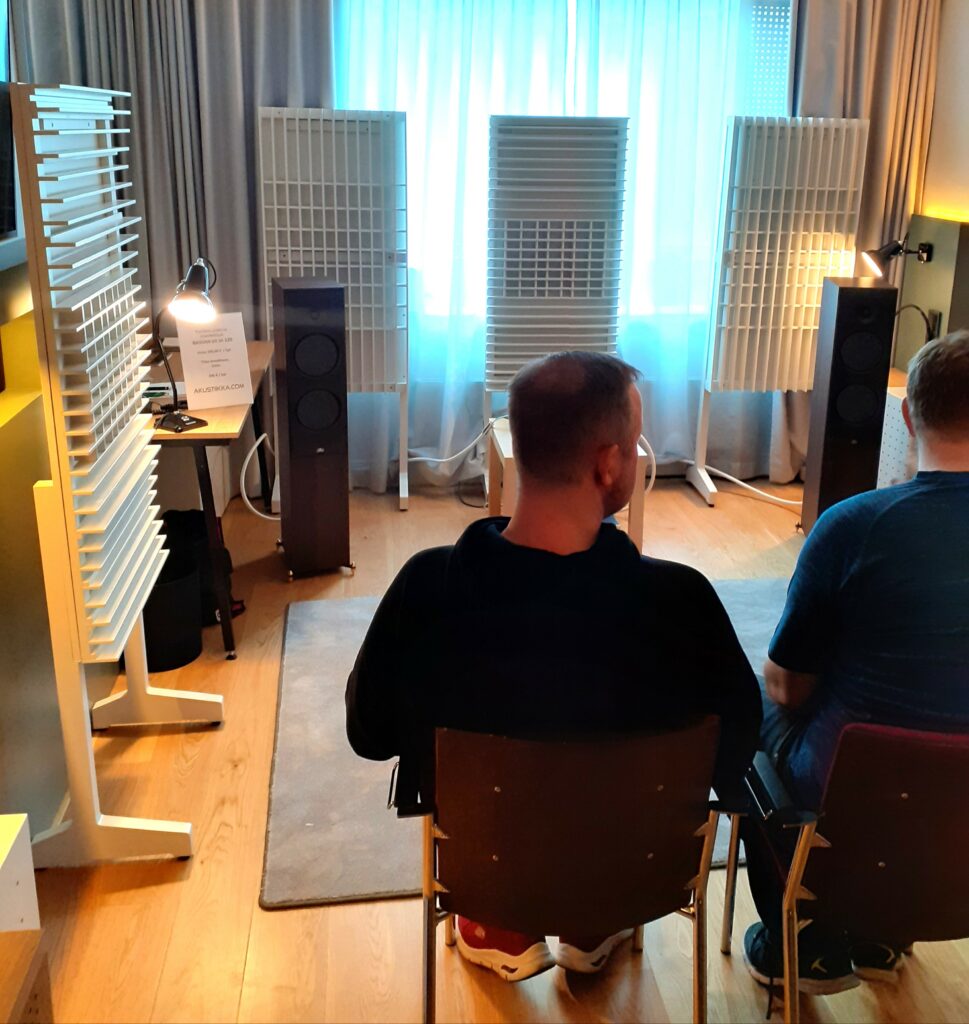 Akustiikka.com had booked two adjacent hotel rooms, one with no acoustic treatment whatsoever, the other treated with Finnish-made DIFFAN H and DIFFAN X diffusers, and BASSAN 60 and BASSAN 120 bass traps. To keep other things equal, both rooms had the same set: Revival Audio Sprint4 loudspeakers plus Innuos Pulse and Atoll IN200 Signature amplifier.
SUPER-ORTHOPERSPEKTA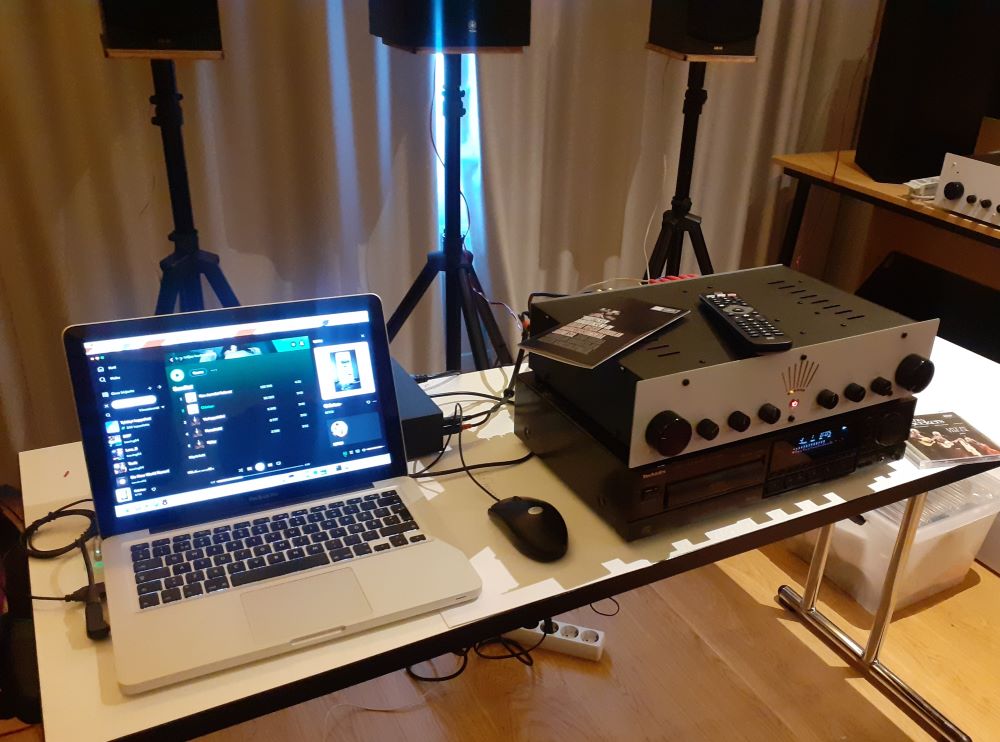 Originally developed by the legendary Finnish audio engineer Tapio Köykä, Orthoperpecta was developed to increase spatiality of the sound in a two-channel sound system. Spatiality in this case means feeling of being in a live concert with loads of indirect sound from the hall's walls. Initially the system contained a wide-band mono speaker in the middle, and two narrow-band wall speakers for the difference signal on each side. Super-Ortoperspekta is an extension of the original Ortoperspekta, and was demoed with five loudspeakers in front and special-duty amplifier.
7000 EURO CABLES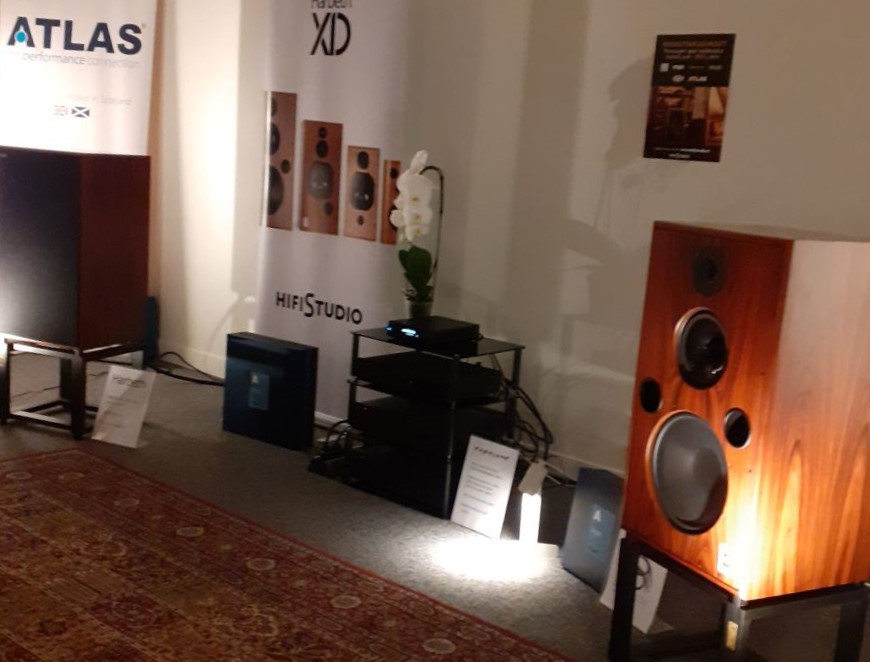 Big Harbeths aren't a rare sight at the the Helsinki Hi-Fi Expo but the speaker cable with which the speaker was hooked to Naim amps, was: Atlas Cable's new Arran Grun, a top speaker cable priced at 7,000 euros. The Arran Speaker Grun uses high-grade "6N" (99.99997% purity) elongated crystalline copper, manufactured by the OCC (Ohno Continuous Casting) process. Six solid OCC copper wires are carefully placed in a progressively formed layer of insulation with air gaps, a cotton coil and a tension-controlled PTFE wrap. The added SSG (super stabilized geometry) layer keeps the symmetry of the cable constant along its entire length.