The South African William Kentridge (b. 1955 Johannesburg) is currently one of the top names in contemporary art. As of last week, he's been exhibiting at EMMA Modern Art Museum in Espoo, Finland. Two works are on display: The Refusal of Time, a five-channel video installation that had its world premiere at documenta in Kassel in 2012; and Other Faces from 2011, an animation that belongs to EMMA's collections (The Saastamoinen Foundation Art Collection).
William Kentridge's work has roots in theatre and politically committed art. In his works he frequently comments on social injustice and apartheid. However, The Refusal of Time, an installation of five projection shown on three walls, with a wooden breathing machine ("the elephant") made out of moving parts in the middle, derives in part from conversations between William Kentridge and the US physicist Peter Galison about the history of the control of time, the theory of relativity, black holes and string theory.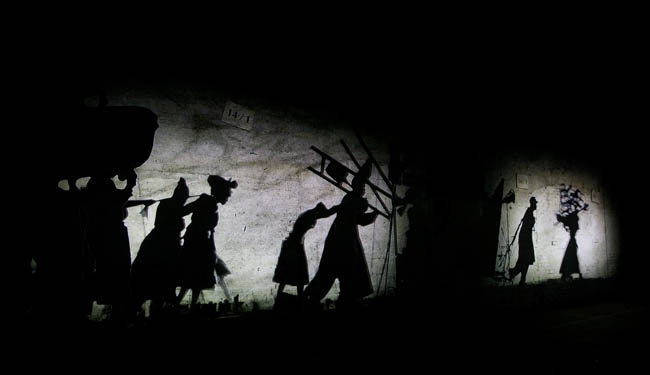 Its themes span questions related to 19th-century imperialism, ways of depicting the concept of time, and the inevitability of death. In Kentridge's characteristic fashion the work contains powerful images arising out of the history of colonialism in Africa. This work is poised at the intersection of theatre, science and art, creating a profound synthesis of different disciplines – music, drama and animation. (official info) The work has been on display Tate Modern London and MoMA New York.
Music and 5-channel soundscape, a central aspect of The Refusal of Time, is written by Philip Miller. Miller has studied music composition with several famous composers (eg. Joseph Horovitz). Miller completed his postgraduate studies in Electro-Acoustic music composition for film and television at Bournemouth University. He has composed music for the soundtracks to many local and international film and television productions.
There's well-thought "music" and sound outside conventional channels, and often much more inventive than, say, standard film music nowadays.
Miller's choral work, Rewind: A cantata for voice, tape and testimony, based upon testimonies from the Truth and Reconciliation Commission had its US premiere in New York at the Celebrate Brooklyn Music Festival. In South Africa it has been performed on several occasions. Miller has also produced a number of albums including arrangements of traditional South African lullabies. Other works include Shona Malanga which is arrangements of freedom songs, and the soundtrack to White Lion. His latest CD soundtrack release is The Refusal of Time.
Why mention all this? Because I think it's good (if anything is) to remember that there's well-thought "music" and sound outside conventional channels, and often much more inventive than, say, standard film music nowadays.
Video editing is by Catherine Meyburgh, dramaturge by Peter Galison, choreography by dancer Dada Masilo.
The other work, The Other Faces shows Kentridge's brilliant draughtsmanship, art that is created by using his own drawings to make animated films and video installations.