And not just an object designed for an exact predefined purpose, a manufactured item, but one that in itself fulfills a certain need.
Viewing a loudspeaker as a pure object, rather than an object of use, opens up broader perspectives onto expectations that are directed to it. Not only is there the expected return, or expectations regarding matters of technical implementation. There are considerations related the corporate image, questions about pleasing the eye, issues of ownership feelings etc. Only some of the expectations are based on reason; the rest consists of mixed feelings, unconscious wishes and innocent dreams.
Designers desperately aim to address all of these issues, and to the best they can, satisfy as many as possible. If they succeed, an object has got a strong multi-level visual design that well illustrates the properties of the product. In short, the product has found its style.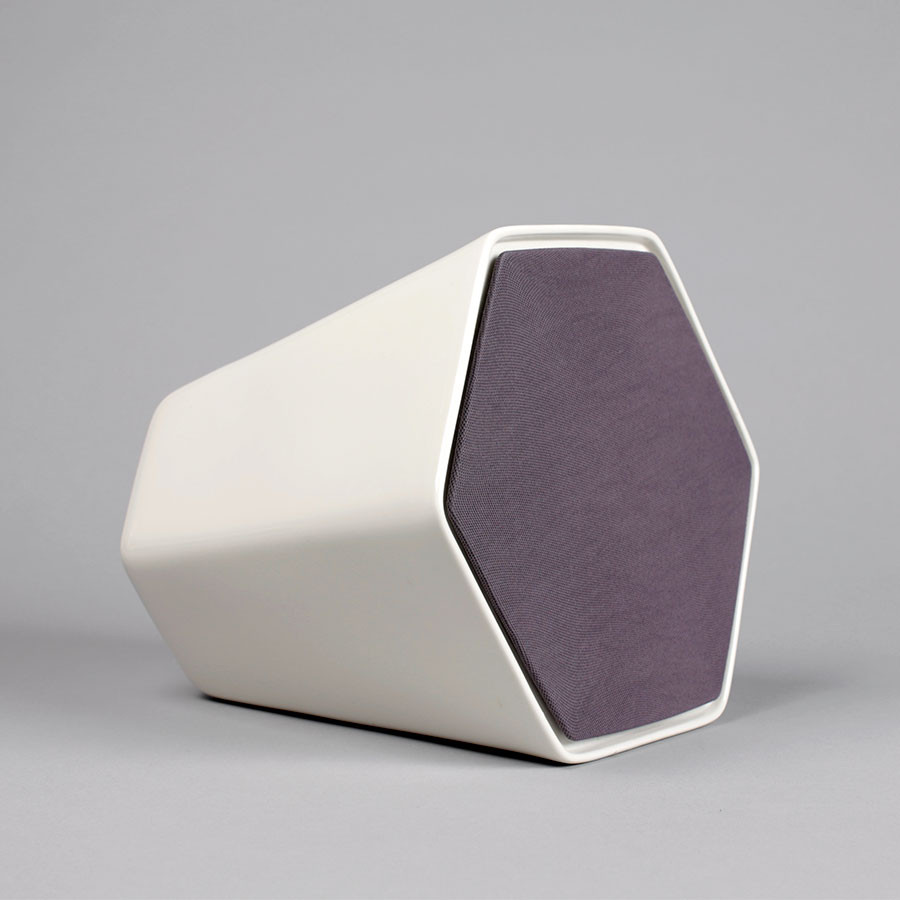 Holistic design
Unmonday's R&D and design team has searched for an exceptional but also very approachable visual appearance. The speaker is sculptural, but not more than the target audience, the one that appreciates simplicity and elegance, is willing to accept.
The design team has also been able to create a material entity that goes with the target group's likings. The ceramic case feels good in hand. It exudes noble everydayness. The glazed surface reflects the light and shadows like the sides of cars before the robots. White is softer than Apple's cold white.
The choice of the material can also be regarded as a kind of ethical statement on behalf of the organic nature over the synthetic. Ceramic material communicates durability and longevity. It is also scratch-resistant. Alongside these, the fact that the ceramic cabinet is insensitive to vibrations, conducts heat well and protects the electronics from external interference effectively, is secondary.
The speaker has (optional) a leather carrying case a la 1950's.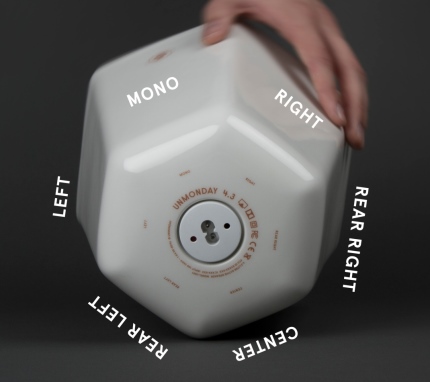 To see is to understand
The design of the Unmonday 4.3 illustrates the use of it almost brilliantly well. Viewed from the front, the speaker is an obvious regular hexagon. Each side operates a different sound channel. For example, on one side, it's a mono speaker, on another side it's functions as the left main channel of a stereo or surround sound system. And so on. Turn it up, and the speaker is muted.
Speaker position-sensing interface is implemented with a three-axis accelerometer and micro-processors. In particular, tuning and directing the antenna has been challenging, because the receiver has to work equally well in all positions. In addition, the sound card sports AirPlay and the dsp chip. AD and DA converters are on the same chip.
Important for the design, batteries are rated to provide power for normal operation for more than eight hours. Voltage obtained from six lithium cells is sufficient for running a Class-D amplifier that is said to deliver 20W of power without distortion. In case needed, a power cord comes along.
There's only one button. When it's pressed, the Unmonday 4.3 creates its own unencrypted wireless AirPlay network, and the speaker is ready to play. If there are multiple speakers, they are connected to the available home network and named individually. If more than one loudspeaker is played at the same time, for example, in a stereo configuration a Macbook with iTunes is required (iPhone and iPad demand their own software). If the audio source is connected to the speaker with a 3.5mm analog cable, the speaker plays only the left channel.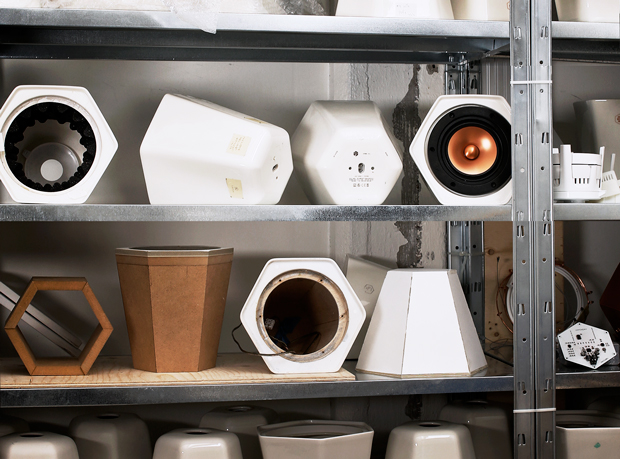 Balanced sound for various tastes
The 4.3 sports a 6.5 inch widebandwidth unit, which Mark Audio's founder Mark Fenlon has tailored for Unmonday based on Alpair model 10.2. The element is vocally very pleasant. In particular, mids and the treble are of high quality in the context. The sound is seamless and uniform, and also nicely informative and expressive. Output is clear, but rarely too bright.
Since the speaker and its sonics are faced with many different expectations, not just those of audiophiles, the desired tonal balance must be picked up carefully. I'm sure the heart has told to keep the midrange clean, while the commercial common sense has urged not to forget the bass.
More surprisingly, even some of the organ recordings came out fullbodied and richly, despite lack of mid/low bass.
As a result there is an adequate amount of libido bass for the needs of pop music. Lady Gaga's old hit Bad Romance is reproduced voluptuously without coloring Gaga's (Rihanna's, Shakira's etc.) voice more than what the mixer/masterer has intended.
More surprisingly, even some of the organ recordings came out fullbodied and richly, despite lack of mid/low bass. To me this tells that the upper bass has been quite satisfactorily integrated into the overall sound and why many programme material came out without coloration.
In the name of truth, there were also CDs and tracks with which the Unmonday 4.3 did boom and colored the sound and if that happenedc the target could be cello's lows strings, or female jazz singer's low-register as well as some other sound sources, which do not benefit from self-assertion of the 100-300Hz range. But as a whole the phenomenon wasn't really serious, and from the perspective of the target group's listening preferences probably negligible.
Even when two Unmonday speakers are placed in the same room as a stereo pair, they presumably end up in positions where their co-occurrence causes least disagreement rather than where they would produce the best stereo image.
About the Unmonday's sound stage or imaging it's rather useless to say anything when the speaker most probably is listened to in mono. Even when two Unmonday speakers are placed in the same room as a stereo pair, they presumably end up in positions where their co-occurrence causes least disagreement rather than where they would produce the best stereo image.
But there's one image-related characteristic that I'd like to draw attention to. It concerns the way in which the speaker offers music as an indivisible whole much in the same way as old tube radios, or some omni-speakers do. Listening to the Unmonday 4.3 is not paying attention to recording details nor bestowing high-fidelity points. This is a very welcomed feature indeed in that it reduces listening stress. It's ideal for a speaker that most often is listened in the background.
More than just sound
As said, the sound, as decently executed as it is in a speaker such as Unmonday 4.3, it is, I would say, only 10% of the whole, the final 90% being something else. This is a speaker for those who, in addition to listening to music, read literature and visit art exhibitions, or if not, simply have a sense for a wider selection of finer things life. In this respect, it's a speaker for, well, adults.
Unmonday 4.3 hides new technology, and makes in every way acceptable sound, but the essential question is what kind of place the speaker takes in its owner's visual field and mental landscape.
Price 699 euro.
unmonday.com
Technical Information:
Dimensions (WxHxD): 230 x 205 x 225 mm
Dimensions (WxHxD): 9.05 x 8.07 x 8.86 in
Weight: 3.8 kg
Colours / Enclosure: White Vitro Porcelain
Colours / Canvas Grill: Snow White, 100% Recycled PES
Integrated Power Supply: 110 – 240 VAC input, 26 VDC output
Battery: Li-ion, 6S1P, 2600 mAh
Battery time: 8 hrs
Power Supply Housing: Plastic
Power Amplifier: Class D 20 W
Speaker Driver: 6″ Full Range Speaker, MarkAudio Alpair Gold 10.3, Unmonday Edition
External Connections: 3.5 mm Line-input
Wireless Receiver: WiFi Apple AirPlay
Motion Sensor: 3 Axis
Designed and assembled in Finland