Only 8.8 cm long and 2 cm wide, the M2Tech hiFace 32/384 is one of the smallest USB dacs on the market, and quite possibly the smallest available 32/384 dac (new dacs emerging daily, hard to confirm the ranking status). The digi-miniature weighs only 20 grams.
A couple of years ago, the Italian M2Tech introduced a memory stick kind of thing called  hiFace S/PDIF Output Interface. It took in 192kHz/24bit data stream from the pc's or mac's usb port and then outputted low jitter S/PDIF digital signal for the DA converter.
Think of hiFace 384/32 DAC as the hiFace Interface with the addition of 384/32 dac.
Despite its size the manufacturer has somehow managed to accommodate a low jitter XMOS XS1-L1 USB Audio 2.0 interface with two precision oscillators and Texas Instruments PCM 5102A DAC chip with the necessary peripheral parts and components.
The 384/32 DAC can handle sampling frequencies from 44.1 kHz to 384 kHz, and 16-32 bits of resolution, but only for PCM, not DSD. The output voltage, 2.0Vrms, is kind of normal. THD+N is said to be 112dB (@ 1kHz, A-weighted). The tiny object is powered via its usb port. Regulators are of M2TECH design.
Mac/i-device or Linux users do not need separate drivers: it will appear right away on the list of usable devices, and is ready to play.  So too with my Mac mini.  Friends of Windows do need drivers. Only ASIO supports 32/384 resolution.
For the analogue signal (eg. mid to high impedance headphones) there's a 3,5mm output. For the amplifier one needs 3.5/RCA adapter cable, not included in the package. Don't think of purchasing a rigid thick cable. Such will pull out the dac easily and raising the laptop with extra feet may become necessary.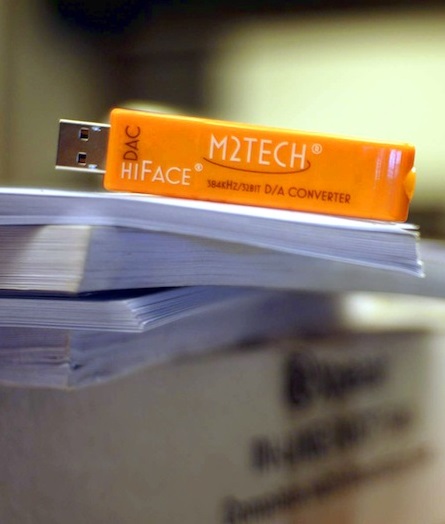 Soundwise
In my brief comparison, the hiFace 384/32 DAC did well (CD/WAV) against my MAC mini's headphone output as well as against a cheaper table DAC. In particular, I felt it "sounded" less impure, a little more transparent, and a little more coherent, if these properties can be predicated of a memory stick in the first place.
I always feel a bit uneasy when I'm expected to tell how a digital source, whether a cd-player or dac, sounds. To put it kindly, I feel they all sound quite good already, in principle. Sufficiently good, not necessarily warranting poetic sonic descriptions. Having said that, I thought that if cd-players/dacs can be classified into two categories: "bright and resolute" sounding and "round and sympathetic" sounding, I'd put hiFace 384/32 DAC under the latter without any ulterior motive of a sonic compromise.
The true value added of this dac comes from the possibility of playing HD music files, and that especially from mobile sources. It is in this environment in which the hiFace 384/32 is at its best and shows its strengths. I just briefly tried it (192/24 files) but again, I feel that what device makes possible is more important than the exact nature of the sound.
M2TECH's hiFace 384/32 DAC is a perfect addition to the selection of audio gear for the man who already has a high quality DAC in his stationary hi-fi system but wants to listen to HD music also on the road.