Not happy with the standard 12AX7 input/driver tube Kai replaced it with NOS Mullard tube from the 1950s. That brought some betterment but not enough that he would not have sent the tubes, along with other tubes, cables, etc., to Germany to have them cryonized, ie. to undergo a process in which the product is frozen up to – 196°C. Now cold-treated, trapped in EAT vibration socks and demagnetized they stand at the prow of Triode's TRV-M300SE, parallel single-ended mono blocks, and bring their tiny but important share to the overall sound.
Like all other gear in Kai's system the Triode TRV-M300SE mono blocks are modified eg. caps are upgraded. As for 300B, Kai chose the praised EAT 300B (also cryonized). That move meant extra 1000 euro hole in the wallet but according to Kai, was worth every penny. "Together with my speakers they deliver an absolute reference quality sound, unforgiving and revealing", says Kai.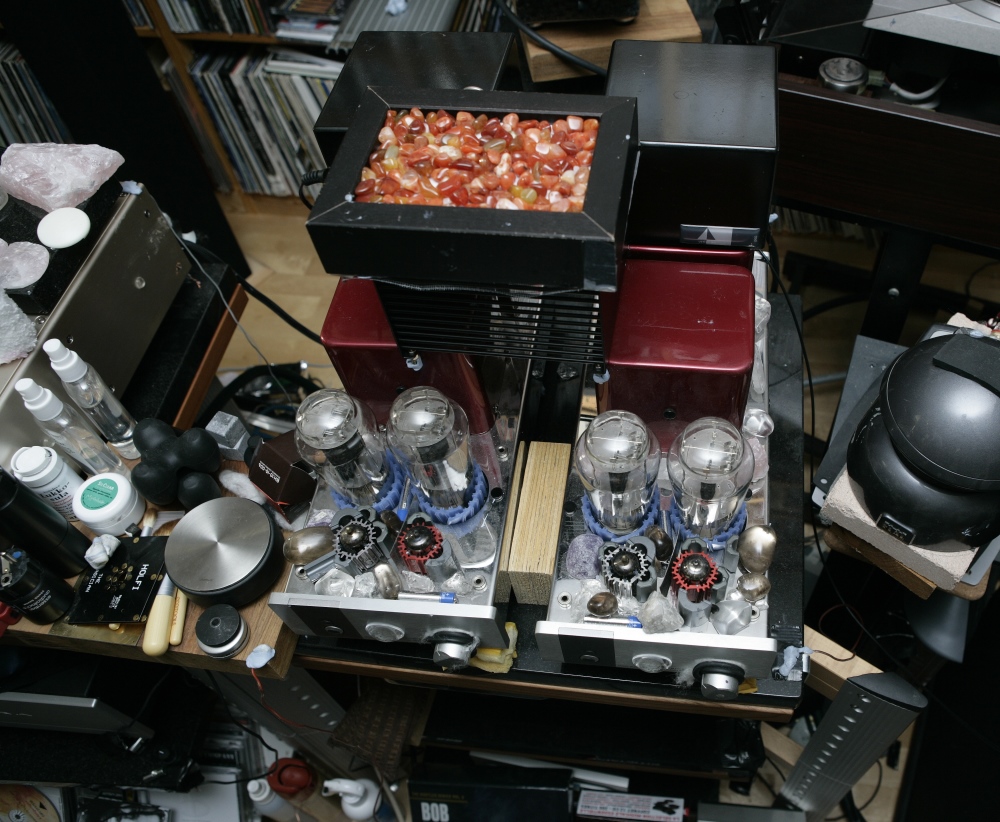 The loudspeaker is the mighty 101dB sensitive Zu Definition MkII. The Triode mono blocks run the two 10 inch widebandwidth drivers (30Hz-12kHz) and the tweeter (12kHz-20kHz) on the front panel. The four 10″ woofers (20-80Hz) on the back side of the speaker are powered by a DIY Hypex DS2.0 Class D mono blocks instead of Zu's own Hypex UcD 400-V5 Class AB amps. Kai loves these loudspeakers because they are, and not just pretend to be, "full range", and because they are capable of producing the sort of brutal bass he appreciates in a loudspeaker.
The only thing that he's not been always that happy with is the Zu's Radian 850 based dynamic tweeter. It is now replaced by Elac 4Pi super tweeter to add some sophisticated tone quality for the two highest octaves and above. In addition, the internal wiring of the loudspeaker now comes from Cardas. Inside also went Holger Stein's Speaker Match modules, parallel connected boxes aimed to ensure a perfect match between the amplifier, speaker cables and speakers.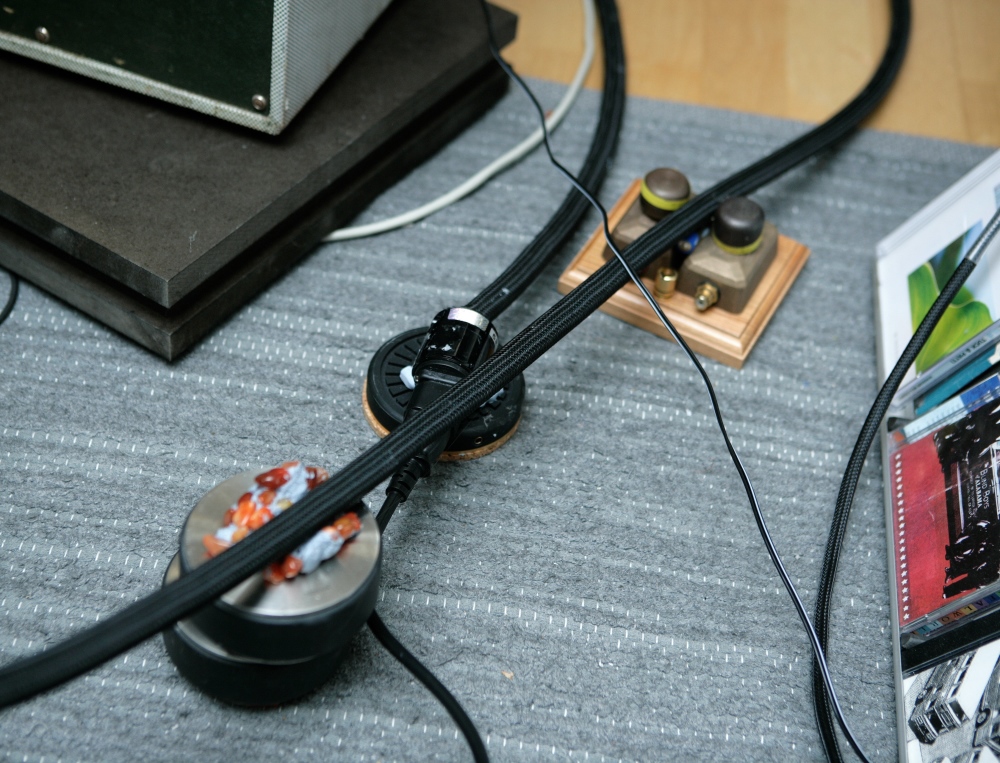 Sources and cables
The system has no preamplifier. The digital signal is taken either from a modified Sony SACD 777 or more and more often from iMac/iTunes both connected to Belcanto's flagship 3.5 DAC placed on the Viablue vibration platform. "With a volume control the 3.5 is incredibly versatile and sonically in its own league even when compared to Belcanto's 3.0.", declares Kai.
According to Kai the cable must be used with its power supply, otherwise it doesn't sound good at all.
The CD 777 is connected to the DAC via Acoustic Revive's battery powered digital cable DSIX-1.0PA. According to Kai the cable must be used with its power supply, otherwise it doesn't sound good at all. The Mac is connected with a Transparent USB cable to the DAC via Belcanto's USB/SPDIF Link. For downloading music files (lossless or flac) from iTunes Kai prefers Decibel software over eg. PureMusic.
The analogue source is Technics SP-10 with Technics Boron Titanium EPA-100MkII tonearm and PhaseTech 3G cartridge. From the PhaseTech step up -transformer the signal goes into Ensemble Reference phono-preamplifier with a volume control. By the time this article is out the SP10 sits in a new plinth and houses Thomas Schick 12″ tonearm suitable for classic cartridges.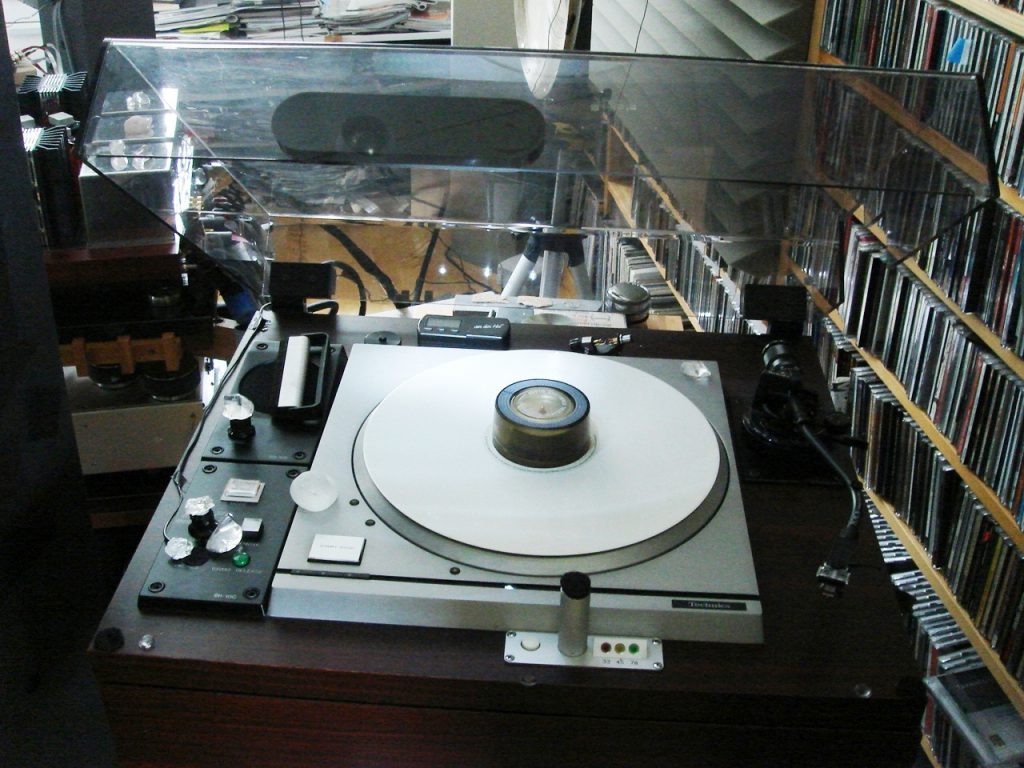 Over the years numerous cables have alternated in the system. Kai's latest discovery is TelluriumQ's Black interconnects and Ultra-Black speaker cables. Experimentation will not stop here but so far these are the best. The power cords are tailor-made by using Oyaide's plugs.
The bi-wire speaker terminals are bridged with VertexAQ Mini Moncayo speaker link modules. By means of a mini acoustic absorption labyrinth, the boxes are designed to kill acoustic vibrations that the normal metal connector plates are subject to.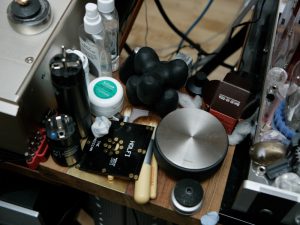 All those tweaks
From here onwards the story gets hot. This is a tweaked system up to a point that would make most of us pink. But not Kai. He loves playing with sound improvement gadgets, and finetune the sound in all imaginable ways. I've never seen so many accessories hanging around: absorbers, resonators, insulators, filters, conditioners, harmonizers, diffusors etc.
Let's see. The Triode 300B amps are placed on a modified Finite Elemente Spider rack. Between the amps and the rack there is a vibration platform made of black granite, and three Finite Elemente CeraPuck supporting feet. Granite platforms and CeraPucks are also under the CD player, loudspeakers and the turntable.
I've never seen so many accessories hanging around: absorbers, resonators, insulators, filters, conditioners, harmonizers, diffusors etc.
The top plate of the amps looks like a jewel box. It is camouflaged under Acoustic Revive's big Pure Smoke Insulator discs, Purify silk absorber, Quartz resonators QR 8. Blocks of Rose quartz, and other semi-precious stones, of all sizes, are everywhere: on top of transformers, speakers, cables etc. Kai is especially fond of the Acoustic Revive's tiny Quartz resonator buttons, and has attached them to power cords, capacitors, transformers, knobs, speakers.
"Very often accessories do not improve the sound by bringing some new quality to it but rather by removing some unwanted property. The small quartz buttons, for instance, when attached to power cords, seem to remove some 'transistor' quality and thereby let the midrange come better forward. Even a 50 cent sea salt bag works."
The pseudo-scientific name Ci²P has not prevented Kai from trying Creaktive's small aluminium 'audio bandages' called "tuning chips". To his ears the chips can be useful eg. on a heavy power cord "provided not too many of them are attached". Creaktive's ZERO Ω – Optimizers block those RCA inputs of Kai's amplifiers that are not used. "Small tricks can have a significant influence. Try for example not to push the RCA connectors to the bottom but leave them in 4/5 of the depth. It works!"

Pure AC and other purifying waves
Kai is almost a pathological earther. What can be earthed, is earthed: equipment, speakers, feet, tonearm, CD player. All of them benefit from earthing, says he. Acoustic Revive's Ground conditioner, a small copper disc filled with quartz and green tourmaline, further helps Kai's system to get a good grounding from the earth. And behind the rack is a self-made passive earthing point made of steel bar stuffed with copper, iron and quartz. Almost everything is connected to it.
As for AC filtering, two Shunyata Hydra 2 conditioners feed the smaller equipment, and one Hydra 8 the bigger ones. To maximize their performance, the Hydras are placed on Nordost's Sort Kone Bronze resonance control devices. "Dramatically better sound.", says Kai, "Better transients, better dynamics."
The CD player, turntable, DAC, the amps all are equipped with HiFi-Tuning's ceramic fuses instead of factory-made standard fuses. Recently Kai upgraded the fuses into HiFi-Tuning's Supreme³ fuses containing 99% silver and 1% gold and other finesses, plus they are cryonized.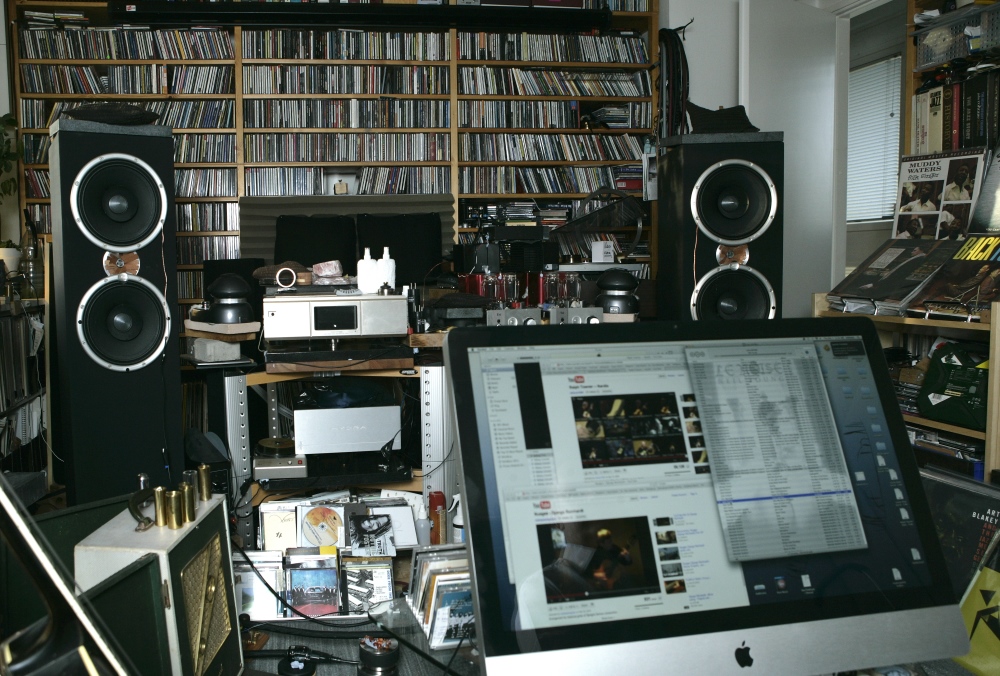 And for further making the circumstances favourable, Kai utilizes noise detectors and so called Schumann resonators. The former produces sine wave, and the latter a resonance as low as 7,83 Hz. "The Schumann resoantor is the most distinctive and useful sound improvement gadget I have tried for years. It glues all the small details together and betters the three dimensionality of the sound." Kai has three of them in the listening room, two by Acoustic Revive and one self-made.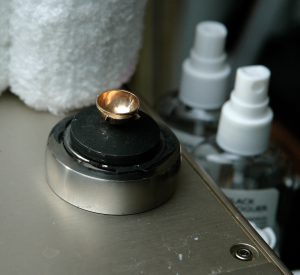 Franc Tchang and the room
The listening room is not bigger than 25m2 but it has some favourable properties such as the angled ceiling. The speakers stand roughly in the middle of the room making the listening almost near field. A couple of bass traps, six Acoustic Revive diffusors, acoustic absorbers self-made, together with Kai's "mostly audio-positive" wife, out of best materials, decorate the room. A true play-ground for big boys.
Room acoustics is important to Kai, but unlike others, he's not just interested in absorbing bass frequencies. In 2009, Kai travelled to Paris to meet the audio accessory guru Franc Tchang (Acoustic System International). Franck Tchang has won reputation with his controversial room tuning devices and acoustic resonators including miniature bowls that "do not absorb the sound but convert the room's low frequencies into high frequencies to cancel unwanted resonances".
It is surprising that even the drums sound more believable and nearer the floor, as they should. The effect has to be heard to be believed.
Controversy is not something Kai cares about. He knows some people sneer at Tchang's bowls and black cubes as superstitious feng shui. With an open mind and an attitude of an explorer, he has placed Tchang's copper and silver bowls in carefully chosen locations in the listening room, and black cubes also in the hallway leading to the room.
"Franck is the missing link between the listener, the equipment and the room. His resonators are ingenious. Franck taught me that the sound travels, not just like the light but also along every surface and with his resonators those surfaces can be used to control the acoustics, and finetune the sound. The soundstage and spatiality of the sound in particular. It is surprising that even the drums sound more believable and nearer the floor, as they should. The effect has to be heard to be believed. Personally I would not give up any of them."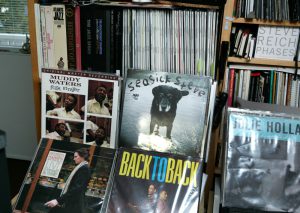 Much music and happy sound
Kai's own estimate is that he's got over 10000 CDs, thousands of LPs (the number is growing rapidly) and 400 jazz singles, many of them still waiting to be placed on the platter. "I feel like being a privileged when I can get hold of, one way or another, all recorded music.", says Kai who in his civil work run the Finnish National Library and its invaluable music and book collections.
Kai is rather omnivore when it comes to music styles and genres. Jazz music in all forms is obviously close to his heart. But as a guitar player and an owner of some prestigious guitars, he also likes blues, R&B and other guitar music.
Before listening, the CDs get treated with Acoustic Revive's DiscDemagnetizer RD-3. Kai also recommends to treat the CDs with proper anti-static lotions. The vinyls are first washed with ultrasonics, and then put into the Acoustic Revive's vinyl demagnetizer and ionizer. Only 200 was ever made. "The difference is not hard to hear. Just recently I bought a bunch of dirty 45 jazz singles, and now I'm an owner of 45 super jazz singles in a pristine condition. There are no easy wins in cleaning vinyls. It is hard but rewarding work."
It's the kind of sound many audiophiles secretly covet but do not dare to confess under daylight.
Thanks to heavy tweaking, or quite independently of it – it doesn't matter which is true – the sound was in many ways of very high quality: the kind of sound many audiophiles secretly covet but do not dare to confess in a daylight. High resolution, speed, transparency, no ear piercing colorations. A very clear sound without being overly bright. Any soundstage? Yes, but the soundstage is not at the core of the sound.
The bass was just incredible! A true sledge-hammer. The bass was not always served in audiophilically correct doses but in this case it didn't bother me at all. It is the sort of bass that rejuvenates any man by 20 years. And should the bass start to annoy him, Kai can always adjust its level with the DSPeaker's Anti-Mode 8033s room/bass equalizer.
"I like "fat sound" nowadays. When I listen for instance to Pantha du Prince, whose music I like a lot, the bass must be brought forward in a right way or the magic is lost. The same holds true of Marilyn Mazur's excellent percussion albums. Previously I thought that the midrange and the treble were the most important but now I think the sound is like a pyramide built upon the bass. If a system is tuned to work just at mid- and high frequencies the sound frequently goes awry. All of my systems are characterized by incompleteness and imperfection, a human element. But when there are enough positive features it is easy to live with small defects."
Vintage dreams
As a small boy Kai saw awesome photos of Revox and Akai tape recorders and B&O equipment in technical and interior magazines, and they made a lasting impression to him. He could not afford them at the time – the only decent sounding hifi system was in the town library, but now decades later he has put together, step by step, a small collection of vintage B&O, Grunding and Braun equipment. He has got several old portable and table radios. On top of these, he owns a series of vintage Hi-Fi amps and loudspeakers from the 1970s and before. And more is coming.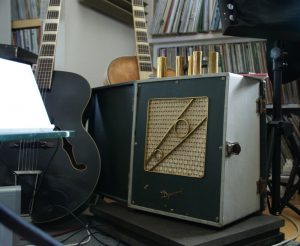 "Vintage gear makes me really happy. Vintage players and amplifiers and speakers have their own character. Someone has invested a lot of time and dreams in them. They have made their owners once proud and energized them for decades. They still tell their own story if only one has time to listen to them. I love cultures where things are preserved and used from one decade to another. They speak to us deeply."