What hangs from the ceiling of Albert Hall is EMS Acoustics' line arrow speaker system based on their Halo concept. The total system comprises 88 x HALO-C line array elements, three subwoofers, and a selection of EMS amplifiers/loudspeaker management units. The main L/R hangs have 20 x HALO-C each. The centre hang feature a custom cardioid 4 x 18″ sub plus 12 x HALO-C underneath, as shown in the pic below.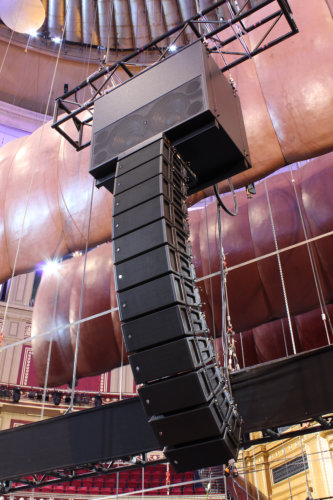 At the core of the system is a fully passive HALO-C line array element. The HALO-C contains a 197mm AMT high frequency drive unit on a bespoke waveguide, linked via a signature EM Acoustics passive crossover to a high power neodymium 8″ (203mm) LF drive unit.
The design (the crossover topology and the waveguide) allows the unit extend the horizontal coverage pattern to below 1kHz. Second, the true plane wave output of the AMT drive unit and waveguide combination yields a well-behaved vertical pattern allowing seamless array integration and minimal interference between adjacent elements.
The unit is capable of continuous sound pressure levels in excess of 120dB, and it is meant as an ideal solution for small-to-medium theatres etc.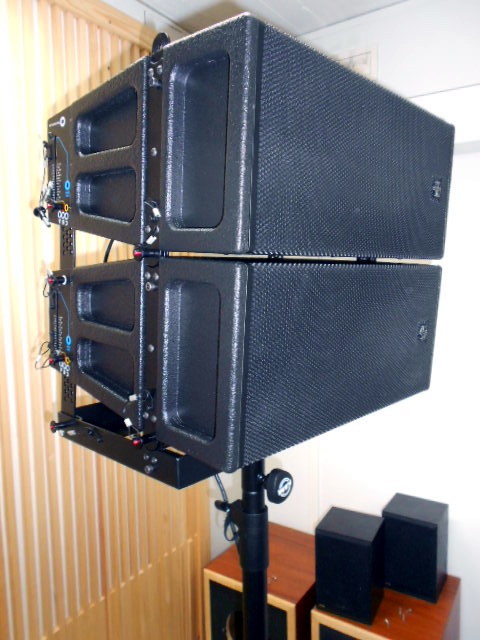 Pro amps for pro speakers
What I had in my listening sanctuary was two HALO C elements stacked, and one 15″ sub for anything below 75Hz. Had I insisted on having another sub it wouldn't have changed the fact that the mid to low bass was mono. One was enough.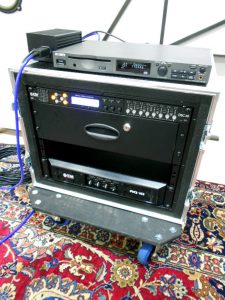 The two Halo units were angled down toward my listening spot as much as possible. Not quite enough though. For the ideal mix I should've been 3-5m further away from the speakers, but what the hec. Would you have declined the opportunity to audition these speakers simply because the room ain't big enough? Besides, I had the possibility to stand 1-2m behind the sofa.
Since the speakers are able to do quite a bit of decibels with 1 lonely watt, and since they atypically are passive PA speakers, I'd have loved to throw in some of my small power tube amps. Since it wasn't practical (for pro reasons), I decided to settle for 4 x 2500W of Class D power by EMS Acoustic's own amplifier/active crossover. The signal from the cd-player came through a cheap Behringer mixer: not exactly a highend front end, but who cares.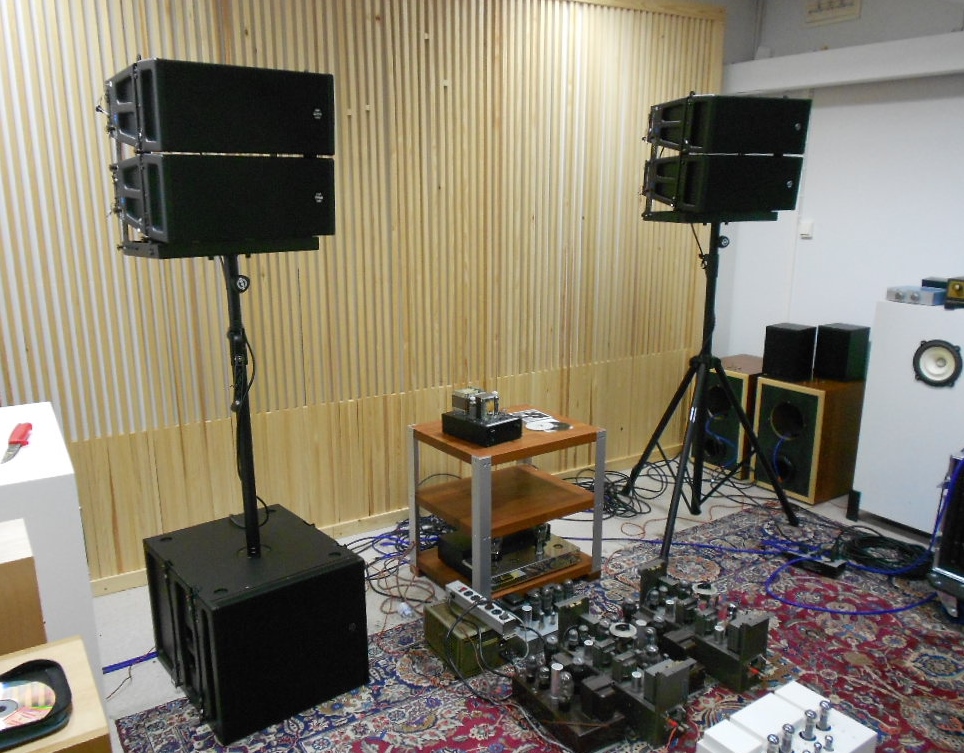 And that sound …
This particular setup, enough to fill a mid-sized estrade with sound right down to the very last corner, now needed to do only 27m2 of partly acousticated chamber.
Beforehand I was kind of scared that the system would blow up the weak walls … but to my big surprise nothing of the sort took place. The sound wasn't overwhelmed or oversized. A speaker is a speaker; and let's not forget: there's a knob for adjusting the volume. But.
From where I was listening to these speakers, the two EMS units played back music's HF content in a more general manner, with balls and muscles, shamelessly free-spoken.
Two horn loaded horizontal 19cm ribbons (AMT) hardly behave similarly than one 7cm long vertical ribbon typically found in a hi-fi speaker. From where I was listening to these speakers, the two EMS units played back music's HF content in a more general manner, with balls and muscles, shamelessly free-spoken. That the treble wasn't equally concentrated as with hi-fi speakers equipped with a ribbon/AMT tweeter was most certainly because of the horn and the radiation pattern, neither of which were designed for giving their best in a room like mine, and certainly not from that distance. To the extent it was possible to judge, the tone quality of the highest sounds/notes was rather good.
But forget harmonics and what have you, and join me to listen to the performance of these speakers with vocal repertoire: that neutrality and that attraction of human voice. From Jessica Pilström (jazz ballads, evergreens) to Veronique Gens (Berlioz & Ravel), and Ian Bostridge (Bach cantatas) etc. all came through as it would in real life. It is well known that PA companies are experts in voice reproduction, and that appeared (this wasn't a standard review) to be the case here too. I'm not saying that highend speakers could not attain the same level, of course they can, but here we have a loudspeaker that is only asked to do its duty, professionally and reliably, not exhibit certain extravagant hi-fi virtues the selection of which vary from a demanding audiophile to another.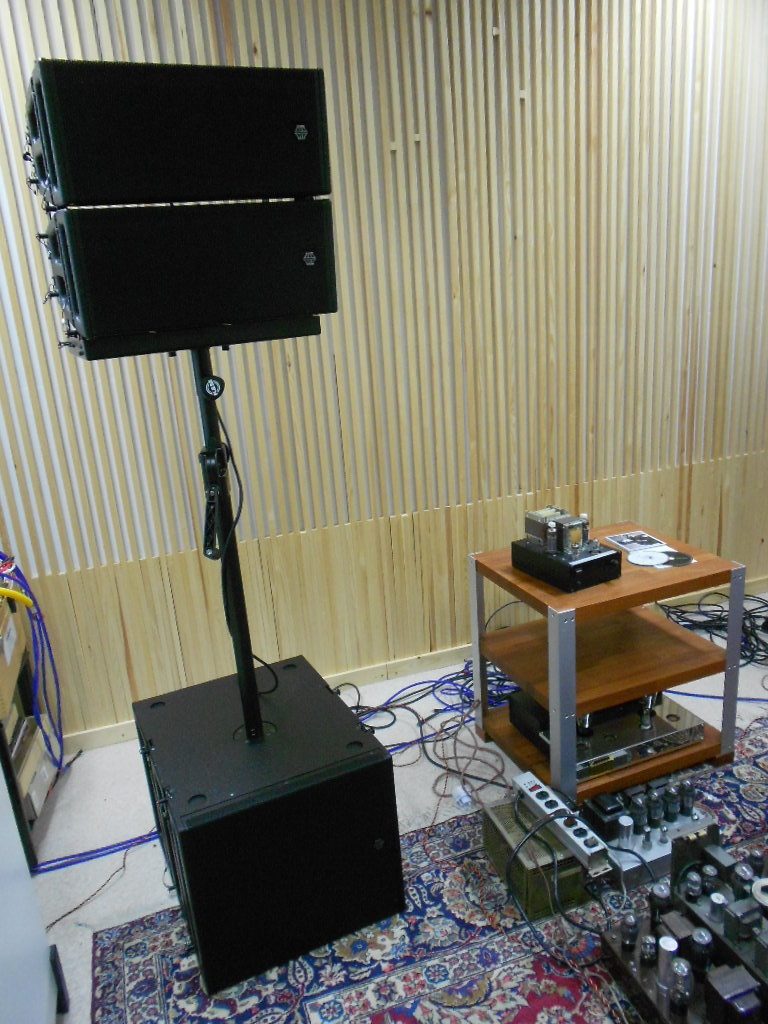 With some opera recordings I got very close to feeling the physical presence of the singers. The size and authority of the all-encompassing sound was simply amazing! And I didn't miss the opportunity to enjoy the Mintzer big band's thundering brass instruments: this was one of the best (ie. musically relevant) performances of the album ever.
The sound had only one direction: forward! Not shouting, not on the listener's face. I'm sure some audiophiles would regard the speakers a tad too extrovert, overwhelming. But that's how they area: they are designed to provide pure legible sound to everywhere and everybody in an auditorium or hall.
Forwardness of the sound was most annoying with eg. piano recordings, for natural reasons I should think. On the other hand, I remained convinced that in a space more suitable for these speakers, piano recordings could have been one of the speakers' favourites. For instance, a furious piece by Listz proved how monumental the sound of a grand piano can be, and this speaker system was very good at mimicing that sensation, that effortless, free-flowing sound.
The speakers set as they were, and given their controlled dispersion, it was no wonder that the units almost completely disappeared from the scene. Everything I heard came from between the rods, and also approximately from the center point of the formed square. The sound sources didn't have a razor-sharp point of location but the output still made much physical sense.
As long as the bass didn't fall much below 70Hz I had no problem with it (eg. the double bass of Jaques Loussier Trio). But in that short time I had I didn't manage to correctly integrate the sub with the rest of the spectre. My fault. There would have been a lot I could have done to make the bass more fitting, but I was too keen on having fun. And that I certainly had!
Trying to understand these speakers: imagine a public space, a room that is clearly more spacious than your own listening cubicle, but not of the size of a theater or a concert hall. Most of the guests have left the place, just you and couple of others present, tired but happy, a half-empty glass of beer, perhaps, and some late-night music pouring out from boxes near the ceiling … and music feels so good that you would never ever think of replacing the system with your own hi-fi equipment. There is of course a sense in which it could be said that the music would sound better through better gear, but not now, not here, …