The lavish hardcover, 315 page coffee-table book is a result of two-and-a-half-years exhaustive writing project by Ken Kessler. He exhibits here the same writing qualities (or even betters them) than he did with his other compelling HiFi-company saga Quad, The closest approach.
This massive book includes everything you would want to know about the famed company, including: interviews with numerous principal characters and other subjects, chapters describing production facilities and marketing strategies, complete charts of production models and years of manufacture, and reprints of some original ads and technical papers. There are pages devoted to rarities & oddities (e.g. hundreds of amplifiers built for IBM, used for automated testing of computer chips, McIntosh amps in President Eisenhower's Air Force One Constellation airplane, just to name a few), as well as a chapter outlining in detail McIntosh's film appearances and product placements (e.g. McIntosh classic MC275 amp appearing in John Cusack's system in High Fidelity film) and much more.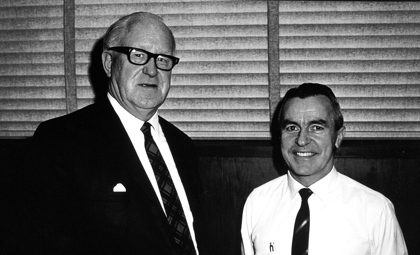 Although Kessler provides reader with one of the most informative history of a Hi-Fi company ever published, ultimately the book is about business and people behind McIntosh.
It's their story, quite often told in their own words and without too much filtering. I've worked several years at the executive positions in various technology businesses and for me this book, deliberately or not, reveals fundamental information and insights into why McIntosh Laboratory Inc., founded in 1949, was continuously successful for decades.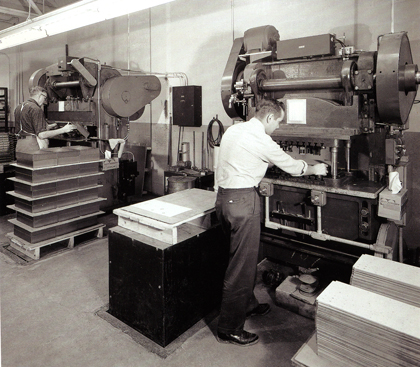 Chassis pre-puching in the 1950s.
First explaining factor is a well integrated and complementary management team. From the beginning up to the mid-1990 McIntosh was characterized by four individuals: Frank McIntosh (the founder), Gordon Gow (responsible for sales & marketing), Sidney Corderman (responsible for engineering) and Maurice Painchild (responsible for finance and admin, managing production). Mr. "Mac" had various other business interests in his life, and he let the other three managers and co-owners run the company on the day-to-day-basis. The reader discovers in various references how these four said gentlemen interacted and complemented each other and how they shaped McIntosh from early 1950s into 1990s.
Second, the core management team installed a set of key values and company philosophy into organization and maintained them throughout decades.
The first key value was solid engineering.
Obviously company's Unity Coupled Circuit, invented around 1949, played a big role here, but McIntosh products were designed with emphasis on superior performance and long operating life. Company invested early in high-quality testing equipment and especially Gow believed that investing in the very best test equipment was essential. It placed McIntosh in a position of knowledge and authority in the eyes of customers and dealers.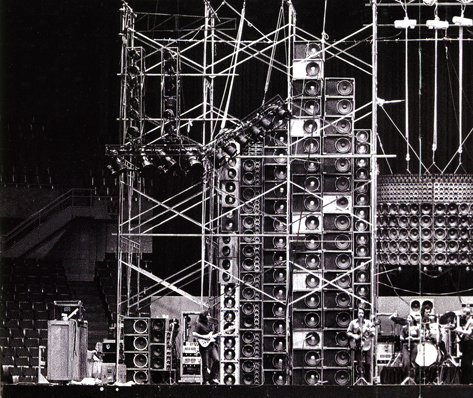 McIntosh equally tested competitors' products and more was often known about other company's products than they themselves knew. The book also reveals that the key reason why McIntosh abandoned tube equipment in the early 1970s was uncertain performance and reliability of tubes, transistor amplifiers tested ten or hundreds times better than tube ones. And to follow that story a reader learns later on an internal memorandum from "JRB" (J. Richard Bucci, responsible for marketing), dated as 27.9.1988, which argues from the performance viewpoint why Mac should not re-enter into tube amplifier business although some key markets and customer segments demanded it. JPR's memo concludes as follows: "If your goal is the best possible music reproduction, by all means invest in the present day McIntosh solid-state models. They are far better performing and much more reliable than their vacuum tube ancestors". Outch! Talk about capturing insights into company's values and strategy, not polished ex post by author or publisher. Yet under the new ownership (Japanese Clarion) on June 1992, the company formally announced to its dealers a return to tube amplifier manufacture – and paradoxically the re-entry was one of the key reasons for McIntosh brand's renewal in the late 1990s and 2000s.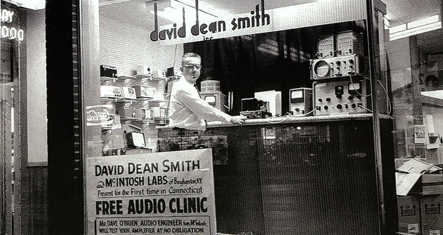 The other key value was almost fanatic attention to customers and dealers. The book has some fascinating stories of customer interactions and describes in great details The Clinics. In 1962 company started what was to become the longest lasting (up to 1991) and most successful in-sales promotion and customer care campaigns in the hi-fi industry, The McIntosh Audio (Amplifier) Clinic. The Clinics were a dramatic demonstration of the superiority of company's products. Company's own personnel in The Clinics tested millions of McIntosh electronics and conversed with hundreds of thousands individual owners.
The last impression of the book was a mental picture of McIntosh's personnel. In today's business world of free agents and minimal loyalty it was somewhat touching to read about times when a company through its individual owners and clear set of values obtained and received loyalty and devotion of the personnel.
'This is a passionate book about McIntosh, and people who were passionate about audio. Highly recommended.
McIntosh: "…for the love of music…"
by Ken Kessler, 2006. ISBN 0-9787236-0-0. ovh. 150 €