Here's the second set of pics from the Show in vernal Munich. Covered are some of the audio amplifiers caught on my camera, and to begin with, the ones with vacuum tubes and output transformers.
Chez Marten, the signal from the Nagra IVS tape recorder or Thorens 124 vintage turntable ended up in Engström's new Eric triode-monoblocks. Eric's KRT-100 output tubes kick out 70 watts per monoblock. Nice-looking? I think so. Expensive? Yes.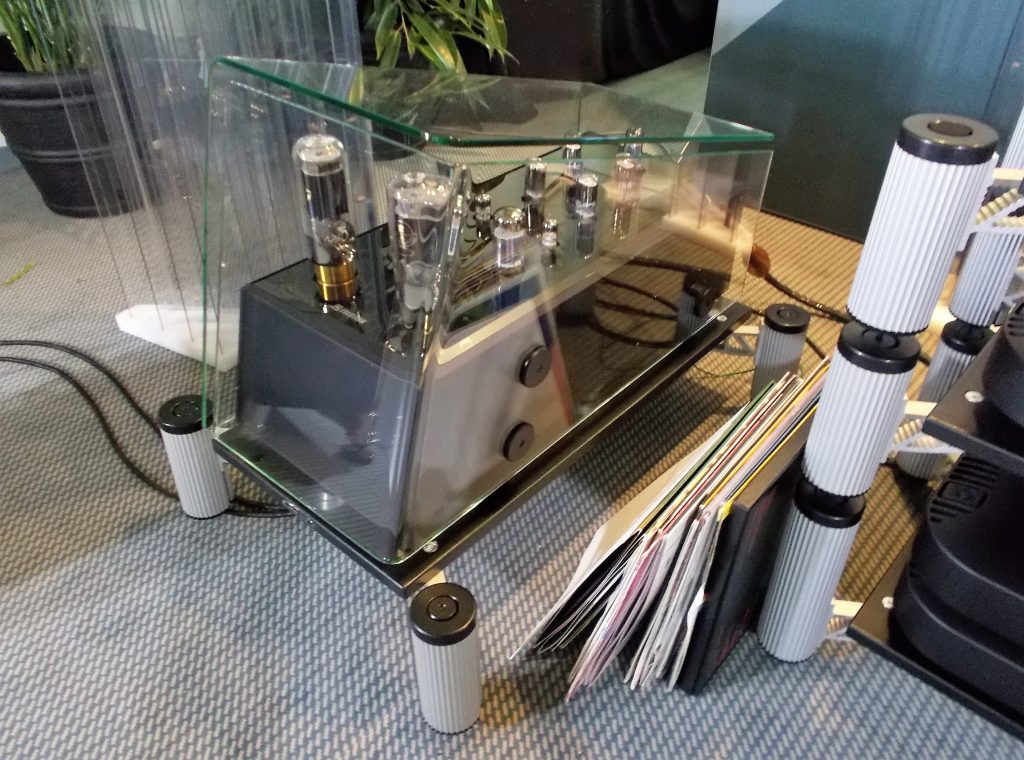 An entirely different type of amplifier was Art Deco Acoustics' E17, a 14/40 watter silver integrated amplifier with two 6L6/KT150s per channel with ultra-linear coupling and no feedback. The amp drove 95dB sensitive monitors designed in the same art deco style.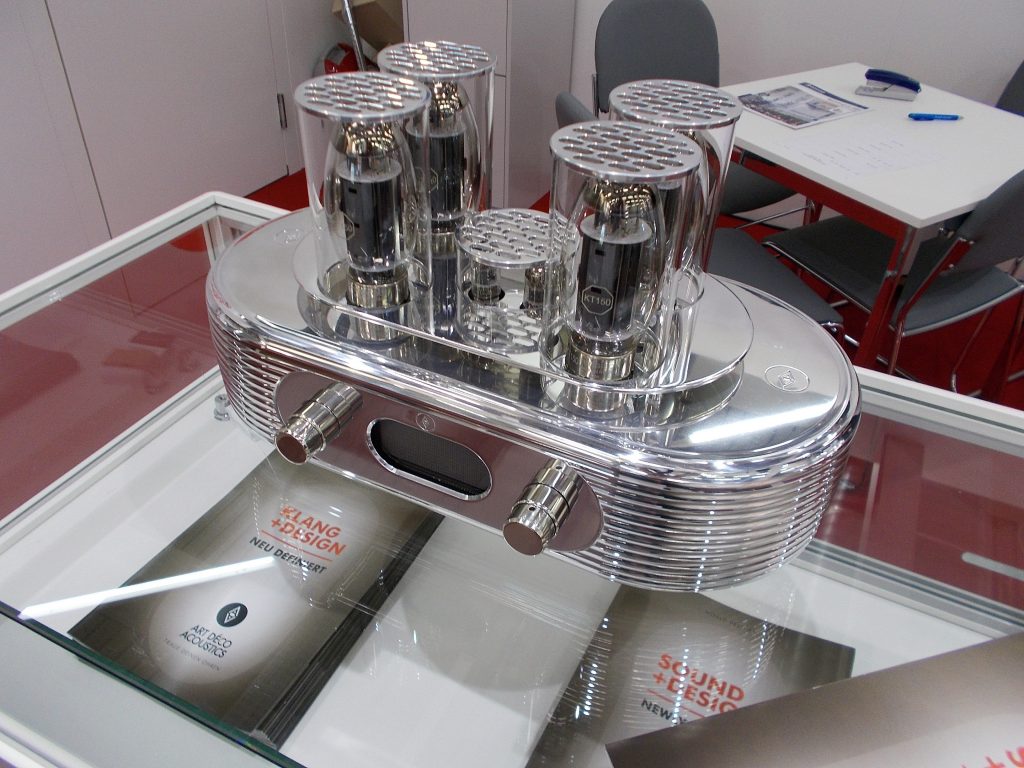 A new entrepreneur from Serbia: Auris and its 30kg heavyweight push-pull integrated, with 100 AB-watts from a pair of KT-120s (four ECC99s at the front), especially for those who are fond of dynamic music., says the manufacturer.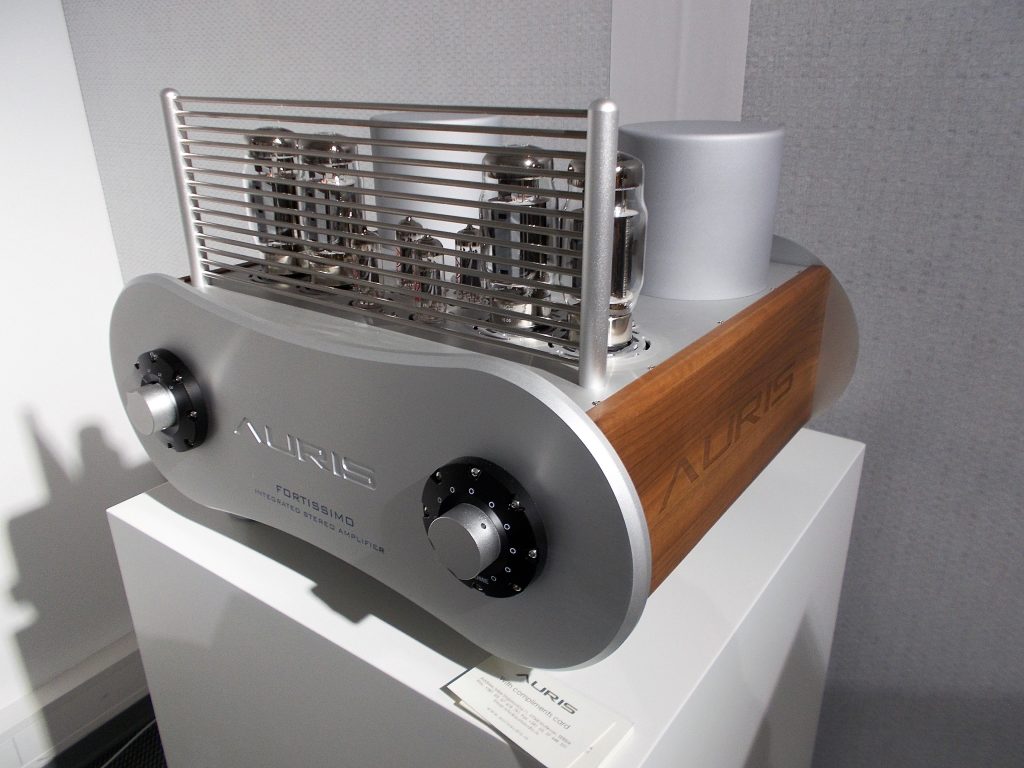 The German Octave, better known for its hi-tech push-pull amplifiers, surprised the show-goers with its new V16 single-ended amp. The amplifier sports three RCA line-ins and one XLR, plus 15 to 600 ohm headphone outputs. From a single KT120 pentode (KT120! – am I seeing a trend here?) the amp pumps out 8 delicious watts, which in this case was enough for Blumenhofer's big Gran Gioia horn speakers.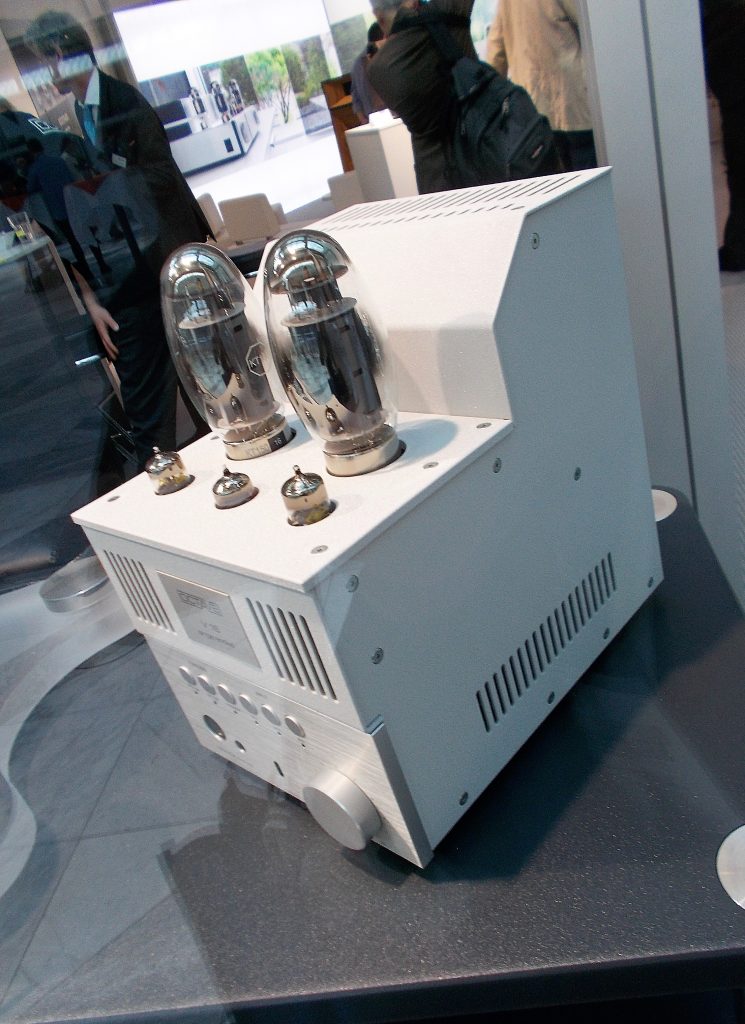 Once the world's best selling hi-fi amplifier: Dynaco ST70.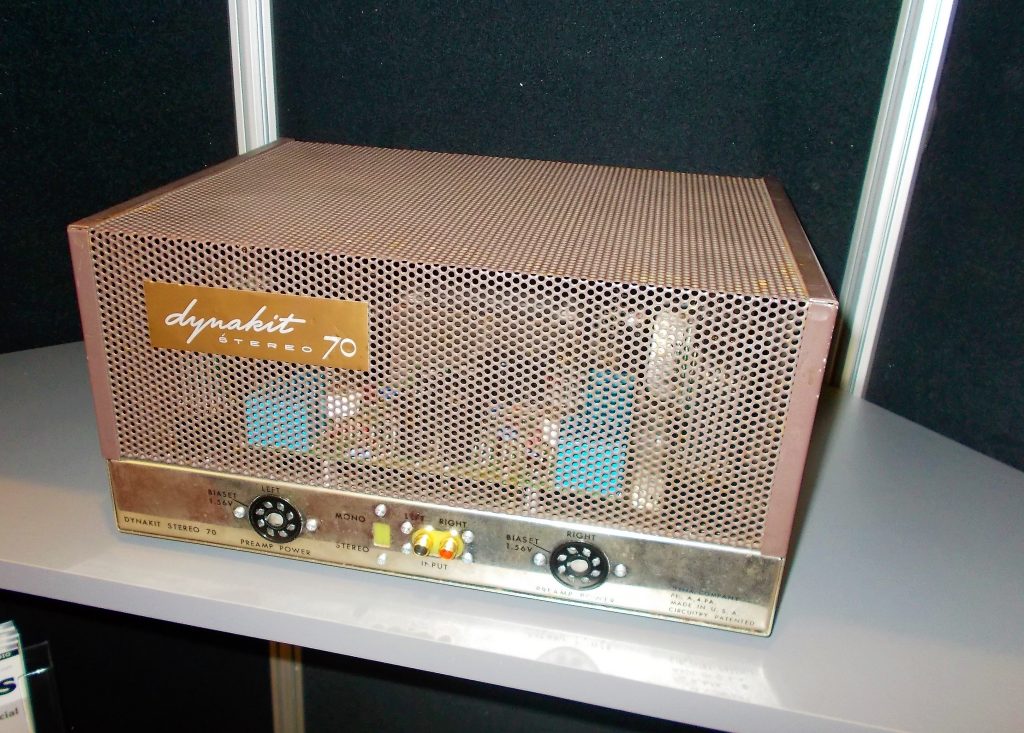 And the same amp in its 3rd generation outfit. The same pentode / triode  circuit in front with slightly different tube selection, and the goof old EL34 / 6CA7 power section before Hafler output  transformers. The  power supply's been improved. A matching preamp (ST-1) also available.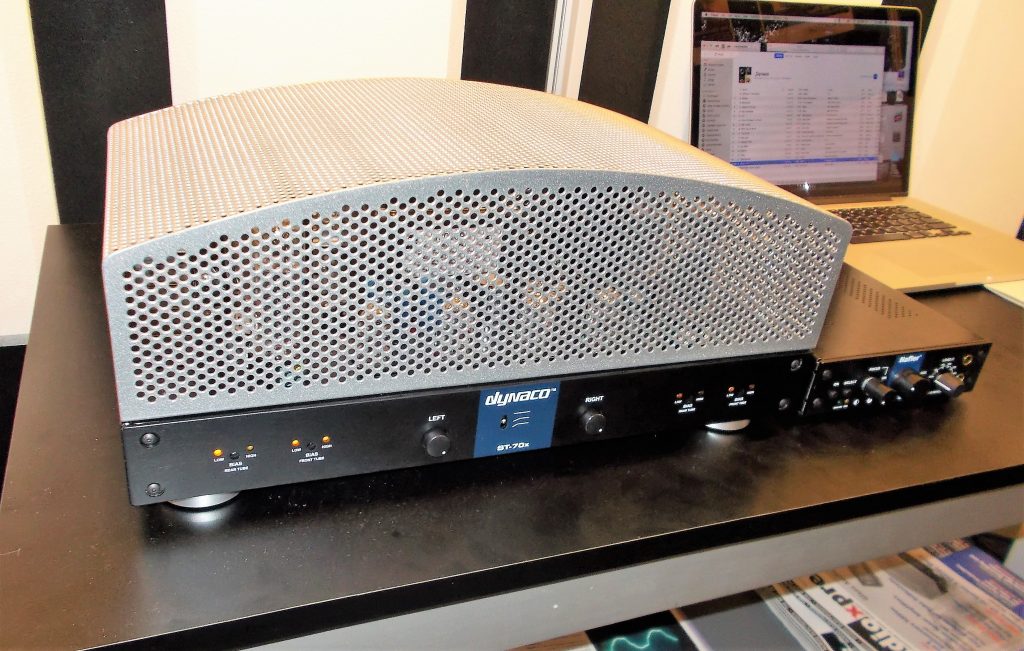 Venusodio's first product: Symbiose Dual Mono Integrated Amplifier (15000e) with 20 watts of output power per channel, 4 rca line ins, 1 rca MM phono, 1 XLR in, solid wood chassis, touch control panel, made in Germany.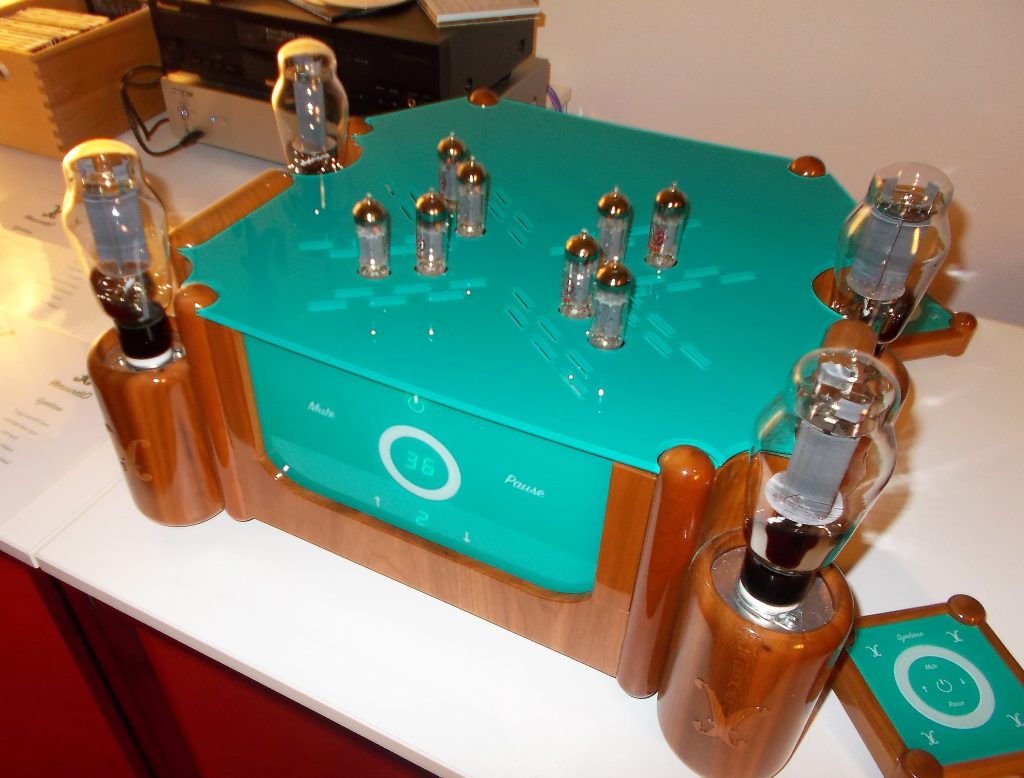 Sorry about the pic quality. The amp is so impressive though that I must include it here. It's Triode Corporation's awesome TRX-M845 845, a Class A parallel single ended monaural power amplifier, a 50 watter with 845 output tubes (or 211), a 845 as a driver plus a 12AU7 and 6SN7 for the pre.  The sound in the room? Something to be kept in mind.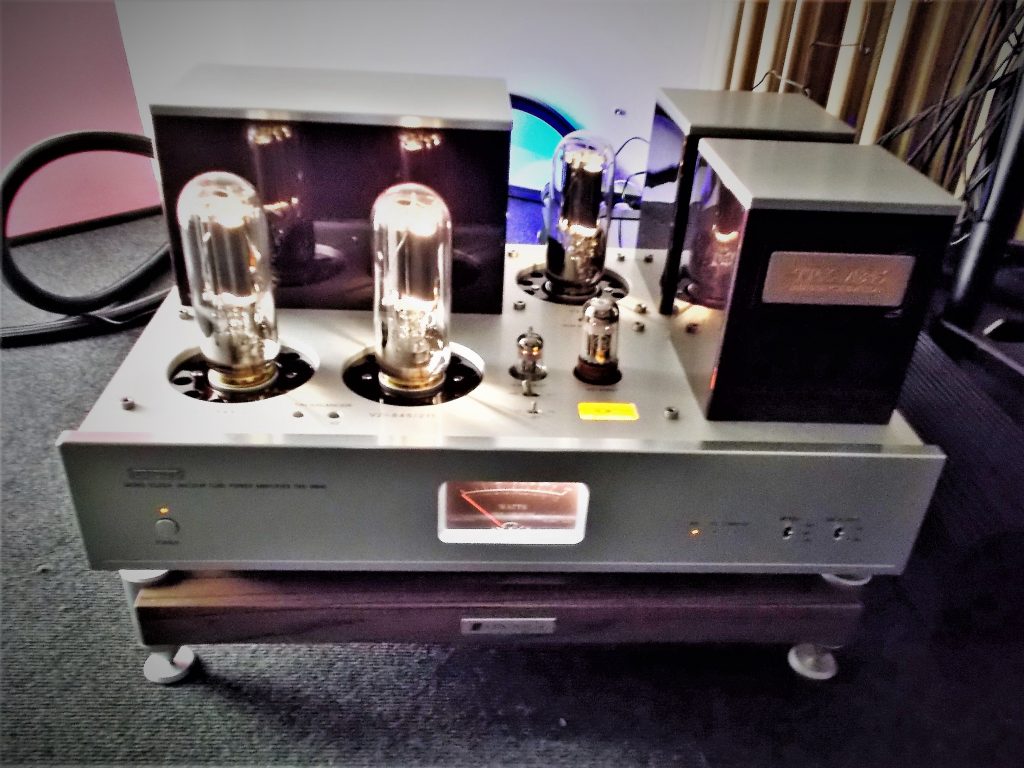 Single Ended amplifier by the polish Amplifon with the 833a radio transmitter tube on the deck to produce 150W in Class A.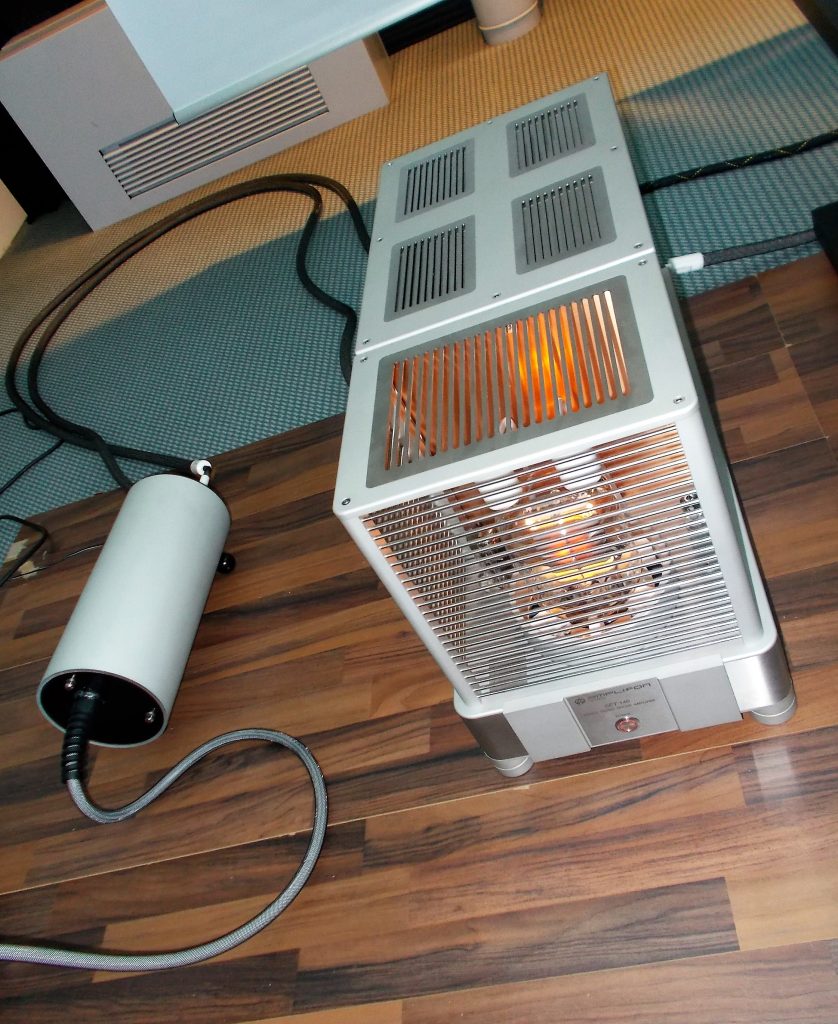 Triangle Art's tubed mono blocks and other components together with Master Reference turntables.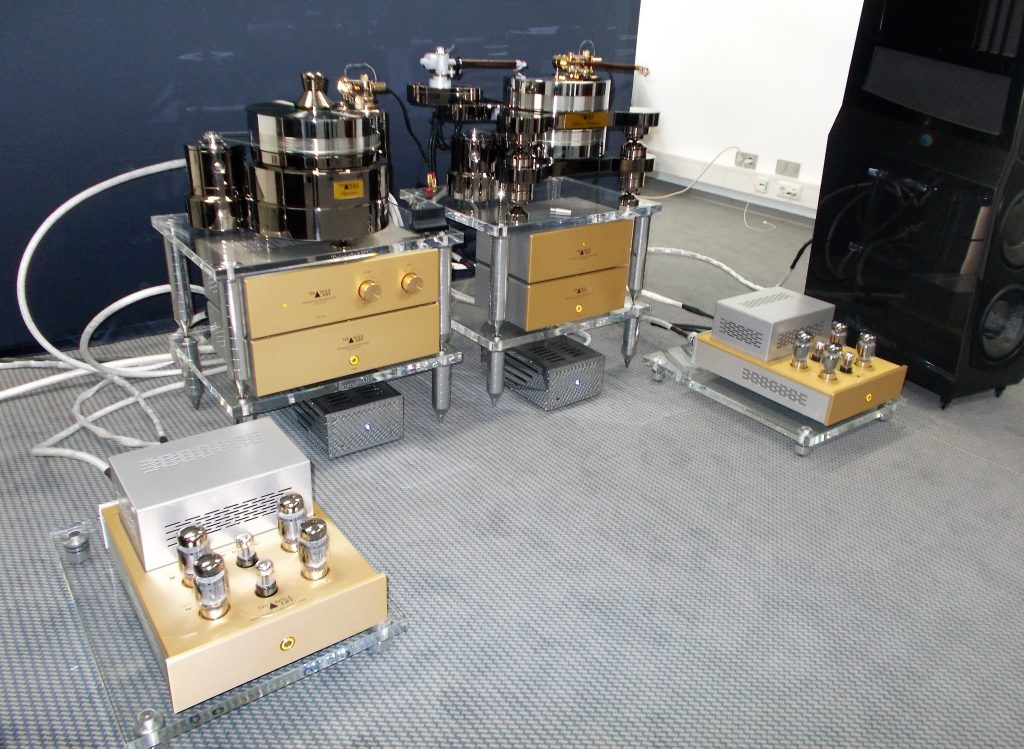 Auris Audio's Fortino 6550, a 2x50W integrated amplifier with two pairs of 6550s at the Class AB power stage and ection and 4 x ECC82 in front featuring analog line ins.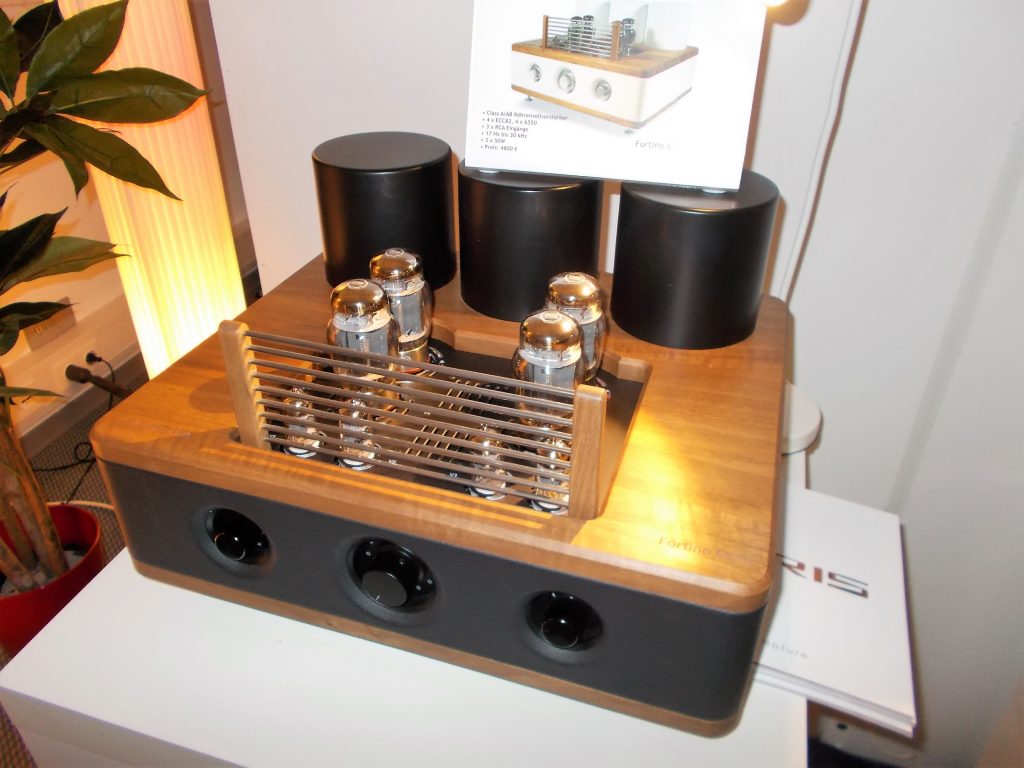 Transistor variants
The massive Gryphon Audio Mephisto power amp claiming 2 x 175W (8 ohms) in pure A-class with no global feedback.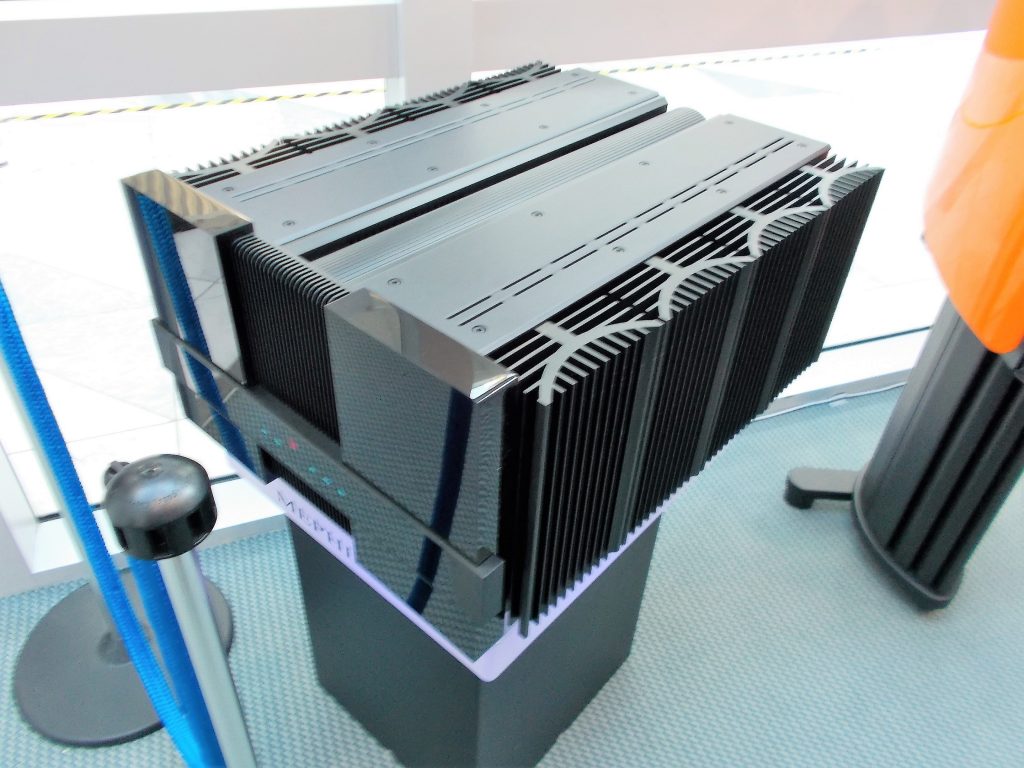 Extreme power – 1000 watts per channel (4 Ω) – from Accustic Arts' AMP III dual-mono amp with an isolated power supply, 48 selected MOS-FET output transistors, and 3200 VA (1600 VA per channel)/240,000 µF power supply.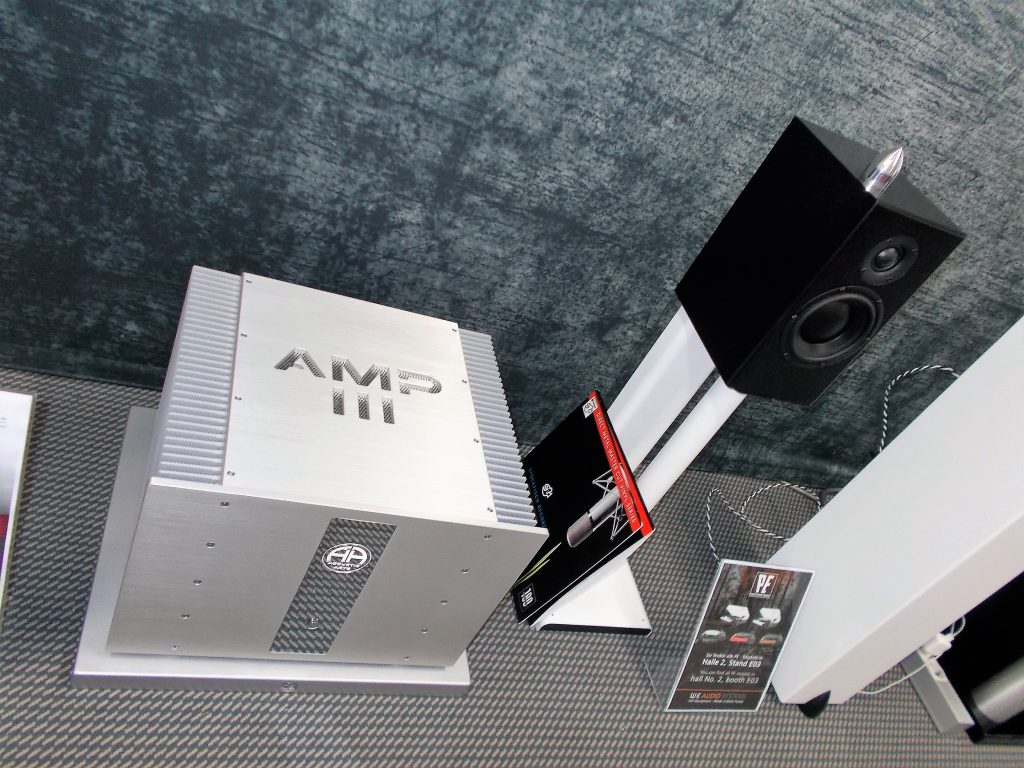 An ultimate preamp, STERN, by the German Audionet. The patented floating pane design is said to put disclose unique audiophile qualities.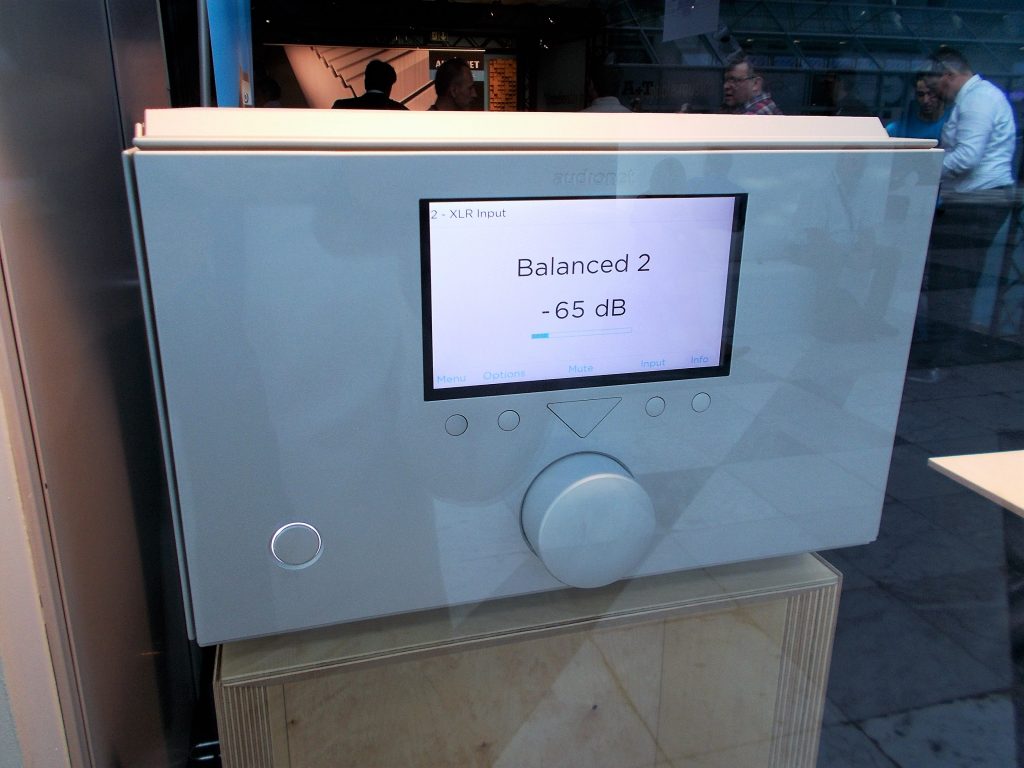 Vitus Audio SM-103 mono amplifiers with 100W Class A or 150W Class AB power, and frequency response creeping beyond 800kHz line.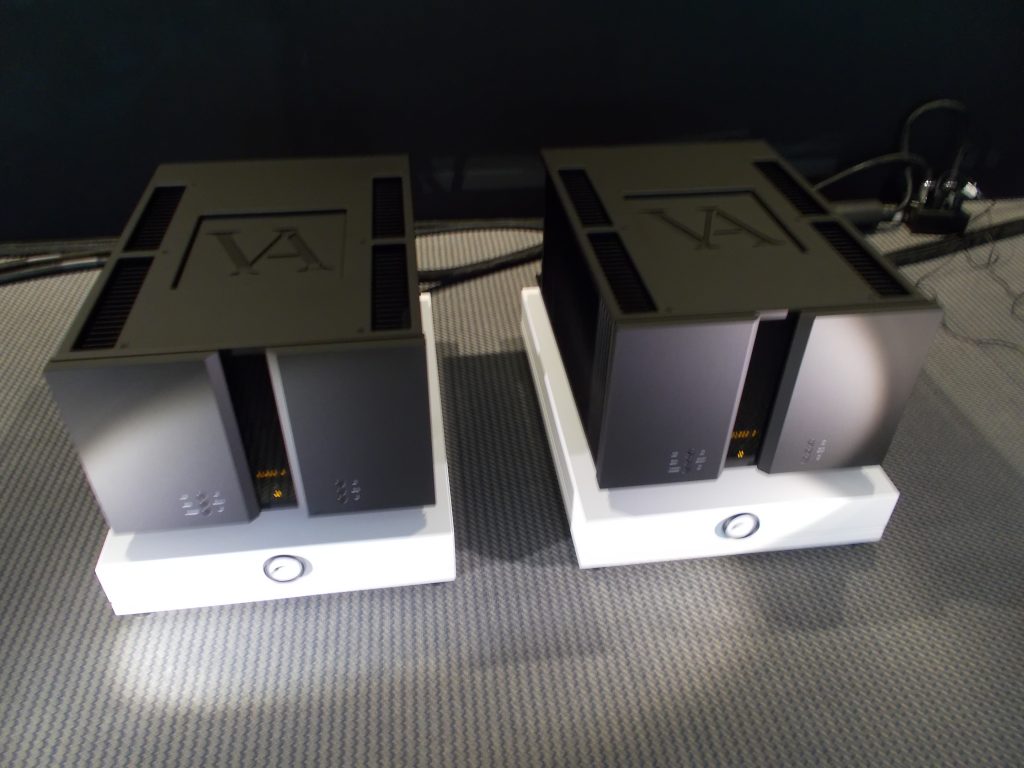 500 watts into 8 ohms, 1000 watts into 4 ohms and 2000 watts into 2 ohms, a fully complementary driver stage, 48 output transistors, a 3000 VA power supply transformer and worth 400,000 microfarads of power supply storage capacitance: Progression mono amplifier by Dan D'Agostino Master Audio Systems.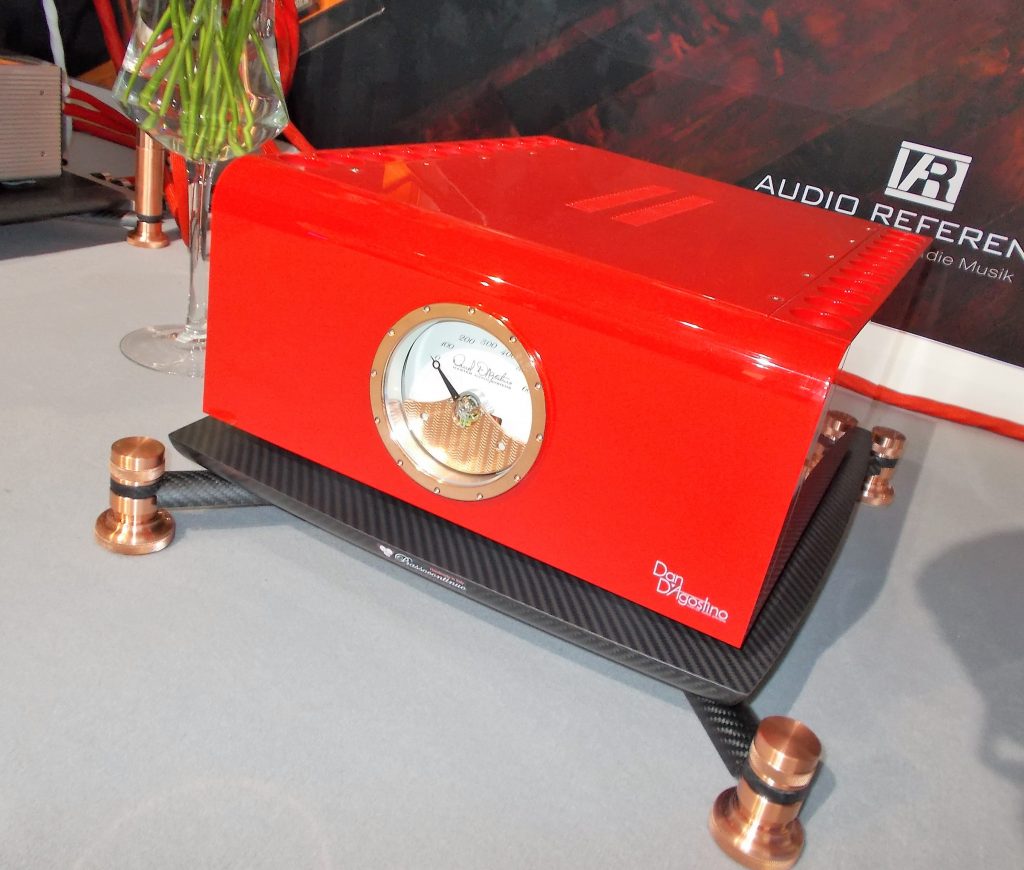 The color of the day. Absolare's famous hybrid mono blocks dressed in red leather.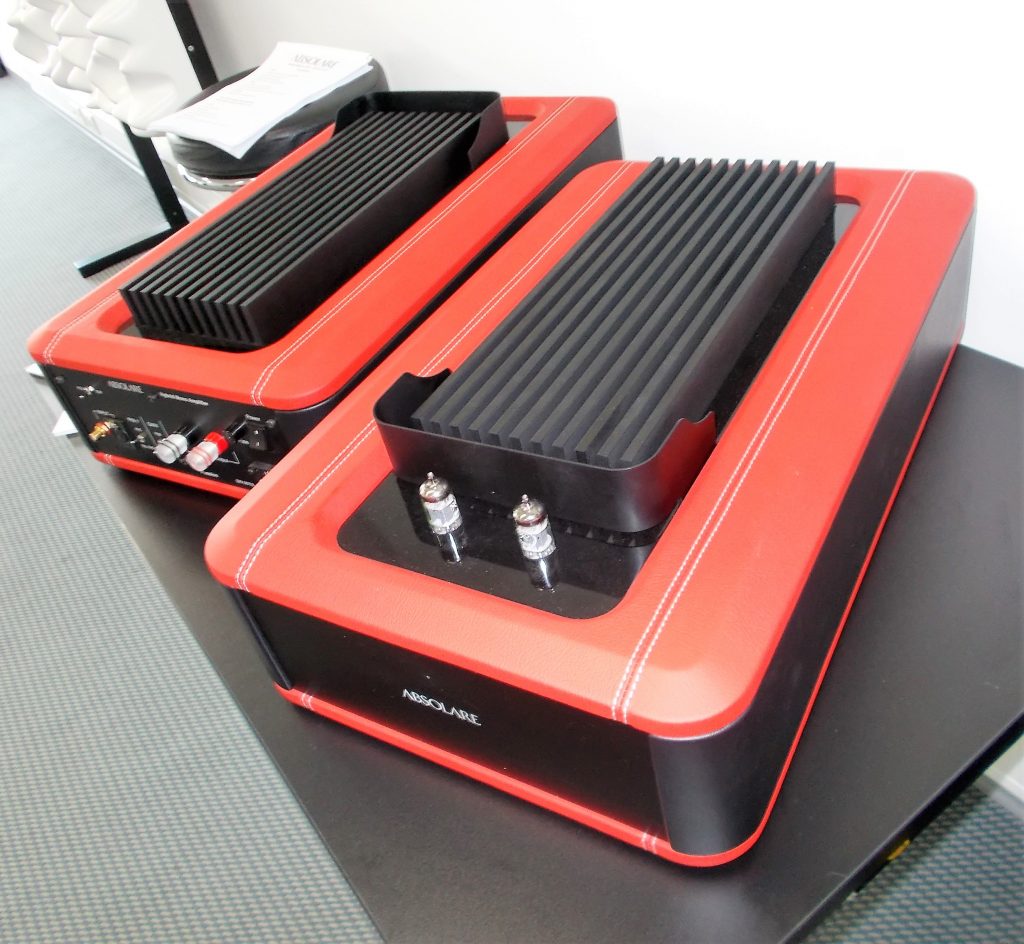 Still going strong! A new amp from the Swedish Copland.